Patterns of Nature
Mirror photo editing reveals intricate patterns from nature photos, as well as, mystical spaces and faces.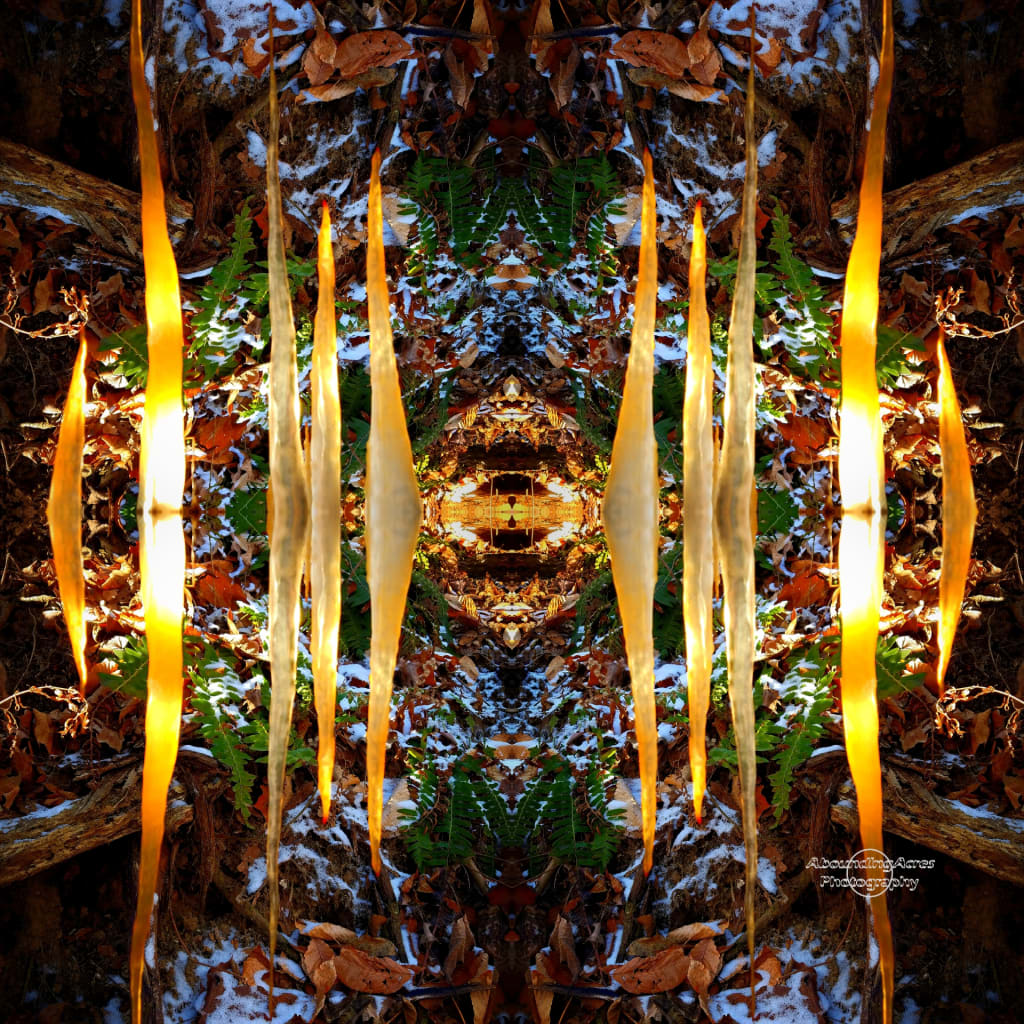 Intricate Patterns Of Nature
When I started applying a mirror effect to my nature photos, I quickly became enamored with the results. Beautiful intricate patterns emerged. Many different patterns could be made from the same photo. I totally fell in love and wanted to apply this technique to all my nature photos to see what the resulting pattern would be. Over the course of a couple of weeks, I had created more than 500 unique images.
I loved that these patterns were totally natural, just nature in all her beauty and perfection. I had not added anything or taken anything away from the photo, nor had I staged the photo in any way. I made simple adjustments to brightness, contrast, saturation, warmth, shadow, and sharpness. Then I applied different mirroring effects. I took the photos and did all of the editing with my Samsung Galaxy s7 Active smartphone, using an editing app called Polish.
Some of the patterns are reminiscent of Native American art, cave paintings, or symbols seen in other ancient cultures. It was interesting to me that they were showing up from my nature photos.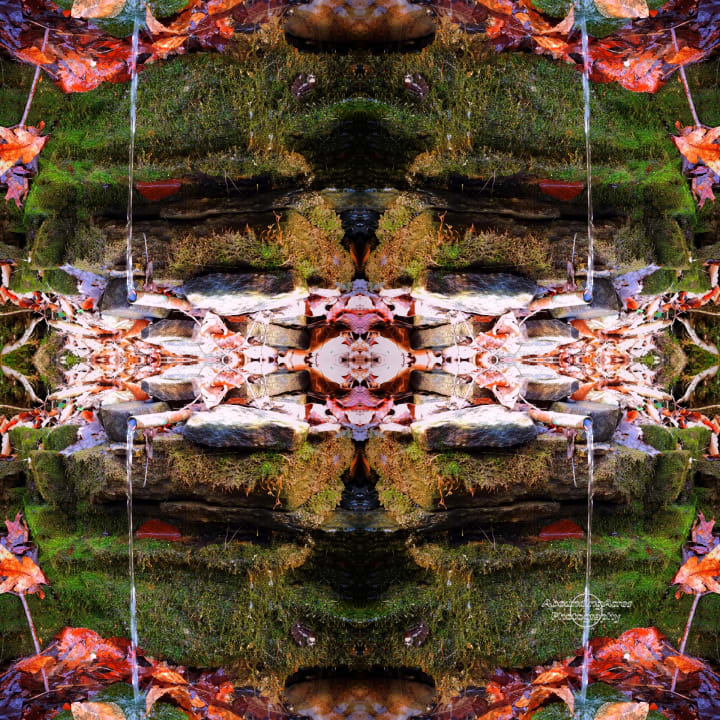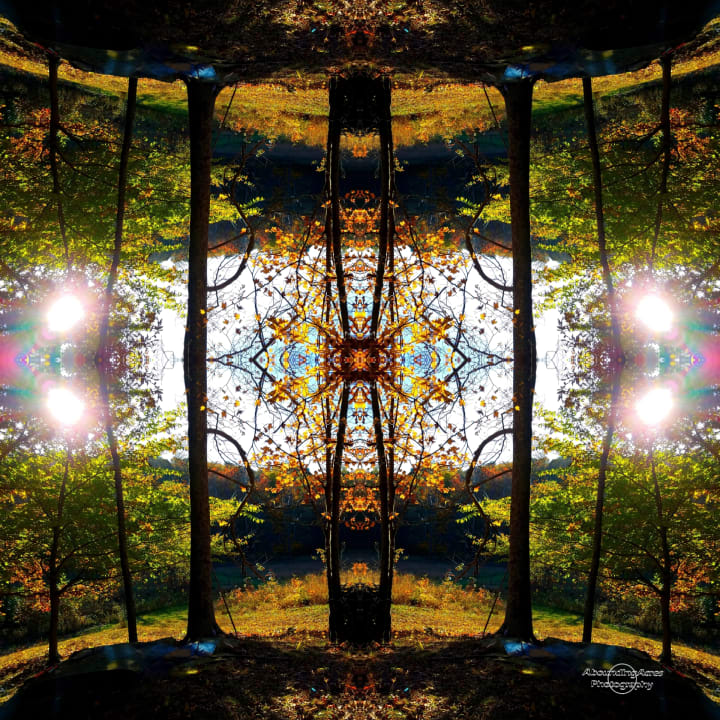 Most of these images were taken right in my own backyard. I love being out in the fields and forests, exploring the woodland streams and springs. I find inspiration for my photos in all seasons.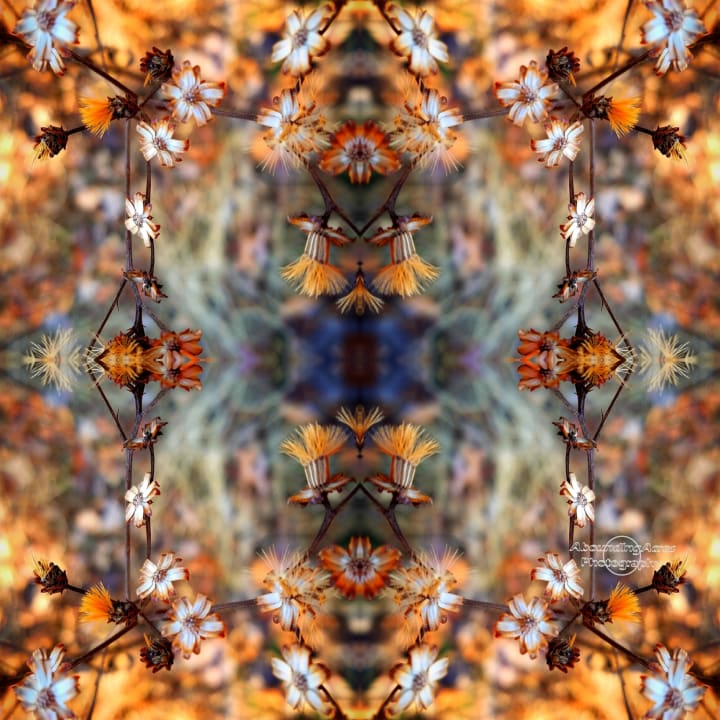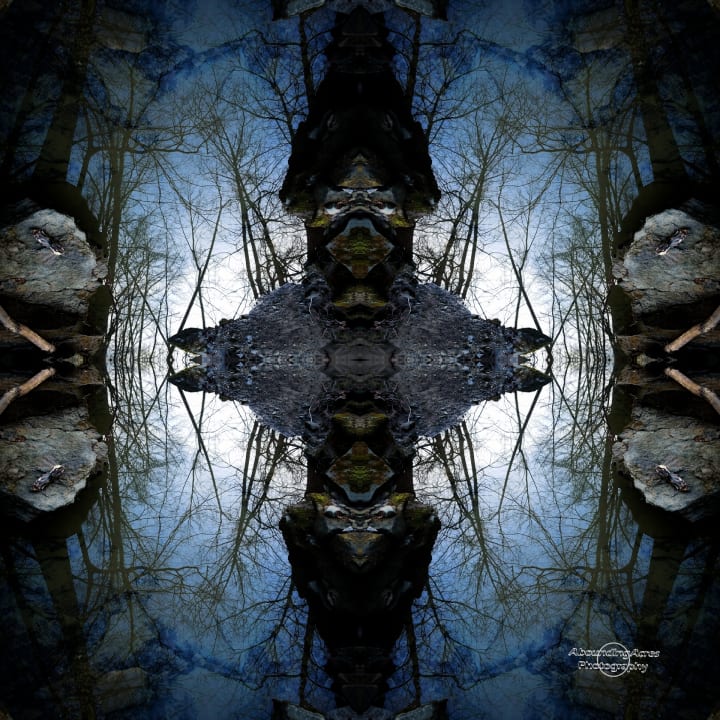 I love taking photos of reflections on the water, and just water in general. I got pretty wet capturing the photo below, as I was actually behind the falls.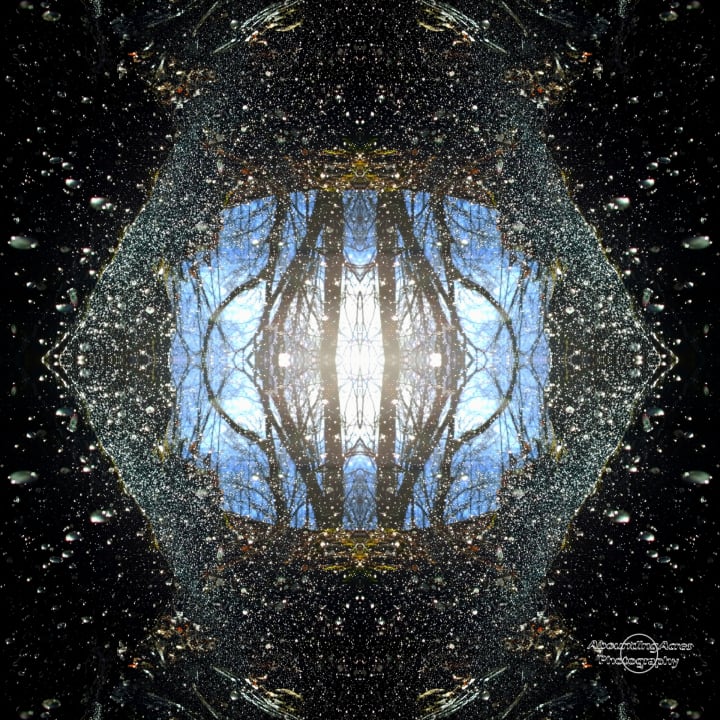 I am fascinated by light. I love the way it dances on the water and makes rainbows in the morning cobwebs. I'm mesmerized by the way shadows move and the way light reflects off the water and makes ripples on nearby trees. I love to capture light in my photography and creating mirror images takes light to a whole new level.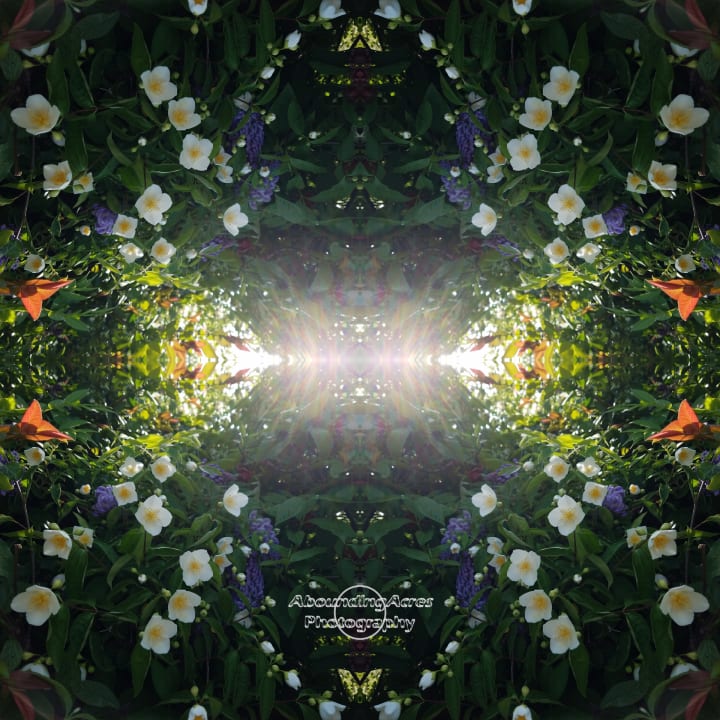 Beautiful patterns are also created from the sky. Clouds, sunsets, sunrises, storms, and rainbows are great subjects!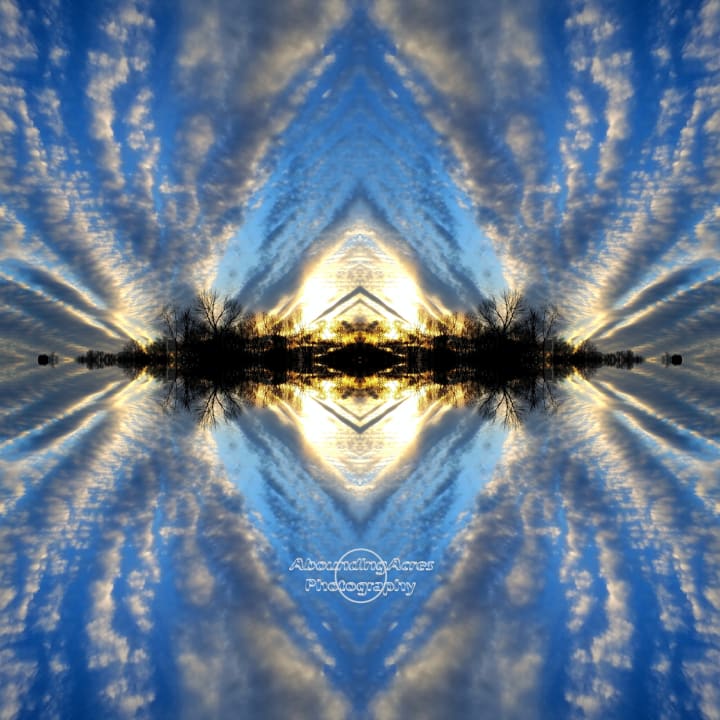 I made negative reproductions of the nature photos and applied the mirroring technique to them. This created mystical landscapes of blue, pink and purple.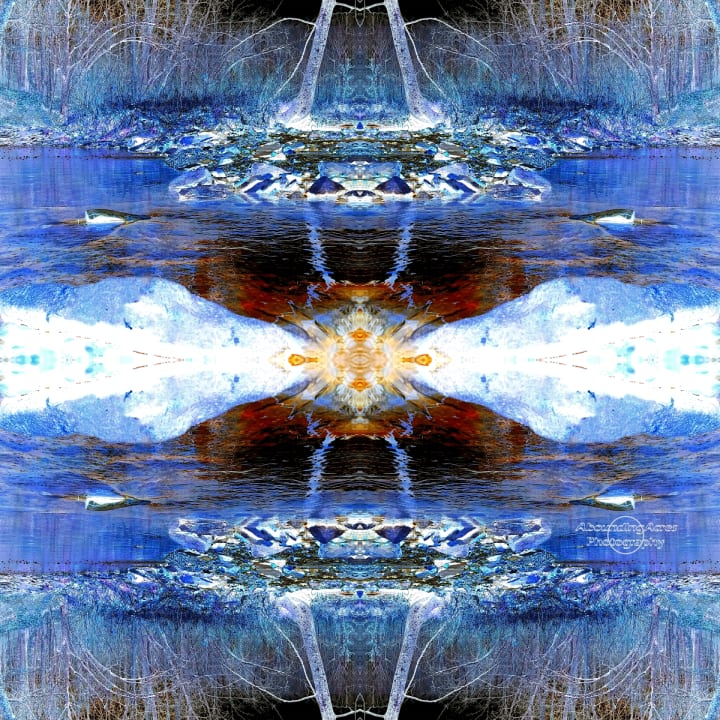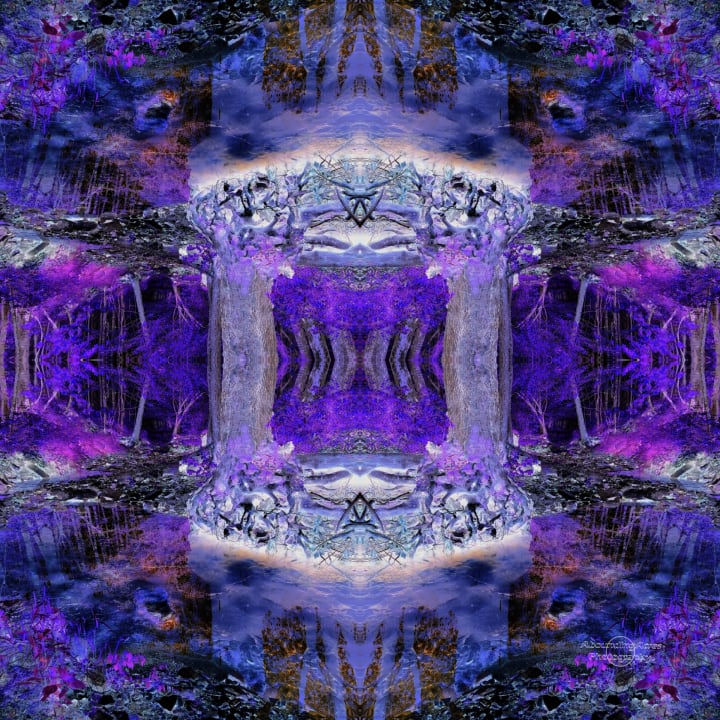 As I looked at the images, many creatures appeared. Some looked like animals; frogs, lions, raccoons, birds. Others looked more human, other-worldly, or like spiritual beings. I was fascinated by the beings that appeared in my photos.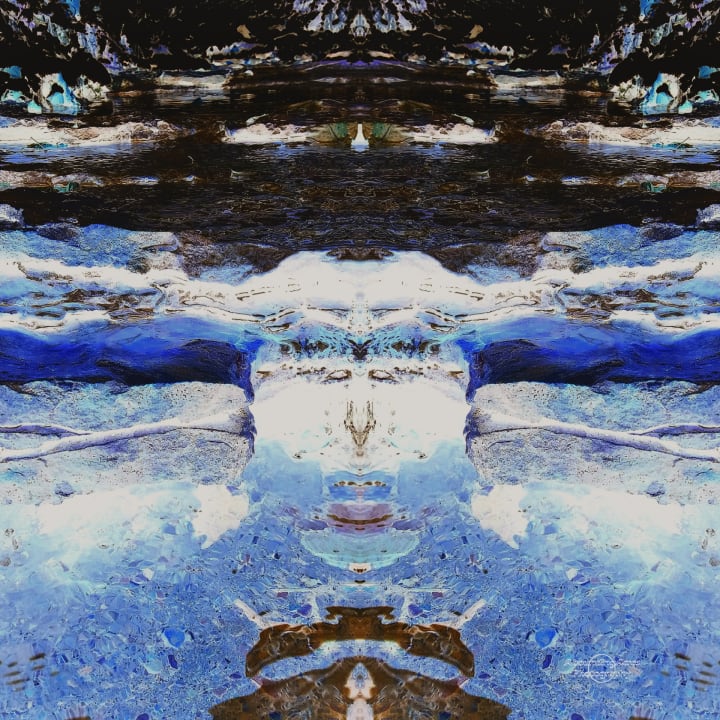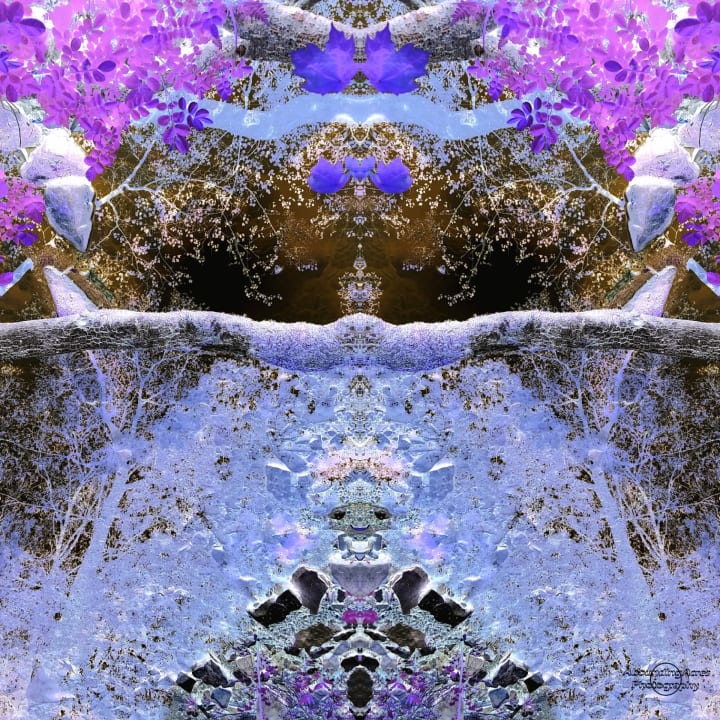 The Forest Queen is my favorite. She is beautiful! I love her blue lips and her diamond headdress. I created a video to demonstrate exactly how she appeared in my nature photo.
If you'd like to see more Patterns of Nature, check out the video below or visit my Pixels page, where you can find the full collection.
editing
About the author
Amanda is a creative writer and photographer. She creates from her farm in rural Indiana. The farm's rolling fields, forested ravines, and abundance of plant and animal life inspire much of her writing and photography.
Reader insights
Be the first to share your insights about this piece.
Add your insights