My First 6 Months of Stock Photography
How much can you make from stock photography in 2022?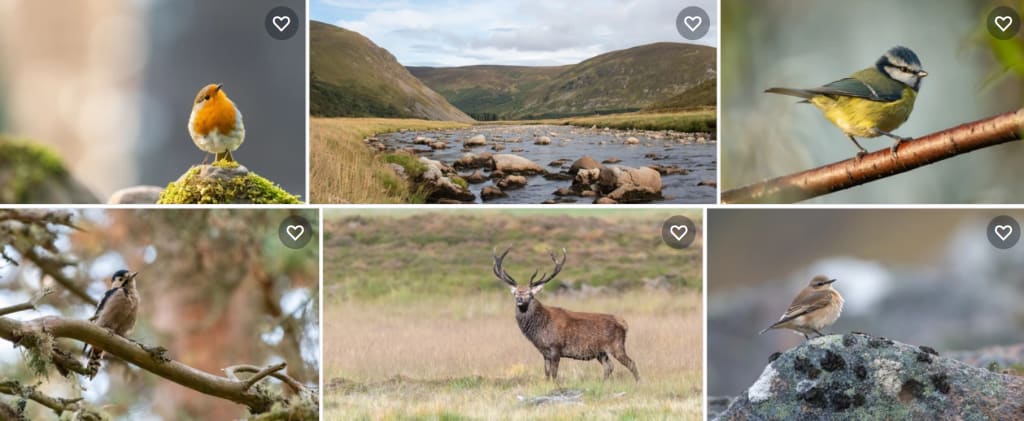 Screenshot of author's Shutterstock portfolio
I've been uploading some of my wildlife photographs to stock photography sites for around six months now.
So, I thought it was about time to take stock of the situation. (And make terrible puns.)
Have I found a superior side hustle? Am I up to my armpits in passive income and draped in blue tit groupies?
Well, not exactly.
Should You Start Stock Photography in 2022?
If you want me to tell you it's a good time to start stock photography in 2022, then I'm not your guy. There's never been more competition, lower barriers to entry, and lower royalties.
"I like a challenge", you say? I can admire that attitude. You remind me of myself.
Actually, I hate myself. Why are you like this, too?
I'm continuing to upload mainly because I'm a sucker for punishment, and also because I'm quite stubborn.
But it's not all bad. We'll get into that later, but first, the results.
My Stats
I submitted wildlife photographs to four stock agencies. Here they are, in descending order of most to least pictures uploaded:
Shutterstock (571 photos)
Adobe Stock (425)
iStock/Getty (66)
Alamy (47)
As you can see, I focused most of my efforts on Shutterstock and Adobe Stock. They're the ones I had the most success with, so I doubled down on them.
I've not had a single sale from Alamy, and no one's even so much as clicked on one of my photos in several weeks, so I've basically given up on it.
I've been meaning to upload more to iStock, as I've had a handful of sales with relatively few photos.
I peaked early, with sales of $0.57 and $0.35. But when I eventually got my royalty statement for March, (unlike the others, it doesn't update daily) I found two sales that made a combined 11 cents.
I didn't realise royalties could go that low, so I've been reluctant to exert much more energy on iStock.
How Much Did I Earn From Stock Photography?
So, what have I earned from wildlife stock photography in 2021/2022?
Here are the numbers so far, as of 11/5/2022 (that's May 11th for you 'Muricans, as I'm English). I started uploading a few pictures in mid-late November '21.
Shutterstock: 116 downloads, $38.33 earnings
Adobe Stock: 22 downloads, $17.73 earnings
iStock: 6 downloads, $??? earnings ($1.03 from 4 sales, with 2 more sales I haven't received royalties for yet).
Alamy: 0 downloads, $0.00 earnings, 0 will to live.
So, as you can see, I've earned a little over 57 bucks from wildlife stock photography in the last six months.*
*Well, mainly wildlife photography. Over 90% of my portfolio is animals, and most of them are birds. I'll get into the ins-and-outs in a minute.
That's better than being hit in the face with a spatula, but worse than most money-making enterprises, such as small children with lemonade stands, or looking for loose change by the side of the road.
But there's more to life than money. That's what I tell myself as the bitter tears roll down my cheeks.
Stock Photography Trends & My Best-Selling Photos
I bet you're begging to know which avian accomplices netted me the most downloads and royalties.
Well, here's a list of my Shutterstock bestsellers by species/topic.
Blue tits, 16 downloads: people can't get enough of blue tits, apparently. 10 of these were of one photo, which I took in my garden.
Robins, 10 downloads: another common garden bird. The European robin (different from the US species) is a cute little guy and is always popular on things like greetings cards, so it makes sense that it would get more downloads.
Wrens, 6 downloads: similar story as the robin. The downloads were spread among four photos, all taken in my garden.
As for non-bird-related photos?
I've sold a few deer photographs, one rabbit, three seals, and a smattering of zoo animals from one trip a few months ago.
My girlfriend agreed to sign a model release so I uploaded 6 or 7 pictures of her from our latest holiday in the UK. I've sold two photos of her standing in front of a house in a picturesque village, and two of the back of her head at Symonds Yat Rock, a viewpoint near the England/Wales border. (For a total of $0.40.)
Maybe I'll take her out for dinner to say thanks. We can share a grain of rice.
Since spring arrived, I branched out a little with a few insect and flower pictures. I only uploaded three flower photographs and one has sold twice, so maybe I should do a bit more. I've sold a couple of butterflies and bees, too.
Rounding things off, there were two downloads of road signs (I think I've only uploaded three).
The rest are various other bird species. (Kingfishers, owls, several small brown birds you've probably never heard of.)
Adobe Stats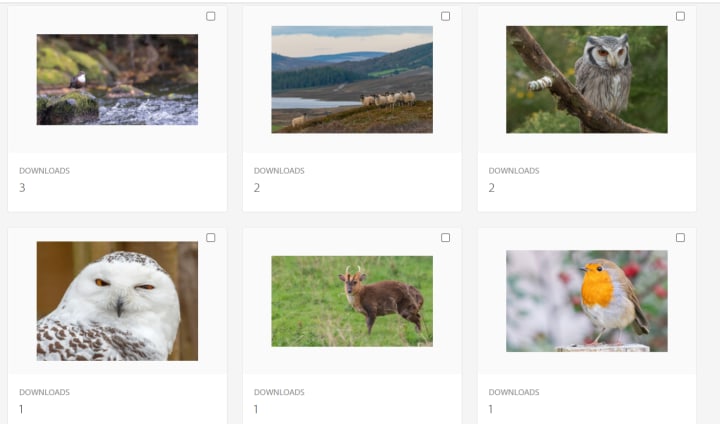 With only 22 downloads, it's hard to pinpoint any trends in my Adobe Stock portfolio.
The dipper is in top spot, which is a photo I'm quite happy with. (It's netted over $5 from those three sales.) Owls, robins, and sheep are the other main sellers. (Curiously, no blue tits. Blue tit connoisseurs obviously eschew Adobe and go to Shutterstock.)
Royalties are better, if more sporadic. They're usually in multiples of $0.33: either $0.33, $0.66, or $0.99 usually, but I did sell the aforementioned dipper once for $3.30.
Pros and Cons of Wildlife Stock Photography
If you're still on the fence about starting stock photography in 2022, here are some quickfire pros and cons from my own experience.
Pro: Both Downloads and Earnings are (Mostly) Increasing
Here are my Shutterstock earnings from November to April: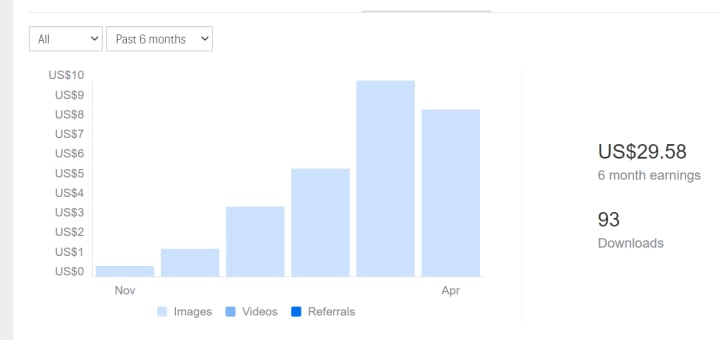 Until the blip last month, it was going decently. I assumed the more photos I uploaded, the more I'd make, and that's mostly been true.
That graph doesn't include May; I've already had more downloads and earnings than the whole of April and we're only 1/3 of the way through the month, so it should be comfortably the best.
I'm now averaging over a sale per day for the last few months. I've had a few days with 5 or 6 downloads, and recently had one with 8. I've also just reached Level 2 on Shutterstock, which means 20% royalties instead of 15%.
Cons: Royalties
Of course, getting 8 downloads in a day sounds okay, but not when they're for 10 cents each, as many Shutterstock sales are.
That's the minimum royalty, but since most downloads are from companies who've bought large subscription packages, it's also the most common royalty.
I thought, having reached Level 2, my minimum would be more than $0.10, but it turns out the largest subscription packages work out at just 20-odd cents per download, so creators are getting their cut (20%, in my case) of that.
If you can do some basic math, you'll realise 20% of 20-something cents is less than 10 cents. Yes, it turns out Shutterstock is "generously" rounding up to make sure contributors get at least 10 cents.
Smattered among the 10 centers, there are a few better royalties. About 10% of my sales have been over $1, a handful over $2 or $3, and one over $5.
It's these single-use and "on-demand" sales where the increased royalty comes into play. We'll see how it goes, but it's not going to be an earth-shattering increase in earnings.
Pro: I'd Be Taking Photos of Animals Anyway
If you're hoping to earn a living from stock photography, I hope the last several paragraphs have been enough to pour cold water on that dream.
I'm not going to attempt to calculate an hourly wage for my time spent taking pictures, editing, and uploading them, because therein madness lies.
But the main point is that I enjoy taking pictures of wildlife, and I'd be doing it regardless. I also quite enjoy editing. Uploading is the real drag, but I'm sure I can streamline the process a little.
At best, this is going to turn into a handy side income. But that's ok. I'm still taking pictures of the birds and other animals that I want to — I'm not going to restrict myself to certain subjects just because they have a better chance of selling.
For me, wildlife photography is still its own reward. I've had some great experiences photographing beautiful birds like barn owls and kingfishers.
Of course, I'd like to make some extra cash while doing so, but I'm realistic about the results. I'm also exploring other avenues like printing some of my photographs.
Good Luck
If you made it to the end, congratulations. Or should that be commiserations?
I hope anyone interested in stock photography and/or wildlife photography found some of it vaguely helpful.
To summarise, the best way to make money from stock photography is to spend your time doing something other than stock photography.
Hang on, I just made another 10 cents.
Scratch that. I'M RICH!
how to
About the author
Humour writer, self-published author, amateur wildlife photographer, and red panda enthusiast.
Reader insights
Be the first to share your insights about this piece.
Add your insights