My Favorite Photography Subject is...
What's your favorite thing to photograph?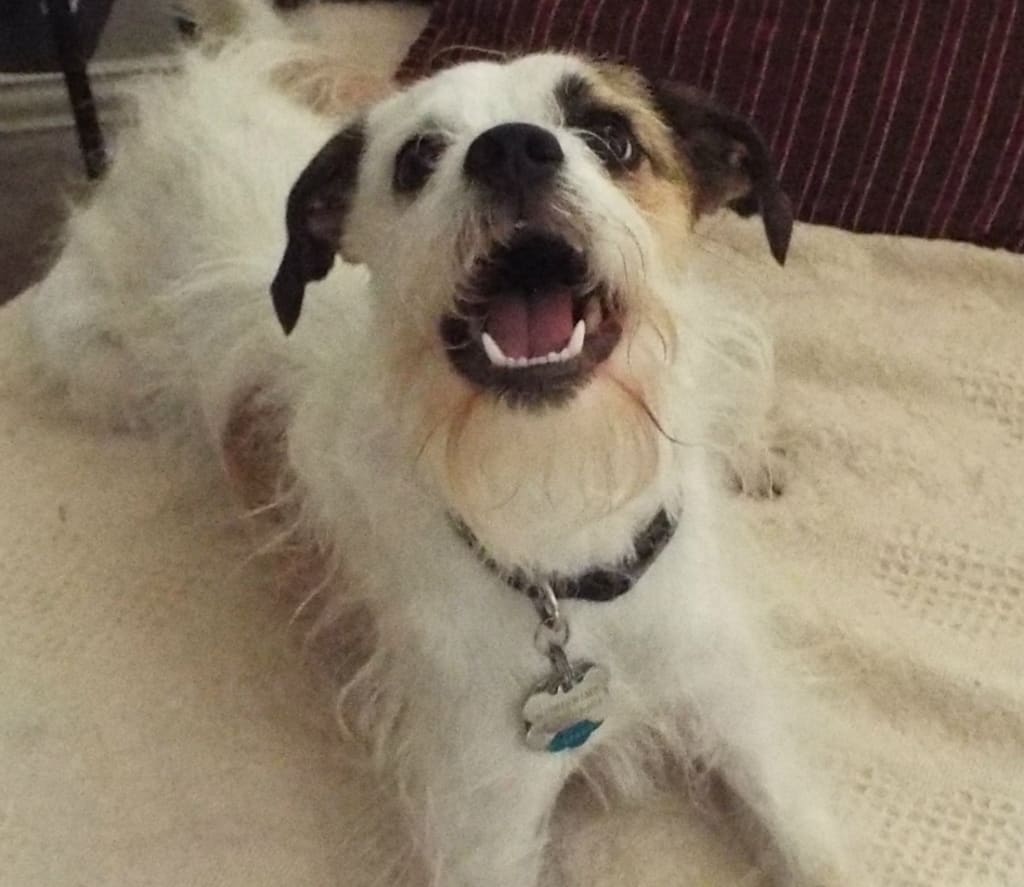 This is my favorite photo of Witherwings because he looks so happy to me.
I'm a photographer and I have a favorite subject to photograph. I suppose everyone with a camera has a favorite photography subject, a specialty, or maybe both. It might be nature, portraits, sports, black and white photography, or some other area they especially enjoy seeing through the camera, or excel at. You can often tell what it is simply by looking at their portfolio.
I'm no different. Even though I'm not a professional photographer, I am an avid amateur, and I have a favorite subject. If you were to look at my collection of photographs, you'd see hundreds, if not thousands of photos of the same thing. But they're never the same.
My favorite photography subject is Witherwings, my 8-year-old Jack Russell mix dog. His name comes from Harry Potter (in Harry Potter and the Order of the Phoenix Buckbeak was renamed Witherwings when Harry had to take him back to Hogwarts after Sirius Black died) and I chose it because much like Witherwings in the book, I rescued him at a really rough period of my life, and he rescued me right back.
Like most parents, I think my "baby" is the cutest, smartest, most well-behaved child there is. And of course, it's true.
He's also a really great photography subject. When you're taking a photo of someone or something, if you want a clear, sharp photo, it's important that the subject not move. Witherwings is pretty darn good at that. He's not very wiggly (though sometimes when I call him to make him look at me, he does come to me instead), he's adorable, he's responsive to commands, he's always available, and he doesn't charge me a modeling fee!
He's a good sport, and will let me be silly by putting things on his head, or wrap him up in a blanket, and he doesn't seem to mind if I zoom in on him when he's eating, or drinking, rolling on his back, or playing. He doesn't complain if the photo session goes on too long; in fact, he thrives on being the center of attention for so long.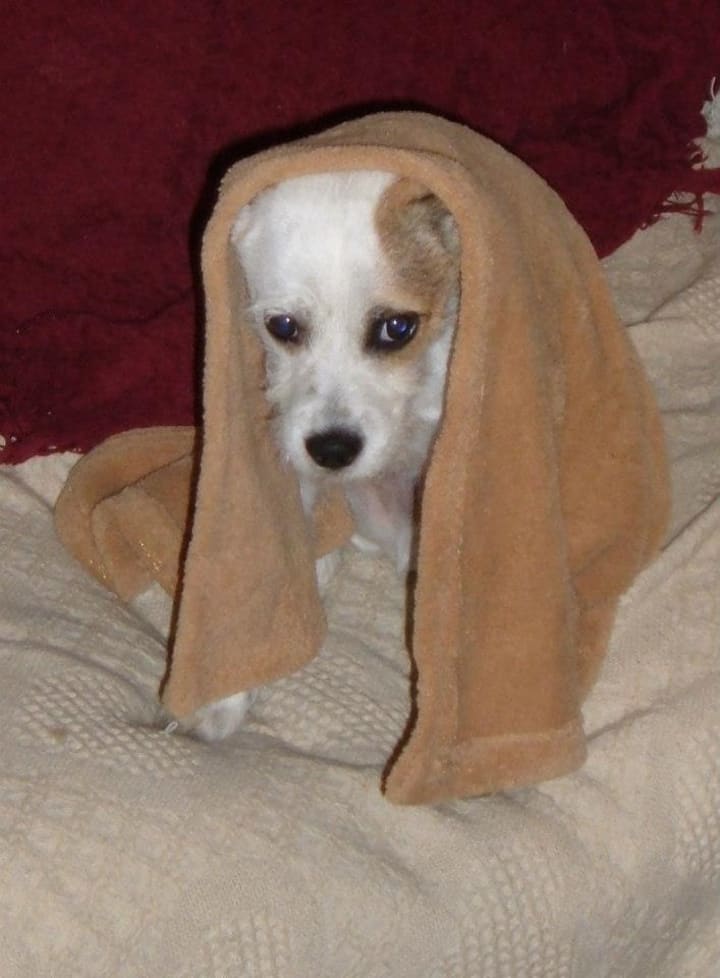 A photographer's dream!
For the most part, he's unfazed by all of this, and sometimes I think he really enjoys the attention. I'm pretty sure he doesn't know what I'm doing when I take his picture. To him, it's just the two of us spending time together, and me paying him lots of attention, and occasionally giving him treats.
The only time the camera affects him is when I take it along on our walks. Then, if I dare to stop and take a photo of something other than him, he's quite put out. All the things that he's not when he's modeling for me, he is when he isn't the main focus of my attention. A lot of the pictures I take when we're walking are blurry because he's tugging at the leash wanting to keep walking. (He doesn't seem to care that I don't complain that he stops every three feet to sniff.)
I've been taking pictures of Witherwings since the day I brought him home from the animal shelter, and I take a photo of him just about every single day.
If I'm feeling blocked, bored, or uncreative, which can be a bad thing for a photographer, I turn my camera on Witherwings, and before I know it, I've taken lots of photos, and I'm feeling ready to turn my camera on other things as well.
I think one of the reasons I keep taking photos of Witherwings is that I'm not sure that any of my photos of him have truly captured just how adorably cute he is, or how sweet he is, or how cuddly he is, or how my heart just melts when he looks in my eyes. But even if I did manage to capture all those things, I'd still take photos of him.
Another reason is that, like a parent, I want to document his growth and development, as well as our time together.
Witherwings is now scruffy, with hair sticking out all over the place (it just will not be tamed). It's been that way for as long as I can remember. But several months ago I was looking at all the photos I have of him and saw the pictures I took when I first got him and he was just a puppy.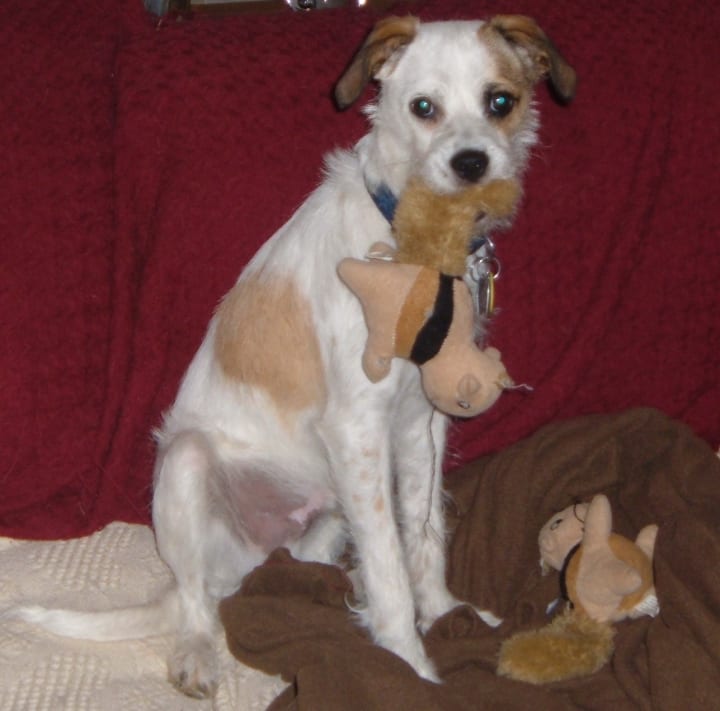 I was shocked to see—and remember—that he wasn't scruffy then!
The memories the photos bring are priceless, and one of the best things about taking so many of them.
Having a favorite photographic subject doesn't have to be boring, and it isn't if your favorite subject is always changing.
What's your favorite photography subject?