Escape to Tahoe
Nature and its endless endeavors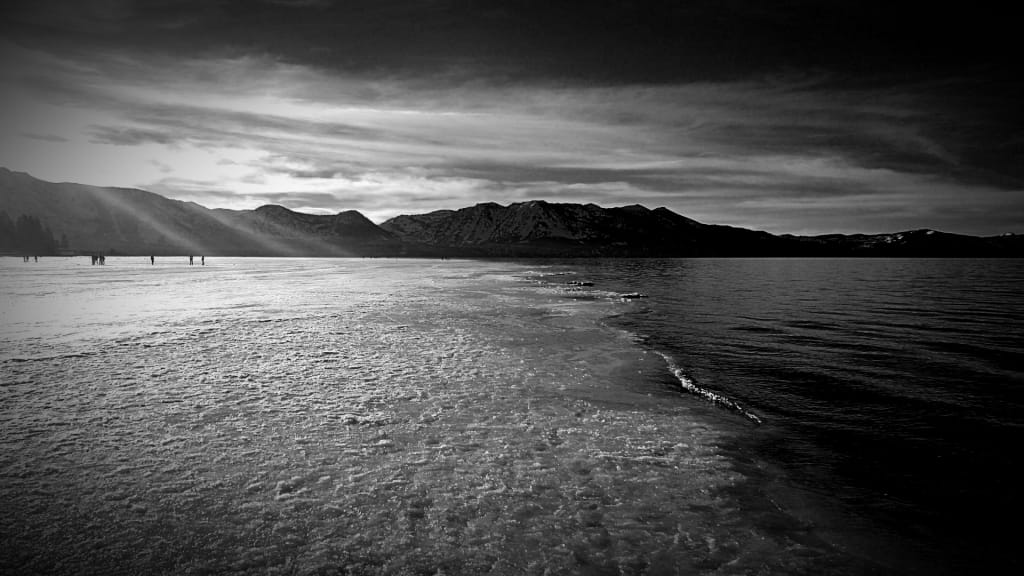 It was a cold winter day, the month was February of 2016 in South Lake Tahoe and it was my first time ever visiting. During the road trip to Tahoe there was snow everywhere making it feel like a winter wonderland. Me and my family had just gotten back from snowboarding and we were on our way to check in to our hotel room which was right in front of the beach. Whenever I go to any beach my main focus and instinct is to walk toward the crashing waves to touch the water. I was walking on the icy sand heading toward the water without even looking at my surroundings. I felt the water with my bare hands and yes it was cold. I then stood up and took a deep breath of the cold fresh air. I turned to my left and just stood there in disbelief and in awe. The view of the mountains straight ahead, the lake on my right, the icy sand on the left, and the sun shining down from the top left corner took my breath away and it immediately took away the numbness from my cold wet fingers. The feeling of every natural element surrounding my entire body gave me a sense of peace and tranquility. I took out my cell phone (Motorola Droid Turbo) to take a picture of the incredible view. All it took was one shot and done. In moments like this I like to take one picture and then immediately put my phone away to really appreciate the views and be in the moment.
When I had gotten back home from the trip I knew I wanted to post this photo on Instagram in black and white. I always dreamt of owning my own professional camera, but as I grew older I realized that it wasn't a major necessity in my life because I already had a phone. I love that my parents would always reassure me that I didn't need expensive things to create something beautiful and that I can always create something amazing with what I already have. To this day I never forget those wise words. When I edit my photos I never use the set filters because each photo is unique and I want make them look like they were taken with a professional camera. I become extra picky with this process because I try to enhance nature's natural lighting, shadows, and colors. I edit a little bit of the brightness, contrast, structure, saturation, highlights, shadows, sharpen and clarity to most of my photos. For this photo in particular I adjusted the vignette which shades and darkens the border of the photo to enhance the bright center. It created such a drastic effect and it changed the photo completely in the best way possible.
To this day I believe this photo is the best black and white photo I've ever taken. This photo brings out my inner child because at a young age, apart from wanting to save wild animals, I wanted to travel and take amazing photographs of the great outdoors and the animals that live within it. Growing up I used to love watching all the nature shows on T.V. like National Geographic, Animal Planet, the Travel Channel and Planet Earth on BBC. I've always admired the cinematography of all the nature shows, especially Planet Earth: Blue Planet II. I always hoped that one day my photographs would be as breathtaking as the ones from the shows. I have always been one with nature and respected it, but watching these channels and shows made me want to learn more about the earth and learn how to capture and document its beauty. I have to say that I have come a long way in my life and I am proud with what I have accomplished thus far. I'm 24 years old with a bachelors degree in Marine Biology & Limnology. Everyday I try to help the environment whether it's by recycling, reusing, reducing, signing petitions that better the environment, or by going to the beach/mountains and picking up the trash that I see lying around. But I have so much more to do in my life. And the further I go without giving up my passion in helping animals and taking photos of my outdoor adventures, the further I will be able to help the world become a better place.