Beyond The Lens: Interview with Untamed Photographer's Melissa Groo
"I use my photos to try to bring awareness to threatened species, and impact their conservation positively in any way that I can. It's not enough just to take pretty pictures anymore. The pictures have to mean something, they have to accomplish something." -Melissa Groo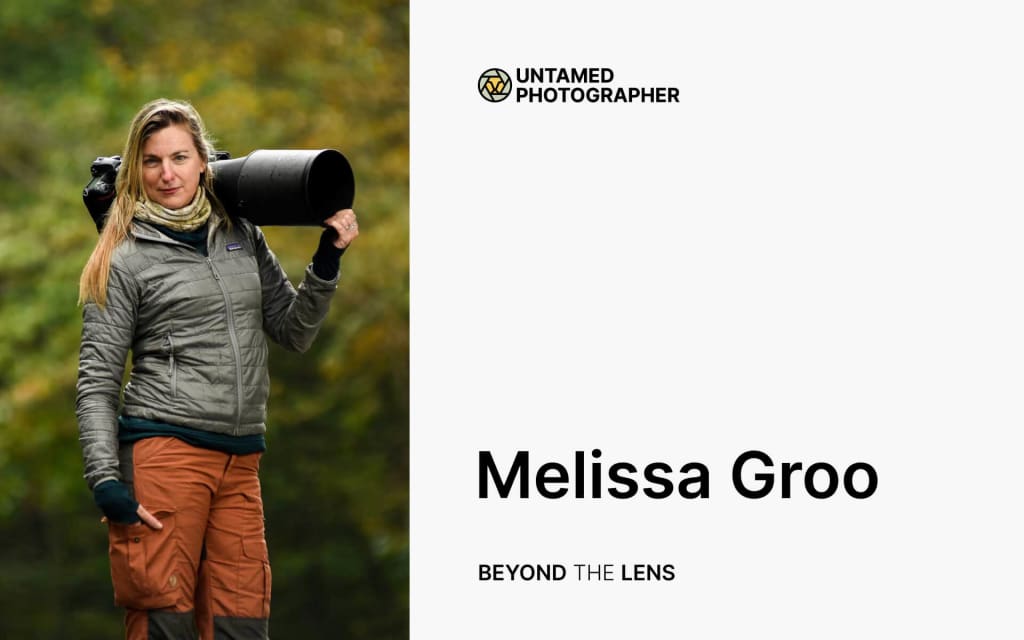 Photo: Heather Ainsworth
Melissa Groo is a wildlife photographer, writer, and conservationist with a passion for educating people about the marvels of the natural world. She believes that photography can be both fine art and a powerful vehicle for storytelling, and considers herself a "wildlife biographer" as much as a wildlife photographer.
Melissa boasts a long list of globally-recognized accomplishments in the field of wildlife photography and conservation. In 2015, Melissa won the Grand Prize at the Audubon Photography Awards. Then in 2017, she won Audobon Connecticut's Katie O'Brien Lifetime Achievement Award, meant to honor her exceptional leadership and commitment to the conservation of birds, other wildlife, and their habitats. She also received NANPA's biannual Vision Award (now known as the Trailblazer Award) in 2017, given to a photographer every 2 years in recognition of early career excellence, vision, and inspiration to others in nature photography, conservation, and education. The list goes on and on.
In partnership with Untamed Photographer, it's with great pleasure we point the lens back at Melissa in this #BeyondTheLens. Enjoy!
On Her Background, Upbringing, and Finding Her Calling:
Though my favorite place to be is in the wilderness, I grew up in a very urban setting—New York, New York! My only interactions with wild animals were seeing the pigeons on the street. Since then, I have pursued many different things in life, from working as a silversmith to a teacher to an elephant researcher. When I found photography about a decade ago, I knew I had finally found my calling.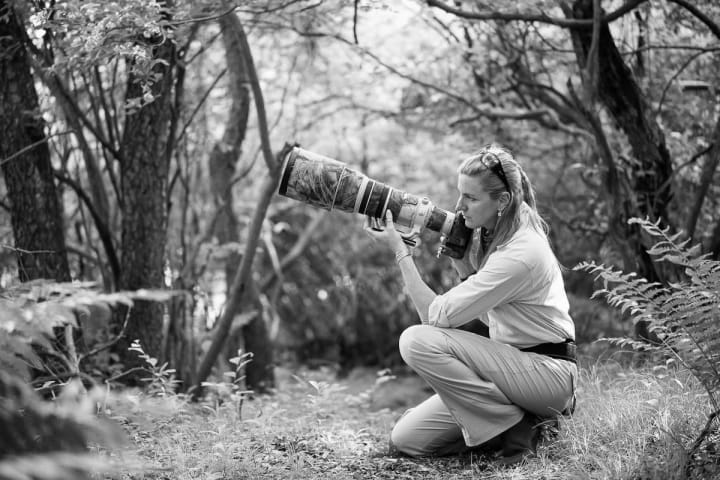 I grew over time into a wildlife conservation photographer, which means I use my photos to try to bring awareness to threatened species, and impact their conservation positively in any way that I can. It's not enough just to take pretty pictures anymore. The pictures have to mean something, they have to accomplish something.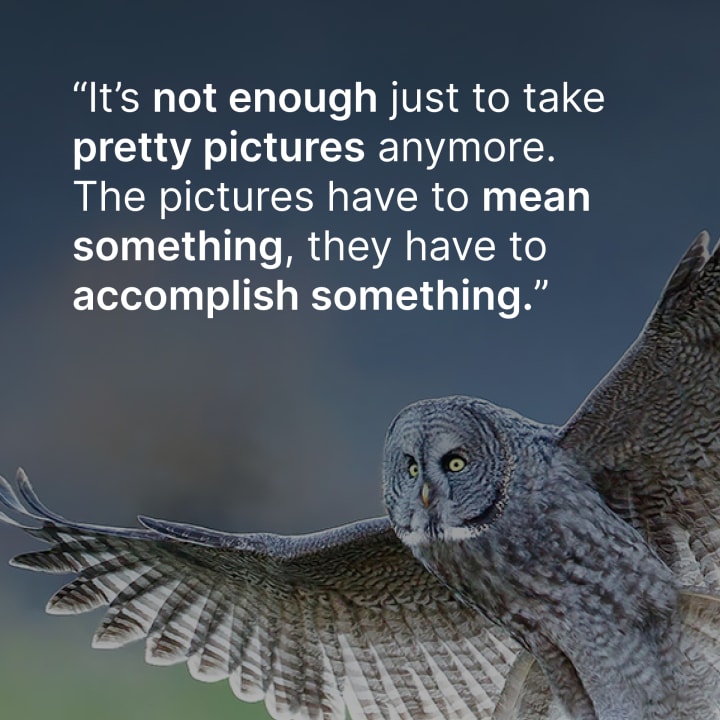 I also am a writer, and write both on issues of conservation and photography. I write a bimonthly column on wildlife photography for Outdoor Photographer magazine. Sometimes I write articles for Audubon.
On Her Affiliation with Untamed Photographer:
I was contacted by Amy Peters, director of Untamed Photographer (UP). She had been following me on Instagram and she said she really liked my photos, and the stories I told with them. I think she also appreciated my focus on conservation.
I feel so fortunate to be working with UP, as we have the same mission—to use beautiful, ethical photography to advance the protection of wild creatures and spaces.
On Becoming a Wildlife Photographer:
I came to photography after trying my hand at many different professions. Though I sometimes wish I had found photography earlier, I think that all my experiences actually have really helped to better inform my work as a photographer. I got into photography by taking a basic digital photography class at a local community college.
At first I was really into macro photography, taking close up photos of bugs and orchids and other plants. I then started branching out into landscape photography, and then, in 2010, I fell into wildlife photography and instantly became obsessed. Three years later I became a professional photographer, having decided that I was ready to commit everything I had to this as a career.
On Being A "Wildlife Biographer":
I call myself a "wildlife biographer" because I absolutely love to tell stories about individual animals. Stories that highlight their struggles, their relationships, their playfulness and delight in life. I want so much to convey to people that, like us, non-human animals care deeply for their families, feel strong emotions, and value their lives as much as we value ours. These kinds of stories can only be told over time, and with patience. I'm not patient with very much in my life, but when it comes to wild animals and a story unfolding in front of me, I have nothing but time and attention!
So it's really about spending an extended period of time with a subject (in as nonintrusive a way as possible) in order to document a "biography."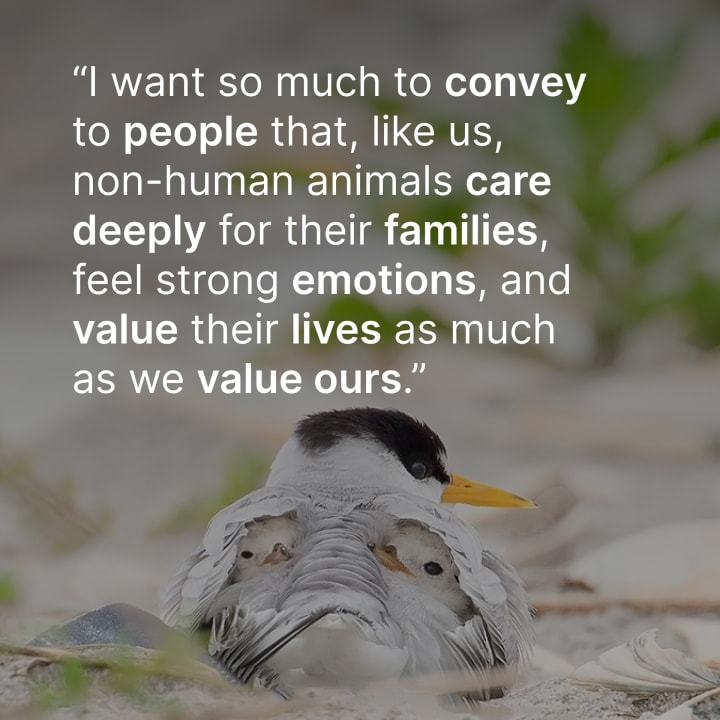 On Her Most Memorable Photo Expedition:
Perhaps that would be photographing the elusive Spirit Bear of the Great Bear Rainforest in British Columbia. It's a white Black Bear, basically. It carries a double recessive gene that makes its fur white. There are thought to be only about 200 of them in existence, living only there in that rainforest. I went there on assignment for Smithsonian magazine.
I only had a few days there, and I had to get the shot. Of course, it's wildlife and you never know what you will see, particularly in that vast wilderness you are exploring by boat. I ended up being able to photograph a white mama and her white cub, as they fished for salmon in a stream. A once in a lifetime experience!
On How Often She Shoots:
Though of course things have been different during the pandemic, I am typically traveling about 20% of the year, either on assignment for magazines, or leading photography tours for clients. But even in between trips, where I live in upstate New York with my family, I am out almost every day shooting something. It might even just be a bird in my yard. Sometimes I just throw the window open and stick the big lens out! I definitely live and breathe photography.
On Her Favorite Piece of Equipment:
It allows me to maintain a good distance from my subjects, which lessens my disturbance of them. And I can shoot with a very shallow depth of field, which really isolates my subject and throws the background out of focus, and creates a nice bokeh much of the time.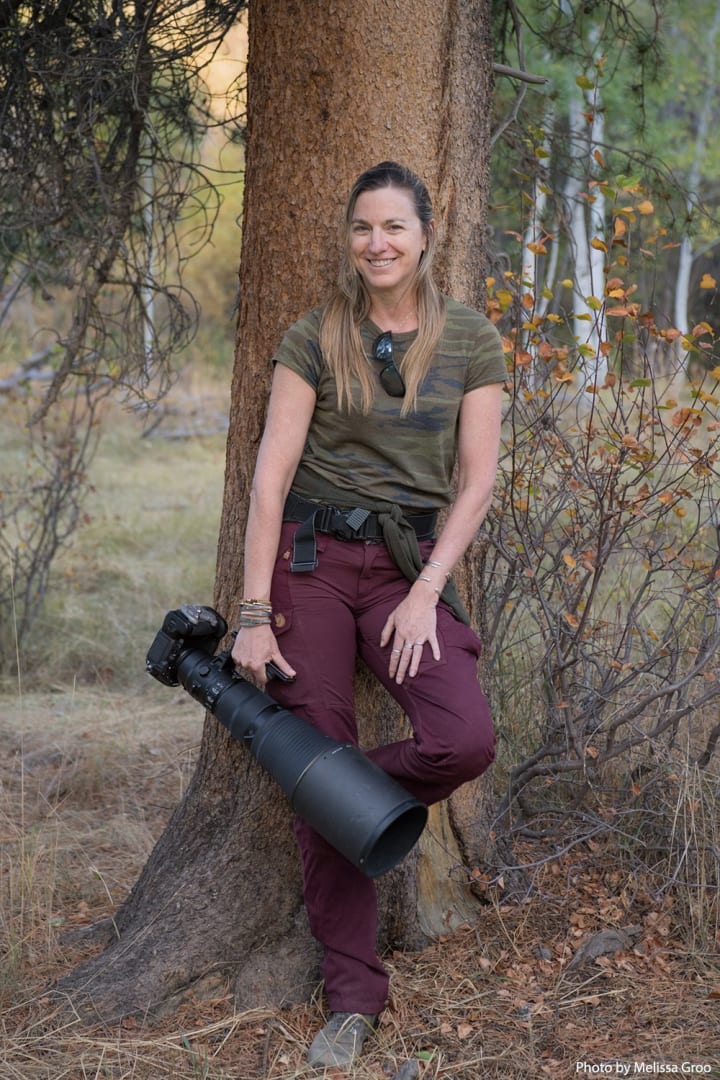 On Her Objectives as Co-Chair of the International League of Conservation Photography's Ethics Committee:
Helping ILCP to craft concise yet complete ethical principles, and to be a leader in the nature photography field, in terms of ethical best practices that place the highest priority on the safety and well-being of the animals, people, and places we photograph.
On the Most Primary and Impactful Ethics in Bird Photography:
First, do no harm. That should be every bird photographer's credo. Act with empathy and care.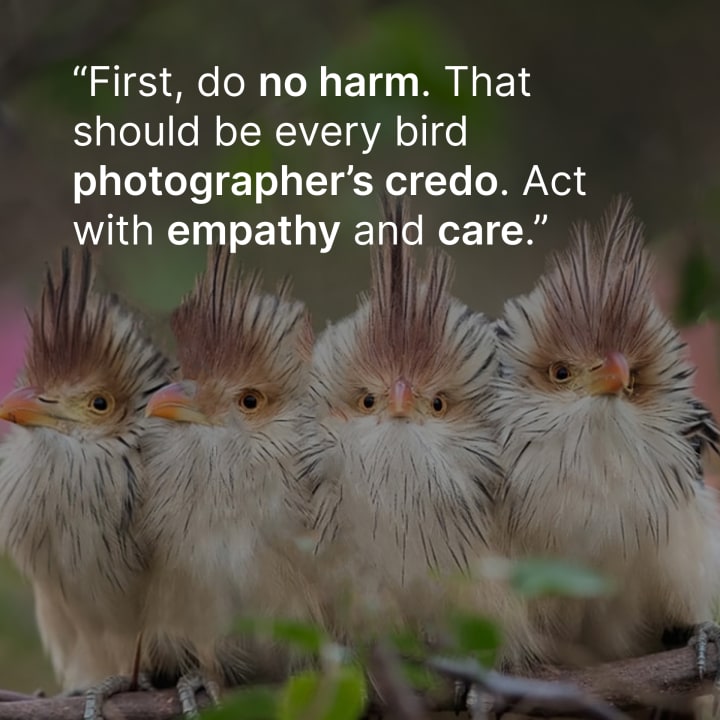 Birds are in trouble. We have lost 30% of the population in the last 50 years—that's 3 billion birds. There are so many challenges to their survival, from destruction of their habitat, to pesticides that poison their food, insecticides that kill their food, outdoor cats, window and car strikes, rodenticides, and on and on. We must act with extreme care when we are in their space.
Be especially sensitive around nests. That's the most important time in any bird's life—to continue its line. The young are incredibly vulnerable and fragile, and so many predators want to eat them. Our actions can have a big impact. I have worked with the National Audubon Society to create a set of ethical guidelines for bird photographers, and so won't repeat them here. I advise everyone to visit that guide:
On Overlooked Skills Necessary to be a Wildlife Photographer:
Strength and stamina are important, as wildlife photography (esp for birds) can involve heavy lenses (though telephotos are getting lighter all the time) and long hikes. You also have to be willing to endure incredibly uncomfortable/unpleasant conditions, from lying in stinky mud or guano (bird poop), to being assailed by mosquitoes and blackflies while in blistering heat.
Networking and relationship building are sometimes overlooked in this industry. I think it's super important to connect with as many people in different disciplines as you can, from photographers to magazine editors, from conservation organizations to scientists. Build solid relationships and don't be afraid to go out on a limb and pitch ideas and collaborations, to whomever will listen.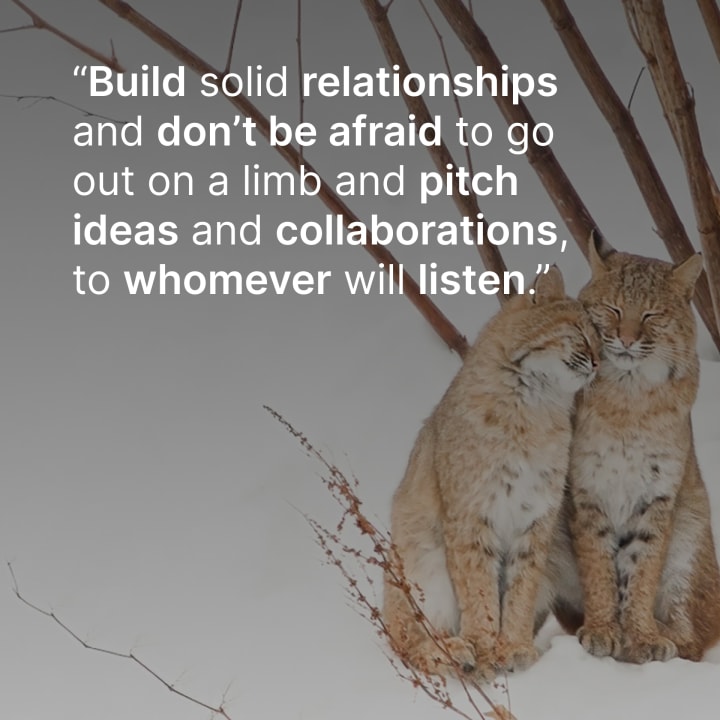 On Advice for Wildlife Photographers Looking to Break Into the Industry:
Practice constantly. Know your camera inside and out. Look at the work of other photographers that you admire. Study the work of the classical artists to see how they use light, color, composition. The oft-quoted line, "Know the rules like a pro so you can break them like an artist," is wise advice. Know the basic principles, and then riff off of those and create your own style. Engage with and educate your viewers by sharing information about the wildlife you photograph. People are hungry for stories, and hungry for knowledge.
It's hard to recommend gear. What's good for a bird photographer is not the same as what's best for a wildlife photographer who's after a wide range of big and small animals. I do think this genre will fully transition to mirrorless systems in the next few years. Get a good basic camera but spend your best money on good glass—a top of the line lens. And don't skimp on the tripod!
On Her "Team":
I don't have a team, I work by myself. Wildlife photography is not a lucrative profession by any means. You make much less than you would if you were a wedding photographer, or a commercial photographer. You can't really afford assistants. I have a person who on a very part-time basis does all my print orders for clients, but that's it.
The top Nat Geo photographers will sometimes have an assistant or two, though even those folks may go unpaid, just helping out for the experience.
This is a tough business.
On Which Photograph/Story She's Most Proud of:
I guess I would say the bobcats. That photo and that story—so close to home—have the most special place in my heart.
Don't think about it—first thing that comes to mind:
What is one thing you couldn't live without?
My skimmer pod (basically a ground tripod that allows you to lie flat)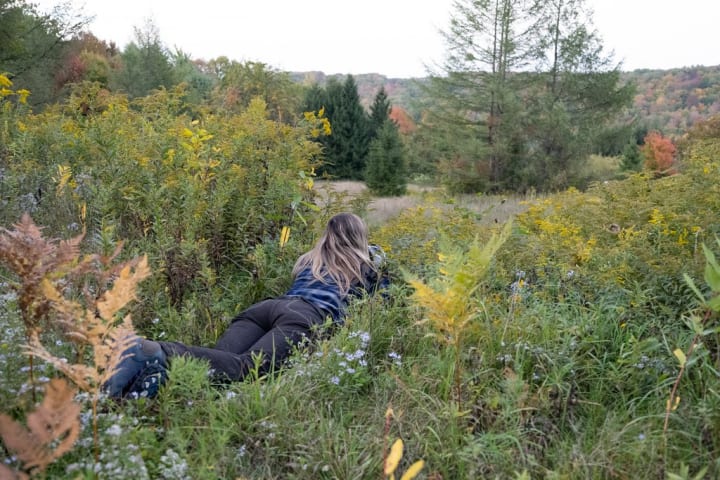 One adjective to describe your work?
Intimate.
Favorite animal to photograph?
Any wild cat or dog—especially bobcats, lions; coyotes, foxes.
Favorite location to shoot?
Africa
Least favorite location to shoot?
Where I live in upstate NY—excruciatingly tough to see wildlife most of the year!
Favorite snack while shooting?
Nuts and dried fruit
Go-to cafe order?
Latte and bagel
Favorite season?
Spring
If you could speak with one type of animal, which animal would it be?
Coyote
Closing
Melissa, your dedication and passion for wildlife conservation and photography is simply inspiring. Each photograph and story you publish on Untamed Photographer and Vocal teaches us not only about the struggles, successes, and general nature of your subjects, but about ourselves and our responsibility to do what is objectively right. In dynamic fashion, your photographs draw attention, and the appended context unveils all that is behind and beyond the lens.
As readers, thankfully exposed to the hard truths and fallacies around our cohabitant relationships, we have a choice—ignore, or protect. In your righteous, unending pursuit as a wildlife biographer, you make that choice an obvious one. Thank you for giving a voice to the hundreds of species you've photographed. By means of world-renowned wildlife photography, their message is heard loud and clear.
If you love Melissa's work as much as we do, you're in luck. Act fast and shop Melissa Groo's limited-edition prints today on the Untamed Photographer website.
Thanks again, Melissa!
Reader insights
Be the first to share your insights about this piece.
Add your insights