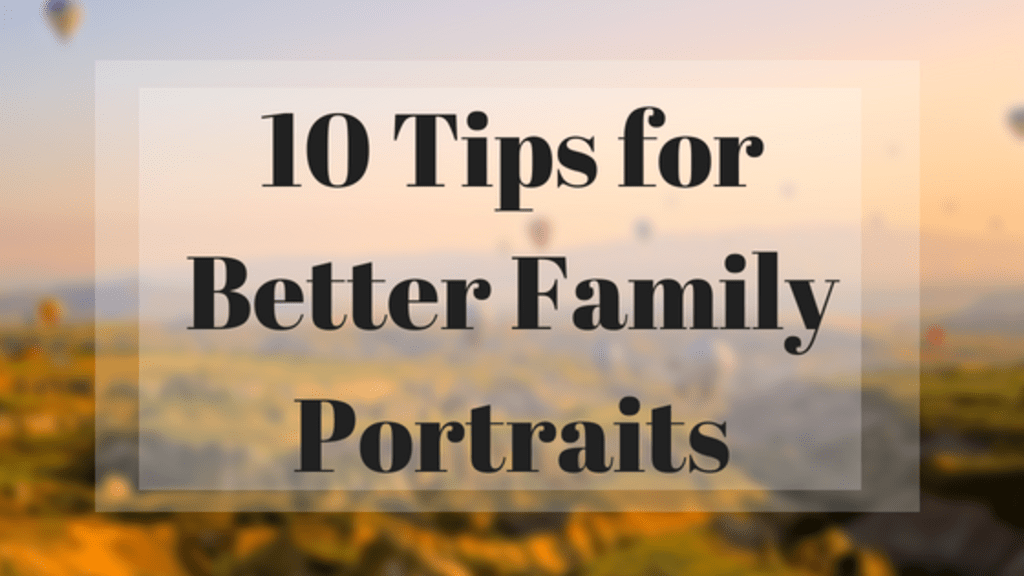 Some photographers believe that family portraits are meant to be strictly posed and formal... while others want to catch genuine moments. If the family wants creative portraits then that's the type of photography that you should deliver. On the other hand, sometimes there just isn't enough time for creative family portraits.
The general goal of family portraits is to get every member of the group in sharp focus, especially their eyes. None of the family members can be mid-blink or worse... mid-sneeze. If it's a larger group of people then you might even want to photoshop one person out of one picture where they aren't blinking onto the picture where they are blinking, just because it can be pretty frustrating to try to get everyone not blinking.
1. Scout the area first.
Well, first introduce yourself to the family. Maybe even explain your process. Be nice. Then scout the area! Some photographers swear by textured backgrounds to make the photo more interesting. Other photographers don't want the background to take away from the family.
2. Don't jump straight into posing the family.
If there are kids then this is important. Make sure to take some candid photos first. If there are a bunch of adults then make sure to explain what you are going to do and ask them what they want if you haven't already met up ahead of time.
3. Let kids be kids.
Don't overcomplicate the day with posing for too long in itchy outfits and boring adult talk. Let kids play their favourite games and contribute ideas of their own. It's important to get the little ones moving around. You never know what sweet poses they'll come up with all by themselves.
4. Fast Shutter Speed
Take lots of photos with a fast shutter speed. If one photo has a person with their eyes closed, the next one should be fine. If one happens to be blurry, well it's a good thing you tool.
Pro Tip: Shoot in continuous shooting or "burst" mode.
5. Customer Service
The customer service is more important than the photography itself. If the customer wants you to pose them, then pose people to flatter them. If the customer wants candid photos, then take candid photos.
Pro Tip: Allow clients to contribute ideas.
6. If it bends, bend It.
This is a common tip for helping people pose. Nothing is worse then awkward arms in a photo. For men, I always ask them to put their hands in their pockets.
7. It's okay to get creative.
Unless the family specifically asks for a non-creative photoshoot, then it is more than okay to bring props, games, etc. My personal favourite is the "picture frame." Get the parents to hold an empty picture frame and then get the kids to sit in the background so it looks like they are sitting in the picture frame. It's super easy and fun to do. If it's a shoot where you are getting paid, make sure to ask the family what they want first.
8. Lighting is everything. So yes, sometimes the sun will be in their eyes.
Squinting in photos doesn't look good in photos, but you need light to make a picture work. If the sun right in the model's eyes doesn't work then make a creative photo from the side. In desperate times, I've tried asking models to wear sunglasses, but that doesn't exactly work in wedding photos.
9. Personal Moments
Ask the family to come together for a group hug, and don't forget to include the four-legged friends.
Having trouble getting started? Try asking the kids their favourite part of having a sibling for some truly special moments.
Pro Tip: Be ready to capture candid moments.
10. Have a little fun with it and let go.
You don't need to stress about capturing a perfect candid. The moments come naturally. Again, let your kids be themselves. There is no need to force little ones into awkward family photos.
Pro Tip: Stay personally inspired.