Young Marine Wildlife Artist Reimagines Shamu Stadium
Fresh from a marine mammal internship at Six Flags Kingdom of Discovery, marine wildlife artist Eli Smith reimagines a newly improved Shamu Stadium.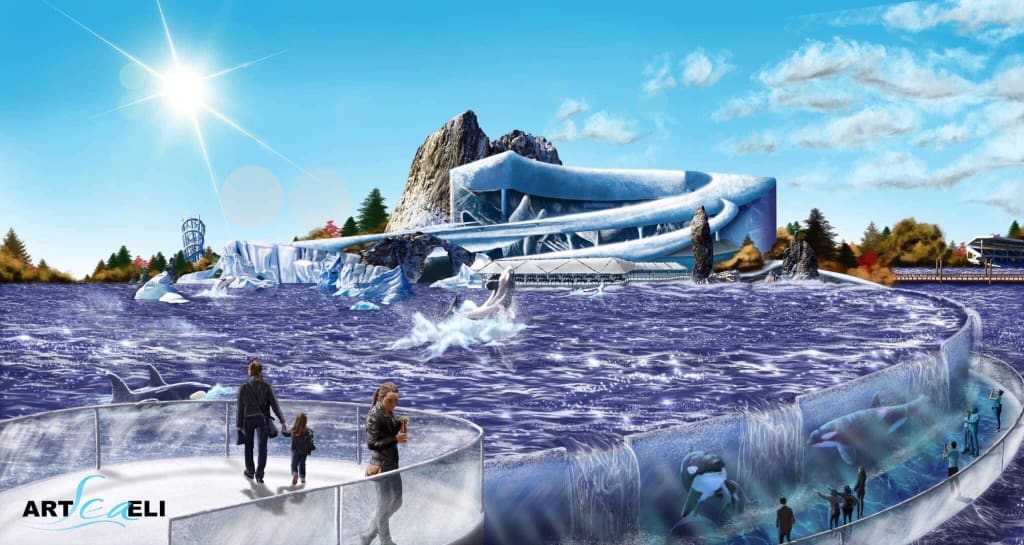 The Reimagined Shamu Stadium if Eli Smith gets his way. Artwork by Eli Smith.
A few years back, SeaWorld announced it was planning to expand its existing killer whale habitats at the parks in San Diego and Orlando. The newly expanded habitat would have given the mammals additional space to thrive and breed in a habitat that simulated a natural habitat-like setting. However, after the parks announced it would "phase out" the orca program, the project would never become a reality. A controversial "ban" on keeping killer whales under the care of scientifically accredited zoos and aquariums in the state of California.
While the SeaWorld parks have since turned their focus to roller coasters, some people believe that once the current management dies down, new management can return the parks to their old roots-the animals. That hope inspired Eli Smith, an Arizona-based marine wildlife artist, to do his reimagining of the killer whale habitats. A lifelong animal lover and patron of zoos and aquariums, Eli has been remaining animal habitats at various zoos and aquariums through his artwork. It based some of his work on real-life animal facilities in China, Japan, and Dubai, while other revisions are all based on other facilities across the country. When he was much younger, he used to imagine what SeaWorld facilities in other countries could look like if they were to one day become realities.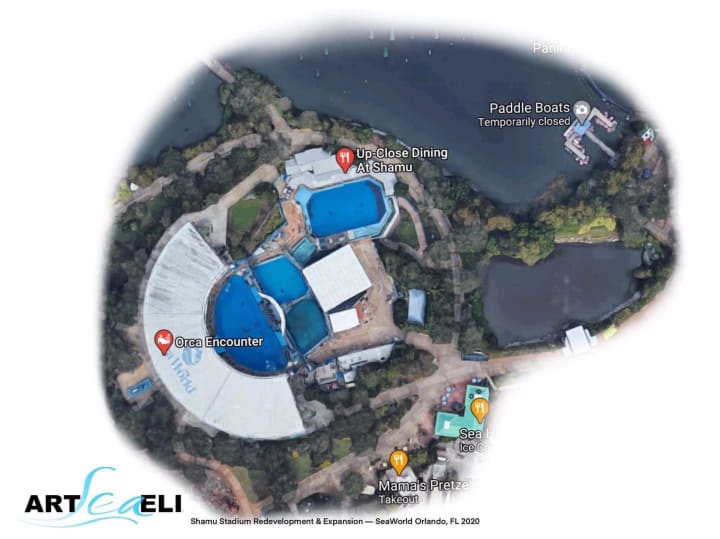 A "Whole New" Shamu Stadium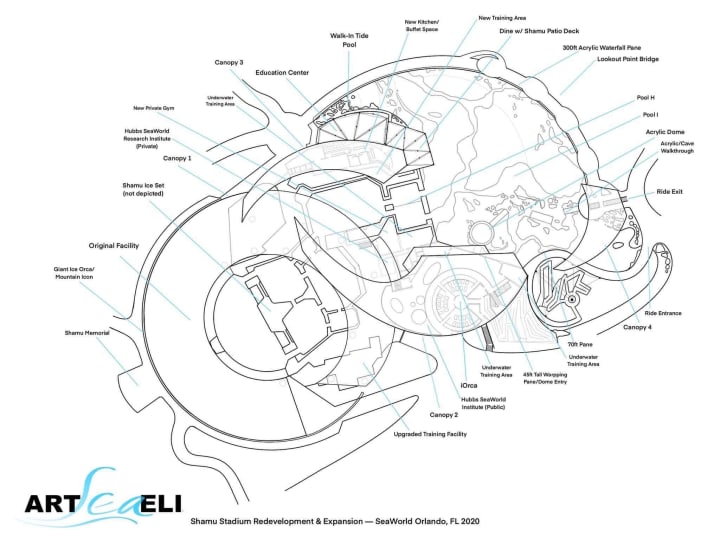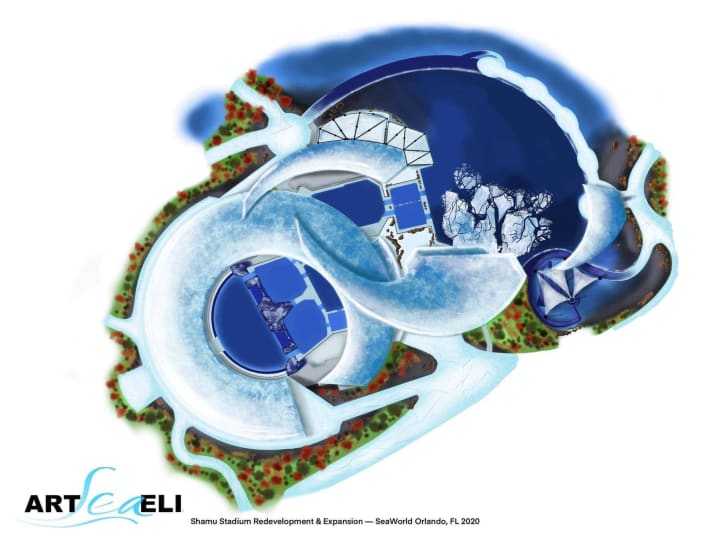 For reference, Eli used SeaWorld Orlando's killer whale habitat and its location as a model for what the futuristic marine mammal habitat could look like. According to Eli, who worked on the project with Nicholas, a friend of his, explained the ideas behind the reimagining of the current killer whale habitat: to translate one future into another that would be so much bolder and more sophisticated in the effort of killer whale care, conservation and research.
In his illustrations, the futuristic Shamu Stadium's dimensions are 240 feet wide and 298 feet long. In appearance, Eli gives it an icy aesthetic as a nod to wild orca habitats of the Arctic Coast with whale statues and the iconic whale's tail appear "covered" in ice. However, the habitat resembles the wild and pristine coast of Iceland and features two ways the guests can view the mammals.
In his words: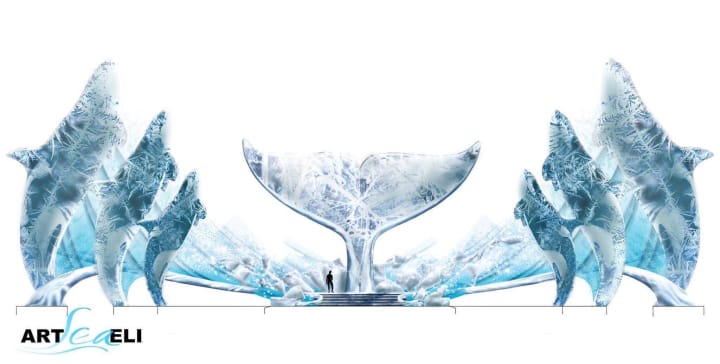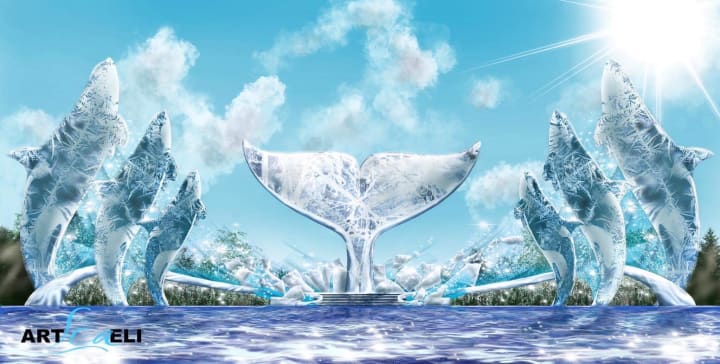 The 300 foot-long pane at the front of the habitat comprises several smaller windows brought together as being conceived as one. Certain areas of that window drop to the water level, creating a filtration that appears like a waterfall cascade on the guests' side. The water drains just in front of the pathway thanks to a note between guests and the window. The windows are about 12 feet tall each and curve alongside the northern portion of the habitat.
There is a second outdoor pane that is about 70ft long at the IORCA queue entrance. The pathway slopes at 1:20 next to the pane, so it appears you are traveling deeper underwater. The queue continues this trend at a slope change indoors to 1:12 to reach a 50 foot-depth of the 60-foot Pool I.
Post-ride in the Hubbs SeaWorld Research Institute is the 40 feet long window 50 feet beneath the surface. These window facades on the guest side with translucent and transparent architecture. The window warps over an exit that leads to a 25 diameter acrylic dome.
The dome leads guests to a tunnel that ends in an underwater cave. The cave has smaller windows and domes where guests can look around the environment further. The cave and marine biome decor offer areas for the habitat's non-mammalian residents to live, where guests can get a closer look at the habitat's dynamic initiative. Wolf eels, octopus, urchins, shrimps, and herring, and many other Icelandic species live.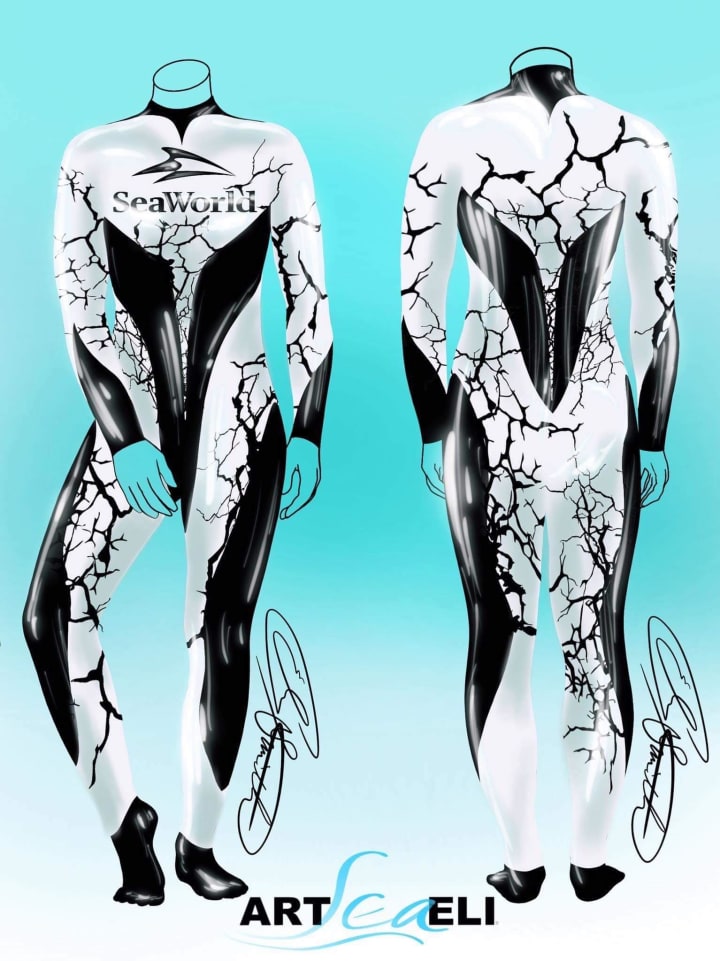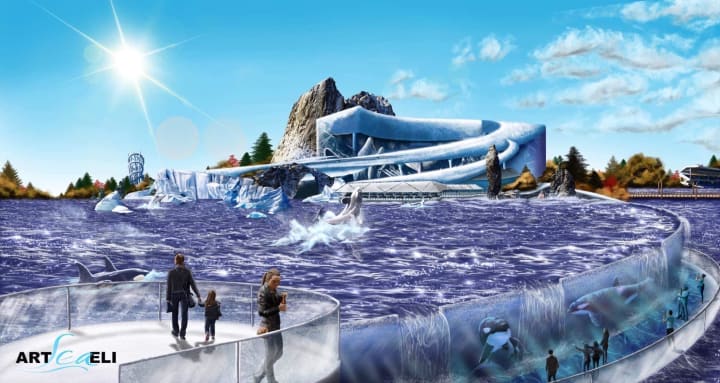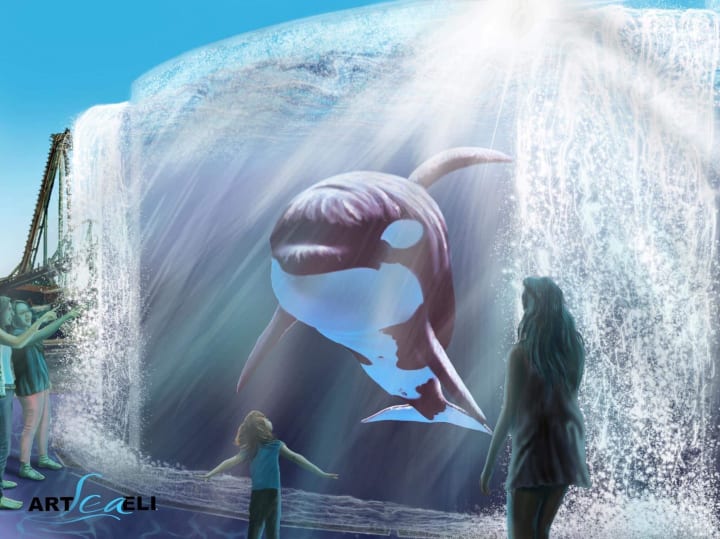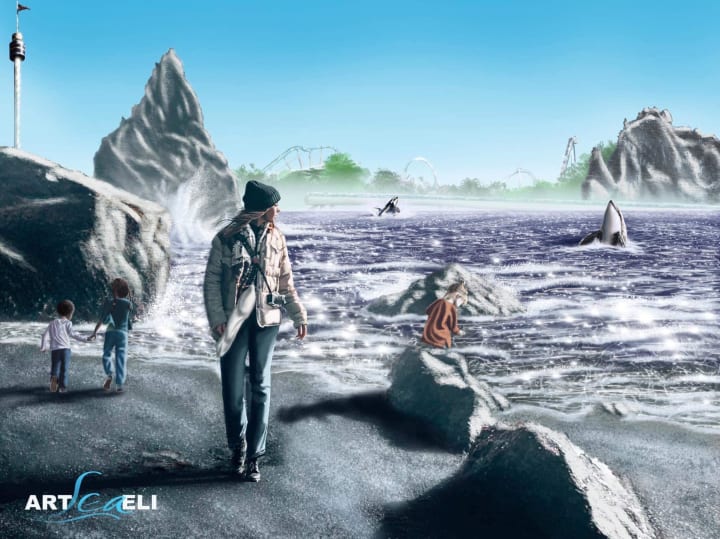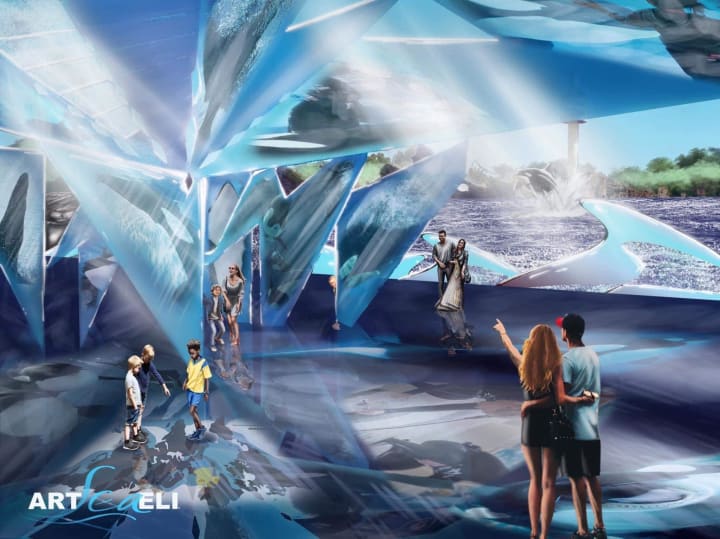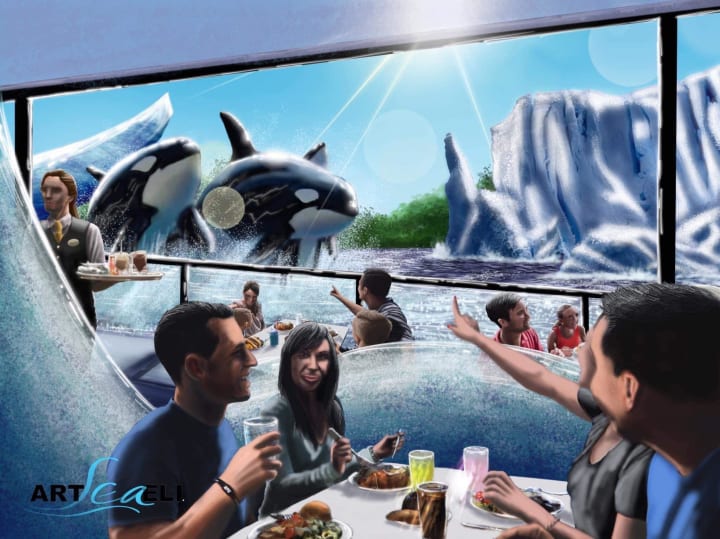 If this isn't enough to fulfill your wish for SeaWorld to turn this futuristic Shamu Stadium into reality, just wait until you hear about the training rooms that Eli and Nick have been working on for future concept artworks:
"Lately we've been working on the functions of the underwater Training rooms. The training rooms are part of the Hubbs Institute behind-the-scenes area, and various research projects can occur here. Underwater tones, hydrophones, a control panel of environmental enrichment such as bubbles, waves, a treadmill, lighting all exist here. Training can still occur on the surface, but we wanted to add something extra to give more variety. Another new thing we've been adding to this is an underwater touch screen with an app that the whales could learn to interact with: they can choose a symbol of behavior they may want to do in a session, learn new puzzles to solve, or even choose an enrichment item they'd like to receive through options they're given".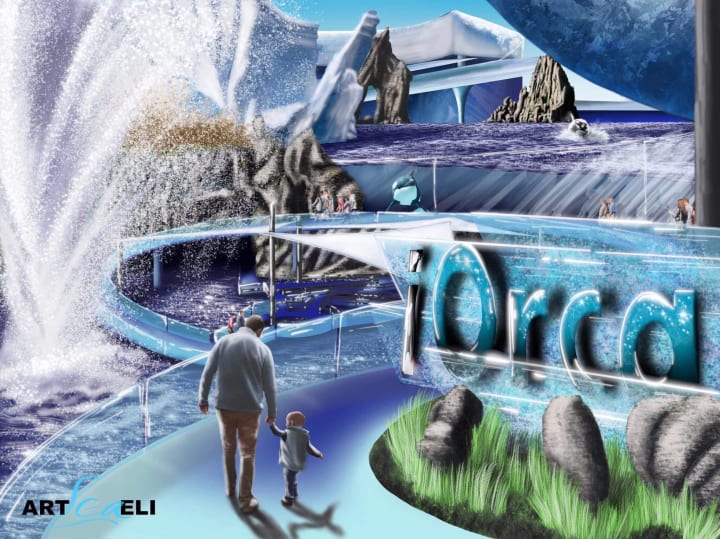 Wait, there's a ride that goes along with the orca habitat?
I have to admit to the fact that when it all comes down to the rides at the parks; I am not much of a fan because I just think that most of them, especially the roller coasters, are very irrelevant to what SeaWorld itself is about (which is mainly about inspiring people to know and love marine wildlife). However, if that ride has some storyline that involves wildlife and is true to the conservation theme that SeaWorld has been trying to promote for the last few years, then here is where I make an exception for SeaWorld having rides.
The killer whale-themed related ride that Eli had envisioned is educational. It enables guests to go on a VR adventure where they go on a whale research adventure in a submarine-like motion simulation pod.
This is his description of that ride:
"The IORCA is a VR ride where guests sit inside pods that are motion stimulated: rocking, swaying, evening barrel rolling. Guests harness themselves on the ride, like a rollercoaster, and there are interactive buttons to help collect data on orca behavior and samples of seawater to measure marine pollution. So, he has divided the ride into three rooms. One section is mild and there is another that's wild that guests can choose. The ride exits into the Hubbs SeaWorld Research-Institute that leads to an acrylic dome inside the habitat along with a tunnel guests walkthrough that is connected to a cave with other windows as they leave the ride."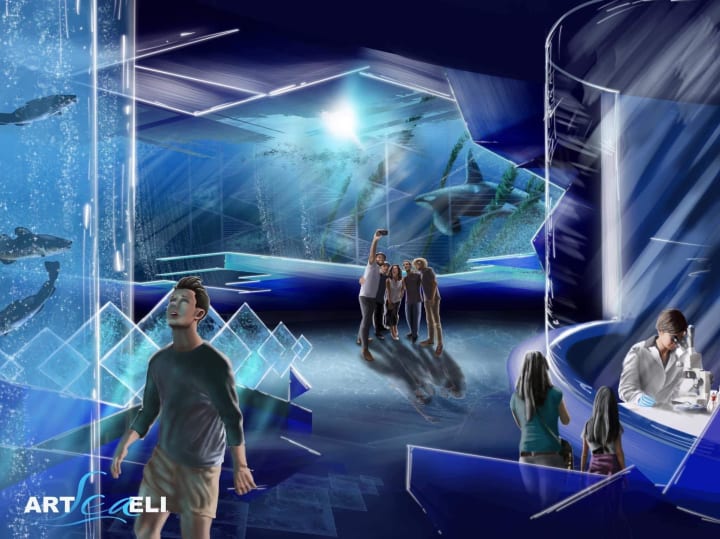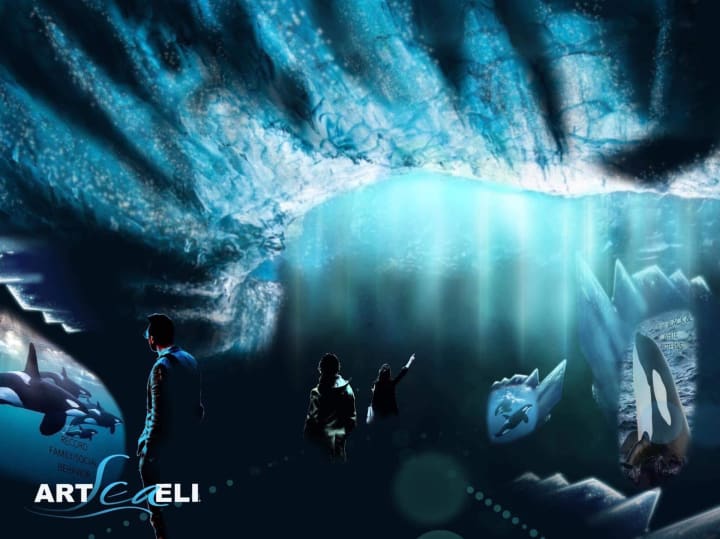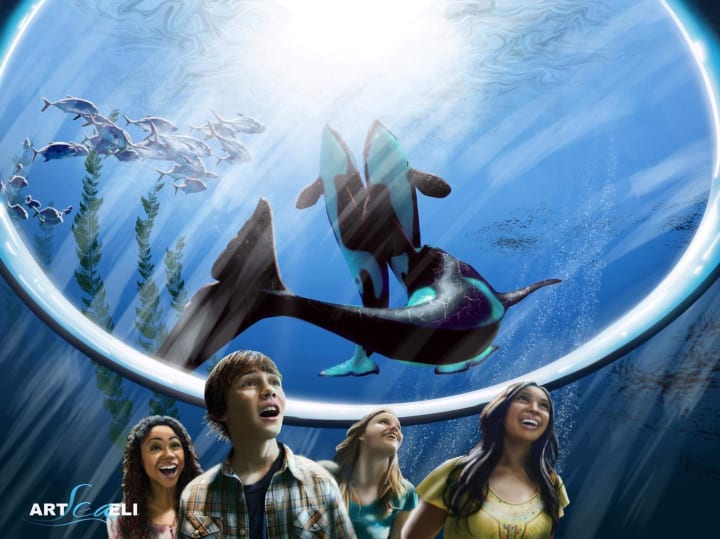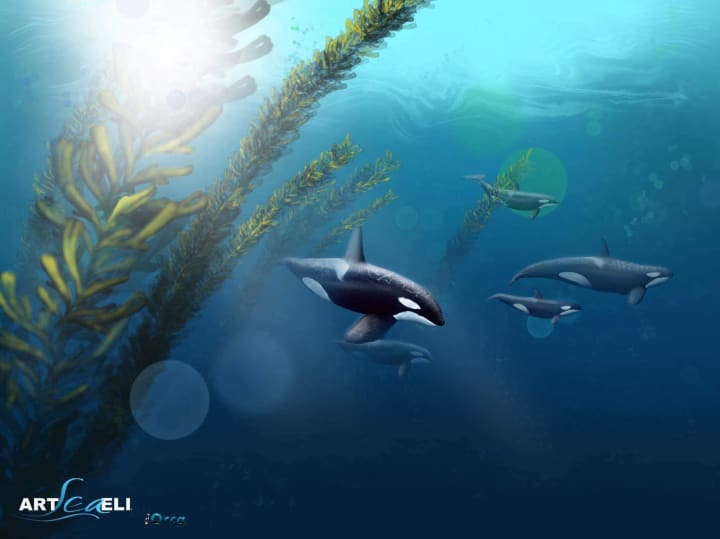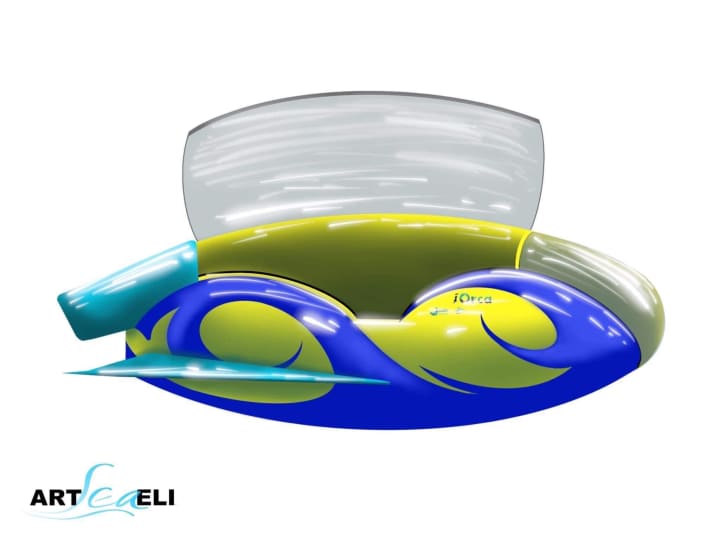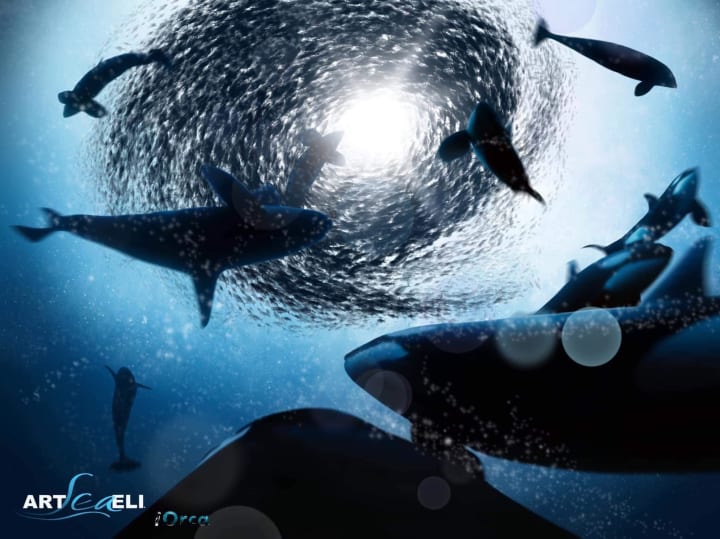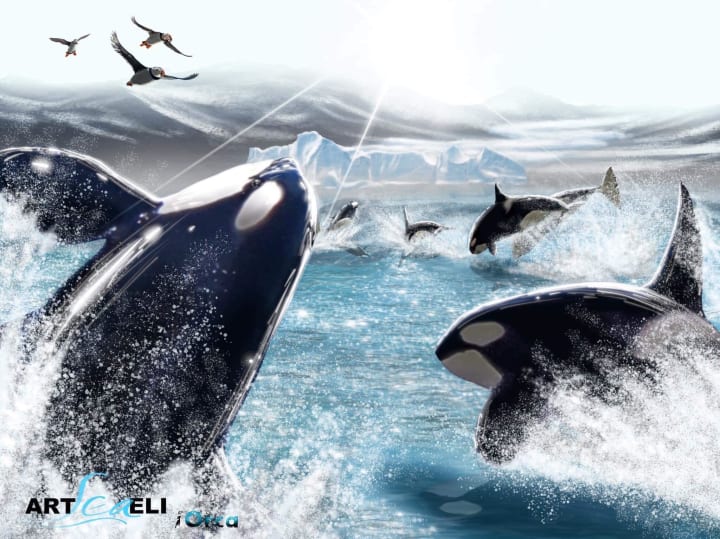 While SeaWorld has a few educational rides that are focused on wildlife and conservation efforts, the IORCA ride would meet all of those qualifications that would meet my standards for what can be a ride at a SeaWorld park and what shouldn't because after all, SeaWorld has always been about animals, not extreme-looking rides that have nothing to do with wildlife. It allows guests to go on a VR adventure where they become "marine biologists" who collect data on orca behavior and the effects of marine pollution. This would be a very welcoming alternative to anything that has to do with Sesame Street.
Final Verdict:
After reviewing the art and reading Eli's statements on the futuristic habitat, I got to say that I am very impressed with it on so many levels. It aims the project at improving the lives of killer whales living under human care can enable a much bolder and more sophisticated future. This includes improving efforts in orca care, conservation, and research. The Blue World Project may not be happening soon, but maybe this project can.
All concept art was done by Eli Smith.