Why I Choose Adoption Over Purchasing
Adopt from a shelter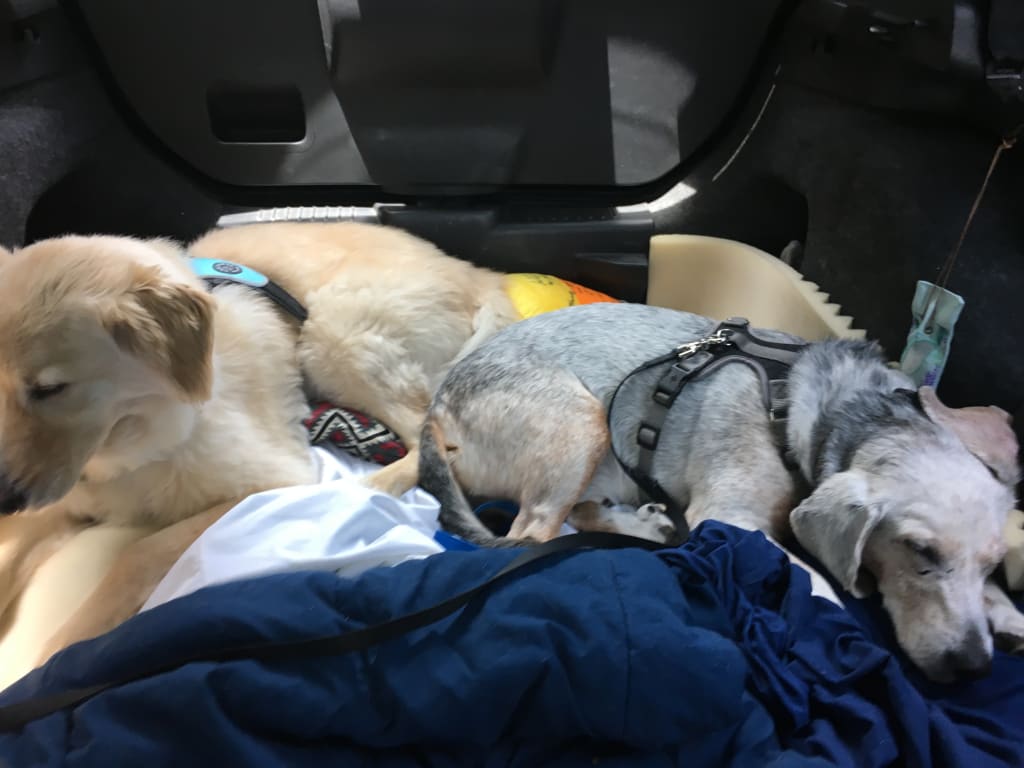 Hello readers,
My name is Teresa and I am the proud pawrent of three beautiful fur babies/rescues: Pops, Lily, and Cooper. And to be honest, I am truly blessed to have them in my family.
Lily is approximately eight years old, and she was surrendered to the Peninsula Regional Animal Shelter after her family could not take care of her anymore. After eight years of living with her, her previous parent fell ill, and he/she did not have the energy to give her the attention and care she needed. However, she did not let this stop her and ruin her life. She has plenty of love to give, and she loves to snuggle with us… on her terms tho. She would love to snuggle with Pops too—according to the paperwork, she used to have two dogs as brothers—but Pops prefers human snuggles.
Now, it's time to tell Pops' story. He is a beagle/basset mix, and he is approximately nine years old. We do not know much about him, because apparently, he spent much of his life as a stray. However, we know that he is one of the sweetest dogs I have ever met in my life. He is like a live version teddy bear. He snuggles with any human possible, whether it is a toddler, an adult, or a child. He loves people. He is a little picky when it comes to dogs, but overall, he is very social.
Finally, we adopted Cooper. We knew we still had room in our house and in our hearts to save another life. And Cooper chose us! He is very protective and he doesn't like strangers, but he welcomed us from the very first moment. He is not a snuggle bug like Pops, but he enjoys to run and play with us. He is eight years old, but besides a his weak back legs he does not look a day over one. He was surrendered by his previous owner because he could not take care of him anymore.
Why would I rather adopt from a shelter instead of buying a new puppy? I would rather adopt because approximately 6.5 million pets enter US animal shelters nationwide every year—3.3m dogs and 3.2m cats approximately (ASPCA). Each year, approximately 1.5 million shelter animals are euthanized, and 3.2 million shelter animals are adopted each year (ASPCA). If you want to read more into it, there are many websites that talk more about the subject.
I would much rather give the love and invest my money on one of those pets, instead of getting a puppy. The idea of having them trapped in a kennel, with limited amount of love, exercise, and seeing plenty of people coming by, hoping that one day you will be chosen and go home.
I also hate the idea of people surrendering a dog because it's not a puppy anymore, or because they got tired of him, or because they just don't want to put the effort anymore.
I fully understand the joy and desire of getting a puppy from a breeder, and seeing it grow, train him… On the other hand, shelter dogs come with a personality of their own, a "street name," and they might already be adults, or even seniors. But there is one thing shelter pets have: plenty of love to give.
Especially if you work full time and especially if you don't have the time and resources to invest on a puppy, consider adopting a shelter dog, possibly an adult. They make perfect first dogs, because most pets from shelters come already potty trained. In addition, they could also come with all their vaccinations done, reducing the hassle for you. Finally, every time you bring a shelter pet home, you are not only saving his/her life: you are also saving the life of the pet who is going to take his/her kennel at the shelter.
Please, please consider adopting a shelter pet!