What Veterinary Workers Call Black Friday
DON'T FEED THANKSGIVING FOODS TO YOUR PETS!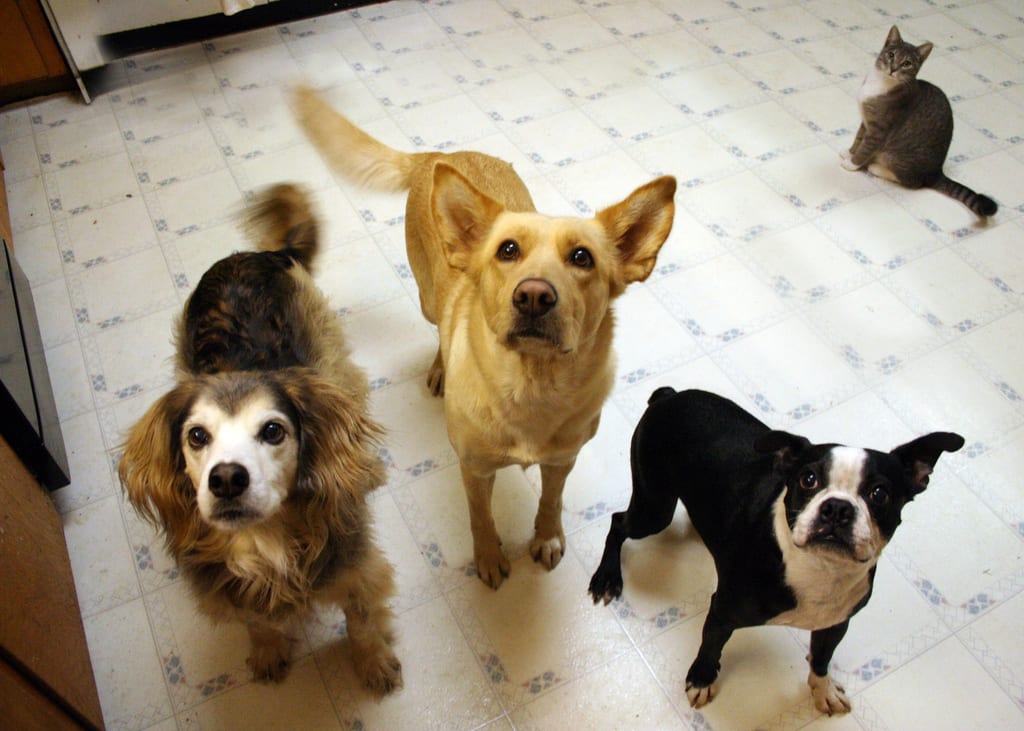 We all know the face.
The look of, "please... just a little taste? PLEASE?"
I used to be the person that would share holiday meals with my pets. I felt it was cruel to have them smelling that turkey cooking all day and then not share with them.
Then, I became a vet tech.
Worse, my cousin's children did NOT listen when I told them to stop giving table scraps to my dog one Thanksgiving. She woke up at 3AM screaming in agony and we rushed to the animal ER. We drove home from there and never spent a Thanksgiving with my cousins ever again.
Thanksgiving foods are LOADED with fat. Too much fat can give an animal pancreatitis which is exceedingly painful.
Seasonings are toxic.
And people food in general... is not good for them.
So what do WE call Black Friday?
Diarrhea Day.
The phone blows up all day long with clients calling about their pet needing an emergency appointment because they're having horrible diarrhea (sometimes bloody diarrhea due to those seasonings) and we are fielding the calls in between walk-ins for the same symptoms, and pre-scheduled appointments.
Its one of the busiest days of the year in the veterinary field. And not because we have a sale. Because people gave their pets foods they should NOT eat.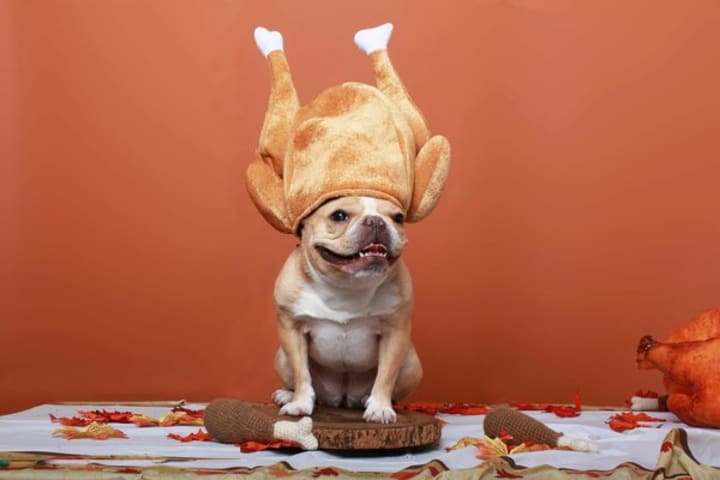 Turkey skin is LOADED with fat. If you MUST give your pets something on Thanksgiving, they can have a SMALL piece of white meat from the CENTER of the breast. It's the farthest from the seasonings and least fatty part of the bird. They can have mashed potatoes or macaroni and cheese (depending on what you put it in) but in small amounts and not both! They can have a small amount of sweet potatoes, carrots, dinner rolls that are cooked already, and a TINY slice of pumpkin pie (NO whipped cream, very little crust - pumpkin is actually good for them, too much sugar and butter is NOT). Cranberry sauce is generally safe... but they generally don't like it.
All other parts of the turkey besides the center of the breast are off limits to animals - including and especially stuffing.
Stuffing is different in every household. Everyone has their own recipes and traditions for this part of the meal. However, it's LOADED with seasonings that are NOT safe for animals. Especially garlic and onion.
Both are toxic.
And NO GRAVY!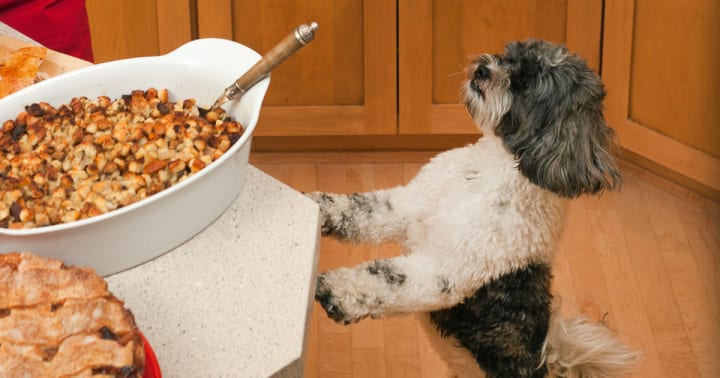 Dangerous!
Turkey – A few small, boneless, and well-cooked pieces of turkey should be fine. But never offer your pal raw or undercooked turkey because it could contain salmonella bacteria. Keep the leftover carcass (and all bones) away from your pet, too. Dogs and cats have a hard time processing fatty foods like turkey skin, and even small pieces of bone can lead to gastrointestinal injury. Cooked bones splinter so NEVER give your pets the bones to chew on from your turkey. Or any other cooked bone any other time.
Bread Dough – If your dog or cat ingests raw bread dough, the yeast will continue to convert the dough's sugars into carbon dioxide and alcohol, a combination that could become life-threatening for your pal. It keeps rising and causes an undigestible blockage. It could lead to surgery.
Pies and cakes – So much fat and potential for pancreatitis! Also, if you're using the artificial sweetener xylitol (found in certain peanut butter brands) in any desserts, be aware that this can be fatal if consumed by pets.
Chocolates – A nice box of chocolates looks great on your table. However, chocolate can be harmful to both dogs and cats and can cause vomiting, diarrhea, high blood pressure, seizures, and other symptoms.
Garlic, onion, leeks, and chives - These seasonings are common in many Thanksgiving dishes and are toxic to dogs and cats – they can cause destruction of their red blood cells. Avoid giving your pet a bite of anything cooked with these ingredients, like green beans, potatoes, stuffing, or gravy.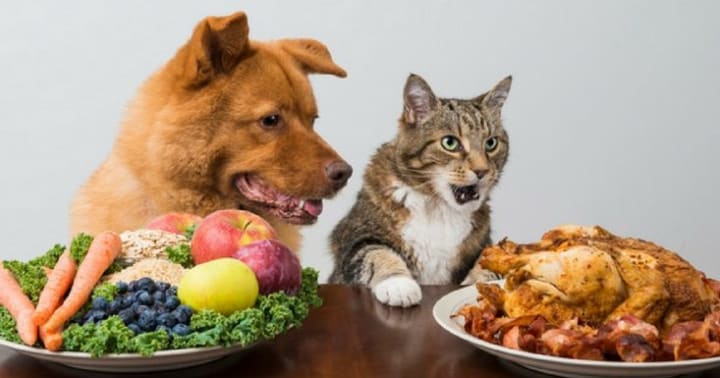 How to Handle Dinner Guests
If you're hosting a large Thanksgiving dinner, pets may be confused or scared by the slightest hint of the unfamiliar.
The first step: Make sure pets see you interacting positively with guests and show that they aren't threats. This may influence how your pet behaves around them as well, especially if they have never met them.
Another option is creating a pet "safe room," an area of the home they are familiar with, comfortable in and a place guests are unlikely to wander into. If your pet typically handles new people and crowds well, it still pays to help them get used to the new sights and smells.
Make sure to keep a close eye on pets, especially as guests enter and exit, so they aren't able to make a break for it through the door. The holidays are a great time to make sure identification tags and microchips are updated.
NO ONE should be allowed to give your pets any food and you should make that clear BEFORE dinner begins. The best way to keep them safe, is to make sure the only person spoiling your pets... is YOU.
Or no one. No one is definitely an option. Get them something made for them from the pet store so they get a special treat without the illness.
Your pets' proper diet should be a constant. Any straying from it is potential for gastric upset.
Also important: Keep trash in a place where pets can't find it, preferably in a closed container outside or behind a closed door. Make sure trash bags are covered and tightly secured.
Please keep them safe!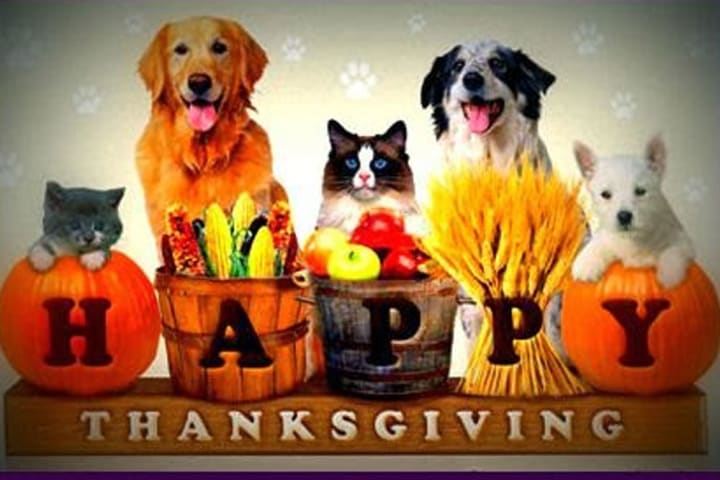 feature
A veterinary technician, writer and animal advocate from New York. Currently living in South Florida and desperately trying to escape. Runs on Starbucks and the love of her husband and 7 rescue animals.
Receive stories by Courtney Capone in

your feed