Then Came Kitty.
The Cat who came in the middle of a Pandemic.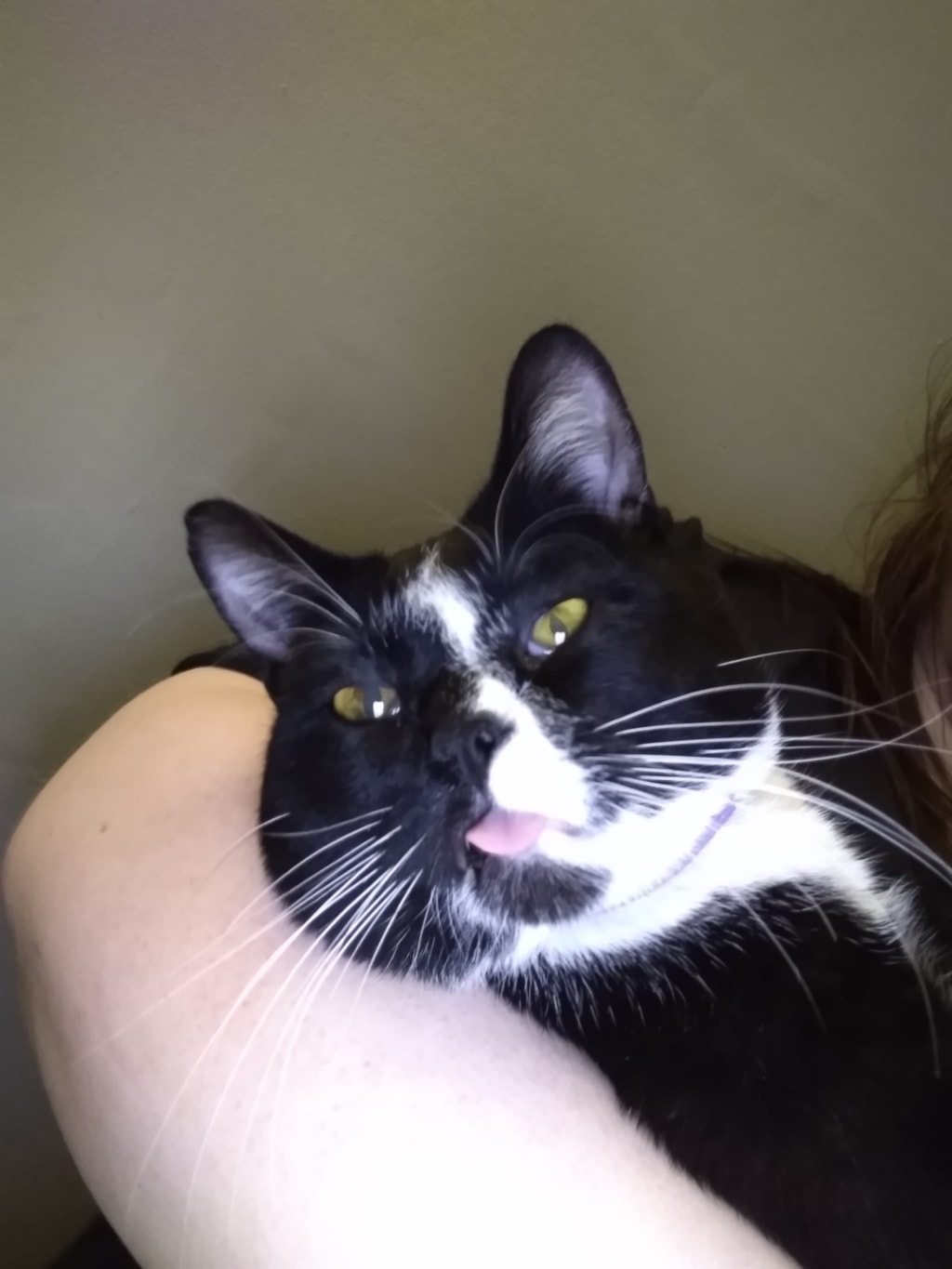 Pandemic Kitty Archer 2021: By Angel Pilkin
It seems like creatures come to you when you need them the most. Archer is no execption to that rule. He was found in July of 2020 on Archer and Kildare in Chicago. The person who found him put his picture up on the a neighborhood page. It was like he was looking into my eyes and telling me "You need to save me" "I am meant to be with you." I acted swiftly. "If his owner has not been found bring the baby to me I'll take him, don't take him to the shelter." I spoke with the person who had found him, and they drove the little guy to my apartment the little underweight black and white cat with stunning eyes was with me on July 8, 2020 and he has been here ever since. I still recall the day I took him from their hands. Archer had rode on the passengers lap. Once Archer was in my arms he clung to me and looked back purring slightly.
I did not just take him for keeps without checking to see if he belonged to anyone. I debated on a name for him when I got inside. It was a coin toss between Archer and Kildare. I went with Archer, since he had a look in his first picture I had ever seen of being so fierce. I did not have a litterbox for him, my neighbor gave me one of her cat's old ones. Archer used his litterbox right away. I fed him some tuna, and as he ate I ordered pet supplies for the next day.
The day Archer came I had already stated experincing the early stages of a depression that has been more severe than any other instance in my life. The little tuxedo guy gave me a reason to get up each day, and still does even though the depression keot growing worse. In many ways I think he could tell. As the depression has gotten worse he will run me out of bed with nips if I am in past the time he is scheduled to be fed. Archer will lay across my stomach and purr when I lay down mid-evening feeling like the world is defeating me. He will let out his little war cry that sounds like "NOW" when I have not started something to eat for us. When I eat despite his utter refusal to eat people food, he will sit and stare at me. If I do not eat more than a few bites he will headbutt my leg and cry until he thinks I have ate enough. If I don't eat enough he tries to make offerings of his kibble to me. I pretend to eat it, and for a moment the depression is lifted.
A little black and white cat with stunning yellowish brown eyes is why I get up each morning. I clean his litterbox, feed him his wet food as he swarms my ankles. I fill his dry kibble bowl. Play with him, and give him snuggles and kisses. I brush his coat. Then upon his instances of "NOW" I wash my hands and start fixing a meal for myself and his other human. I make sure the blinds are open for him, and he watches anyone who passes with his wide-eyed curiosity. A smile comes to my face when he comes and rolls at my legs onto his back as I fix food. One little black and white cat has been my salvation from depression consuming me even more than it has.
Archer is a lot bigger than the skinny stray he was when I got him. Clocking the scales at 16 pounds. I got him medical attention. He was neutered, chipped and given his shots. He won't eat tuna for humans now. Archer demands his prefered brand of wet noms and his kibble. Archer prefers salmon or lobster flavor prefered. He has a ton of toys and he is happy. The one thing he is unaware of is that he saves me each day. I get up because I know he needs me to tend to him. The will to tend to him forces me to take care of myself and do what I need to do.
In the end the cat I thought I was saving has ended up being my savior, and keeps saving me each and every day.

Angel Pilkin
I am Angel and I pretty much have no idea what to write in a bio.
I will write about my life at time. I will write about personal things, hopes and dreams and more. At times fact will be hard to tell from fiction. I hope you enjoy.
See all posts by Angel Pilkin →