The Last Walk
Do dog with me?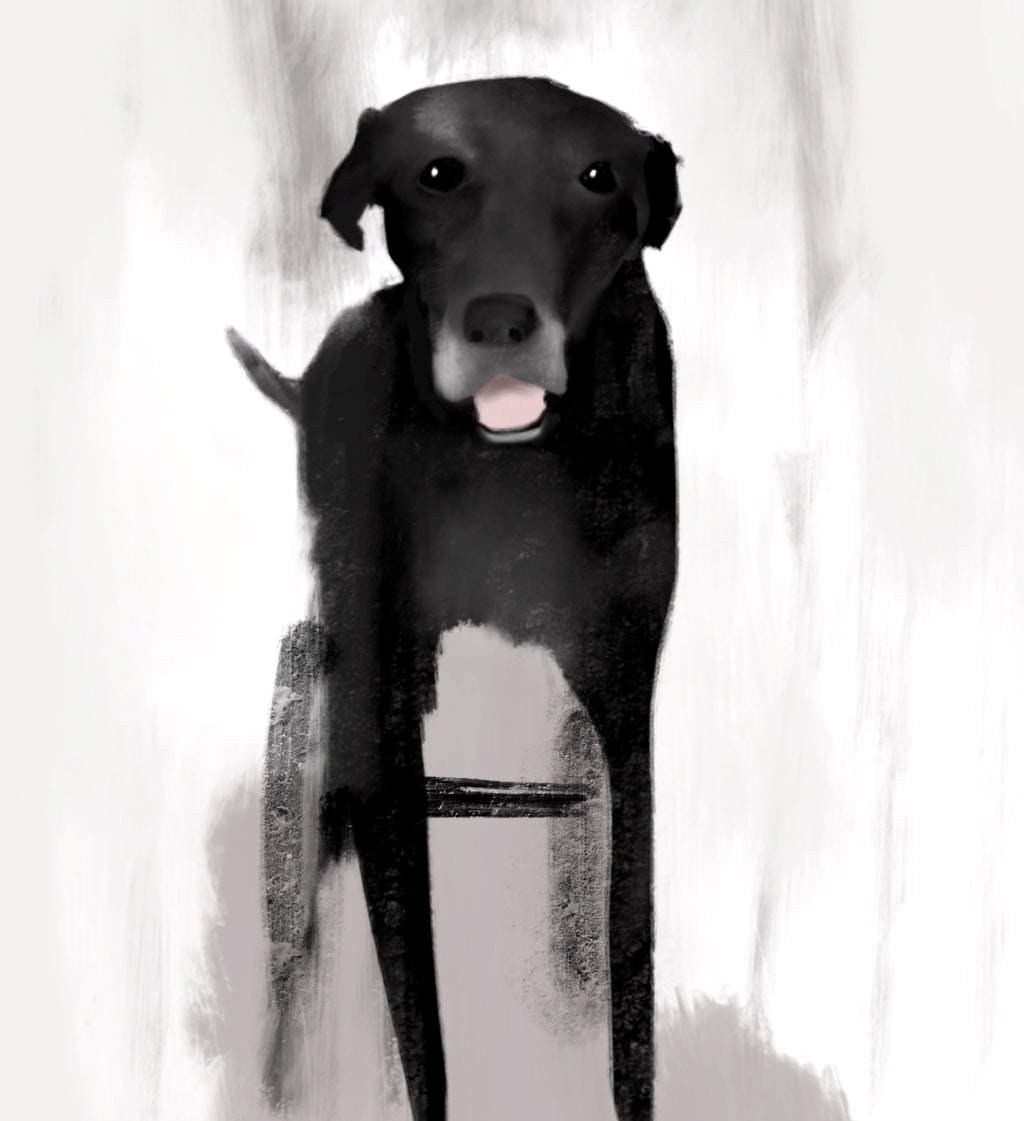 Artwork by Meg Anderson
Rain falls like broken rice from a bruised sky.
I hear you, I tell it. Misery has its own weather.
My heart is squeezed and cowering because my new love has suddenly become old love, dead love, it's not you it's me love, and the world looks weird and scary with all the colour leached out of it.
I locate Indi in the rear view mirror. How did it happen? I ask her. Wasn't this one meant to work out?
She gives me a level gaze and an open-mouthed smile, and says nothing. I guess she doesn't know.
We land at the dog beach at an unorthodox hour in the middle of a mental-health-day Wednesday. It's sodden and deserted. I've come here to wallow like a jilted diva, angling my face at whatever the sky chucks down. Indi has come to sniff out sand-crusted morsels under the picnic table as usual. We both have our game faces on.
We're crossing the grassed area behind the sand dunes when their shapes appear from the gloom: a young woman in a mustard raincoat and her old black Lab. He has a white muzzle and milky eyes. I've never met them before; this is not our timeslot. I brace myself for the banal chit chat. How about this weather? What's his name? How old? Then I see the harness.
The Lab has an axle and wheels strapped to its back end, doing the work that his atrophied legs can't. His tongue telegraphs joy when he sees us.
Thank God, says the woman. She's upbeat but her face is soaked. Rain and tears. This is his last walk, she says. He goes to heaven today. Can these two say hi?
Rain pings off our jackets like shellfire. The sky darkens.
The Lab cranes his nose toward Indi. You're here! His back end does its darndest to wiggle. Do dog with me?
My heart slips from behind its rampart and pumps a little hope. One last dose of canine communion for the old fella. Will Indi clock the gravity of the moment? Will she sniff gently at his wheels and let him know they're way cool? Will she play-bow and flirt with the ailing senior? Will she help bring meaning and comfort to his final hours?
Well.
Indi is special. Every person with a Golden Retriever in their life will say that, but when I say special I really mean complex. Won't turn left when walking around the block, for instance. Can't abide French accents. Barks indignantly at anyone in a tall hat (forget about hi viz clothing). Lies in corners and stares at the skirtings most days. Has a foot fetish. Eschews stuffed toys in favour of something embarrassing from the laundry basket when greeting visitors at the front door. The usual quirks, plus a few.
Today I learn that she has a thing about wheels. Wheels on dogs, specifically. As the Lab leans in to greet her, axle chirping, Indi backs away like a spooked rabbit. I sweet-talk her towards me, but she scampers down toward the sand, as if to unsee. She prefers things simple. Like the cluster of soggy chips abandoned near the beach path, which she inhales before making her way down it at speed. I make a Sorry face at the woman and scritch the Lab around its jowls.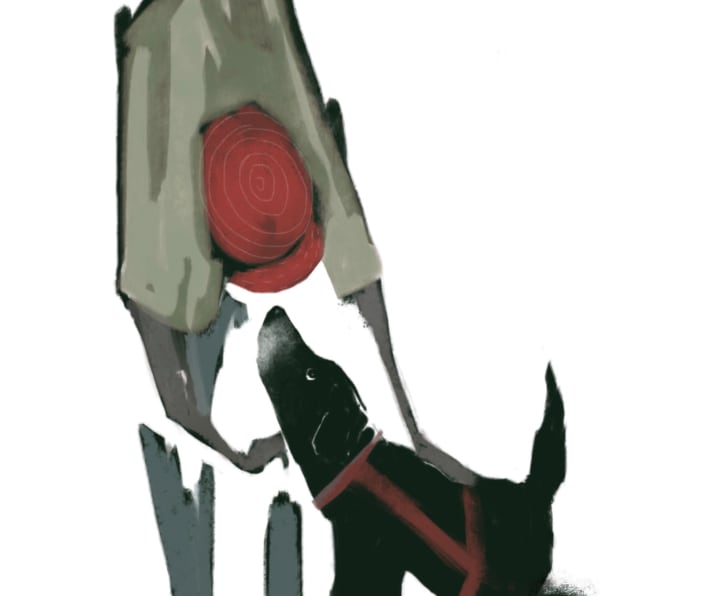 Let's go down there, says the woman. Give it another try. The rain eases, as if in agreement. We follow Indi like disciples, clucking encouragement. Wet sand spits from the Lab's wheels as he trundles after her in the soggy terrain, onyx coat glistening. He's still smiling, though his front legs seem to bow under the strain. My incantations to Indi – Come on, sweetpea, just one little hello – turn shrill. Water drips off my nose, berry pink with cold. The more I cajole and beg, the more she powers away like an intrepid explorer.
She stops to interrogate a thatch of seaweed, and finally the Lab gets his chapped nose within sniffing distance of Indi's tail. She's no longer spooked, just indifferent; on the scent of bigger things. She glances back at him, then slopes off to confer with a tangle of saltbush. It's high up in the dunes. The Lab regroups – challenge accepted – and hauls himself after her. Oh Zep, says the woman. He pauses to reassess. Too soft, too high, he pants. Yeah, too far. He swivels his head back at the woman, and flashes a disappointed smile. That's okay, she says. To him or to me, I'm not sure. Both of us are crying.
All right buddy, it's time, she says, and wipes her wrist across her cheek. Dutifully, he follows. She raises her hand in a Never mind as they trundle back down the varnished shoreline. Her head is bowed, Zep's is tilted in a question mark. Fat tears thaw tracks into my frozen face. The rain starts up again, and I welcome its sting as I imagine her bundling the waterlogged Lab into her car, wheelie contraption spilling sandy mementoes onto well-worn bedding she won't want to wash. I see her counting down time, willing it to pause. I feel her dread. My heart shifts in place. For a moment there, my own sadness is a speck.
I look up to the dunes. Indi is rolling in something dead. She comes back stinky and satisfied. I don't smile.
At home, I shut her outside in the rain and make my shower too hot. She whimpers. I howl. Minutes later I'm sitting on the floor in wisps of steam, cleaving her bewildered head to my smarting chest, both of us wrapped in towels. I rock and sob and inhale her briny hair, with its hints of decayed gull. Can he really be gone? I say. How does a person cope?
Indi sits, leonine as ever. I clutch greedy handfuls of her caramel coat and lean in to her. She wriggles free and wanders off into a corner, planting her nose on the skirting board. I guess she doesn't know.
Reader insights
Nice work
Very well written. Keep up the good work!
Top insight
Heartfelt and relatable

The story invoked strong personal emotions
Add your insights