The Heroes And The Hierarchy
My coworker and my supervisor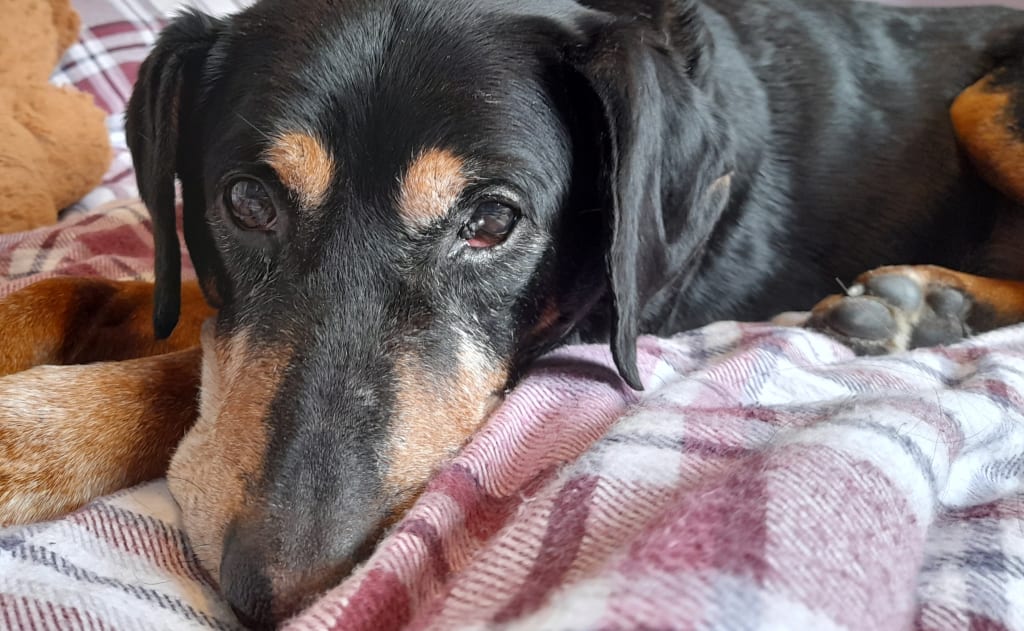 I worked from home before it was cool. And I have to admit my supervisor, Jet is kind of demanding, she's indecisive, loud, and she micromanages. She shows me no respect and quite frankly she's really lazy.
In fact, right now she's sleeping on the patio in a sliver of sunlight. It's a good job she's so adorable, otherwise, I'd have to report her to H.R.
She's very much the brains of the outfit, she tells me when it's break time, and when it's time to go back to work. She even taste tests my lunch every now and then, just to check that it isn't poisoned.
Her risk assessment skills are excellent, if anyone comes to the front door then they're definitely treated as a threat to my productivity. She's also a real stickler for tidiness, if she doesn't like something where it is then it goes on the floor.
I have to admit though for a supervisor she spends a lot of time messing around. Playing in her tunnel and in her tower block which contains her offices. All in all, I would rate her as an excellent boss, very emotionally articulate if a little inconsiderate.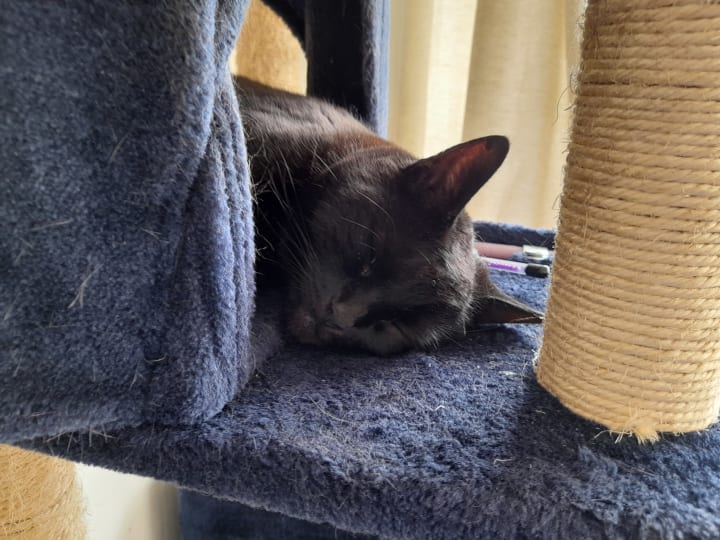 Now my colleague Duke is the epitome of laziness, when he's not sleeping on his bed all day then he's sleeping on mine. He does so little work I barely see him, apart from when he also needs to taste test my lunch. But I can't fire him, even Jet won't let him go and she doesn't even like him.
He has to stay because he helped to save my life.
I've suffered from depression since the age of about 14, it's always been bad. The first time I tried to take my own life was when I was 18. Like everyone who suffers from depression, sometimes it's manageable, sometimes it's not. And there was one day fairly recently when it wasn't.
I was in a downward spiral and it was happening faster than they normally do. I suffer from chronic back pain and this was just one of the things that was bringing me down. Unfortunately, the doctor had given me an excessive amount of co-codamol, two packets of 100. They were the highest strength you can get, even those weren't helping. But I decided to put them to use.
I took 40 on an empty stomach, meaning to take more I left some out on my bedside table but I had to put my head down and rest. It was out of my control at this point.
Duke used to have a habit of letting himself on the bed, but since his leg injury, he can't do it anymore. Or so I thought.
About 35-40 minutes after taking the pills I felt him jump onto the bed, he was really focused on sniffing me. I guess with all the pills in my system I didn't smell like I normally did.
I was drifting in and out of consciousness, the only thing that really kept bringing me around was Duke. He was pawing at me, nudging me and licking me, trying to keep me awake. Obviously, he didn't know what was wrong, but he knew something was and he was desperately trying to help in the only way he knew how.
When my wife found me and the paramedics eventually arrived, he had to be taken outside so they could help me. He's not an aggressive dog in the slightest, he's as soft as cotton wool. But he would growl at the paramedics every time they tried to come near me.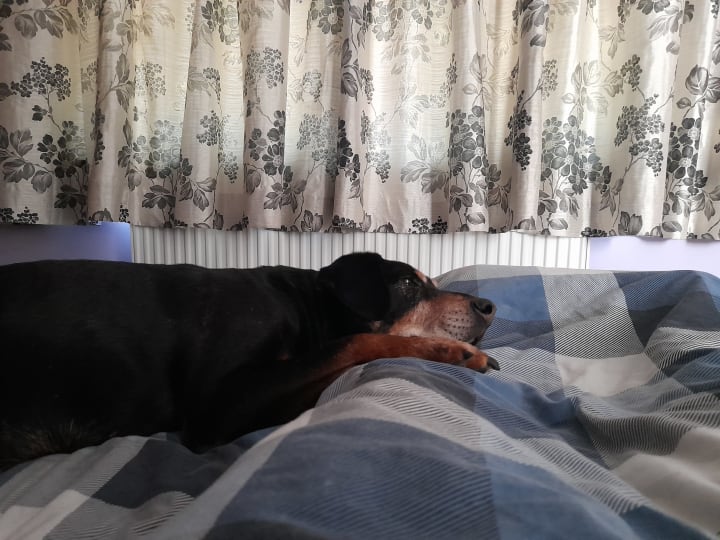 Jet might be in charge of this workspace, but the hero dog has tenure.
adoption
A qualified counsellor and an even more qualified queer. I specialise in victims of rape and sexual assault. I also have a degree in behaviour analysis.