The dog who loves to play
Bella's story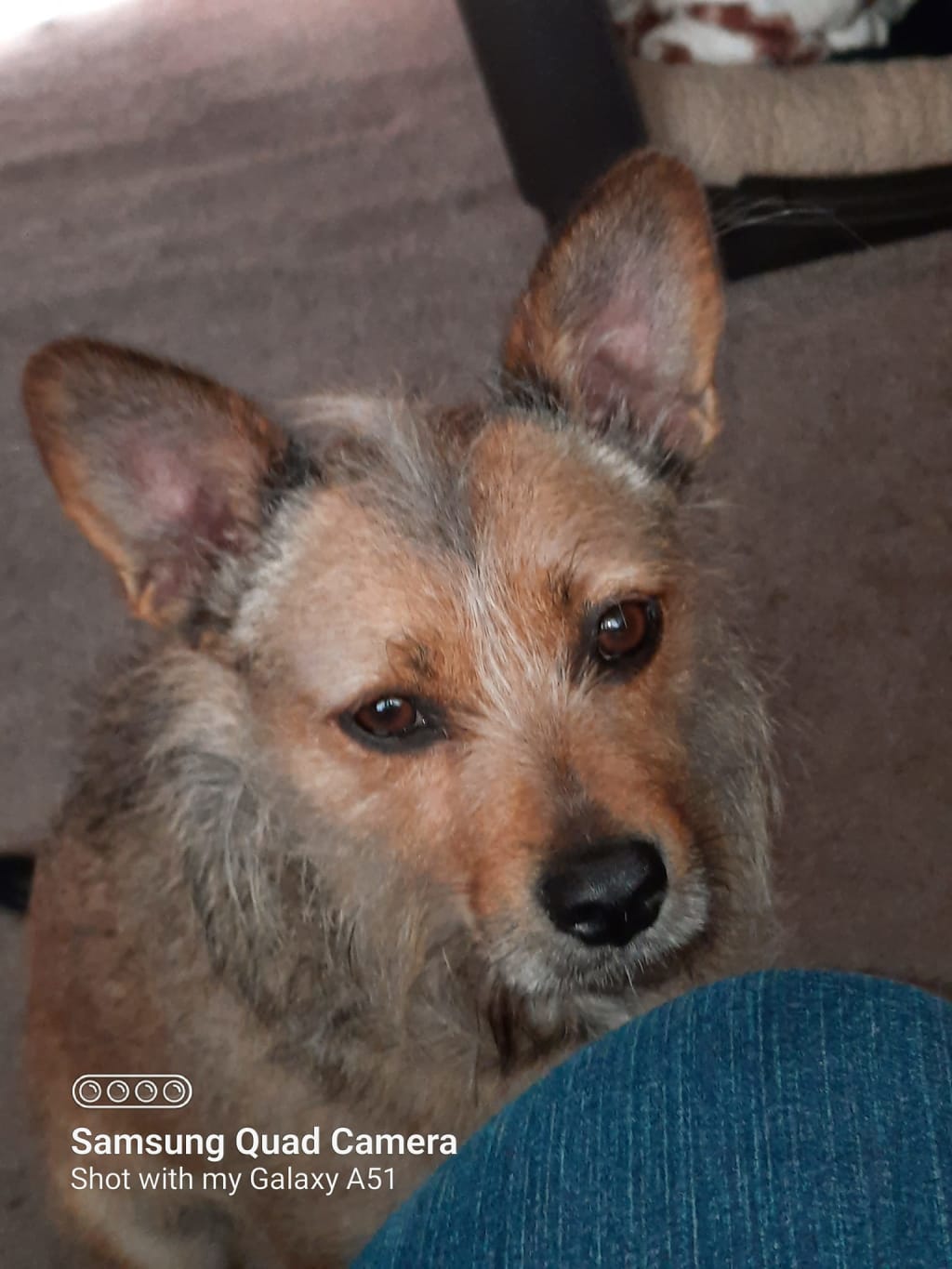 The dog who loves to play
My dog Luke had died on the 4th of January, 2020. We consented to putting him down after all measures to help him had failed. My boyfriend and I were both really broken hearted. At the time the thought of getting another pet was off the table.
However after we had cleaned up the apartment and shifted Luke's things to storage we found that we were both at a loss of what to do. So we started to talk about getting another pet. We really didn't know what we wanted as far as breed or even what kind of animal.
We knew that we both feel like rescues are a good place to start looking. For one a rescue especially a long term rescue is not as likely to get adopted as say a pure bred. For two we both feel like the money goes to better use in a rescue situation.
So we gathered our thoughts and feelings and made an appointment to visit one of my local rescues. We really didn't know what we wanted as far as age, breed, temperament etc. All we knew was that we wanted a dog or something that needed us.
So on January 18, 2020 we went to Country Side rescue in Santa Rosa. We had a list hastily put together of what we thought would fit best. We didn't want a dog that was anything like the dog we had lost. That was the important one because we didn't want to be constantly reminded of him. So that meant a girl dog around a year old.
Also we like to go on walks and go to parks so we didn't want a couch potato. We did however want one who was house trained, could be alone for a few hours and didn't need a game of fetch because of health problems in the household.
When we got there we were met with sympathy, after all I had gotten Luke, then Paprika there just a few years before. They asked us what we were looking for and could tell right away that we really had no idea other then we wanted one over 15 pounds.
So one of the workers showed us around and we started down the hill toward the kennels. The first dog was a beautiful and rare Harlequin Chihuahua that someone had shoved under the rescue fence. He was black with grey/blue markings, very shy and in need of some TLC. We decided he probably needed more time in care but asked the price so we would have an idea.
We moved on deeper into the rescue and saw a group of small American Pitbull I absolutely love pits and pit mixes. However my apartment manager barely tolerates dogs at all and defiantly not pits. So they were a strong no.
In the next caged area there was a bunch of Chihuahua and chi mixes. They were all cute and although barky were on their best behavior. Something had begun tugging at my heart so I asked if any of them where female. The lady said no, after thinking for a second me and my boyfriend turned to go.
As we were walking back to the parking area the worker brought up a foster she had. She was a 10 month old who was found after the fires under a wood pile. When they found her she had five puppies with her who was probably born around the time everyone evacuated.
Me and my boyfriend looked at each other and shrugged. We figured why not at least look. So the worker went and got Hazel. Instantly I felt that I needed to try and connect. I wanted to see if she would come to me easily or was she completely attached to her care taker.
And she didn't want to come for a short walk with me. Instead she literally drug me back to the rescue worker. And yet somehow that is what made me sure she was our next dog. So we took her home for our two week home trial.
And oh what a trial it turned out to be. She was not house trained; crate trained and was a total hurricane. Yet I knew in my heart that she needed me as much as I needed her. So we called the rescue and started the process. First was dropping her off so they could take her to UC Davis for Neutering, shots and microchipping. Even though we had only had her a week it was hard having her gone five days.
When she got back we signed he paperwork and payed the cash that officially made this little whirlwind ours. I am very grateful that we did because I can't imagine going through the last two years without her.
She has been renamed Bella and is estimated to be a terrier, hound, setter mix. All that energy has been redirected into lots of play including fetch and tug of war. She has become very fond of park walks and hikes in Riverfront Regional Park.
dog
About the author
I truly love writing in any format. I also love to read and take long walks. Being out in nature is where I find most of my inspiration as well as peace and serenity.