Not as Beautiful as Other Cats
She was, still is; and it was love at first sight.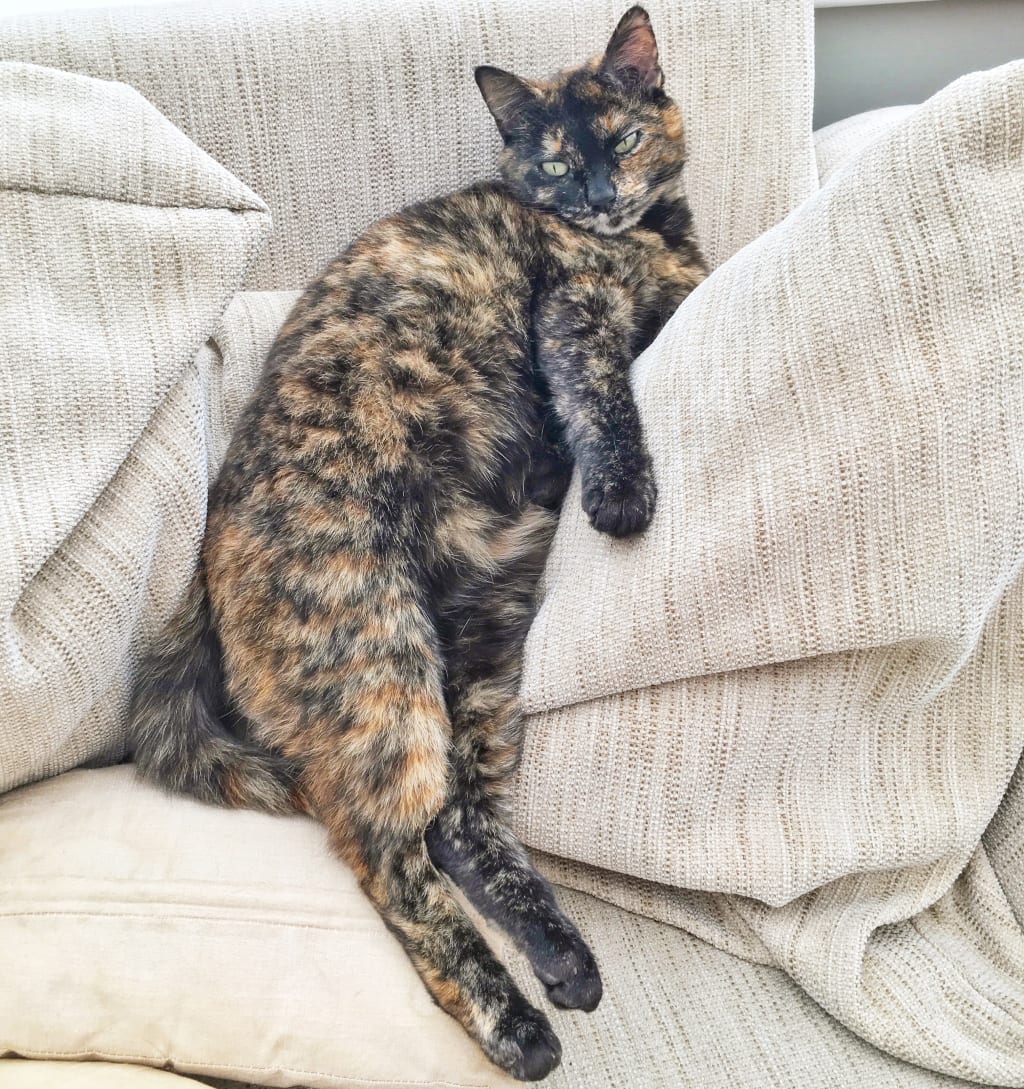 Lola @thatvirgomoon
When I stumbled across Lola's profile on a local cat rescue site in 2015, I wasn't looking for any more cats; after all I was already adoptive parent to three others and as a family we'd vowed we didn't have room for more animals. Still, one afternoon, with nothing better to do, a cup of tea in hand, I took, what I expected to be, a quick, innocent look through the local online animal rescue sites to see what was about. I began scrolling and within a couple of hits, I came across Lola's advert:
"Often overlooked, as she's not as beautiful as other cats…"
This stopped me in my tracks. She is I thought, as my heart skipped a beat. I immediately felt so sorry for her. I suppose the tug-on-the-heartstrings sell had worked a treat! Her face to me was so expressive and interesting; so curious and open. Granted she was a brown tortoiseshell with a mottled, busy brown pattern right across her body, which was unusual to a degree, but I couldn't quite understand why anyone would've passed her over just for being different. Surely other people could see what I was seeing? Lola was beautiful and had peaked my curiosity that was for sure.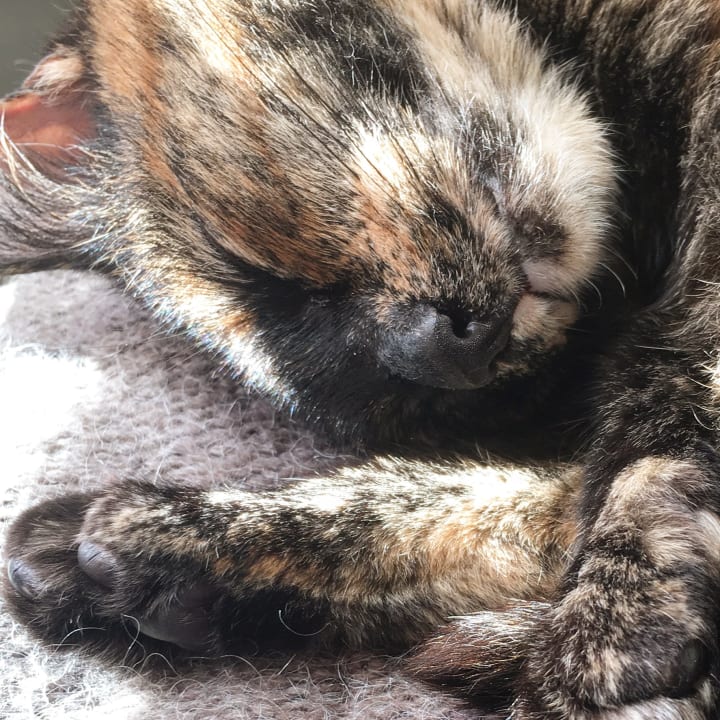 In the back of my head I knew it'd prove a mammoth task to explain this one to my husband; after all I'd agreed to the 'No More Animals' rule, as we were already a very busy furry family, with three other cats, plus a large dog. Yet, I couldn't quite let this opportunity pass by; knew I couldn't forget about this poor girl stuck in a shelter nearby, with no loving home to go to. She deserved so much more than this. She needed to be loved.
I knew hands down I'd fallen in love with her at first sight and I had to make sure she was ours. Who could possibly have resisted her? I knew I couldn't and I wanted her. It was just a matter of letting her cast her vibrant little spell on everyone else in the family, in the easy way she'd won me around by that sweet gaze at the camera. If I could just get them to meet her, I was sure she would do the rest and charm them all by herself.
I picked up the phone without hesitation I'm ringing about the tortoiseshell you have online by the name of Lola. Is she still available for adoption please?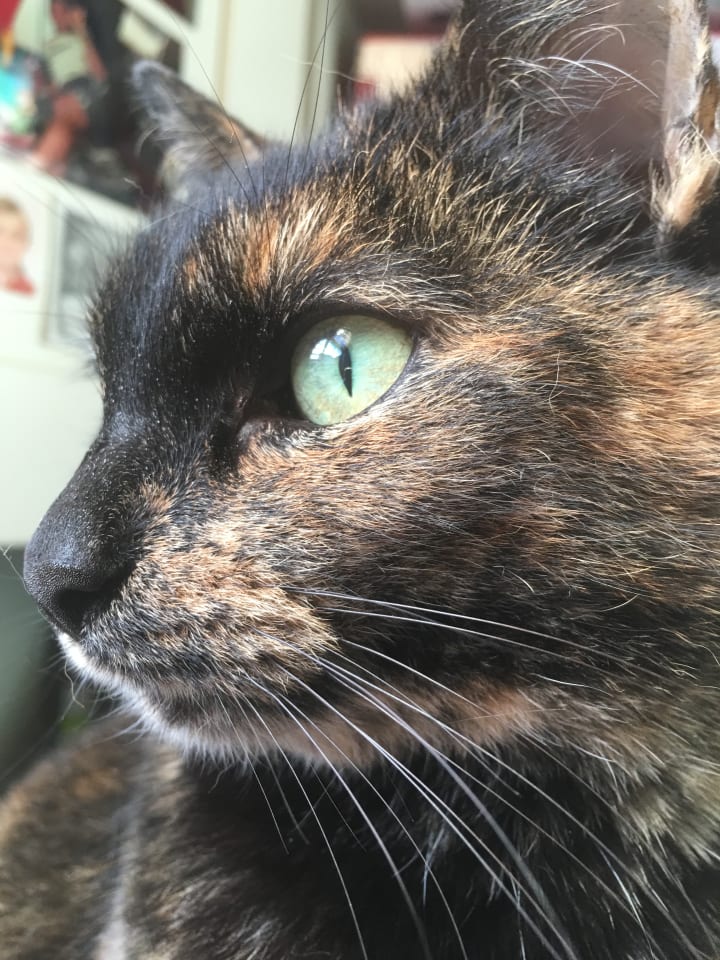 I agreed on a visit for the following Sunday. I anticipated it'd be a typically quiet day, with nothing much else going on. I wanted of course to go to see her right there and then but equally accepting of the fact I had to wait; besides, I still had some groundwork to do in trying to win my husband around to the idea.
That evening over dinner, I broached the subject.
I know we said we don't want anymore animals. Well, I had a little look online today at cats needing homes and I've stumbled across this really sweet, unloved cat near us and I think we need to go see her...
Without saying a word, my husband shook his head.
I knew you'd try to talk me out of it so I've already called the rescue centre and have booked for us to go to meet her this weekend…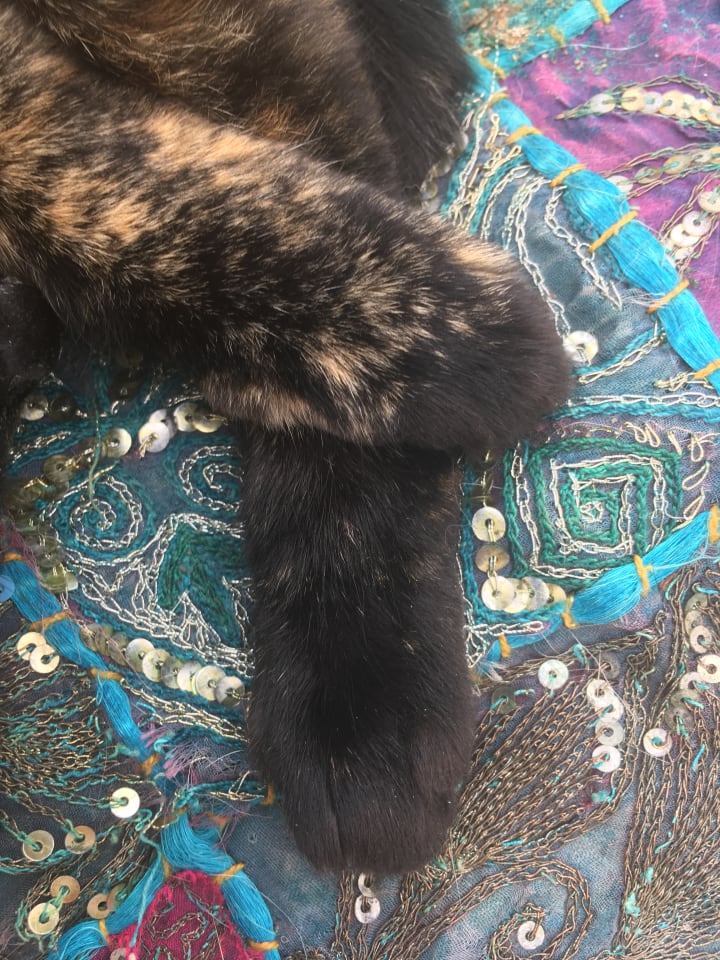 Entering the rescue centre, we were taken into a large wooden enclosure, with cats as far as the eye could see. Little rooms led off from the main entrance point, each with shelves of varying heights and bedding, litter trays and scratch posts galore. The facility was clean, warm and bright. The lady who ran the rescue site from her own backyard, was clearly dedicated. On chatting with her she told us she currently provided shelter for 40 cats and everything was paid for from donations or from her own back pocket.
Many of the cats were curious and moving closer and closer to see who the new visitors were.
Which one is Lola? I asked as I took a seat on a nearby wooden bench.
With that this dainty little tortoiseshell pushed her way determinedly through the crowd, and jumped onto my lap. Immediately she curled herself up in a ball and settled down to sleep, purring unashamedly.
This is Lola the lady said.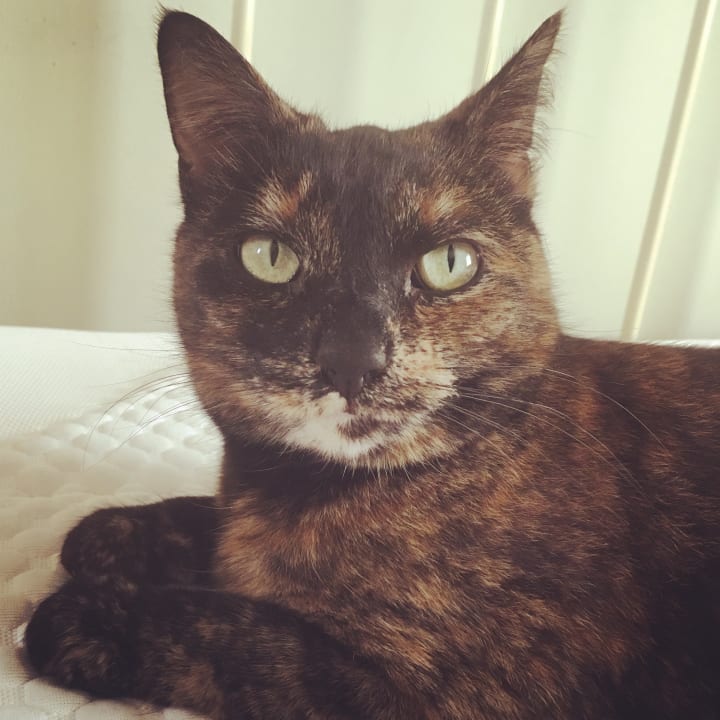 I looked at my husband and we laughed.
Is this staged? he exclaimed.
No, no I promised. I had no idea which one she was. And anyway how could I possibly make a cat do that?
After a short while I began to wriggle to encourage her to jump off. We each made a fuss of her in turn, stroking her and speaking to her in that soft, silly human-to-cat way we all do. My son then took a seat in the same spot. Lo and behold Lola jumped onto his lap straight away too and curled up in a familiar ball.
We were all in disbelief. It felt like she knew we were there for her. As if she was saying:
It's me; now let's go home.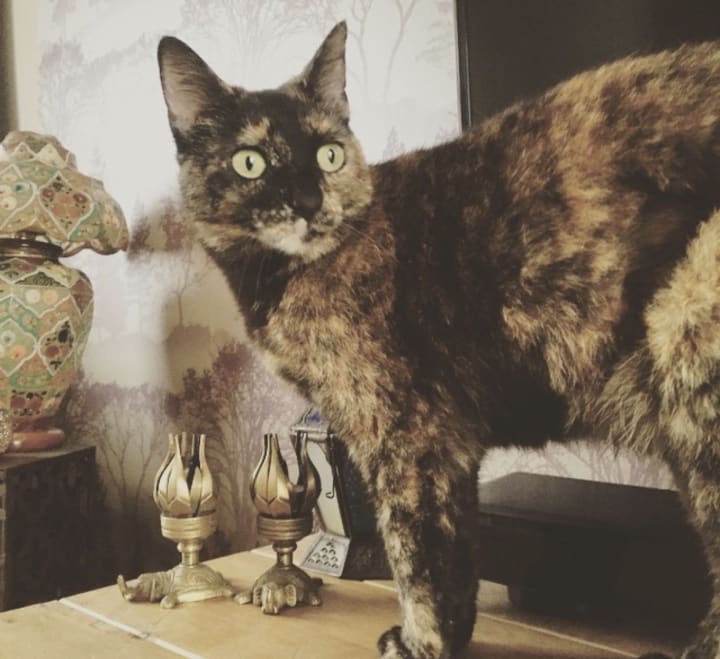 Without much hesitation my husband started asking more and more questions about her and I knew he was sold. We finalised the details of the adoption and agreed a date for her to move to her new forever home with us.
As we got in the car, my husband admitted he'd vowed to himself on the journey there, that we wouldn't have her. He'd agreed to visit initially to appease me, with the intention of allowing me to get the whole urge out of my system. He thought we'd visit, do the token meet and greet, but then head back home in agreement we had no room for any further animals.
Oh how wrong he was! Lola had won his heart good and proper; the way I knew she would. As a family we were all smitten and couldn't wait to welcome her home.
Lola was adopted from Maesteg Animal Welfare Society in South Wales, UK.