Never Too Broken For Love
Angel's Story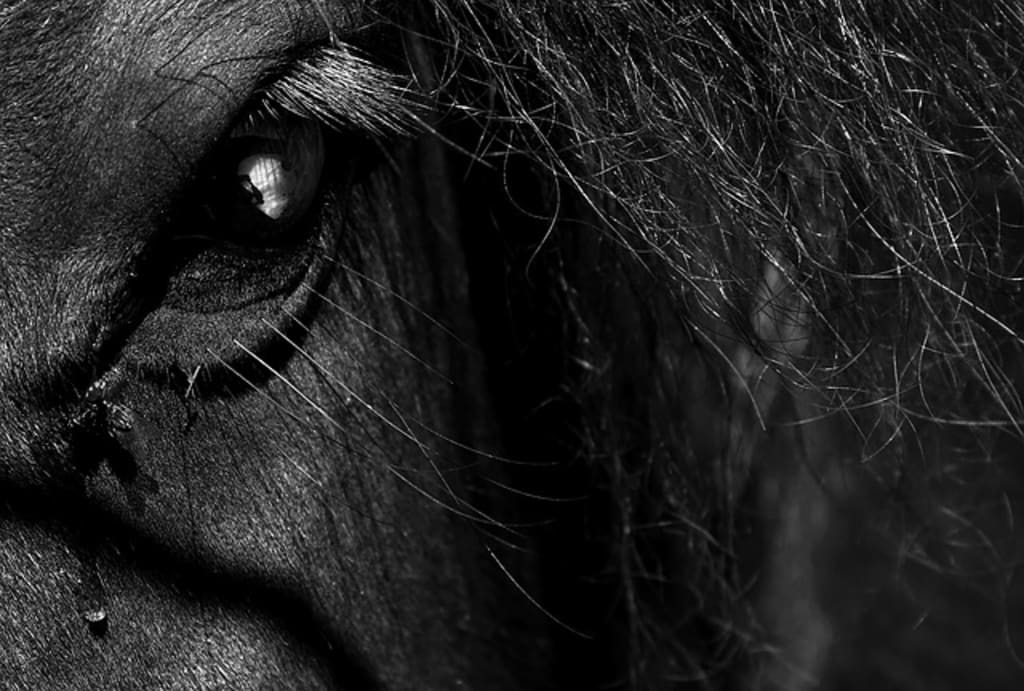 Many horses have come and gone over the years, but one small black mare stands out above them all. In her second year of life, she endured much trauma; pain, fear, and loss. This is the story of how one gentle animal found love in a most unusual way.
This is Angel's story.
I received a phone call one morning from a woman who had purchased a herd of 50 horses - many of which had never been touched - and I agreed to break five at a time on a 30 day rotation for $250 per head.
The first five arrived as scheduled and proved to be rather easy to work with. As a result, the owner was very pleased at the end of the first month and made arrangements for the next group to be delivered the following week.
When the morning of their arrival dawned, I received a phone call stating that they were short one man on the roundup crew, and would I be able to meet them at the pasture to help select and collect the horses. I said that I would, and an hour later stood looking at the herd grazing in a four acre lot. The owner gave me the option to receive my usual fee or choose one of the horses to cover the cost of two animals. I chose a delicate black filly, not more than 13 1/2 hands tall, with a beautiful gait. She was about two years old and would be perfect for my daughter. We made our plans and entered the fenced in area, then fanned out to cut the selected animals from the rest.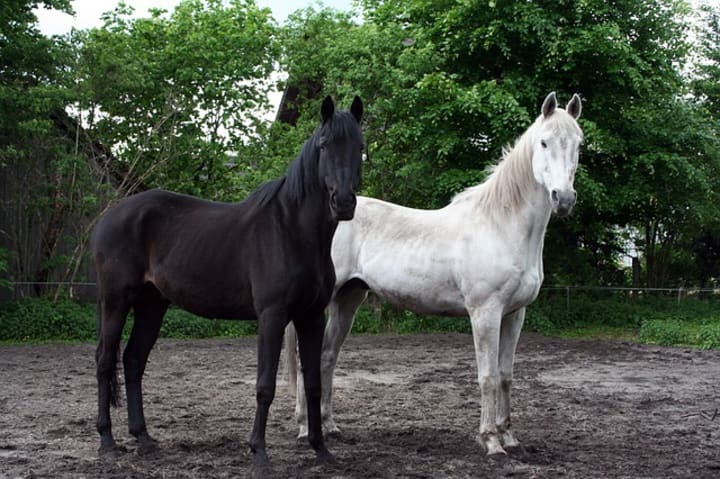 She was the last to be cut and loaded, which was good because she proved to be the most difficult, and the experience was one that I never want to repeat. She bulked, leaning way back against the lead rope, and had to be dragged to the trailer - pulled from the front on the lead, and pushed from behind with a rope around her rump. She fought and struggled, reared up and kicked. For being so small, she made us work hard, she refused to submit.
The doors were tide back, the way clear for her, and I kept her lead tight while the person at her rear held firm to his rope. She wouldn't budge, so a buggy whip was applied to get her moving forward. When that failed to work, (to my horror and ire) she was struck on the rump with the flat side of a 2 x 4. Before I could say anything, the board landed twice more. I yelled for the guy to stop, which only increased the filly's fear. She couldn't go back, only forward, so she lunged into the trailer with such force that she landed in the manger and cut a deep gash in her right foreleg. I gritted my teeth in anger as I tried to calm her and get her situated. Blood ran down her leg, but there was nothing to be done until I had her home.
When the vet got to my place later that afternoon, he treated and wrapped her leg, then mentioned that she could use to put on a few pounds. All appeared to be well, she'd calmed down considerably, and I was able to spend some quiet time with her. When my daughter came outside to see her, we decided to name her Angel because she had such a sweet nature when she wasn't panicked.
Several horses that I had worked with were a bit thin and increasing their protein had done wonders, but the added protein turned out to be too much for angel's delicate system and she foundered in her front hooves. I again called the vet out to treat her and he fitted her with medicated boots on both hooves, along with oral medication for the pain and swelling. I blamed myself for her suffering and did everything that I could to bring her comfort. Through it all, she became a tender trusting soul.
One morning, on my way out to feed, I noticed that something wasn't right with Angel. Something was hanging out of her back end, and I feared that her uterus had dropped into the vaginal cavity. I immediately called the vet out for the third time, and he sadly delivered as stillborn foal - perfect in every way save for his tiny chest resting devoid of his life's breath. He would never know the warmth and love of his young mother, and I feared that she would mourn her lost baby. I never want suspected that she was pregnant.
Angel was considered lame and could never be written, so I decided to let her live under my care for the rest of her days. I had no plans of selling her; who would want her anyway? Her hours would pass in casual grazing and keeping me company as I worked in the yard.
One day, a gentleman came to look at a car engine that we were selling. While he was under the hood of the car, Angel - nibbling on the grass - came hobbling around the corner of the house. He studied her for several minutes, and we talked. I related her tragedies and clarified that she required constant care. He asked about her medical treatment, and I held nothing back. He seemed sincere, and I could see that he was a kind and gentle man. He told me that his young daughter had always wanted a horse. Her birthday was coming up, and would I sell Angel? We discussed it at length, and after he promised to provide for all of her needs, we finally agreed that he would buy Angel and the car engine - though I couldn't imagine what his daughter would want with a crippled mare.
We delivered Angel on the day of the child's birthday, and he had everything ready for her. I noted the newly built shed where Angel would live at the near end of a large grassy paddock. Our tires crunched over the gravel drive, and we pulled to a stop just as he stepped out onto the porch. As soon as I got out of the truck, he smiled and walked with me to unload Angel. I had taken special care to fit her with shipping boots to keep her safe. As soon as she was out in the open, the door to the house flung wide. I turned to greet the child when I heard her delighted squeal, and my heart stopped. Coming down the steps, with her mother, was a girl of about 10 years old with a grin from ear to ear. What took my breath away were the twin braces running from her feet to her hips, and the polio crotches that balanced her. There aren't words enough to express the emotions that filled the air at that moment; the child's joy, the father's pride, the mothers pleasure, and my... Shock.
I was speechless as she crossed the yard to us. Her father took the lead rope from my hand and placed it into hers, then pulled out his wallet. I took the money, my eyes teary, and watch the two limp away - the child talking lovingly to Angel. They were perfectly matched.
Angels hardship had a purpose, and it just goes to show...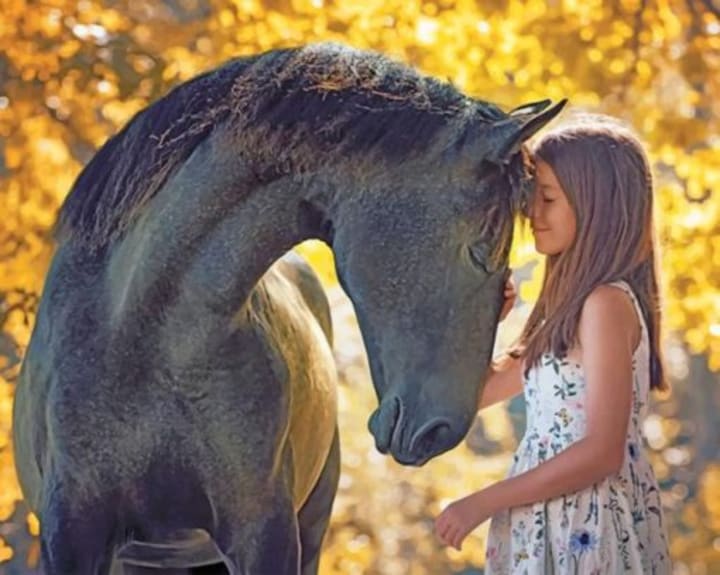 You're never too broken for love.
horse
About the author
Born and raised in the United States, Sheila Sellinger is a Christian author who normally writes adventure romance and biblical fiction, but is now trying her hand at articles and short fiction as well, in a wide variety of styles/genres.
Reader insights
Be the first to share your insights about this piece.
Add your insights