My Dog's Anxiety Ruined my Partner's Night Last Night
And I thought it was hilarious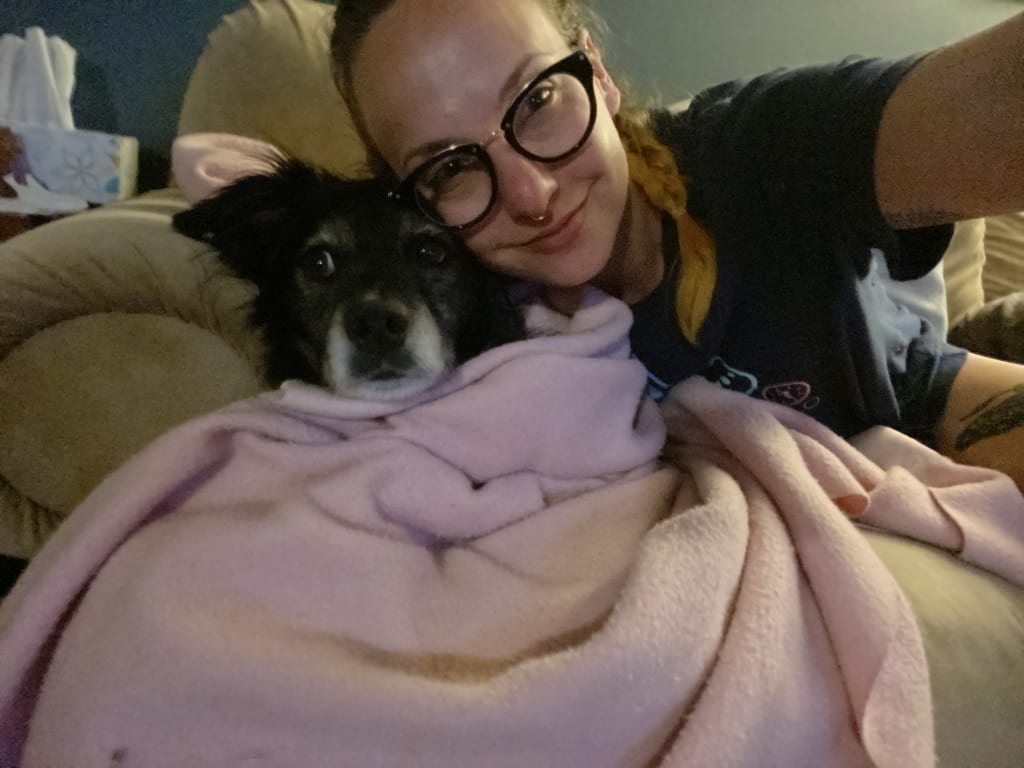 My dog Goose terrified of fireworks while I try to calm him.
My dog's name is Goose. He is the worst. My partner and I adopted Goose when we were irresponsible college kids who had just moved in together. We were not ready for the responsibility of a puppy, and we were definitely not ready for Goose.
His paperwork said Labrador retriever mix. There's no way this dog is a lab. I remember being at the shelter and asking my partner, "Does he have too much energy for us?" My partner, with big cartoon heart eyes assured me he didn't. He definitely did (in our low moments when Goose is being particularly bad, I like to remind my partner of this conversation).
We never got a DNA test or anything, but we're fairly certain Goose is mixed with border collie. For one, he looks like it. Secondly, he has more anxiety than any animal or human I've ever met in my life. And I have a lot of anxiety. Actually, our shared anxiety is part of the reason I fell in love with this damn dog, regardless of how frustrated he makes me. Goose and I get each other. He is a mama's boy for sure.
His anxiety manifests in behaviors dogs don't usually do. For example, when he goes out, whenever he goes out, he has to tear out of the house as fast as he can. He barks at the top of his lungs, lunges in a bee line straight at a tree, bounces off the tree, and shoots quickly off in the other direction. He does this so routinely, he has forged a "cow path" in a straight line in our lawn. He has also ruined every back doorway of every house we've ever lived in because of his jumping, barking, scratching, nipping insistence to GET OUTSIDE AS FAST AS POSSIBLE. He is very well trained. His anxiety just makes some behaviors impossible.
One of these behaviors is something that annoys the crap out of my partner, but that I think is hilarious and endearing. Goose is terrified of fireworks. For better or worse, this dog is my little sidekick. Whenever he's scared he needs me there to calm him down. No one else can do it. Well, I wasn't there last night.
I was at a social distancing outside barbecue with my coworkers last night. My partner got home from work around 8:00 pm. He cracked a beer, lit himself a bonfire, and sat down to relax in a house that he hasn't had to himself in months. And that's when the fireworks started.
Goose started pacing the yard. He couldn't go inside because he can't be alone when he's scared like this. He would just pace the house and bark. While pacing like this when Goose is anxious, he tries to restore his sense of control by knocking things over. Weirdly dextrous for a dog, he walks around and either knocks over, or flips over, anything he can manage. Usually until I'm done brushing my teeth and can cuddle him into calmness.
Well, like I said last night, I wasn't there. And my partner is not a good enough substitute for Goose. No amount of love from my partner will calm this dog. So Goose started pacing as usual, unstoppable with me absent. Knocking over anything he could find.
He attempted to flip the lawn chairs.
Knocked over potted plants.
He hopped up on the patio table, as my partner tended the fire, and knocked his beer off and onto the ground.
All while my partner watched helplessly on, starkly reminded why we nicknamed this piece of work, "Goose, the Ruiner."
dog
She/They, BA in History and Secondary Education, MA in Antiracist Pedagogy, Curriculum Consultant, Poet, Blogger, Queer, Suicide Survivor
Receive stories by Renea Di Bella in

your feed