My cats changed my life
They joys and hardships of being a cat mom
I Grew up in a house that always had pets of many species. The classic dog and cat moments of course, but my early memories of pets were Cockatiel birds, love birds, fancy rats, and even bearded dragons. All of them were lovely but overtime my cats have become an integral part of my everyday life. You can keep up with my cats on our Instagram, @Miauparty !
The Brothers
I have learned that cats, like people, all have different personalities. As a young teen when I adopted my 3rd 'first' cat, I did not realize this yet and would get frustrated when my new kitten did not like being smothered with love. To deal with this rejection I would contemplate many different names for my new kitten. Romulus, Purrsephone, and Figaro all became my candidates. When it was finally revealed they were both young males, Figaroa was named.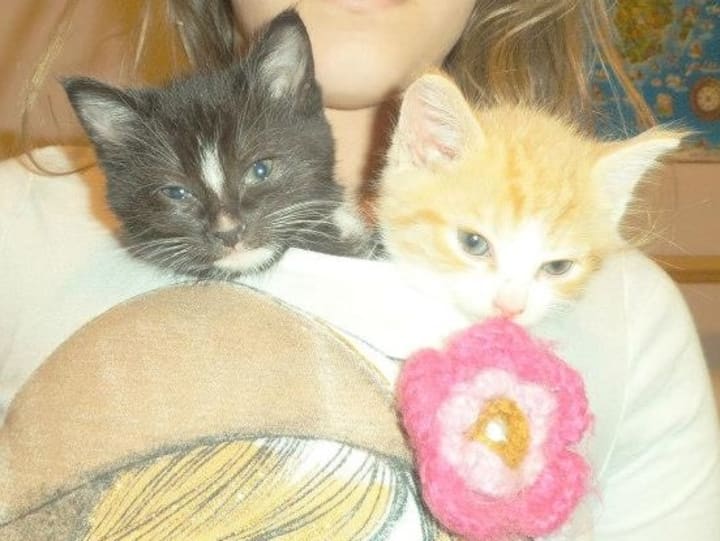 After many cat scratch scars had healed, I slowly learned to respect Figaroa's personal space and let him come to me when he wanted love. DaCuteness on the other hand is a love bug and will crawl under the sheets with you for snuggles. Although I would have to learn the lesson of trust again when new kittens came, I realize now just how important it is to give your cat space. If you don't, they will lose trust in you, and will make rebuilding trust more challenging.
The queen Kitty Stellaluna
Our senior kitty is the sassy and evasive Stellaluna, named after the small bat which she resembled as a kitten. She was once found in a 'Free Kittens' box at a Pet Smart in Florida, but now she reigns over a house of rambunctious younger cats with an iron yet declawed paw. Stellaluna is our only cat who is declawed since her traumatic experience with the declawing surgery turned us against the practice. I now strongly encourage everyone to not declaw your cats, it may be an annoyance to prevent scratching other ways, but it is far more humane.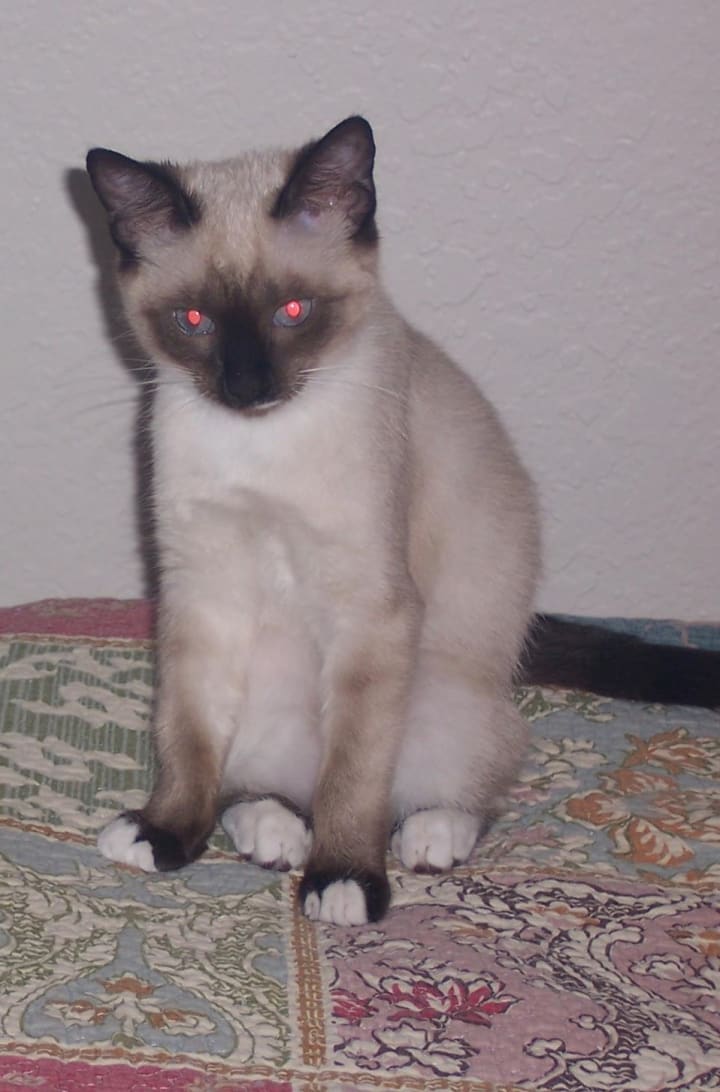 Ranger the wandering kitty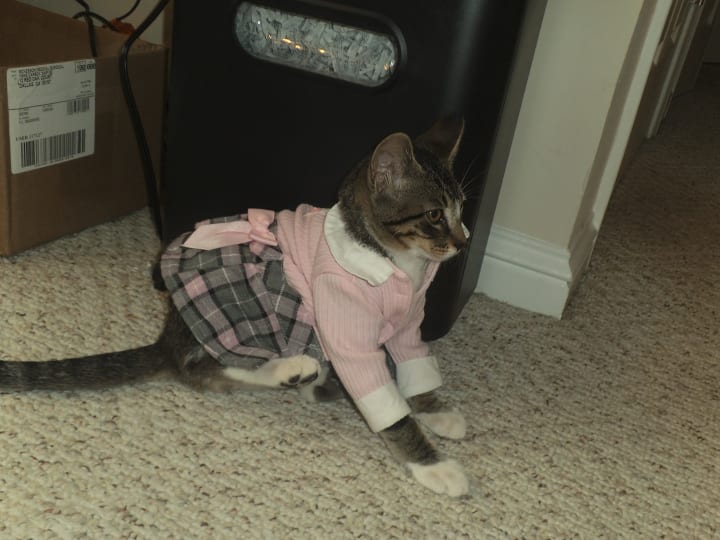 Found in a parking lot, Ranger became my cuddle buddy every night after the moment I met him. Sadly, after trying to integrate him into the family for over a year, he just could not get along well with the other cats. When he was not eating every cord or cable in sight, he was roughly playing with the other cats to the point of bloodshed. This is when we accepted that he needed a new home where he could run off his energy without harming other cats. Thankfully, my father took him to his large house with plenty of land where Ranger could safely play. I still miss him being with me every day, but as a cat mom you need to know what is best for your kitties, even if it includes some sacrifice.
Kiki and her kittens
When stray cats become attached, I can never bring myself to turn them away. When we met Kiki she was a scrawny sewer cat with wounds, but we managed to fatten her up for adoption. However, one day before her spaying surgery she got pregnant.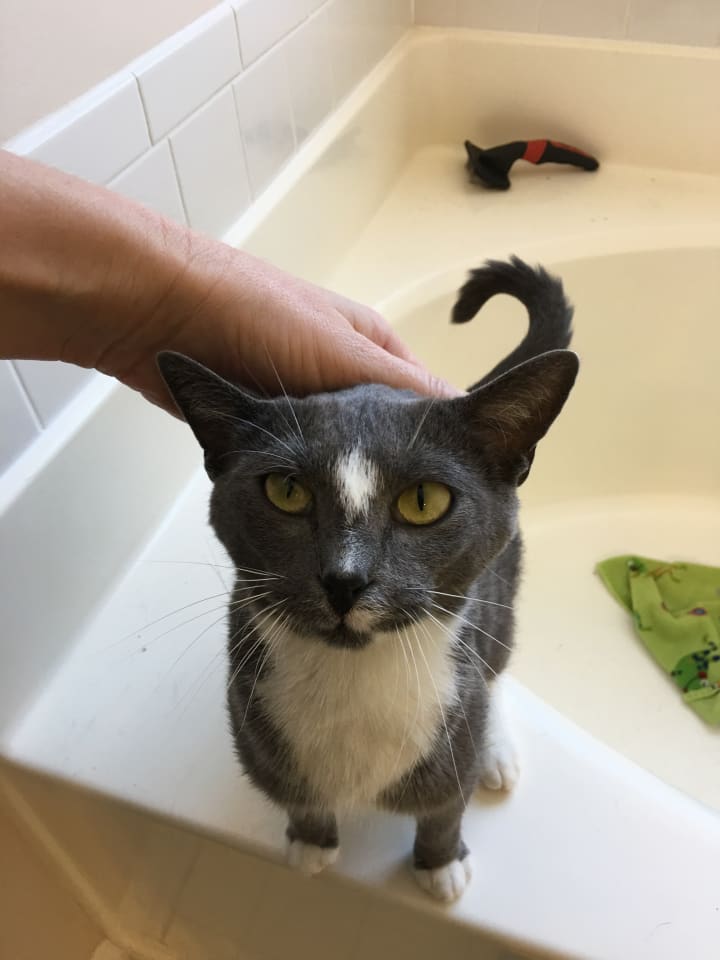 Kiki was a love bug, and kittens always get adopted fast. So, it was not much of a stress once her kittens grew past potato baby size. But these kittens just like all cats had their own personalities. Kuro and Alien, her two black kittens, were polar opposites. Alien crawled up your legs the second you entered the room. Meanwhile, Kuro would wait patiently with her sisters to be held. Jun and Fin, the grey kittens, were also polar opposites. While Fin was the chunkiest of kittens, Jun was so skinny I had to stay up and feed her every few hours just for her to hang onto life.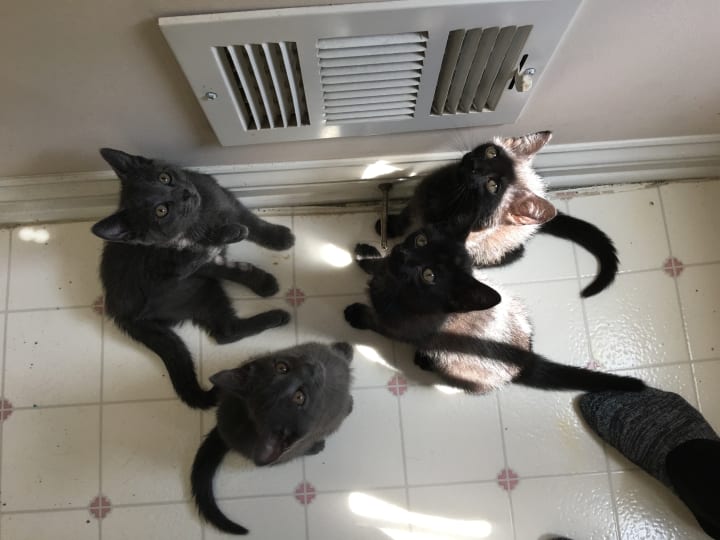 In the end they all grew healthy and were taken into a kitty adoption at the local Pet Smart. Having kittens is honestly like having fluffy babies for a while. Be ready for the hardships of raising kittens, they do not always grow up healthy, or sleep well. You might wake up to big messes of food and litter every day or have to help your kittens eat or learn to use a litter box. If you are open, kittens can teach you great patience and love as well.
Alien becomes Marceline
After some time at Pet Smart, all of Alien's sisters and Kiki were adopted. Yet when we called to check on her, the staff at Pet Smart said Alien was just too aggressive to be adopted. Alien then became our re-adopted cat Marceline.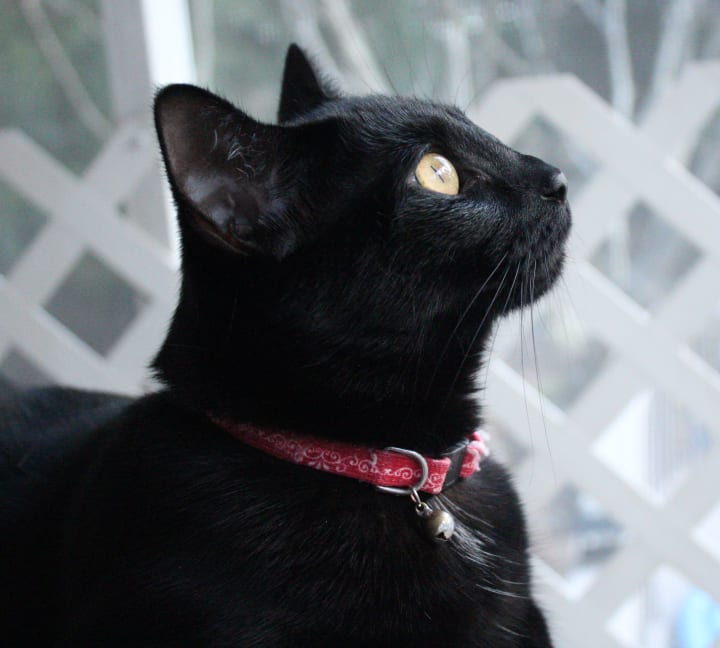 Marcy also has the nickname of Mouse since she squeaks and 'meows' but never sounds like a cat. She still loves to climb things and to cause trouble when she wants attention. Marcy has also taught me great patience as a cat mom since she is so bratty. When she is bratty it's so cute I then want to hug her, which only results in more scratches.
My best friends
Our cats are really the center of our family. Overtime they become part of the family, like roommates who do not pay rent. But these roommates have given me joy in times of depression, stability during uncertainty, and vomit at 3am when I try to sleep. All these gifts are not to be taken for granted. Cat moms feel the joy and sadness just like other moms, and we learn just as much too. Now when a new kitty appears at my door, I get the feeling they will teach me another lesson and offer more love. Again, as all cats have different personalities, my house never has a dull moment with these cats around. My cats have truly added warmth to cold days, and hair to clean clothes.
Follow up with the Kitty Crew on Instagram!