Is This Australia's Most Compassionate Cat?
Yes, most certainly
The kitten was bought as a tactical marriage decoy, and at $500, a relatively cheap one. Tom hoped that getting us a pet would stop me pestering him about proposing and buy him some much needed time. It was a resounding success.
Mr. Pengy turned out to be one of those truly special creatures you might read about in a local newspaper for saving their owner from a burning building or detecting a malignant tumour. While our cat never needed to rescue us from such plights, he certainly saved us, a furry symbol of commitment and unexpected joy, enabling us to wait out another seven years before Tom finally popped the question.
With his bluish grey, sleek fur, round yellow eyes flecked with green, and the muscular physique of a miniature panther, he was the perfect specimen of a pedigree Burmese. The cat had charisma! He was inquisitive, confident and overly affectionate, going about his day like the mother of the bride at a wedding, warmly greeting family, friends and strangers alike.
My new pet unearthed a deep love that I didn't even know was inside of me, and (being during our pre-children/pre-mortgage era) I had seemingly endless time to devote to smothering him with affection. For Valentine's Day one year, I crafted him a giant red heart made out of one of his favourite things in the world: feather boas. I hung it on the wall in our lounge where he could admire it from his favourite vantage point, hunched on the back of the sofa.
Every night I patted him into a stupor on our bed, coo-coo-chooing him, singing made-up songs which included his latest wacky nicknames like Big Blue Seal, Prince Pungo, Magical Moon Cat, and Moogie. One day, I felt compelled to write them all down on small pieces of white art paper in sweeping calligraphy, which I mounted onto blocks of polystyrene and then pinned to a canvas, which I finally framed and hung on the wall for visitors to appreciate, and no doubt, once safely out of ear shot, comment with concern that it was probably high time Tom proposed and gave his crazy girlfriend a baby of her own.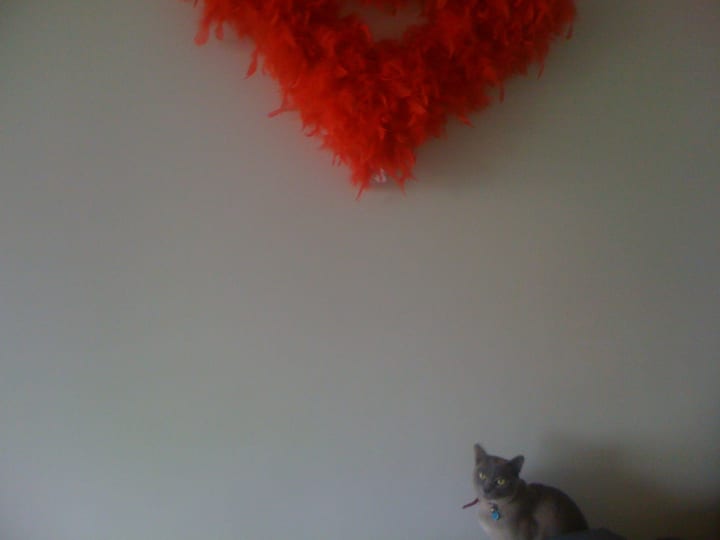 Being a male cat, he was prone to roaming the neighbourhood for hours on end in search of lizards and people to smooch with and rub himself up against. He loved meeting new humans and was tolerant of most animals, but despised other male cats. We never quite knew what he got up to when he left the house. However, he would often return covered in scratches on his face, which scarred, each time crushing my plans of him coming to fame in a cat food commercial.
For two years, we lived on a hill next door to a hospice in a serenely peaceful inner city spot. The hospice was in a huge, decaying, rambling mansion with vast staircases and spare dining rooms, set amongst lush gardens with magnificent views over Sydney harbour.
One day, we got talking to one of the nurses from next door, who asked if "the delightful grey cat" belonged to us. She told us he was a regular visitor and would often join the patients for comforting cuddles and snooze with them on their beds. It was rather sweet to know he was sharing his love and providing comfort there. Even in our household, Mr. Pengy would always sit on the least well person in the room, using his innate, magical feline powers of empathy. I'd always know how hungover I was going to be on a Sunday morning before even opening my eyes. If I awoke to him crouched on my chest, purring and vibrating furiously, I'd know I'd likely have taken it too far the night before.
In 2008, a prototype cat camera launched to the world called the Mr Lee Cat Cam. It was a tiny digital camera encased in a transparent box designed to be worn around the cat's neck and was programmed to take a photo every few minutes. As primitive as this sounds, at the time, it seemed nothing short of revolutionary. I felt sure that these two gentlemen, Mr. Lee and Mr. Pengy, needed to be acquainted immediately, and so our cat became one of the first animals globally to own a first-edition Cat Cam.
Unlike the small belled collars Mr. Pengy would skillfully remove from himself once he was out of our eyesight, he didn't object to this awkward neck camera he was tasked with wearing, as though he recognised the significance of the privilege. The photos were hysterical insights into the life of a domestic cat. Many of them pointed up at the sky with a blurred bird wing at the top.
Naturally, I set up a Facebook page for him and regularly shared photos he had taken on his daily outings to his small fan group, consisting of some of my more curious friends. I actually linked my own personal Facebook account to his via my relationship status, marking him as my 'husband'. The position hadn't been filled yet and I hoped it might boost my talented photographer's online profile.
One day, I got wind of a journalist for a Melbourne newspaper looking for civilians who had experienced the Mr. Lee Cat Cam and would be prepared to be interviewed. I responded and provided some context about what a special cat he was. I may even have used the phrase 'Magical Moon Cat'.
The journalist replied quickly, and we ended up speaking on the phone. She had a harsh manner and raspy voice, talking breathlessly as if letting me in on a secret. The story of Mr. Pengy's regular visits to the hospice had piqued her interest. "Listen," she bargained, "If we can just say you found photos of patients' feet on the cat's camera, we have a story. I will personally fly up from Melbourne to interview him. I can see the headline now. 'Is this Australia's most compassionate cat?'" I mean, yes, in my mind, he most definitely was, but we certainly didn't need to make up lies to prove it. As much as I loved the idea of Mr. Pengy's name being up in print, I knew that fabricating anything to do with dying people's body parts was a terrible, terrible thing to do. The journalist was peeved that I wasn't prepared to go through with it, so the story was killed.
Nonetheless, Mr. Pengy's brush with fame had been thrilling enough for me, and I bought him a black and white tuxedo bow tie to celebrate.
He lived a wonderful ten years, dying suddenly from an asthma attack. By then, Tom and I were married with two kids. Our little family was devastated at his loss but grateful for the time we had in the Big Blue Seal's company.
It's so strange when your pet dies. There's no one to notify apart from your immediate household, no devastated friends to break the news to, no taxes to pay, just a faux fur lined mini igloo house to dispose of. He was nothing but everything all at once. A soft, vibrating lump, a seemingly endless source of affection, warmth, and meowing, and then a 5.5 kg hole in our lives.
Every so often I will walk past a newsstand and see that particular paper for sale, envisaging the story that could have been, 'Is This Australia's Most Compassionate Cat?' For it would definitely have made the front page.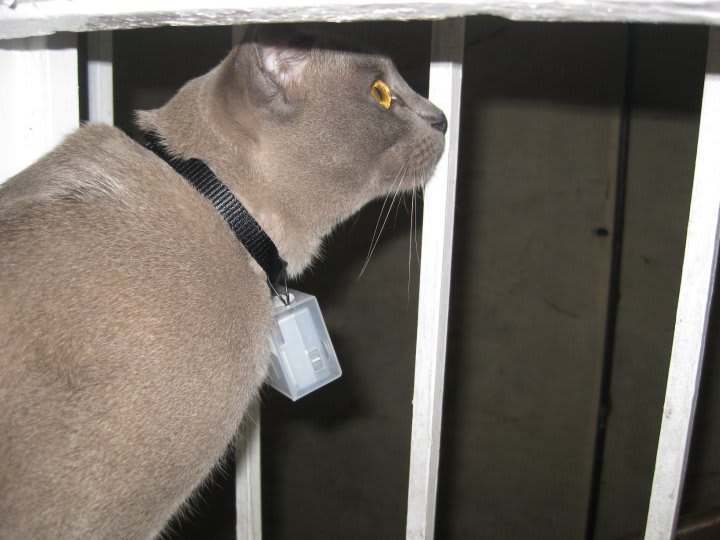 About the Creator
A New Zealand-based freelance writer living in Auckland, New Zealand, and author of many emails. Graduate of Massey University Journalism School, and lover of empty calories and overpriced oriental cats.
Blogs at www.mundane2friday.com
​
Reader insights
Be the first to share your insights about this piece.
Add your insights