I'm Glad We Found You
Good things come into your life when you least expect them to; ours came in the form of an abandoned kitten.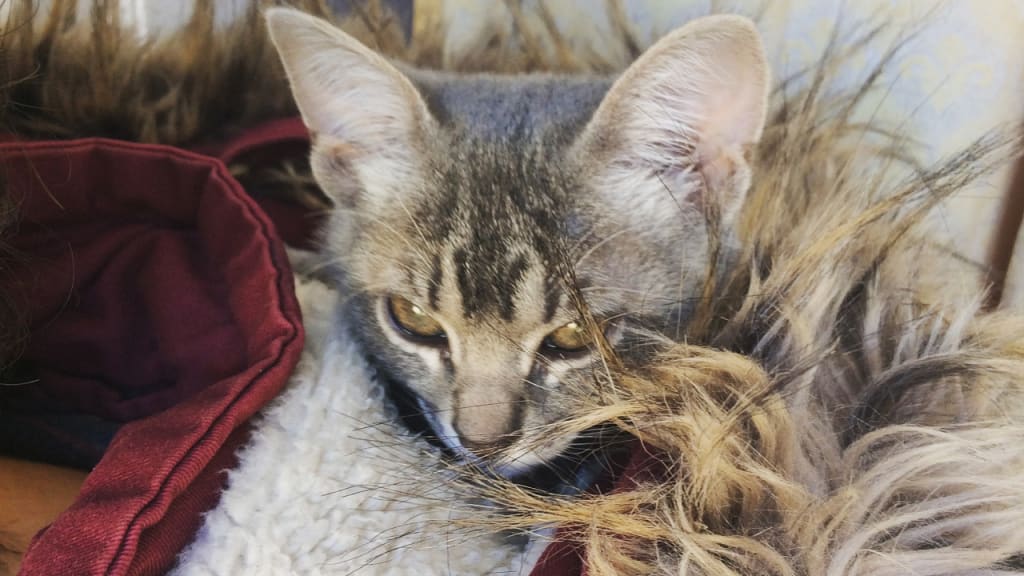 Indica, roughly three months old, sat in the hood of a jacket
There have been times where friends have asked me, "Are you a dog or cat person?" to which I have always answered, "I love both, but cats will always have a special place in my heart."
I remember there being rare intervals in my life where I have been without a cat by my side. My first was a black cat my mother found in a box on the side of a highway outside Gaborone, Botswana. With one-year-old me in the back seat, my mother jumped out of the car and ran towards an abandoned kitten. She returned and placed the terrified little bundle in my lap, telling me to be gentle. While driving home, my mother recalled looking in the rear-view mirror to see her infant child rubbing noses with this dirty little kitten and repeatedly chanting, "Nosey! Nosey!" Perhaps this is where my affinity began.
My mother would tell me stories about how she and her late brother would come home with injured birds and squirrels in their pockets, and looking back at my own childhood, I can only assume that rescuing animals runs in the family as I recalled caring for a string of injured birds I would find on the roadside.
Fast-forward twenty years, and I find myself moving to Portugal to study for a year. The university campus was small and situated beside an abandoned, rundown factory with a colony of feral cats living in its ruins. When I first discovered how many cats inhabited the area, I was excited to catch even a glimpse of them. We would often see all sorts of cats sunbathing in beams of broken light and chasing mice across the rubble. The students and cats were used to each other's presence, but rarely was there any interaction.
As often comes with moving abroad, I was feeling rather homesick and missing the company of animals. So, my partner and I decided that maybe it would be worth getting a pet bird or rat to care for then rehome before leaving at the end of our exchange. I had felt somewhat better with this prospect in view; we set a date when we would go to a local pet store after class, although when that day came, we went home with something else.
While in a class, our lecturer asked us to take a walk outside and explore the factory grounds. While strolling about, a number of the students suddenly heard a shrill meowing, and we started searching through the dilapidated factory. Eventually, we came across a tiny kitten at the bottom of an empty oil barrel. We scooped her out and wrapped her in a beanie someone found in the canteen. She was cold and exhausted but continued to scream for her mother.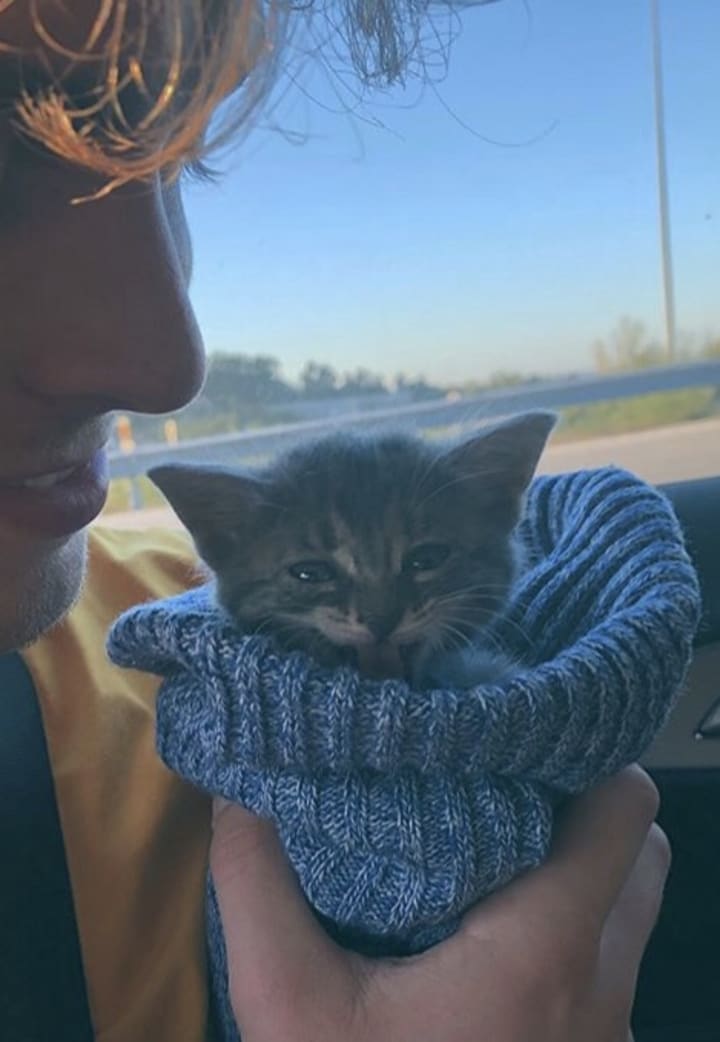 While my partner returned to our apartment, a few other students and I searched for a woman who lived behind the university and regularly fed the feral cats. My friend communicated to her that we had found an abandoned kitten and wondered if she knew which cat was the mother. Although she had no idea which cat it could be, she told us that it was unlikely the mother would take her back after being held by so many people, and it would be best if one of us kept her instead.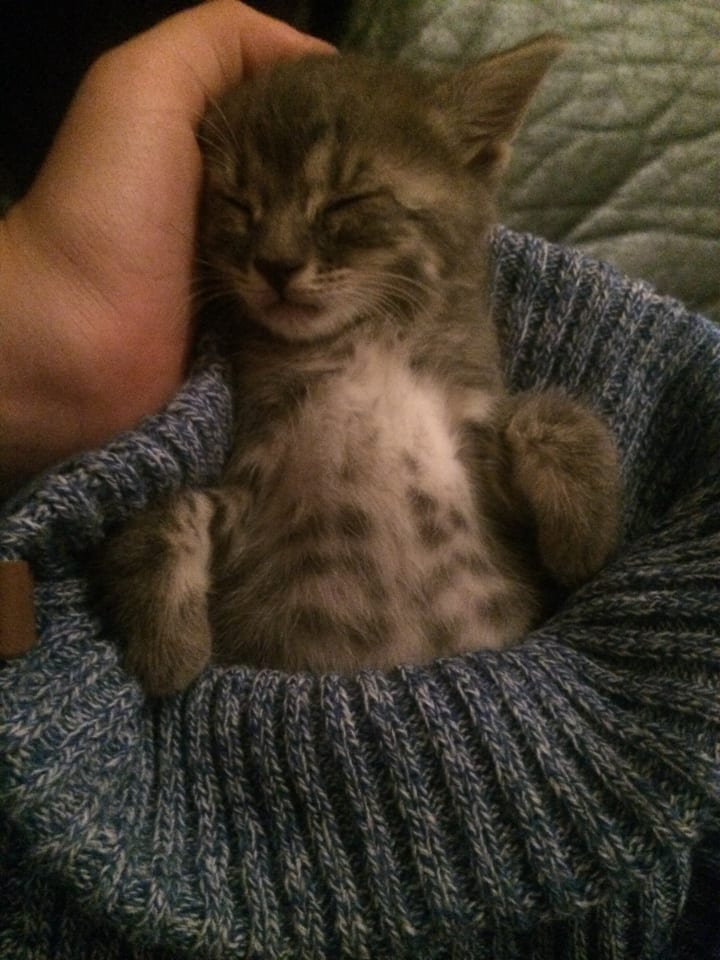 While walking back, I asked to hold the kitten, and my friend passed her to me, still curled up in her beanie. As I held her, my heart was melting. I could not imagine what could have happened to her if she had not been found. I already knew I could not let her go, so I took her back to our apartment.
As soon as I walked in, my partner was ready to go to the pet shop to choose a pet, but when he saw the kitten in my hands, he told me, "We can't keep it." In response, I simply handed the kitten to him. Perhaps he was expecting retaliation from me rather than the cat, but he took one look at her, and as she meowed to him, I knew he had fallen as in love as I had.
"Fuck, okay."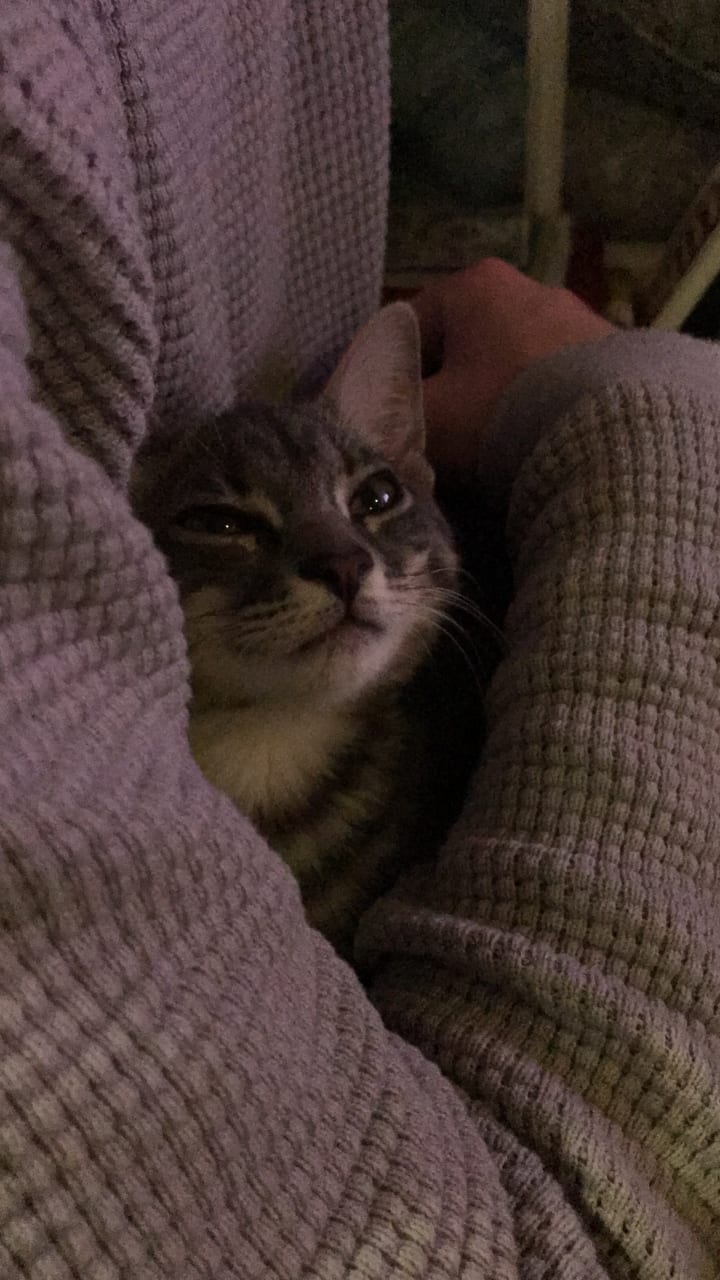 It was official; we had a cat which we decided to name Indica. But her tummy was bloated, she was covered in fleas, and her eyes were weeping, so I could tell that there was something wrong. However, we had lived in this little Portuguese town for just over a month and had no idea where the closest Veterinarian was. So while my partner made his way to the pet store to collect supplies, I found a taxi and asked to be taken to the closest vets. I was still carrying her about in that beanie which the taxi driver found rather amusing. While on this surprisingly short drive, I was making sure to watch where I was going if I had to walk back. I arrived outside an unsuspecting veterinary clinic and realised that I barely knew any Portuguese, so I was not entirely sure how I would communicate adequately.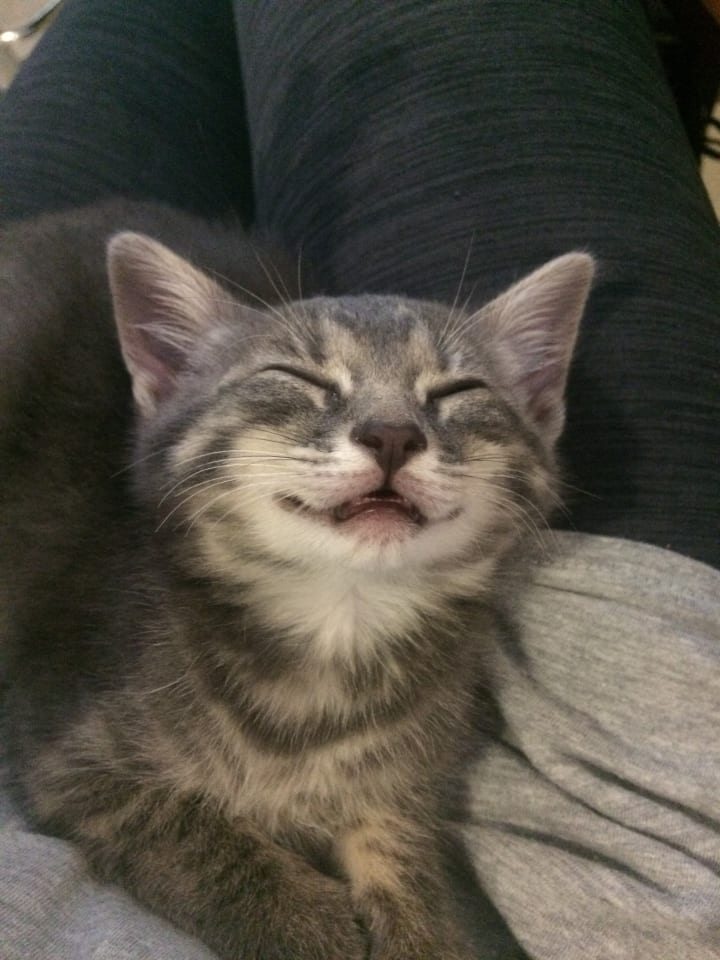 As soon as I walked in, a woman approached me to peek inside the beanie hat and immediately started fawning over the sleepy kitten. Luckily, this friendly stranger spoke English, so I explained my situation. She was kind enough to talk to the receptionist and told me I would be seeing an English-speaking vet and that I would not have to pay for the first appointment! I was so appreciative of her kindness and compassion for animals and thanked her over and over.
The vet explained that Indica was roughly a month old and had an easily treatable respiratory illness; I was relieved to hear nothing was seriously wrong with her.
After leaving the vets and making my way back to our apartment with an exhausted kitty in my arms, I returned to see that my partner had bought over €80 worth of cat milk, food, treats, and accessories! He was incredibly excited to spend time with our new kitten!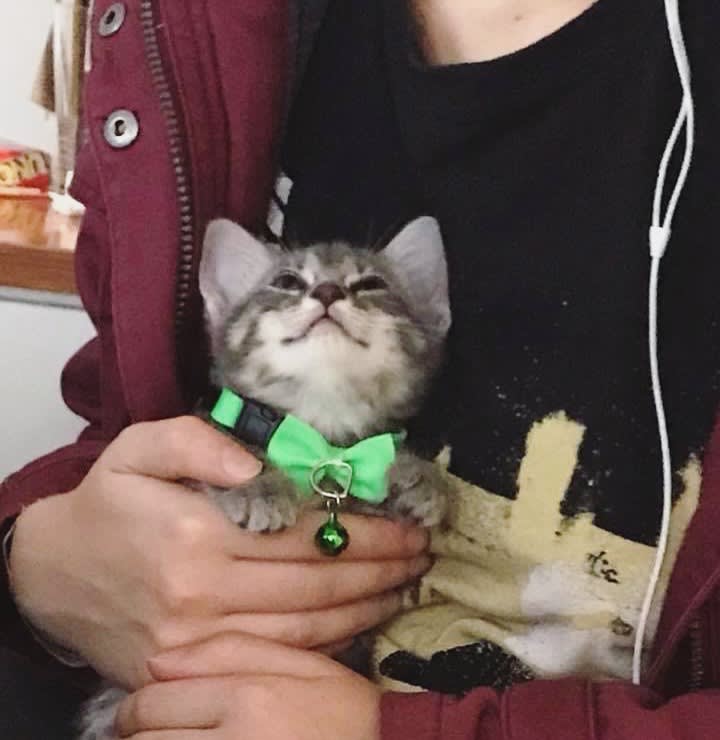 Indica immediately became attached and followed us everywhere. She was incredibly vocal, screaming for our attention if we did not place her in our laps or upon our shoulders. This little kitten had quickly adjusted to the house-cat lifestyle and had made this temporary abode into a home. She provided relief to the stress of university life, even inspiring me to create artwork centred around her. As she grew, her personality shone through as a feisty little thing that's always up for a play fight! There was never a dull day as she demanded to be entertained by any means, whether it be by us or her surroundings.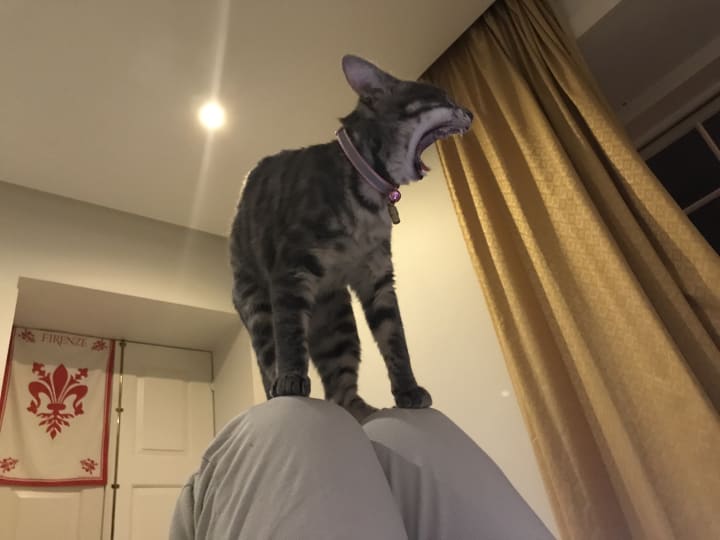 Indica became my world in the short time she had been with us. We knew that she would be coming to the UK with us by the end of our year abroad. So I made sure to get all the necessary paperwork and updated vaccinations until we finally got her EU passport. I was even reassured by the vets that the UK's quarantine policies had been relaxed, and Indica would not be taken away.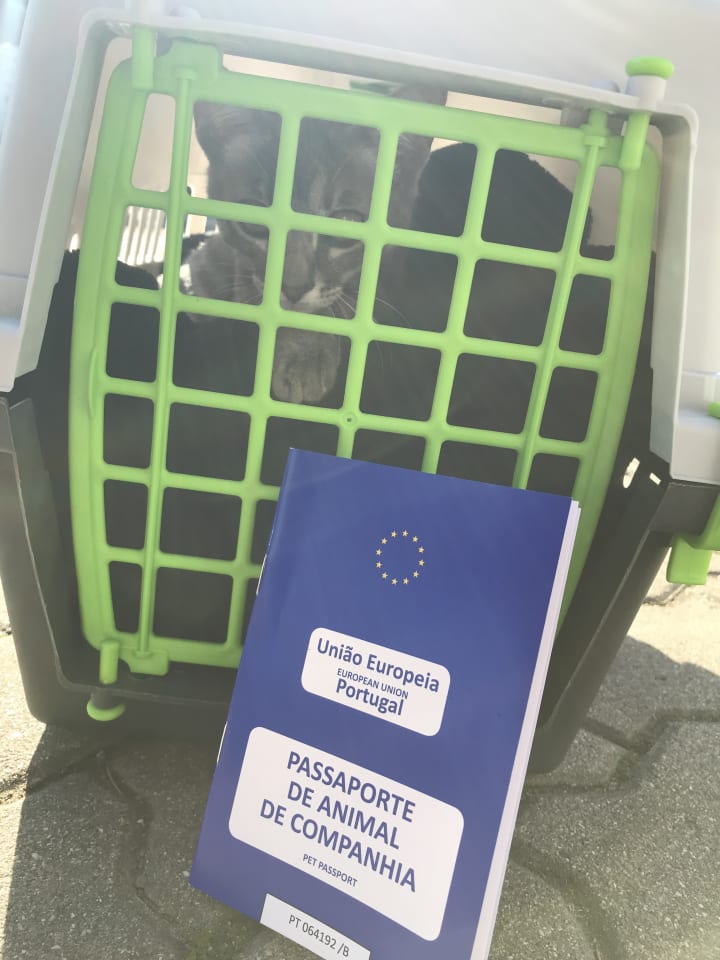 Now, the only issue was getting her to the UK. I was not prepared for how difficult it would be to find out the necessary information I needed to know. I eventually discovered that animals were not permitted in the cabin of any commercial aircraft entering the UK. I did not want to put Indica in the hold of an aeroplane and devised the following route from Porto to the UK:
I left Porto Airport for Schiphol Amsterdam Airport because I could have Indica in the cabin. Then, from Amsterdam, we made our way to the Hook of Holland to catch a ferry to Harwich in the UK. It would not be for another five hours until we made it to my parents' home in Shropshire.
It's been nearly three years since we brought Indica to the UK, and I have loved every minute I have spent with this crazy little terror! Though she may not be as cuddly as she once was as a kitten, she still dislikes being alone. She still greets us at the door with her high-pitched squealing meows and rubs her head against us.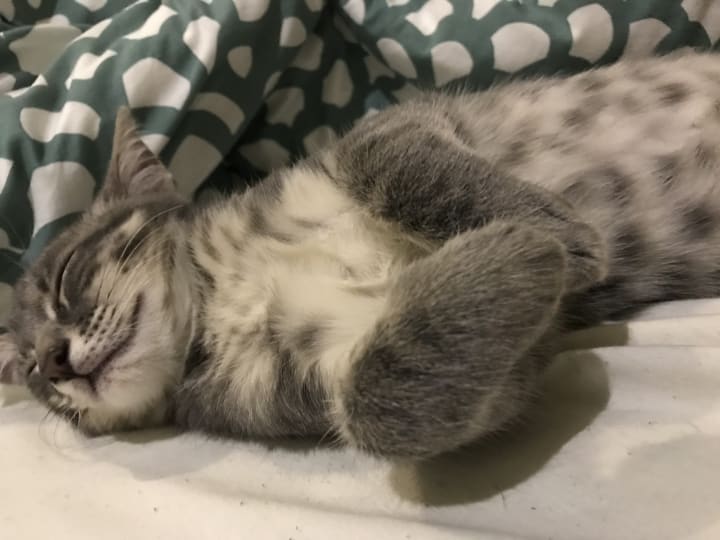 I do not regret finding this little kitten in a barrel; she brings stability to my chaotic life. Coming to my side when I'm in a bad place and keeping me grounded. She makes me laugh and brings me joy with every zoomy she makes.
I am forever grateful for her presence in my life.