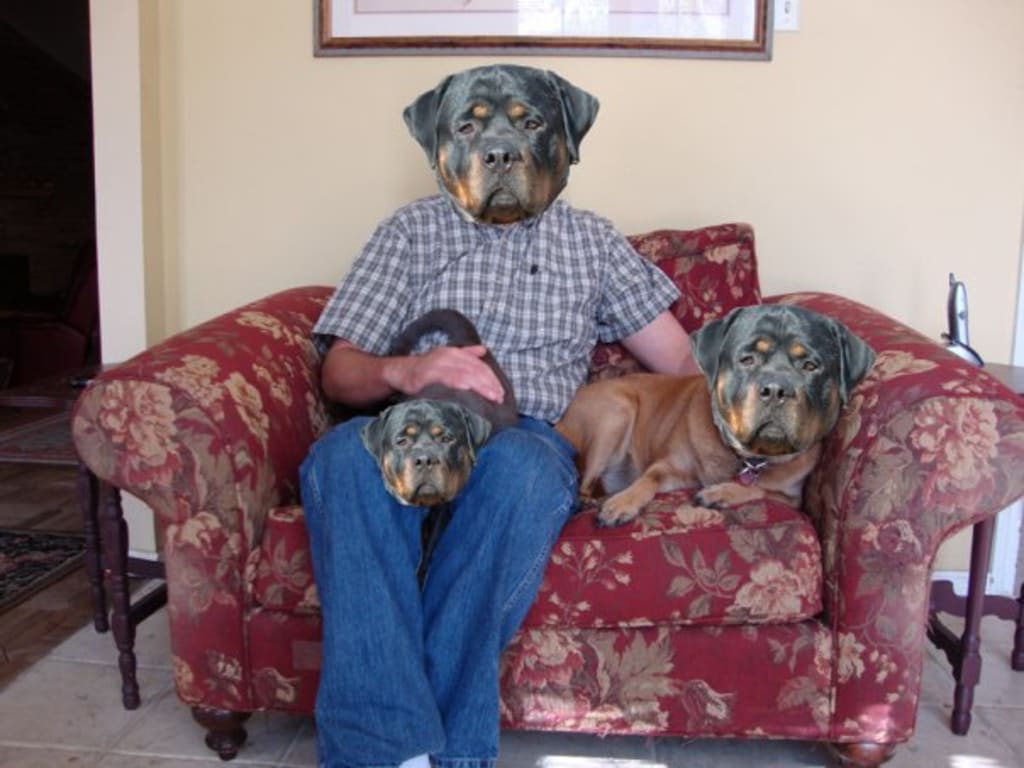 Clockwise from top: the author, Sadie and Skeezix.
By Halloween 2009, Fergus was at the peak of his popularity. Of all the Rottweilers with their own Facebook pages, he was the most handsome, the most clever, the most popular. He was, as they say, a good boy.
So I was amazed to see Fergus masks marked down to half-off on November 1. What an opportunity to stock up! I got one for myself, for our red-alert dog, Sadie, and our cats Skeezix and Brother. Unfortunately, they didn't have one that fit our flaming yellow canary, Sunny.
My wife, who introduced me, at the age of forty-two, to the wonderful world of dog ownership, also said she didn't really need one, either. She always liked Sadie best.
Fergus, of course, couldn't wear a Fergus mask, unless you were going for that Russian nesting-doll kind of vibe. But he had plenty of outfits of his own for Halloween.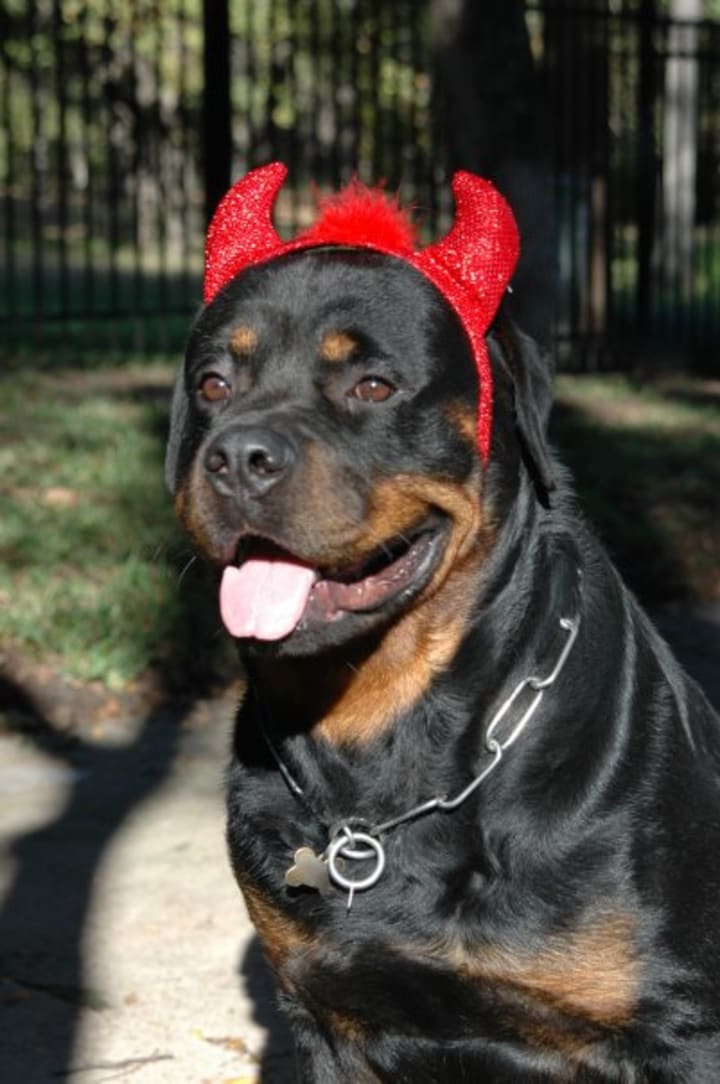 Of course, all the pets had their favorite costumes from past Halloweens. Skeezix and Brother used to cause a sensation in their shark bait outfit.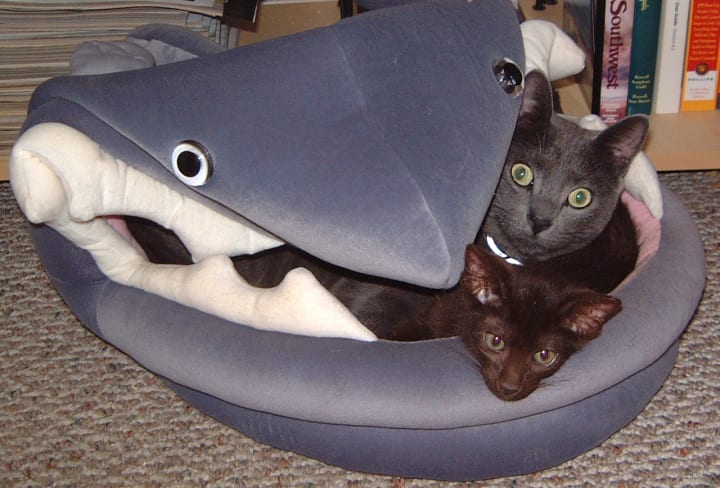 Skeezix also dressed up for other holidays.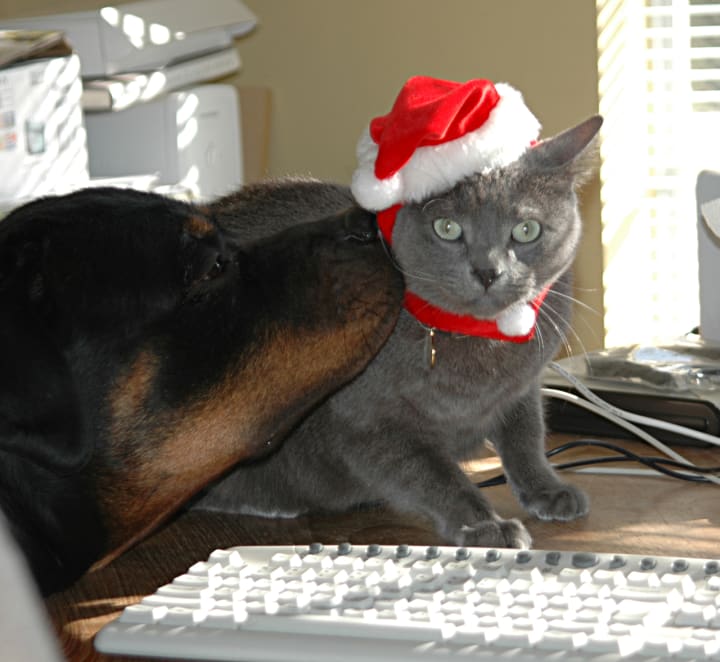 And Sadie, whose set-piece, learned at Pet U, was jumping into a director's chair without knocking it over, favored an outfit evocative of Garbo.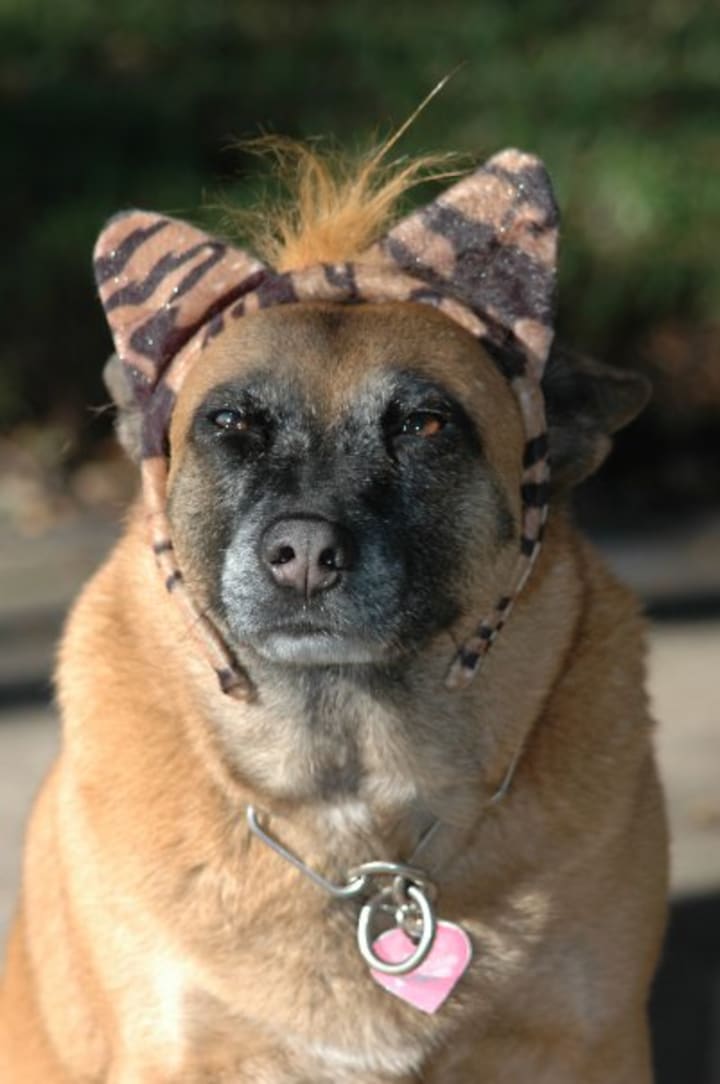 Where did all these furry things come from? I grew up with goldfish and turtles, although my parents did finally get a few cats after I'd gone off to college.
One evening when I was courting my future wife, she sat on the floor, leaning against the sofa where I was stretched out. I put an arm around her, and said "Kiss me . . ."
Before she could turn, Dixie, her black-and-white trash hound, jumped in and planted a good one on my lips.
Our first dog together was a mange-stricken multi-breed puppy that wandered across the gravel road behind the landfill one rainy Sunday.
"What's that?" I braked. It looked like a piece of tread thrown from a truck's tire. We nursed him to health and named him Moe, and he became the model for the dog Black Wolf in my novel Stress Test, which is serialized on Vocal. Here's how I introduced him in the story:
"Black Wolf filled out on bugs and bones and stolen beans. He assumed the shape of a mature animal, but one designed by consensus. He had the tooth and jaw of a killer, but the temper and leg of a lapdog. The broad pads of his feet propped up a body stout as a hydrant, shaggy as a goat. He defended Billey with a proud, defiant voice."
Our first Rottweiler was Gus, who my wife loved because shady characters would cross the street to avoid him. But on Halloween, Gus would greet the trick-or-treaters at eye level, and they adored him. He returned the emotion.
Gus also inspired a character in Stress Test, Suvi. And here's how that starts out in the book:
"This is Suvi. He's crazy about you," said Irene. "He's still just a pup. He hasn't even grown into his feet yet, so you can expect him to get a lot bigger. He'll be good protection."
"Suvi." Sandy nodded. "That's a pretty name."
"It's short for Vesuvius." Irene studied Sandy carefully for a reaction. "I named all of this litter for volcanoes."
"Oh! Why do you do that?"
"You don't know dogs, do you?"
"Well, no." Sandy felt like she'd forgotten to do her homework. "But I want to. How do I train him?"
"You don't need to teach a dog about protection anymore than a dog needs to tell you how to bake a potato," Irene said, shaking her head. She worked her hands between the dog's teeth and pried open its huge, threatening mouth while Sandy worried for the woman's fingers. "You think you know more about self defense than this?" She nodded at the gaping jaws.
"He'll watch you and learn all he needs to know. A dog wants to please its master. That's just the way they're born. You might think he loves you, but it's beyond love; it goes beyond life itself. Dogs are smart about a lot of things, but they don't understand strings attached to things like love and loyalty." The woman stood up and laughed at herself. "Just listen to me—as if people understand those things any better than a dog does!"
So Gus gave us the notion that Rotties were noble, dignified creatures. Well, sometimes they are. And sometimes they're more like Fergus.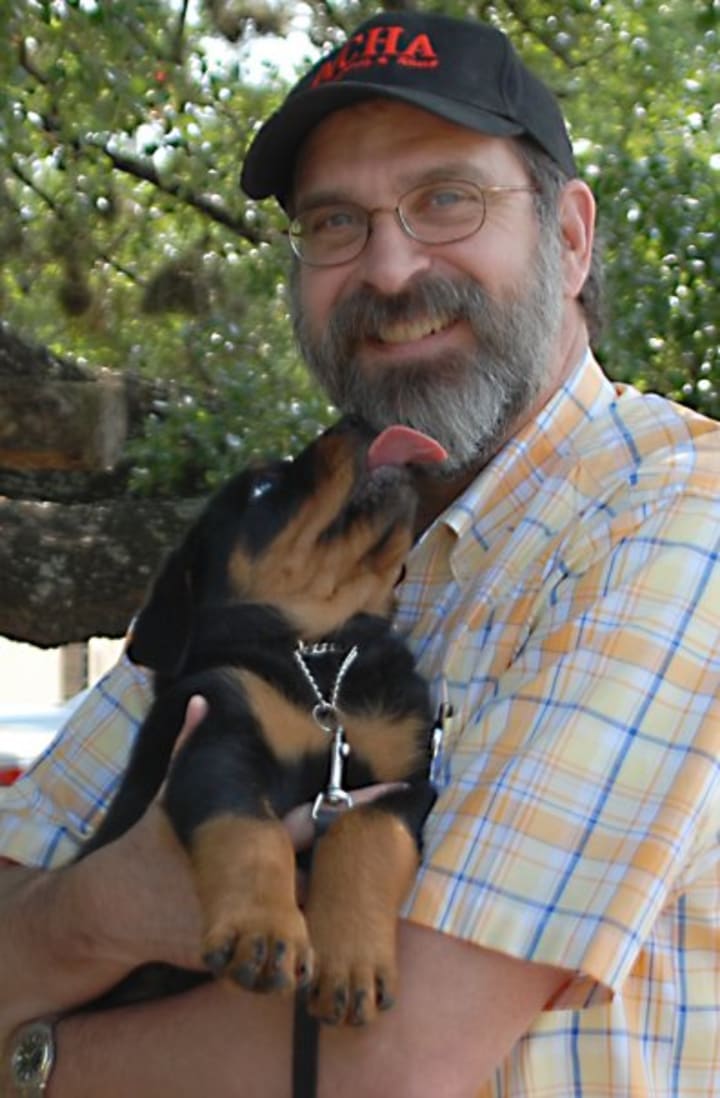 You couldn't come in the door without Fergus offering you one of his soft toys. He spent hours on end cuddled up next to my feet in the cave beneath my desk. We'd let him out in the backyard in the morning, and he'd dash from window to window, tracking my every movement because he knew a Walk! was imminent.
Fergus became a Facebook sensation, with a signature photo of him flying over a rare, Texas snowfall.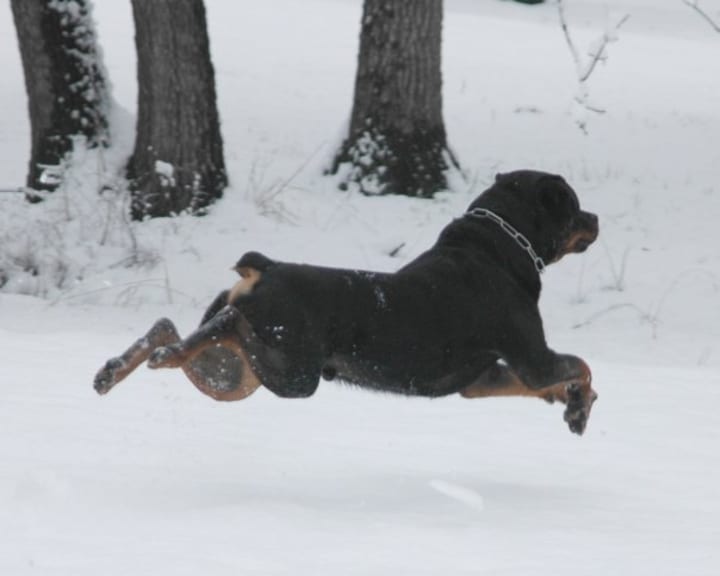 Famed painter Jerry McAdams captured him in a portrait.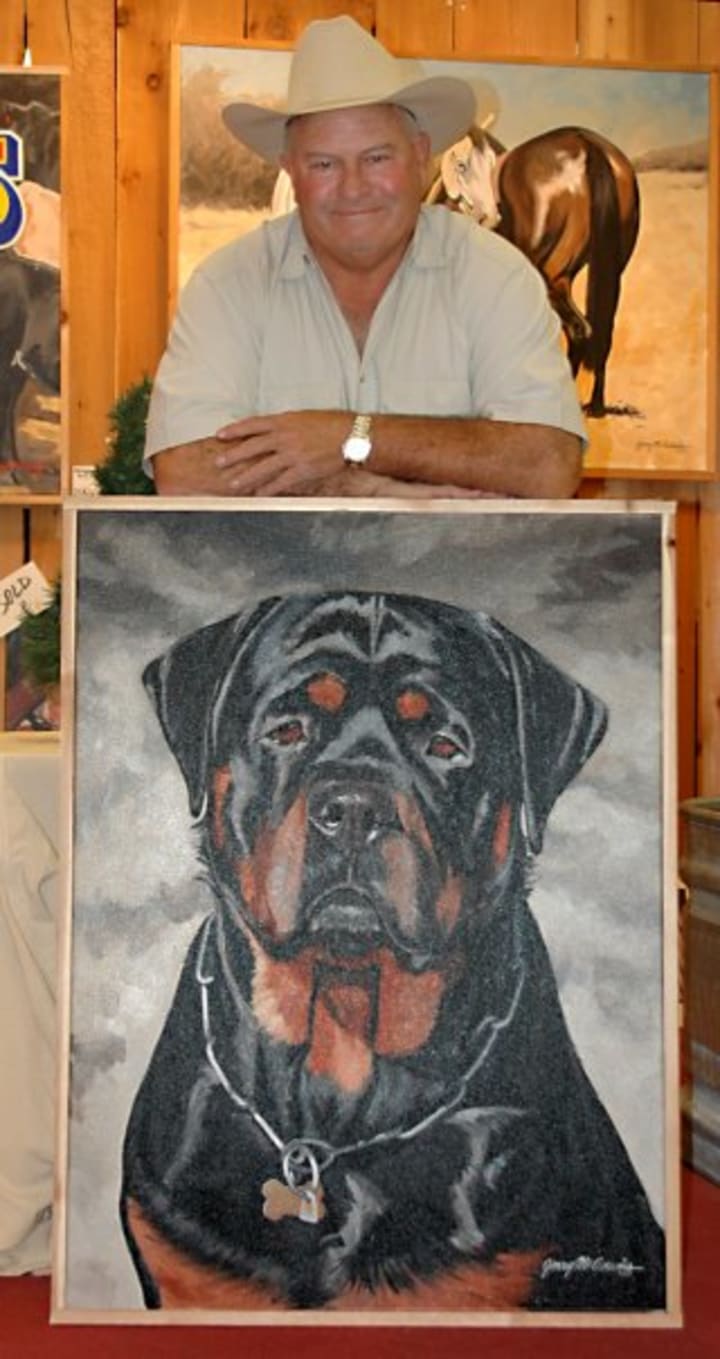 So who could resist a Fergus mask for Halloween?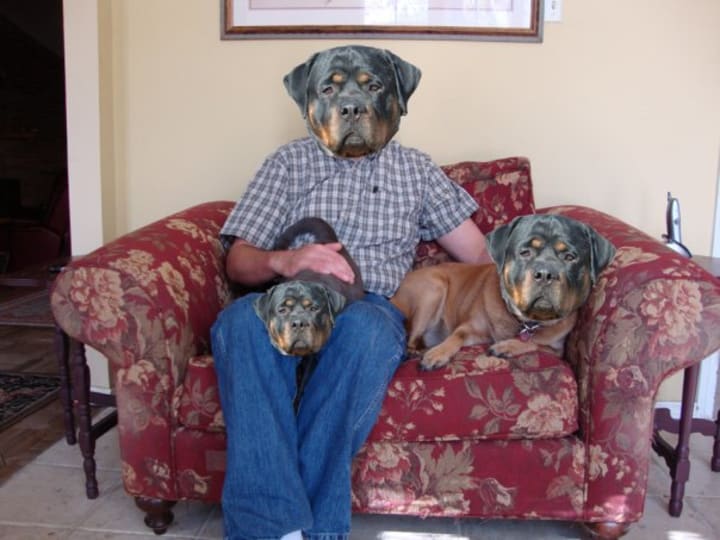 Reader insights
Outstanding
Excellent work. Looking forward to reading more!
Top insights
Easy to read and follow

Well-structured & engaging content

Excellent storytelling

Original narrative & well developed characters

Heartfelt and relatable

The story invoked strong personal emotions
Add your insights