Everybody Wants a Goldendoodle
Will you still want them if they were imperfect?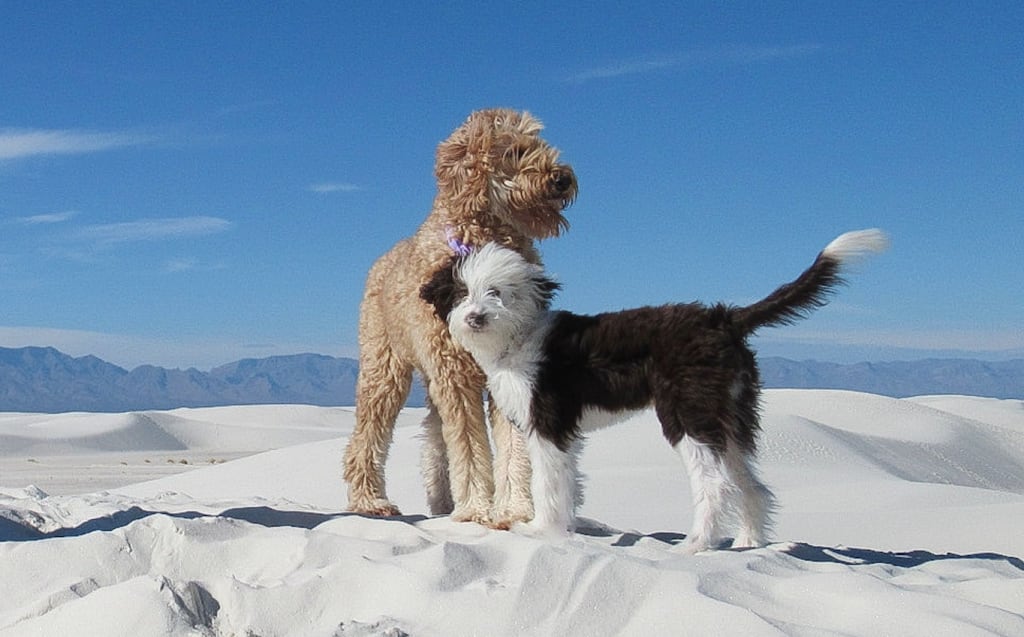 Photo by Author — Copyright 2021
Everybody wants a Goldendoodle. Or an Aussiedoodle. That's what breeders will tell you.
I'm a member of at least three doodle groups on Facebook, and every day I can attest that the breeders are not exaggerating. These Facebook groups have active members in the hundreds of thousands. Every minute or two, you will see posts saying, "ISO mini Goldendoodle, can travel and pay for up to $3000." That's the normal price. Some members are willing to pay much higher.
And if the breeders tell you there's a long waitlist, so what? Every man, woman, and child will gladly place a deposit and wait for months, even a year, for these hypoallergenic, smart, shaggy-haired fluffs… or the doodle, poodles mixed with other breeds. These two hybrids are the most popular I've seen so far:
Golden Retriever + Poodle = Goldendoodle
Australian Shepherd + Poodle = Aussiedoodle
I could say I was lucky for not having to wait forever or pay a hefty price for my doodles. I have Cassie, a 5-year-old apricot Goldendoodle, and Tommy, a 6-month-old chocolate Aussiedoodle.
I adopted Cassie when she was only 11 months old. Her original owners were a couple from Florida who bought two sibling Goldendoodle puppies as part of their retirement. But Cassie was too loud, according to them. She had too much energy as opposed to her sister, and she was always getting ear infections. Cassie would burst into a frantic mode when placed in her crate. She was not the model doodle they envisioned, so they decided to give her away.
Tommy had a similar story. He came from a breeder in Oklahoma, but his human parents sent him back after four weeks. They said it was too much effort to raise and train him. He was a stubborn puppy, they insisted. He would pee on the couch and nip at anything. The worst part was, he wasn't hypoallergenic; he shed. So much for the ideal family pet they dreamed of. Tommy did not fulfill their expectations, so he had to be returned. But the breeder lost his license for some reason and had to surrender Tommy to a dog shelter.
I took them both with open arms. I knew I would need to make some sacrifices, but their sad stories made me want to care for them more.
Today, Cassie still barks, perhaps more than other dogs her age would, but she listens when I tell her to stop and be quiet. With regular cleaning, the ear infections went away. I let her roam freely in the house because she is trustworthy. She will never chew on furniture or steal food. She is and has always been so behaved and sweet that there was no need to crate her.
As for Tommy, he was fully potty-trained a month after I got him. He still nibbles, but only on his chew toys and when playing with his best friend, Cassie. He sheds alright, but I forgive him with the help of a vacuum cleaner.
Last December, our family felt our doodles were ready for a road trip, so we took them to White Sands, New Mexico. We were so amazed at their good behavior during the entire eleven-hour drive. When we arrived, the gypsum sand welcomed us with endless views of dunes. It was a chilly sunny morning without any other human form in sight.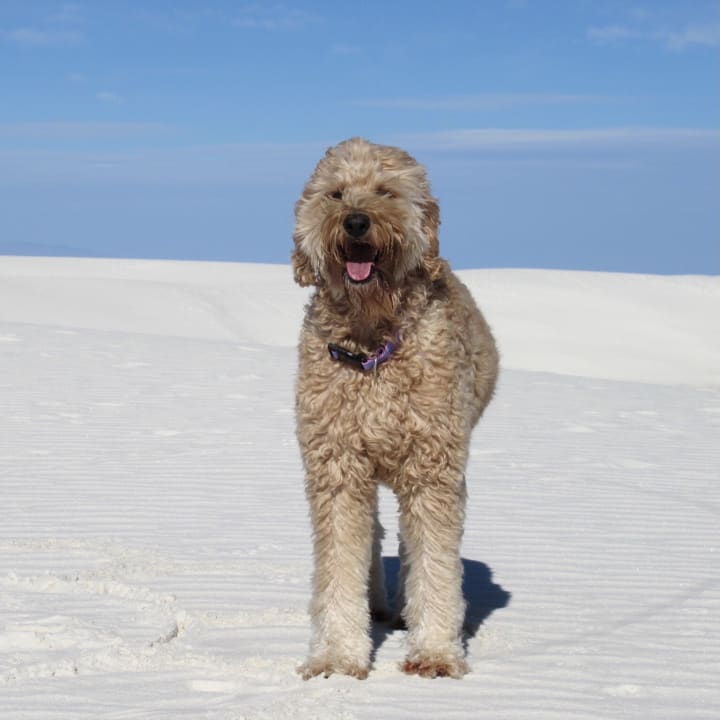 We landed on a different planet, we thought. I turned to Cassie, "Playtime, but stay close!" She understood and darted off in an instant while Tommy followed. The doodle race that would last for hours was on.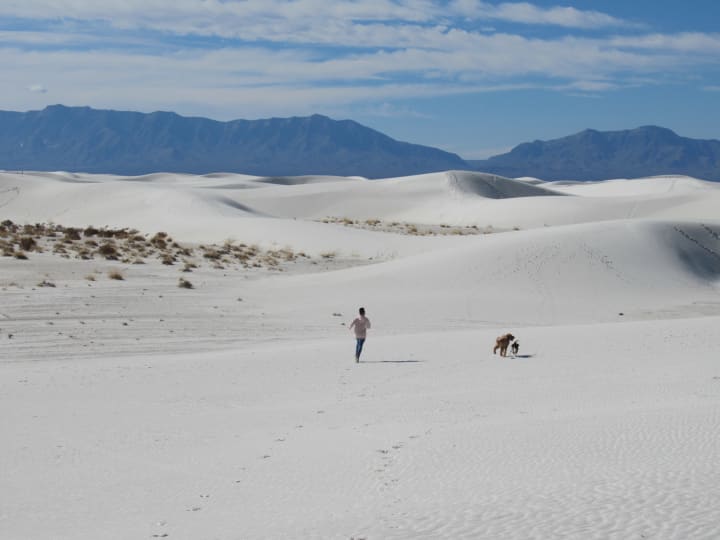 When the race was over, Cassie looked at me and asked, "But where is the beach, mom? I can't find it." She's a Floridian; the sand was a familiar thing. I laughed and told her, "This is not Pensacola, Cassie." She tilted her head and kept looking for signs of water.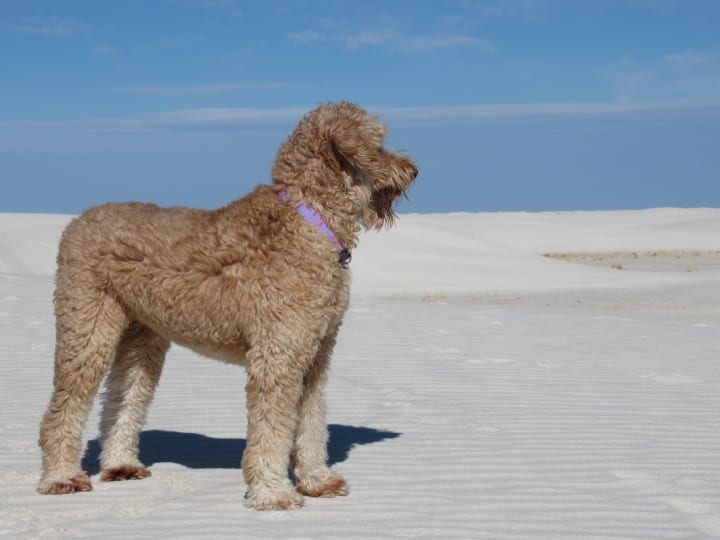 Tommy was also confused. I caught him licking the sand more than once, then he would spit it out. It was his first time on this type of terrain, so he buried his head in it to get a better taste. He did that a few times before realizing it wasn't powdered sugar. "Sand is bad for you. Don't eat it." I told him.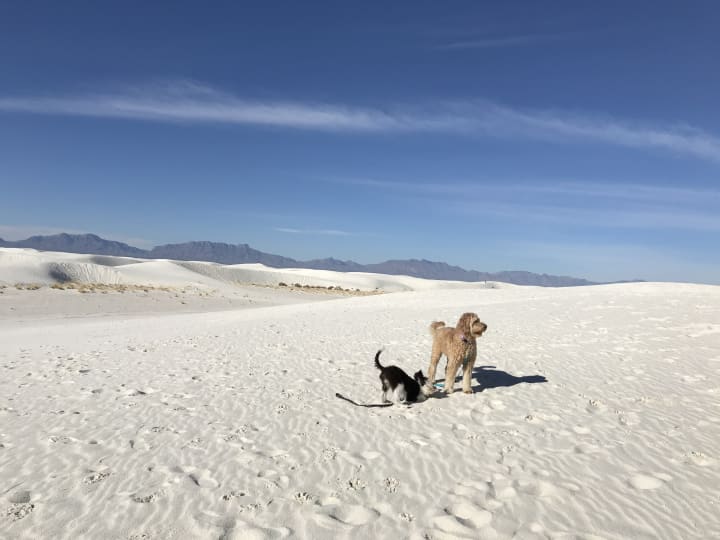 Then, we climbed the highest hill we could find and positioned ourselves on top of the steepest curve. It was time for sledding. Cassie thought we were in danger, so she kept trying to save us. "It's dangerous, mom! You better not do it!" But we all did it and had a blast.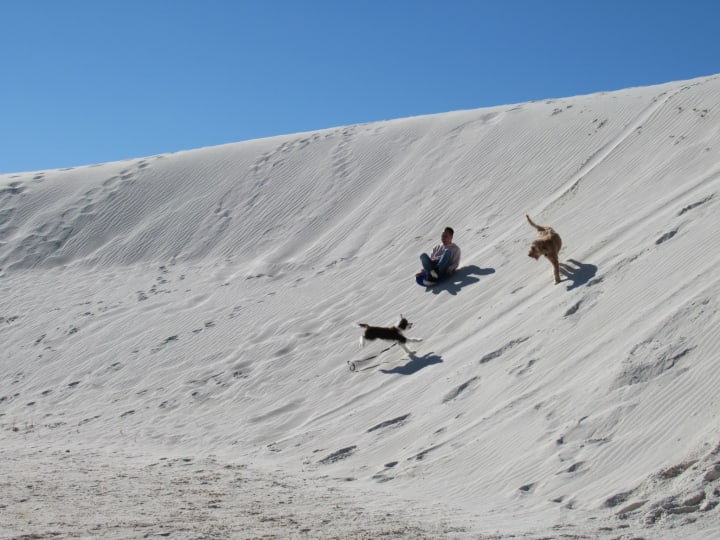 It was late in the afternoon when we realized the adventure had to end. As we walked back slowly to our van, Tommy turned around and stared one more time at the magical landscape. We kept calling him, but he seemed frozen. Was the wilderness calling to his wolfy nature? Or was he thankful for the experience?
Cassie, the big sister she was, got worried and went back to get him. I was able to capture a heart-warming moment right when Tommy looked at me. I told myself, these are my perfectly imperfect doodles. I rescued them, but every day I am more convinced that they are the ones who rescued me. They cheer me up, motivating me to live the best of my life. Their loyalty and friendship are genuine, teaching me the kind of love that is greater than what I could give.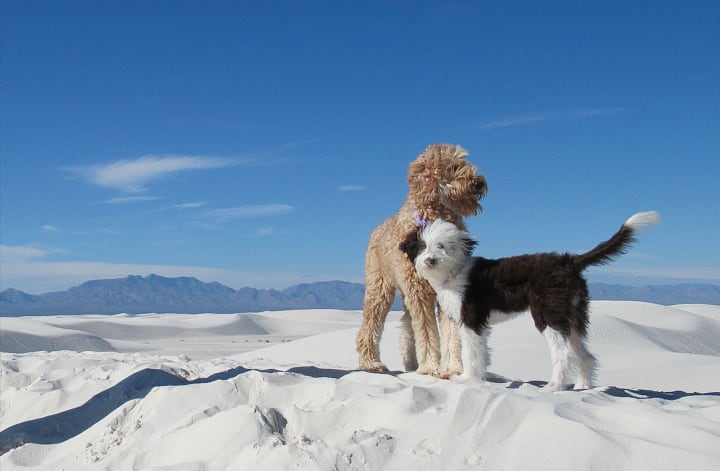 *** I am a strong advocate for dog rescue. I hope that this story gave you something to ponder about and has inspired you to take similar action. Thank you so much for reading! ***
dog
she/her | mom | poet | animal advocate | trilingual | BA, MA | CMQ/OE | above all, daughter of YHWH