Dressed Up Animals
My Favorite Part of Halloween
Eastside Ember From The Hood, Yo! She's Gangsta... Don't Mess With Her.
I grew up on a stage. Getting dressed in costumes was never exclusive to Halloween for me, which... if I'm honest... may have taken away some of the magic for me.
But there was candy.
As an adult, I absolutely refuse to dress up for Halloween. Costumes are expensive and I'm not crafty enough to make my own... but I absolutely love to dress my animals!
Each year we do a theme and all of our animals are dressed to match each other. We were hoping to do The Handmaid's Tale this year but we couldn't find costumes for them if our lives depended on it!
We have seven animals currently. That's this year. But before we get to this year... let's take a look back at some of our previous animal costume themes.
Picture it.... Halloween 2019.
At that time we had six pets. A dog, three cats and two chinchillas. My dog's name was Tornado and I had long wanted to dress her as a shark for Halloween.
Get it?
Shark?
Tornado?
SHARKNADO!!!!
I'm so glad that in 2019 I finally went through with it because unfortunately, that was my little Torey's last Halloween with us.
While I was at it, I decided to make an entire school of sharks! So the cats and the chinchillas were all sharks too. Some were happier about it than others...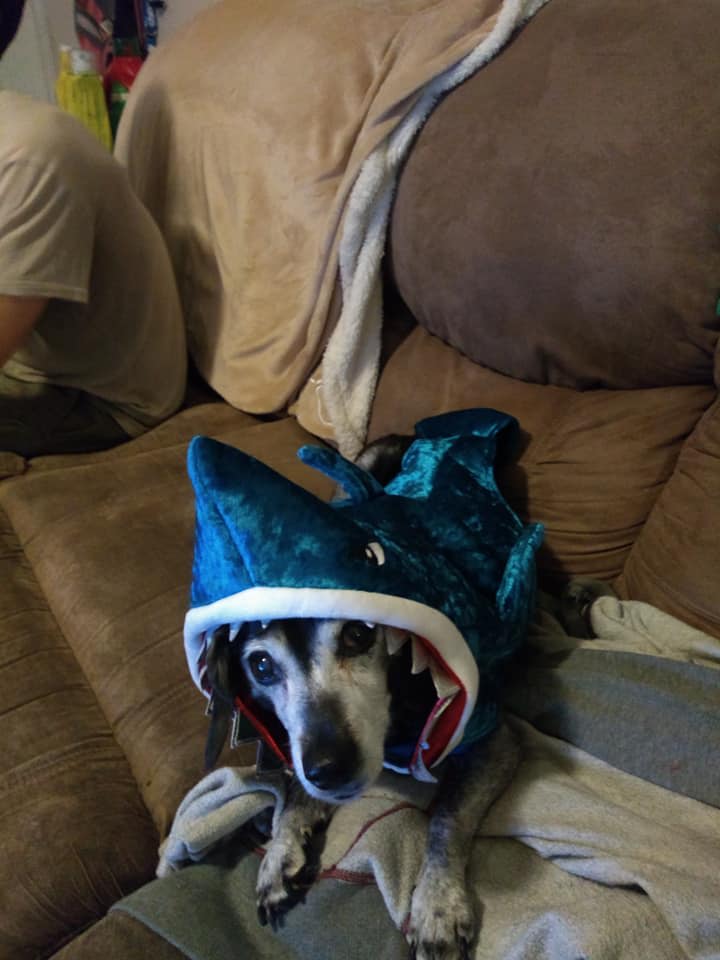 My beautiful Tornado. She was a month from her 16th birthday and very used to me dressing her. She looked right at the camera for me and took her picture as the perfect little Sharknado she was.
I will always miss her face.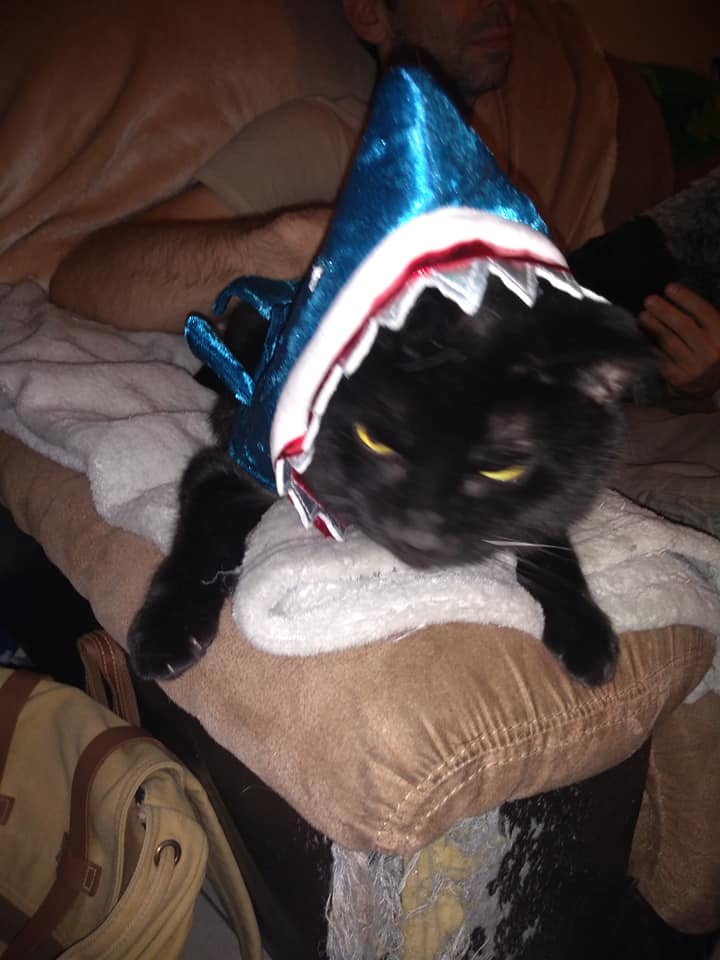 Panther was incredibly annoyed by my shenanigans. She did not want to be a shark. She did not want to take a picture. She was angry. Those claws you see popping out... that's a warning. Cat sharks are dangerous.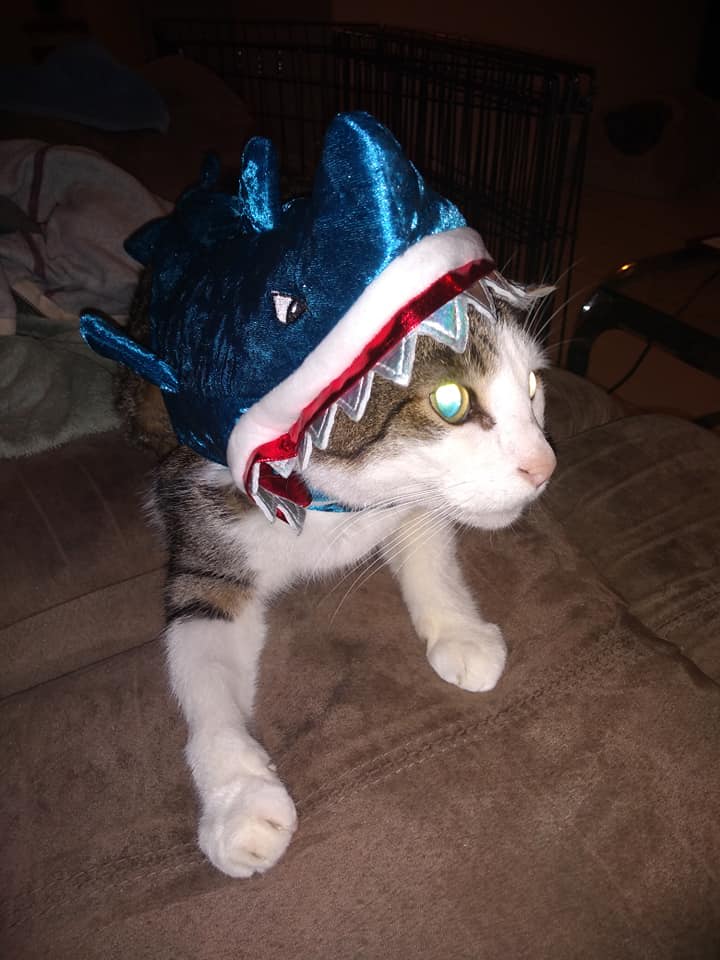 Poor Fox was pretty confused as to what the meaning of all of this was.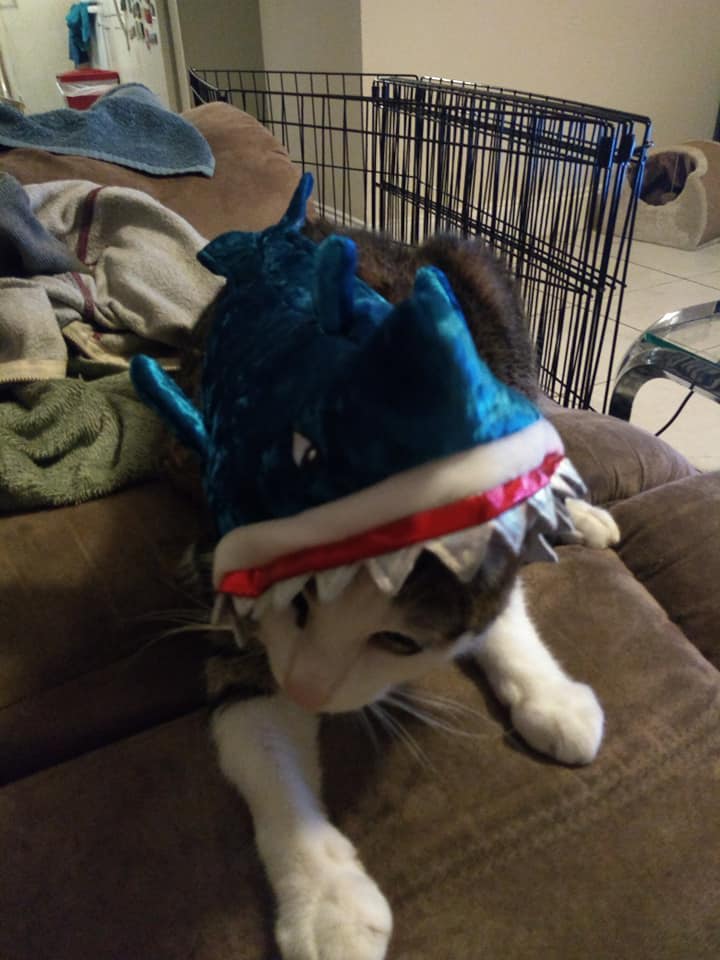 He did not understand the hood or the teeth hanging in his face. He laid pretty still except for his head which he just kept turning in different directions. He refused to look at the camera. He was basically attempting to figure out what had gone so wrong in his life as to lead to this moment.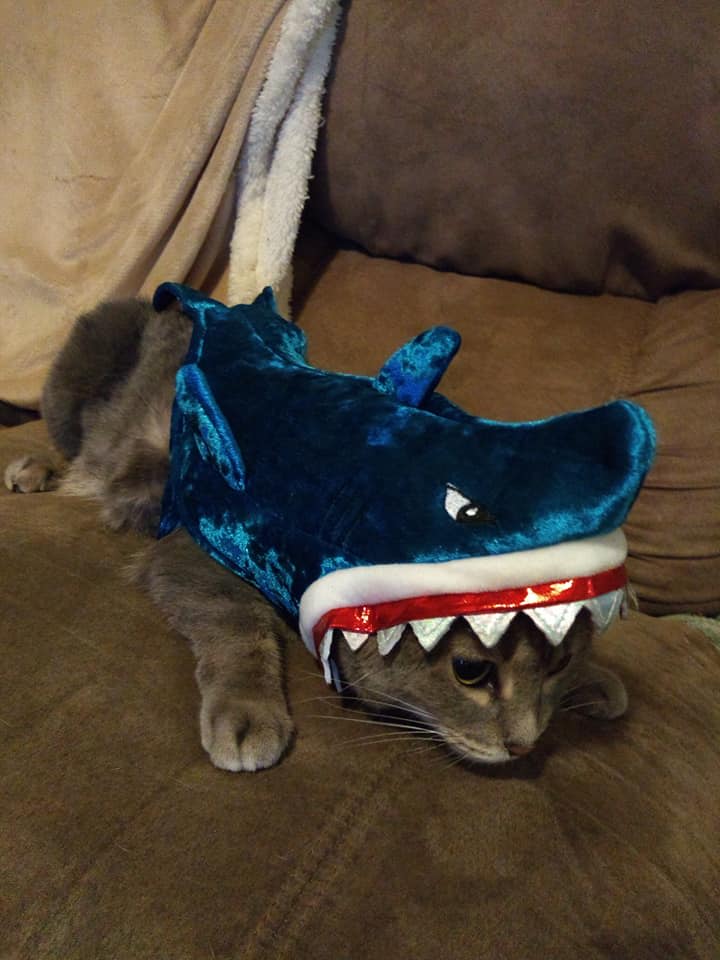 Ember loves to wear clothes but the teeth seemed to annoy her. She ducked to get away from them. She's the cat I dress up the most frequently because she loves nothing more than a new outfit to prance around in. The shark was not her favorite.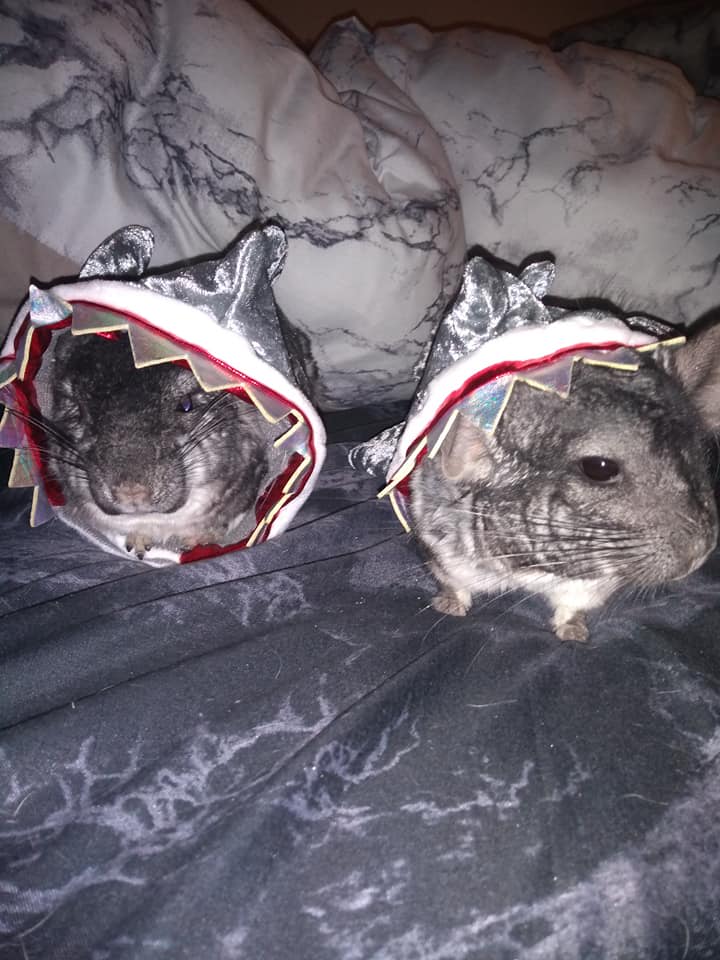 Smokey (left) and Ash (right) were SO ADORABLE in their little shark outfits. They didn't have blue in their size so they got to be gray sharks. Smokey backed into his and looked like something out of Star Wars. Ash kept running until he literally outran the costume. It's a miracle I got this photo!
Halloween 2020.
By the following year, we still had six pets but we'd lost Torey. We had gotten our current dog Rosie earlier in the year. She's a much bigger dog than Torey was so finding them matching outfits was a bit more complicated... but not impossible. And I had gotten a Game of Thrones shirt so I knew EXACTLY what I wanted them to be.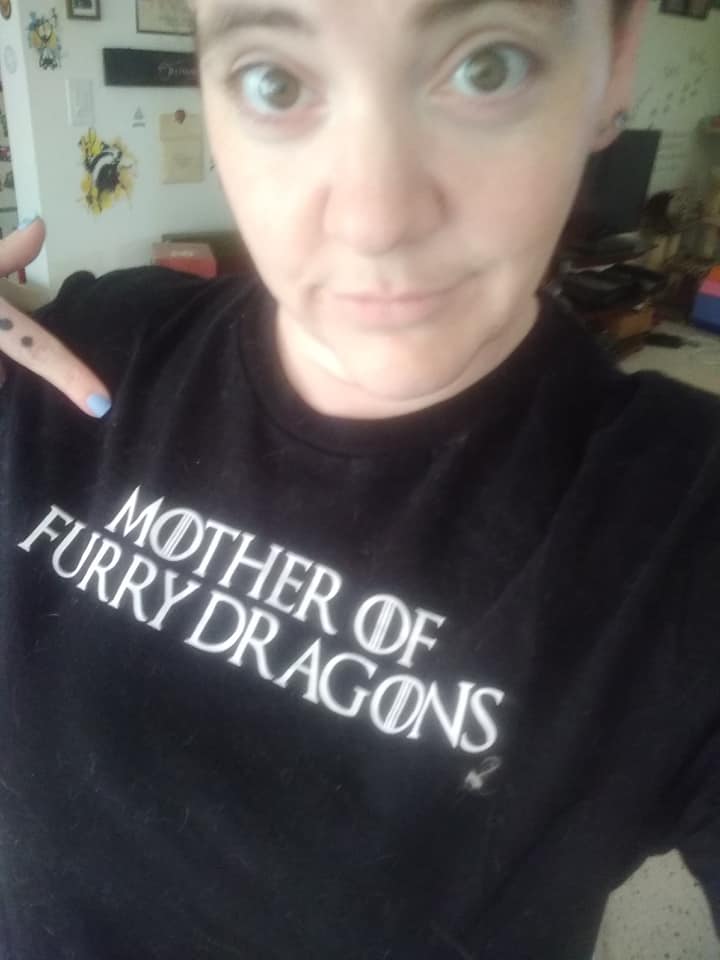 I AM the mother of furry dragons! So for Halloween 2020, I set off to find dragon costumes. And I was not disappointed.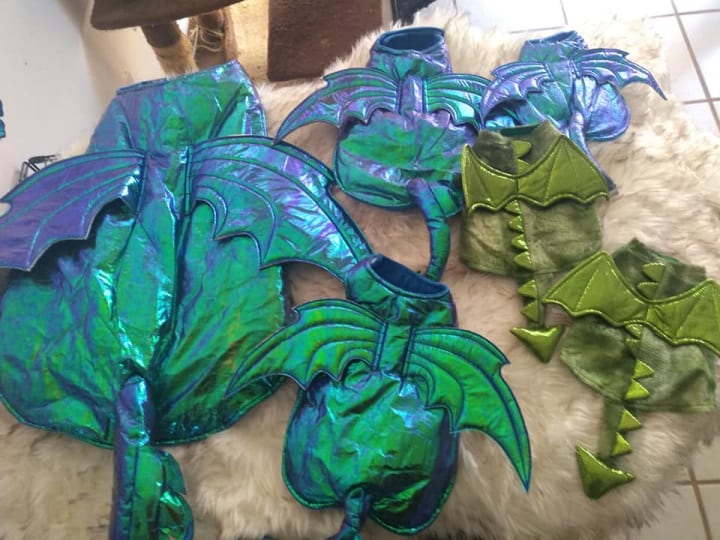 I absolutely could not wait to put them in these! But I decided, as the Mother of Furry Dragons, they'd take their Halloween photos WITH me last year. I guess you can sort of say that I dressed up as well. But only sort of, I was wearing sweatpants!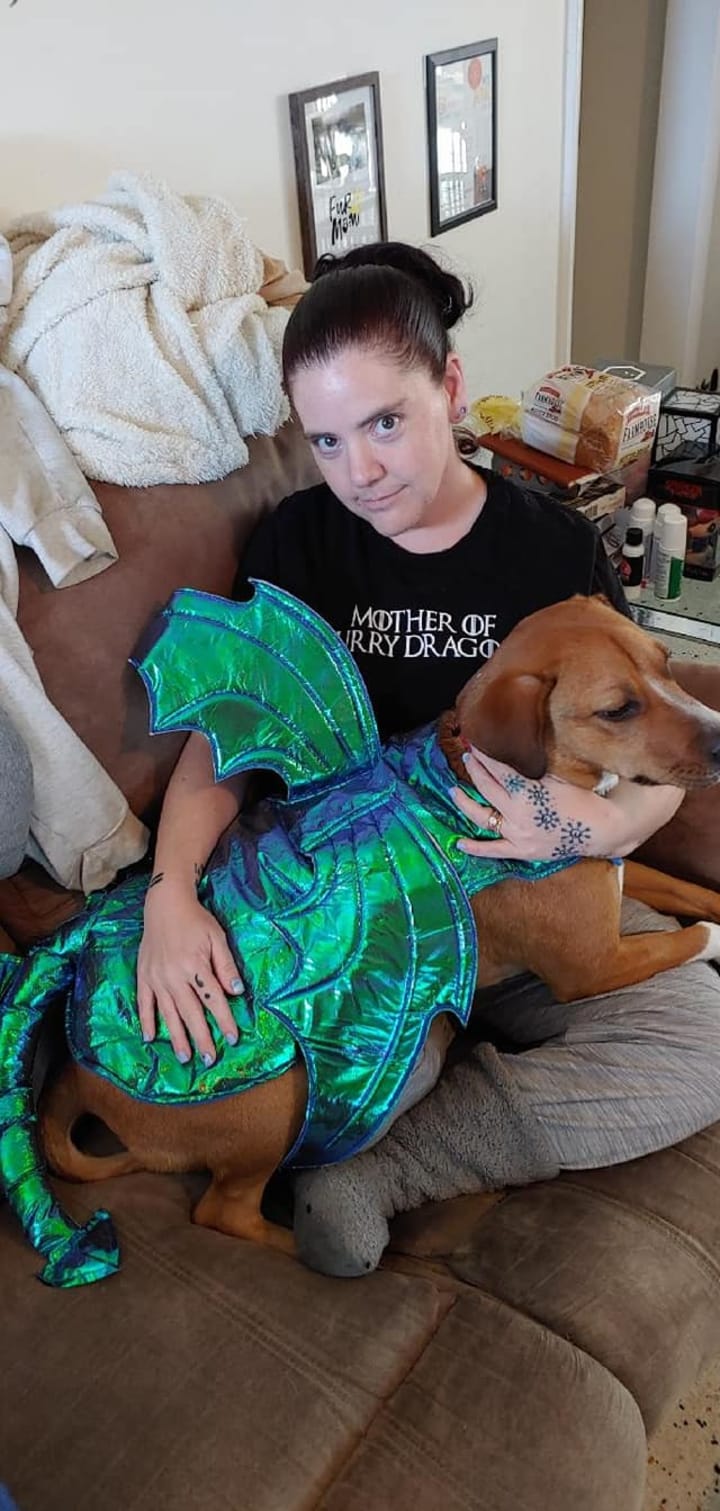 That is one big dragon! She may not breathe fire but her breath is pretty lethal! Holding her this way was the only way to show not only Rosie in her costume but what my shirt says as well.
The look on my face is my annoyance with my husband for taking too long to take the photo because Rosie was getting restless and 60 pounds of dog laying on you is something that takes getting used to!
Uh... dragon. I meant 60 pounds of dragon!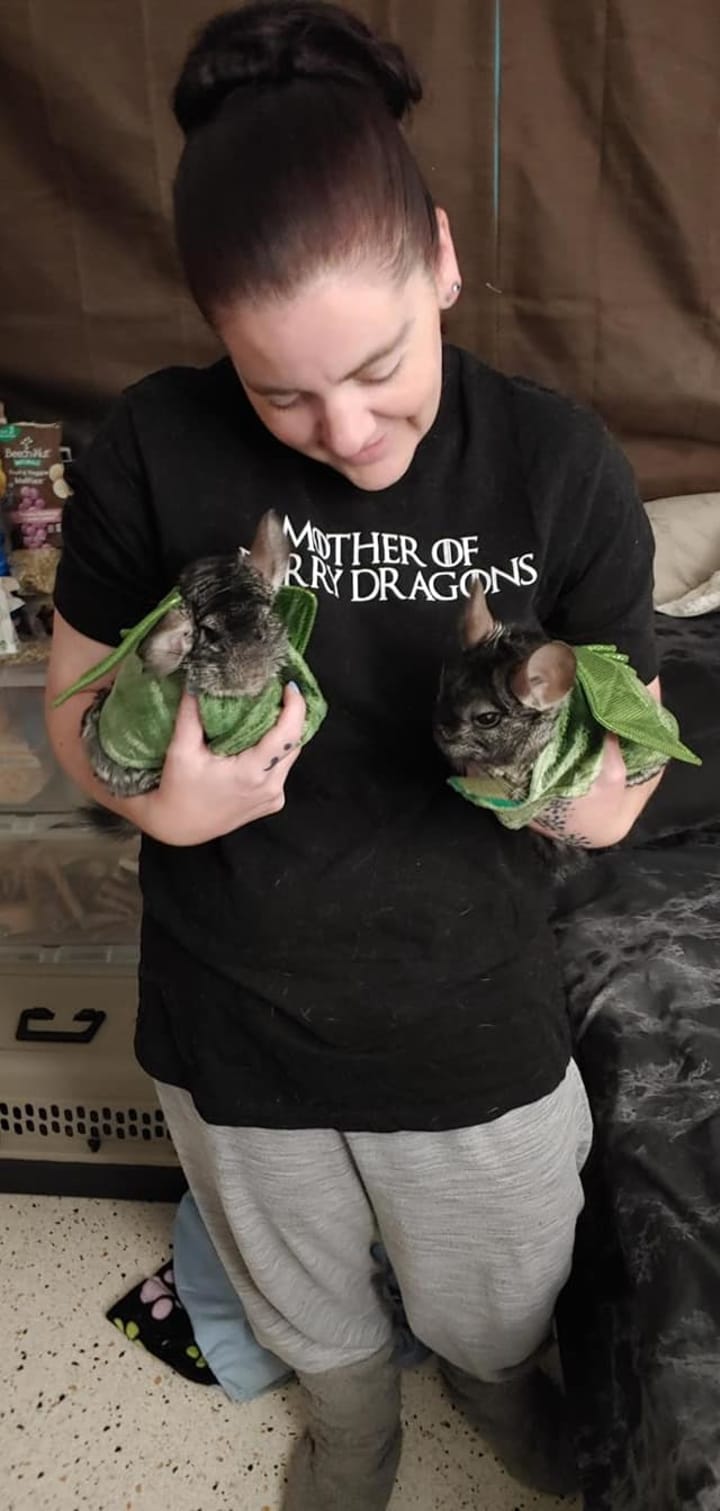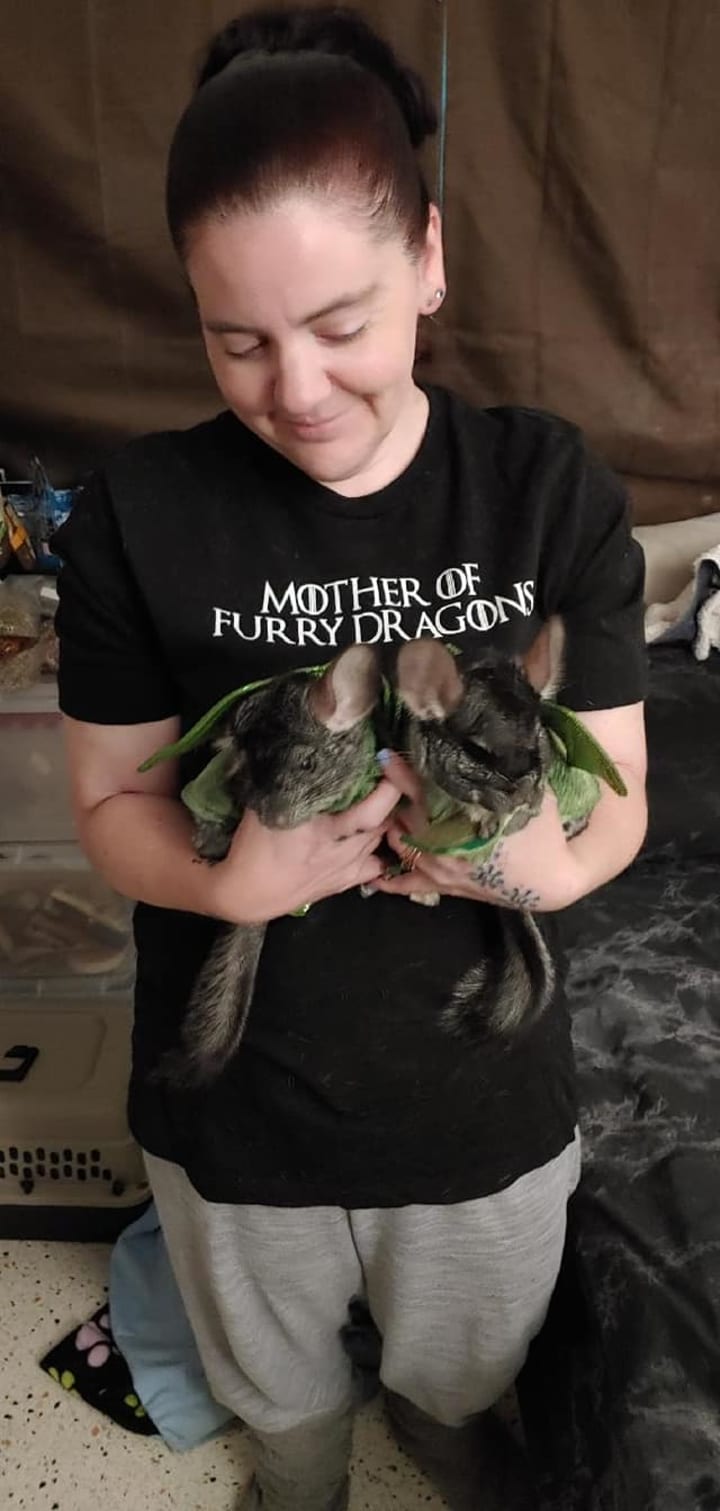 The chinchillas BOTH outran their costumes last year so holding them was the only way to keep them on... plus get the shirt in the picture. They're shockingly okay with being in costumes though. You'd think it would bother them but it doesn't. We have to be quick about it though. Chinchillas overheat very easily because their fur is so thick so adding clothes to that is generally not advisable.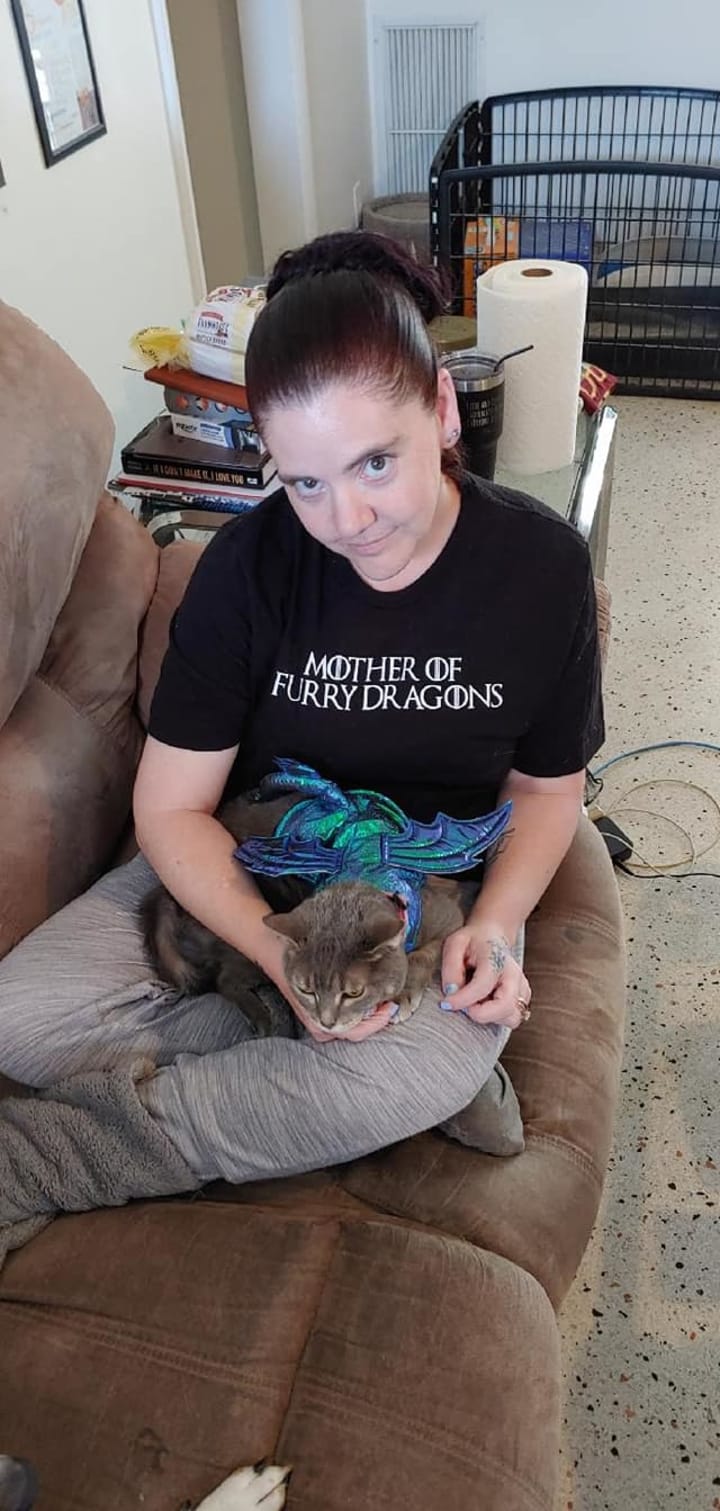 No teeth hanging in her face last year made for a happy Ember. She did NOT want to stay in my lap. She wanted to go run around and show off her new outfit. Ember loves clothes, I wasn't kidding about that. She was not about posing though and we still had two other cats to get through.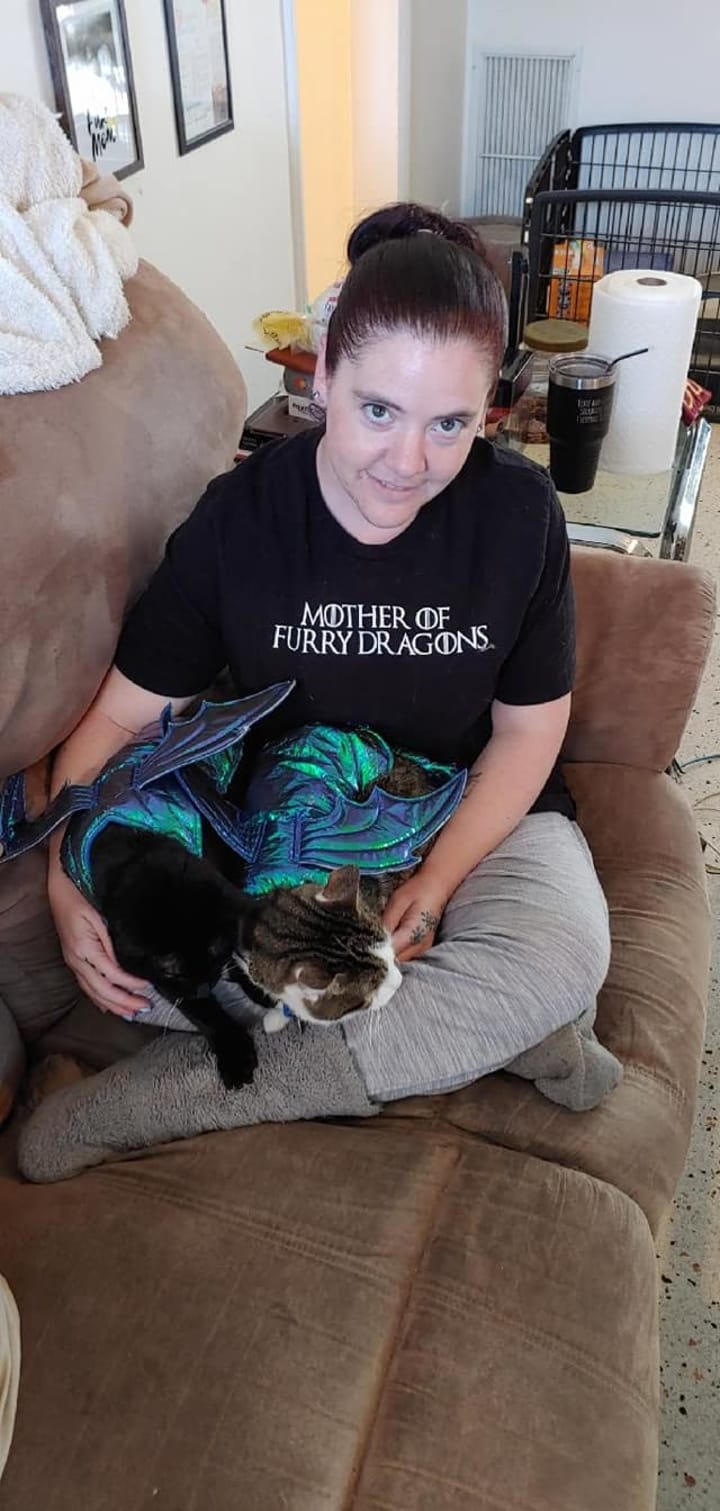 We decided to take Fox and Panther's picture together because they get what's known as Cat Clothes Paralysis.
This is a very real phenomenon in which when you put clothes onto a cat, they essentially loose all will to live and just lay still pondering the hopelessness of the situation.
It's not THAT dramatic but they DO refuse to move.
Both Panther and Fox will go totally still while wearing anything but it doesn't mean they're happy about it. They are very tightly bonded so I hoped putting them together would make it easier on them.
It did not.
Halloween 2021.
This year we added two more cats. Dahlia and Kudu, but unfortunately lost one of our chinchillas. Smokey passed away in April.
Kudu is not displayed in the below photos because she is blind. Putting clothes on her would be absolutely terrifying for her and I am many things, but cruel is never one of them.
We do love her though and I will post a picture of her as well just so she's included. She's just not in costume.
This year's theme, as I mentioned earlier was going to be the Handmaid's Tale but we couldn't find the costumes. So we played around with a few ideas....
Grumpy Care Bears was probably my favorite.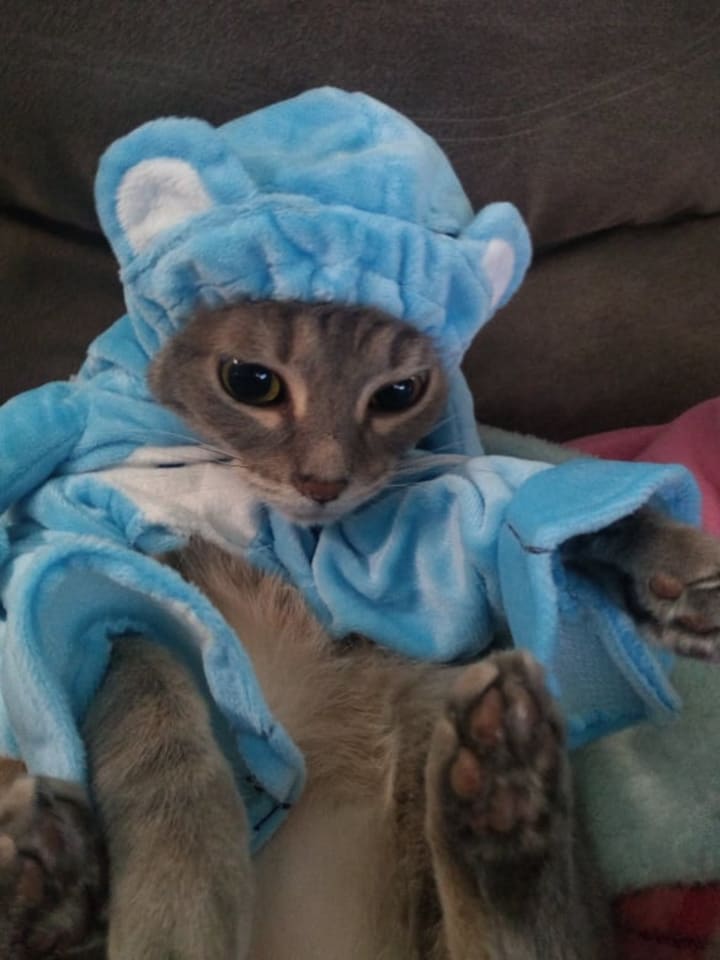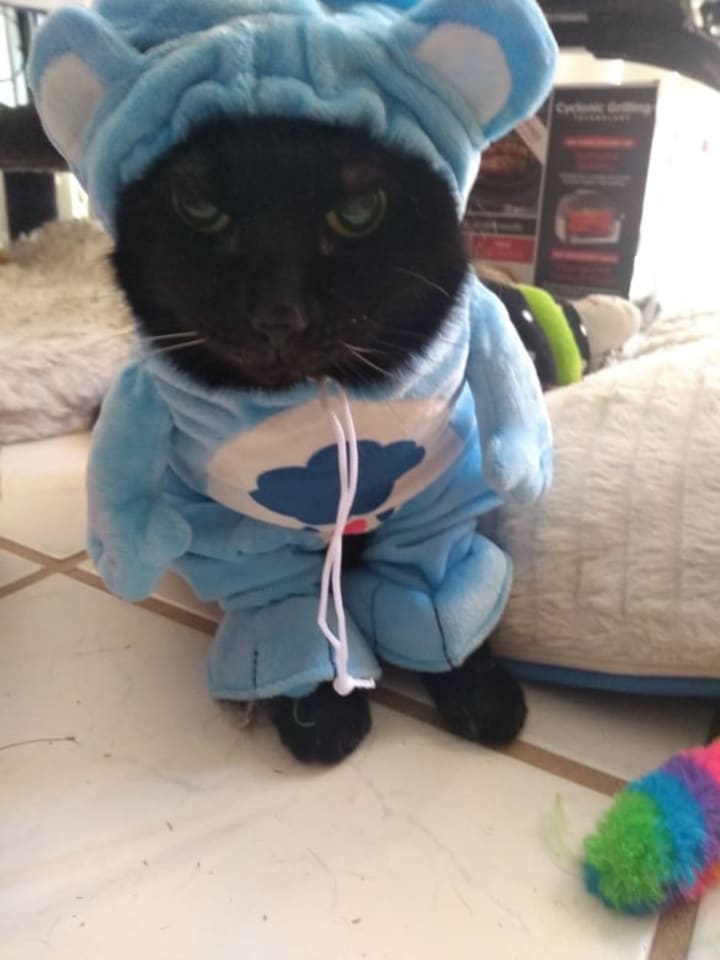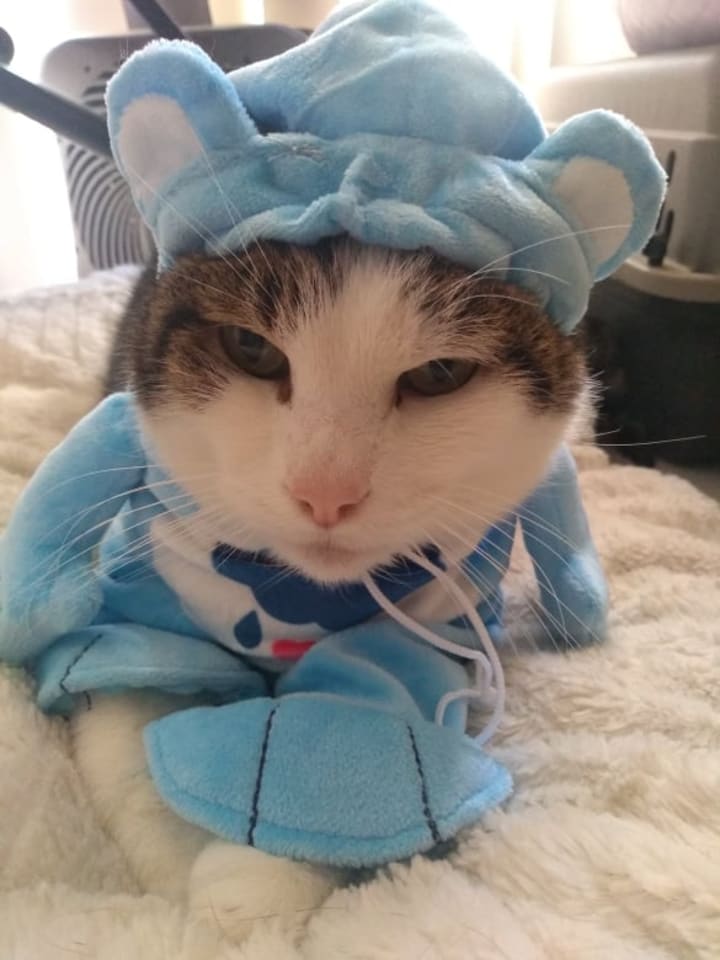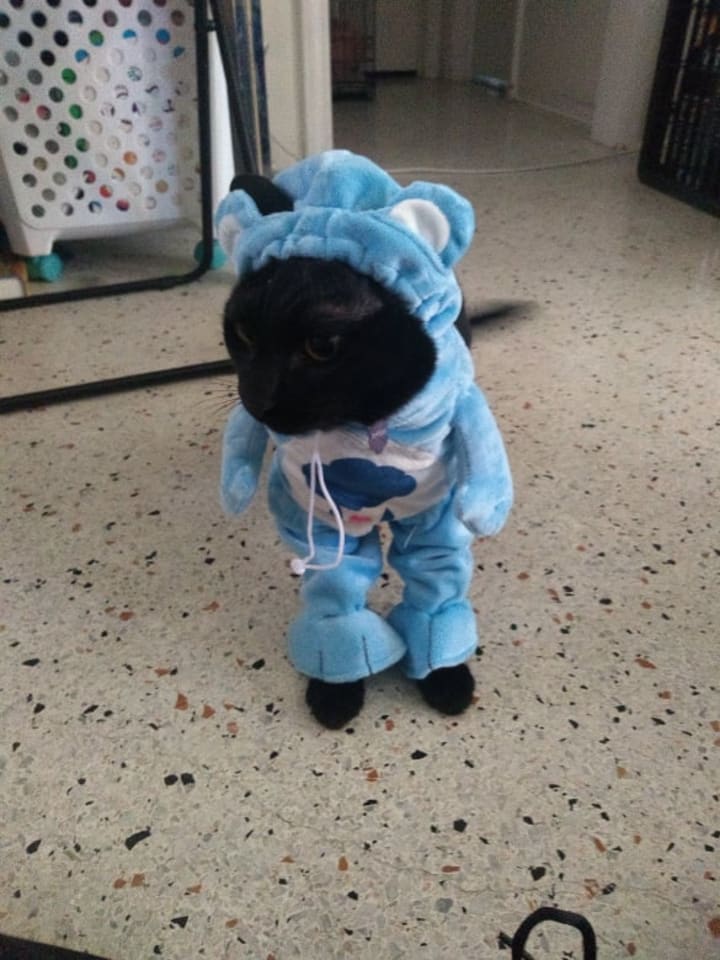 Unfortunately, there was not a Care Bear costume in Ash's size. So I had to come up with a different theme....
How about.... LOBSTERS!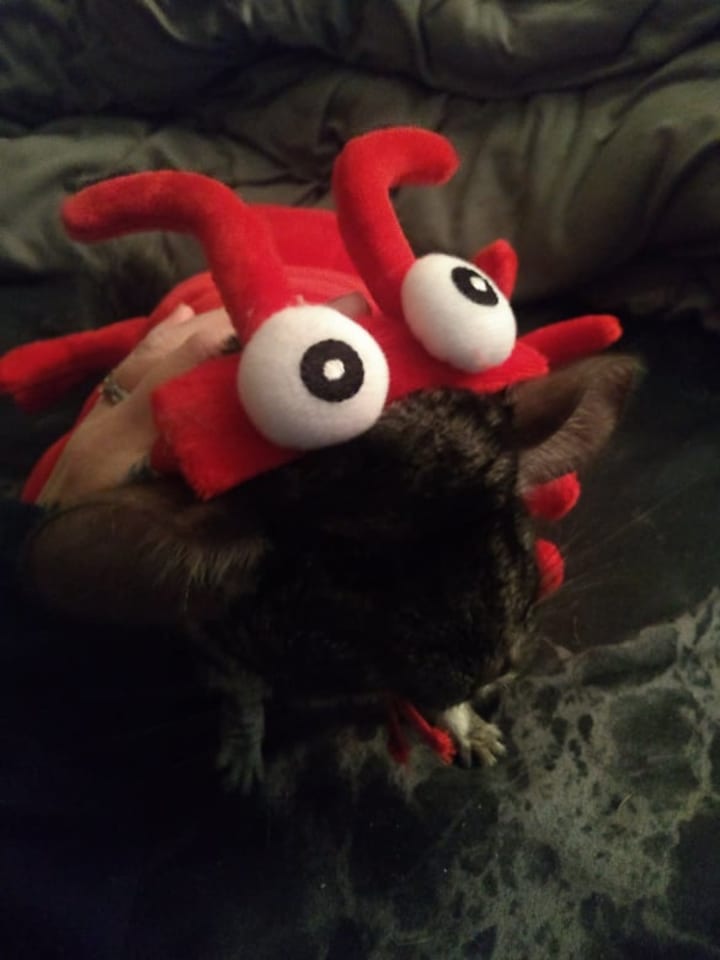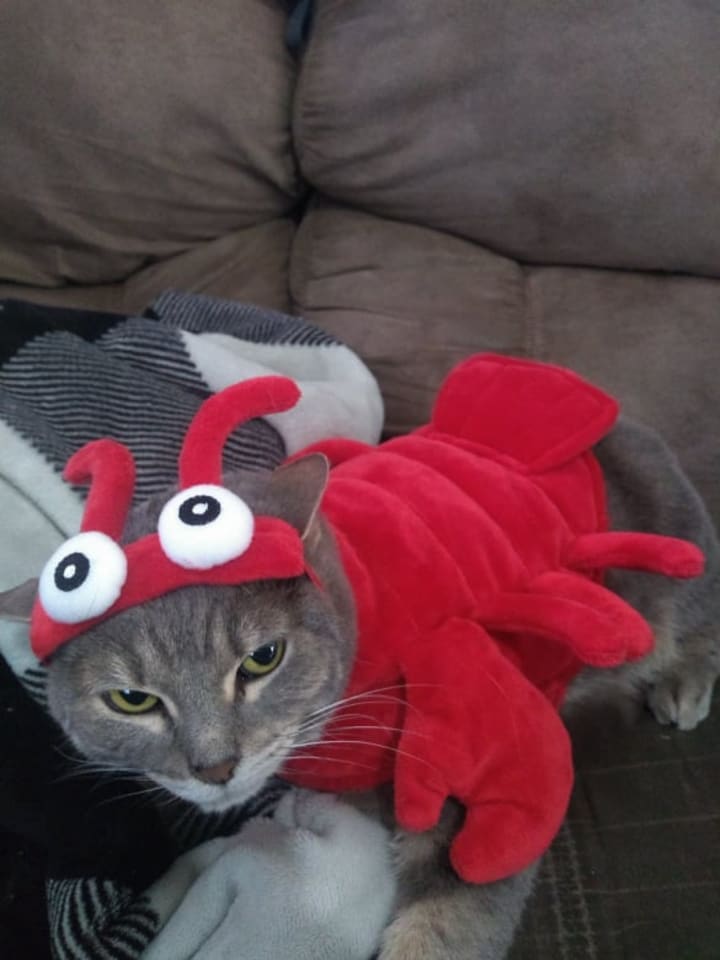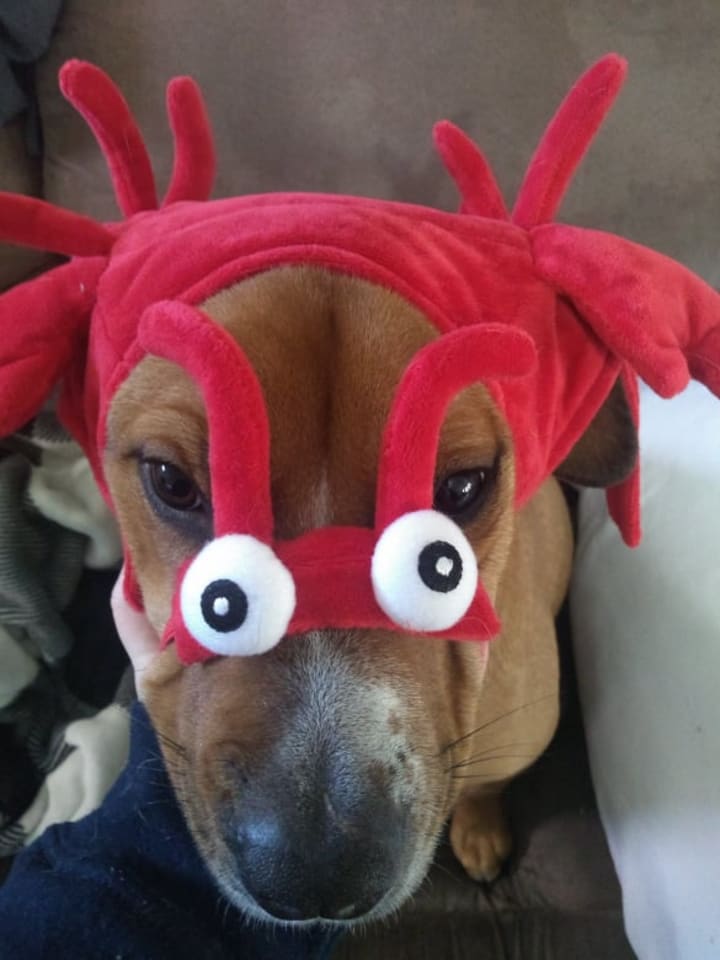 Maybe.... Unicorns?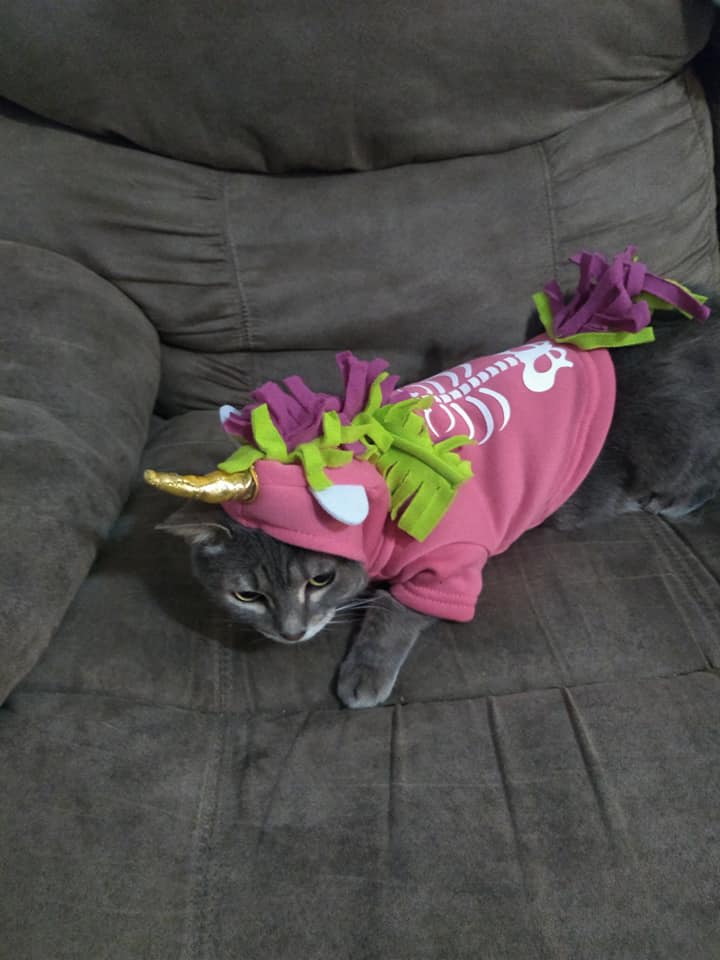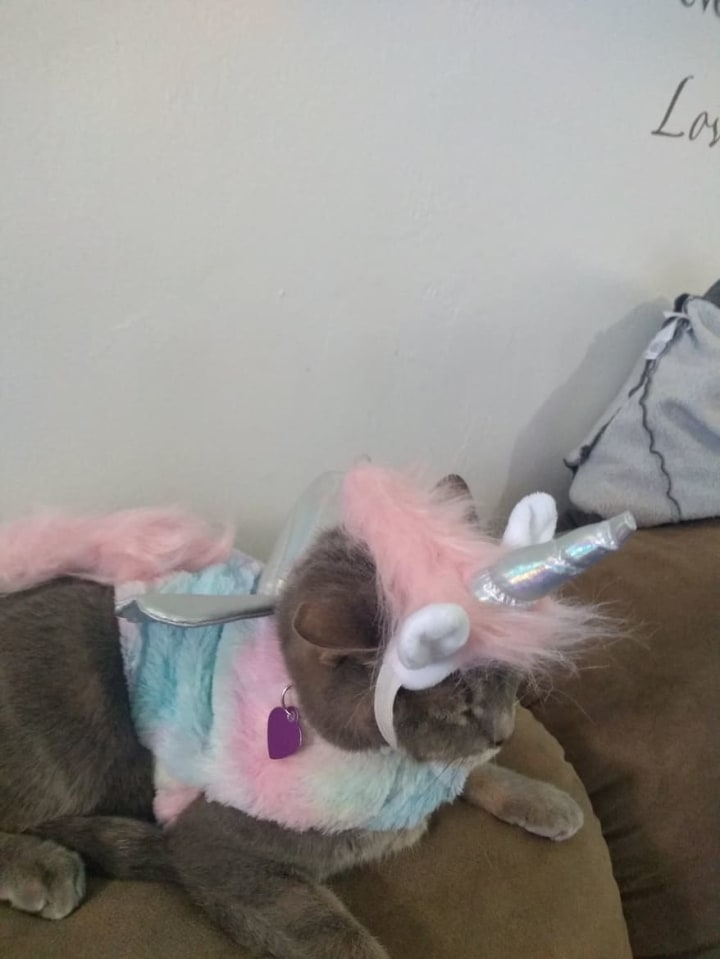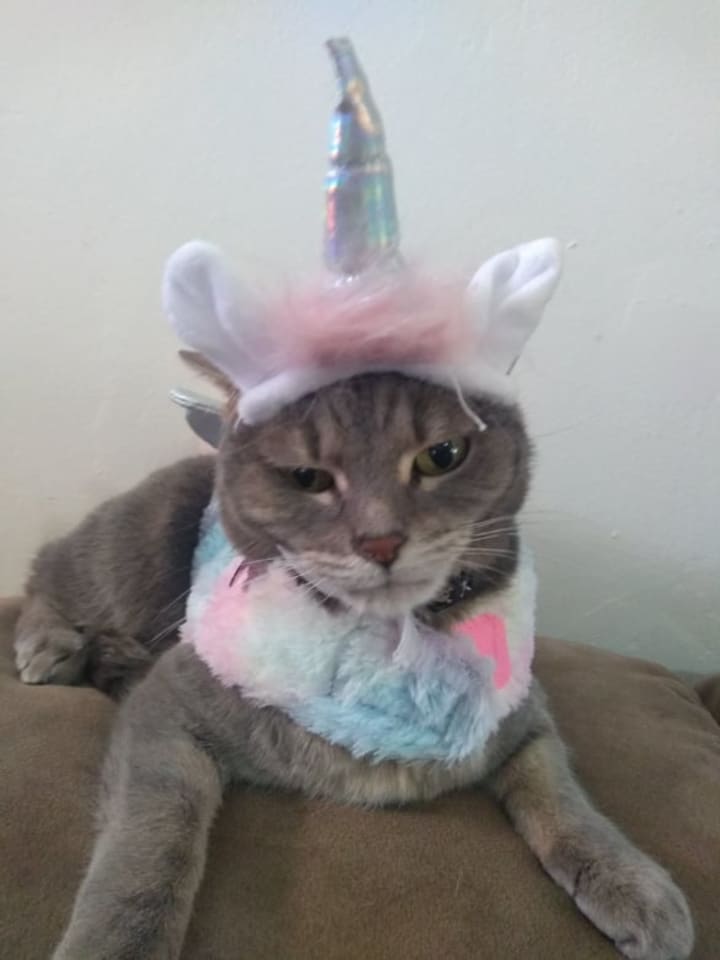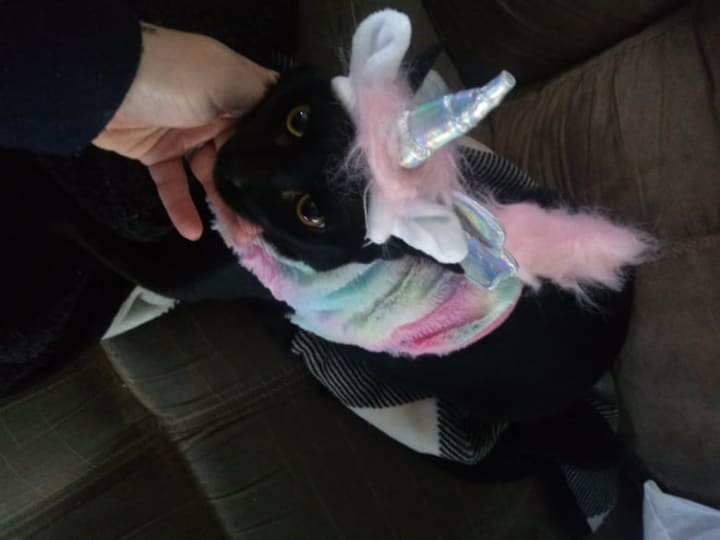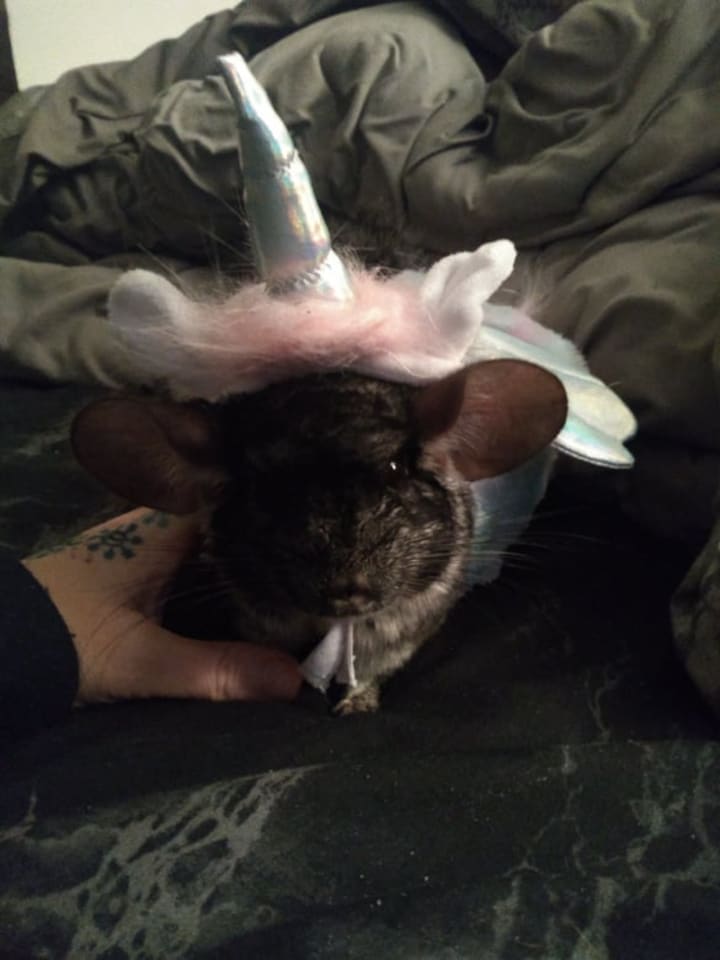 I didn't put that one on Rosie and it didn't fit Panther or Fox but Rosie... had butterfly wings from Pride so... that works!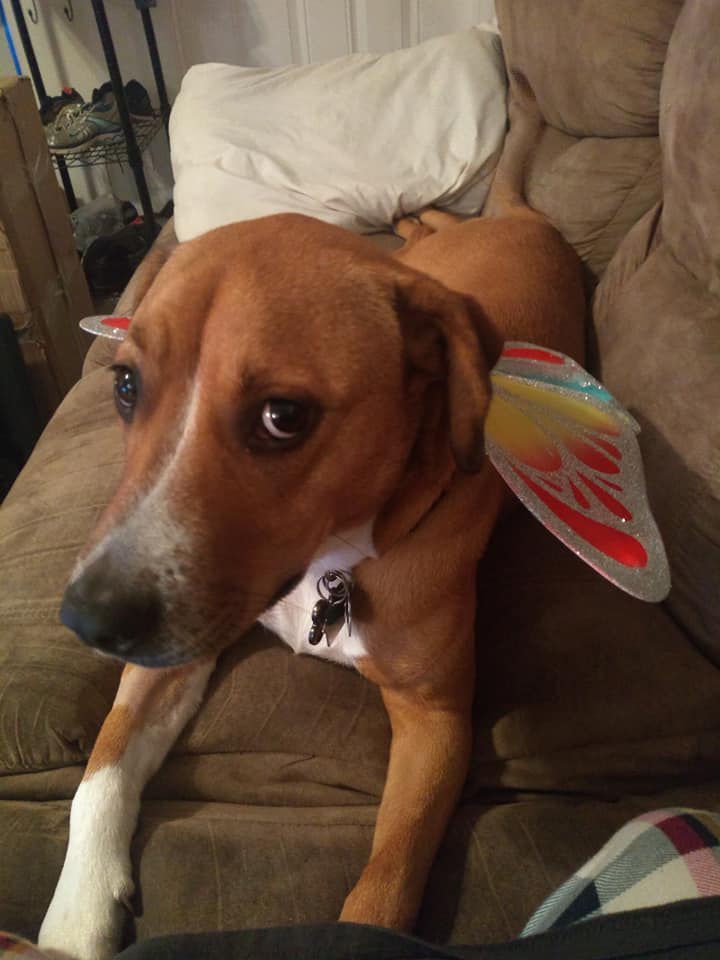 Sheesh. Tough crowd.
OOH! I know!!
We can make Fox and Panther into Frankenstein and his bride!
YES..... LET'S DO IT!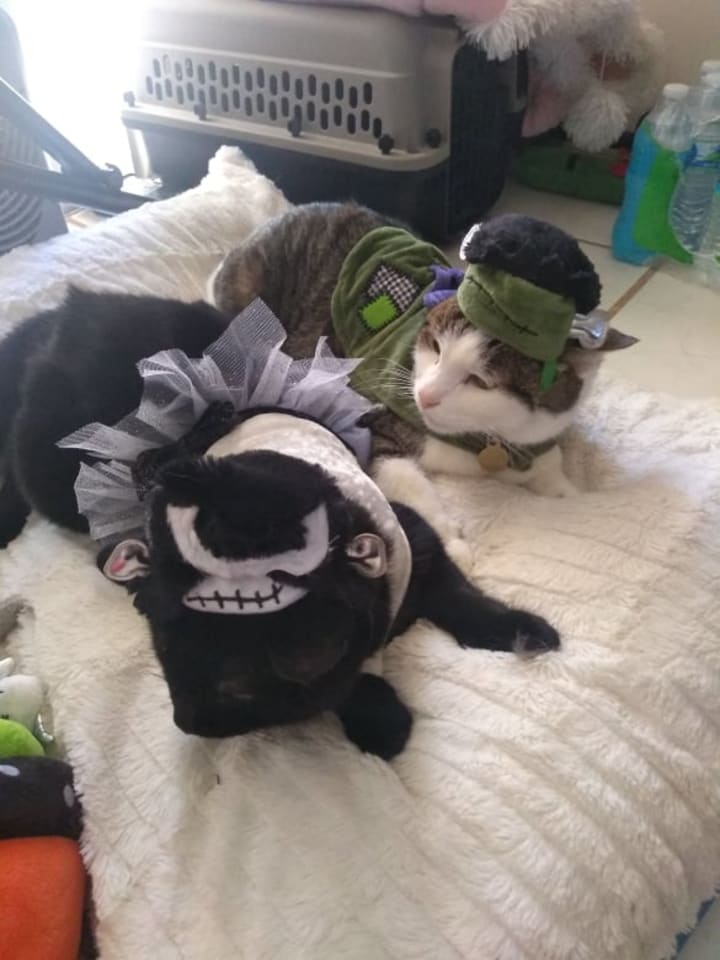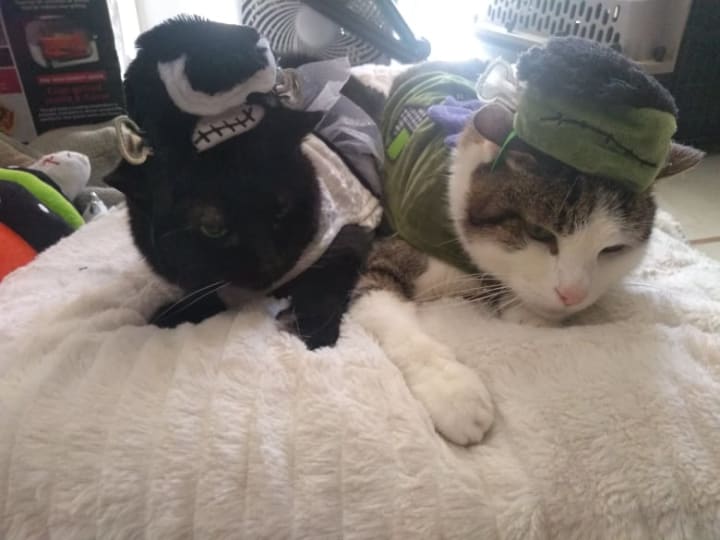 Even though she couldn't play along... we still love Kudu!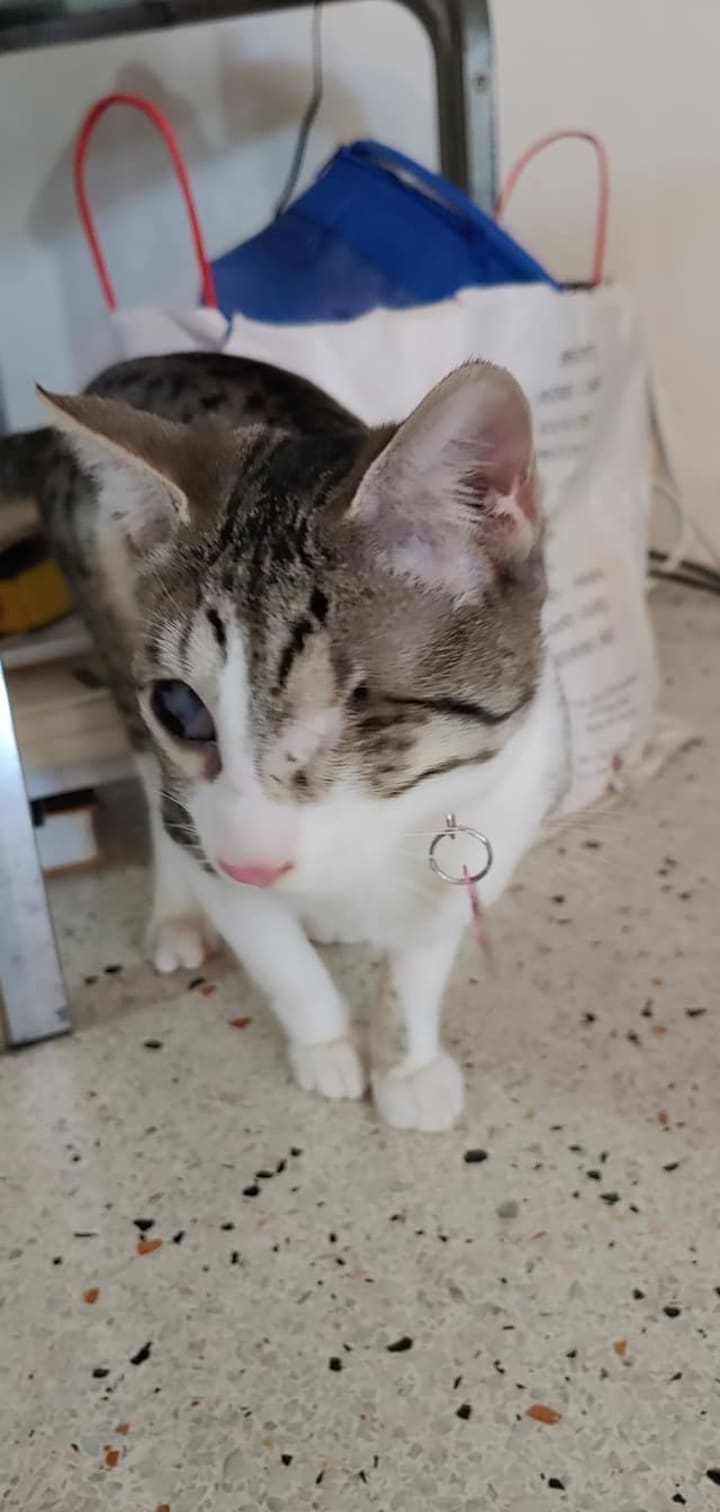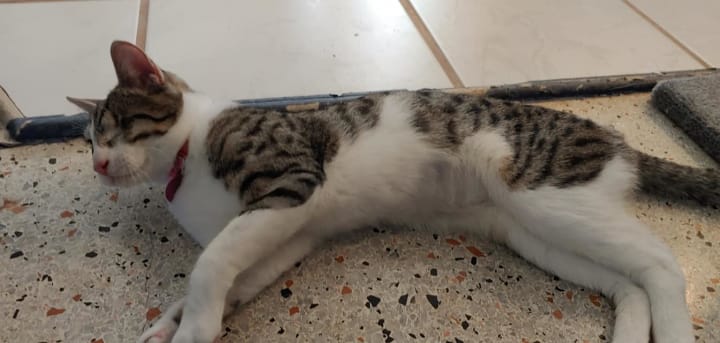 Typically... the most cooperative is Rosie. She will wear anything for Mommy's amusement.
So she has many options.
We have...
Rainy Day Rosie
Sunny Day Rosie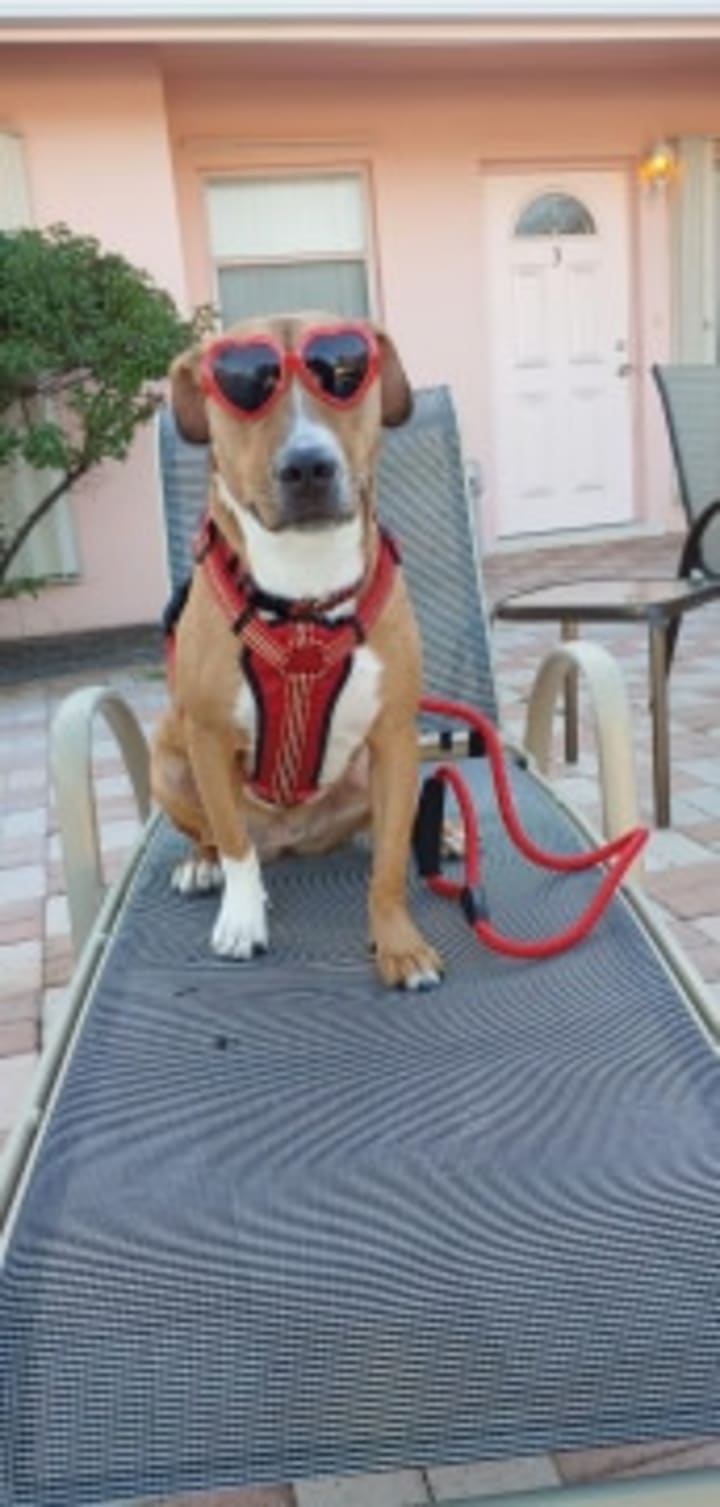 Teddy Bear Rosie
Rosiesaurus Rex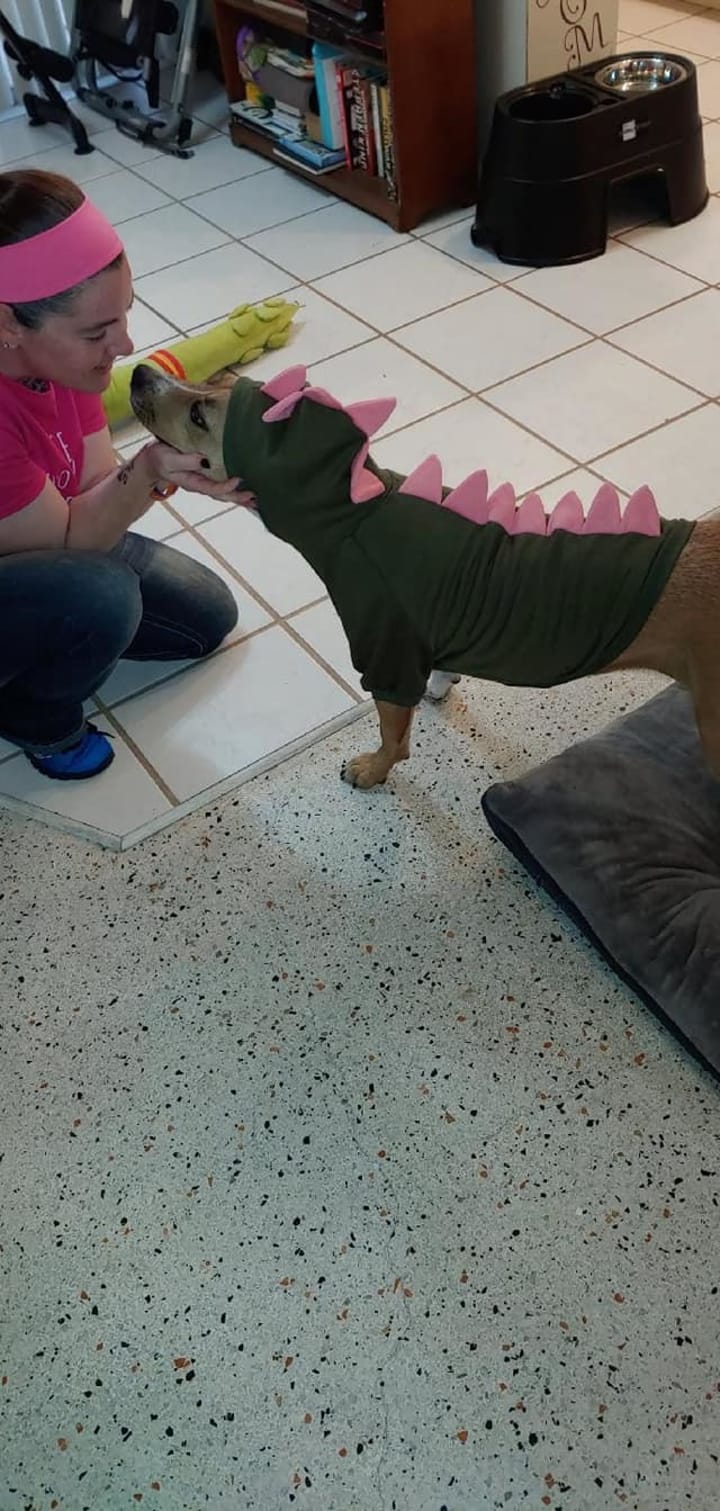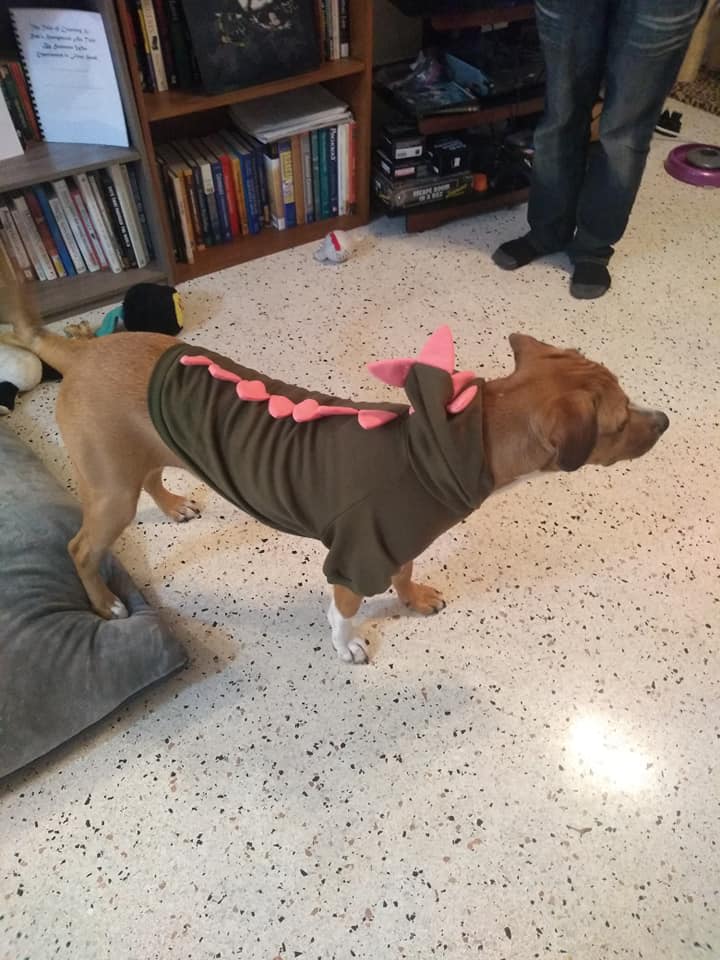 Jailbird Rosie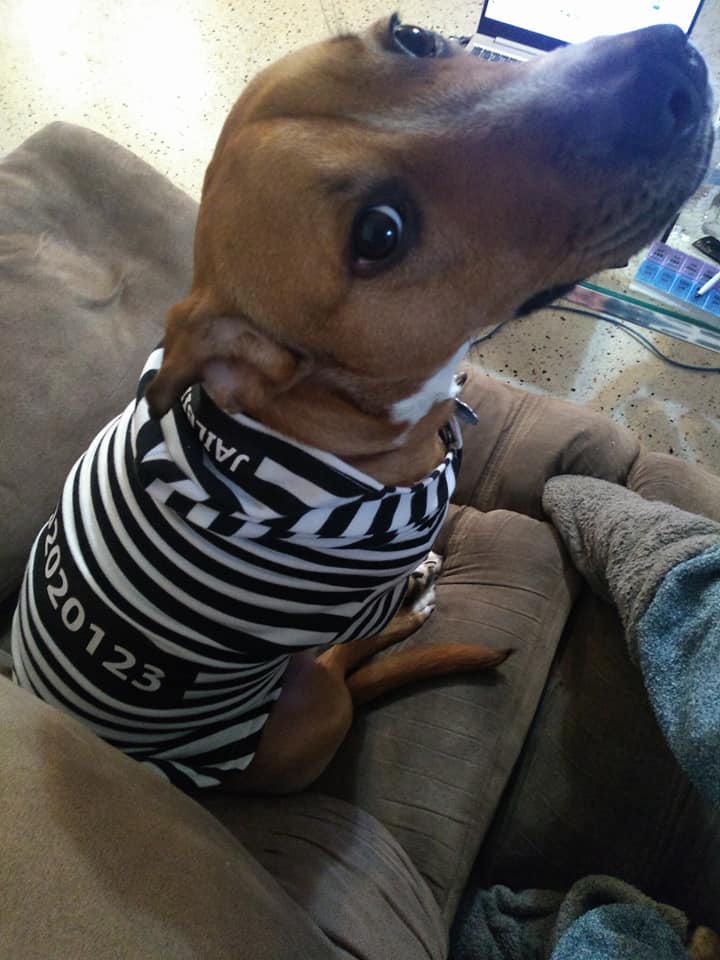 But the thing Rosie wants to be most in this world... is just one of the cats.
She's pretty big for a cat... but that doesn't mean dreams can't come true!
Rosie the Lion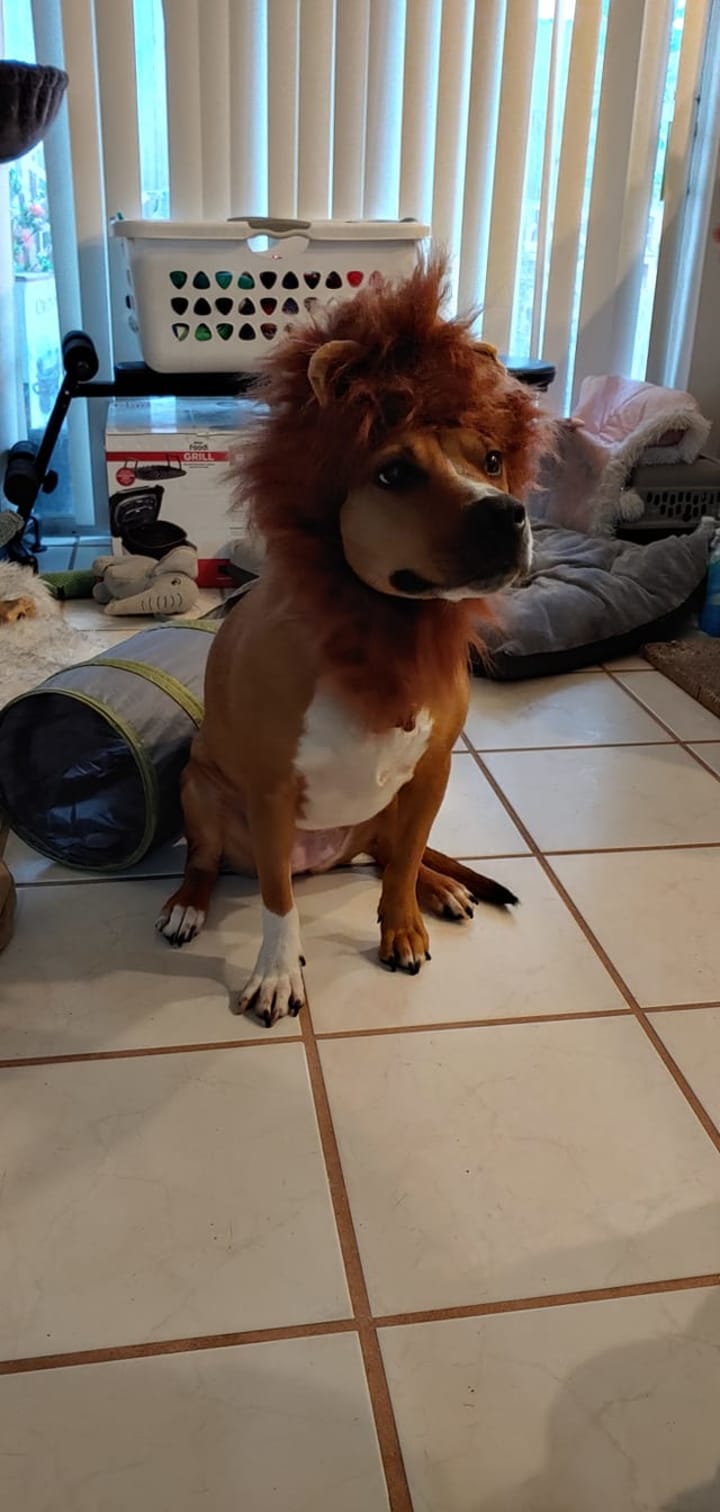 Then there was the time that she was Rosie the Red Plaid Reindeer... but she doesn't like to talk about it.
Ember mainly likes to get prettied up. She loves DRESSES. And this time of year... she wants to remind everyone exactly who she is.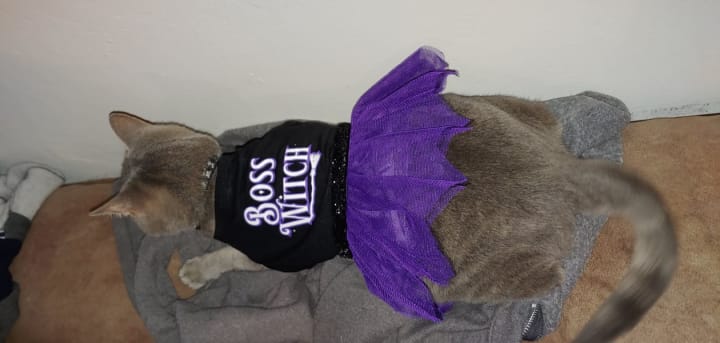 The Boss Witch.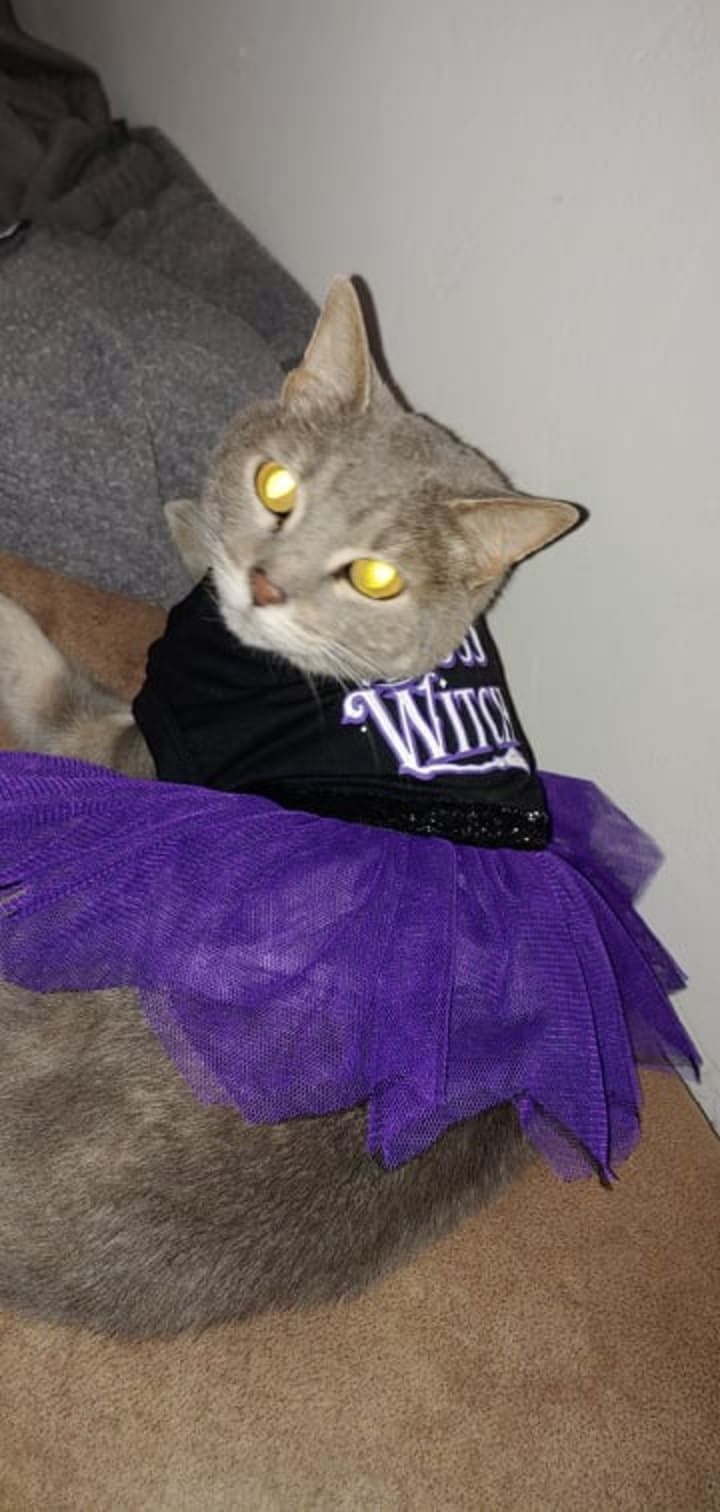 And don't you forget it!
Happy Halloween from my big furry family to yours!!!!
feature
A veterinary technician, writer and animal advocate from New York. Currently living in South Florida and desperately trying to escape. Runs on Starbucks and the love of her husband and 7 rescue animals.
Receive stories by Courtney Capone in

your feed