Can I Take My Dog on a Campervan Holiday?
Traveling is incredibly exciting. We all know how much we adore our pets back home. You must know the basics of traveling with a pet if you plan to bring a dog with you.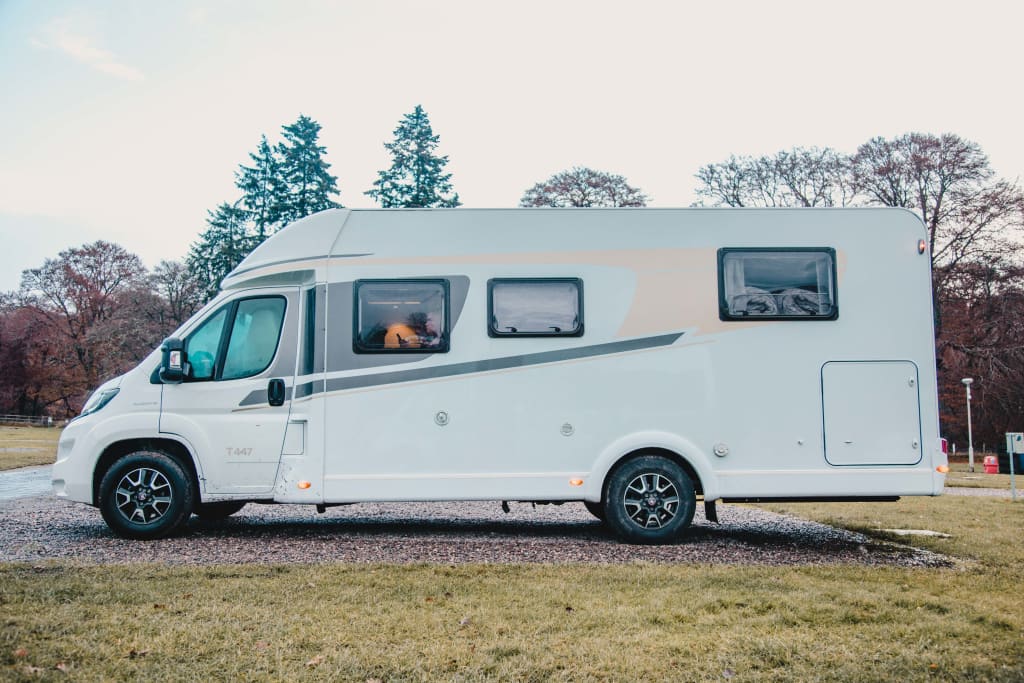 One of the most popular reasons for renting a campervan for a holiday is so you can take your faithful canine friend with you. The benefits include not having to put your pooch into kennels and being free to enjoy your time together as a family – canines included.
So, which are the best campervans for dogs? Does every campervan hire firm allow pets? And how can you make travel with your pup easier and more fun? Here are some top tips from Campervan Rental Scotland.
Find the Right Campervan Hire Company
First, make sure the hire company offers vans suitable for dogs and dog owners. Many companies have dog-friendly vehicles for a great holiday away together. Then, look for a model that includes space for your dog to sit or sleep. Vans with foldaway tables and plenty of space-saving features are best. Choose a van with a larger storage area for all the dog food and associated doggy accessories.
Be Safe When Travelling
You are the best judge of your dog's temperament. Every dog must be suitably restrained during travel so they don't distract you from driving or become injured. But suitably restrained may mean different things for different dogs. Many people put their dogs into a crate, which they then secure into the campervan. Or dogs may travel with their own doggy seatbelt.
Where Will My Dog Sleep?
If you do take a crate, do you plan to have your dog sleep in it at night? Or do you have a special bed they can use on the floor? Some owners like to have their dogs sleep in the awning. Again, this depends on the temperament of the dog and your own preferences.
Will My Dog Have Fun?
If your pooch is happy in a car, he will be more than happy in a campervan. Your dog may even like the van more since he has space to move. And of course your dog will love spending lots of quality time with his owners – it's much better than being left in the kennels! When driving, incorporate plenty of rest stops so your dog can stretch his legs and relieve himself. This is ideal in a campervan because you can easily brew yourself a cup of tea while you're parked.
What to Take For Your Dog
You can still travel light when you take a campervan holiday with a dog, but there are some essentials you cannot forget. Take your dog's water and food bowl and make sure there is always water available (which is much easier in a campervan since you have quick access to fresh water.) Add some dog treats in case they get a little bored on a journey. Pack your poo bags and your dog brush, plus the dog bed and any special blankets.
As a quick extra tip, try to train your dog to just use the side doors of the main living quarters. Don't let them get into the main cab and then if you open the cab door, they are unlikely to see it as an opportunity to run off.
Hi, I'm Jennan Husein, but I go by Jenn Melon.
I adore writing, filming, and marketing. I've also recently published a book called Enigma, as I am working on my second book Sanctuary. If you would like to get into contact with me for any reason, such as asking about the article, feedback, or anything at all, here are the best ways to reach me. Thank you for reading!
Update:
I have a new book out! Google "Jenn Melon" to find my books Enigma and Sanctuary!

Email: [email protected]
Instagram: @jennmelon
Facebook/Messenger: Jenn Melon