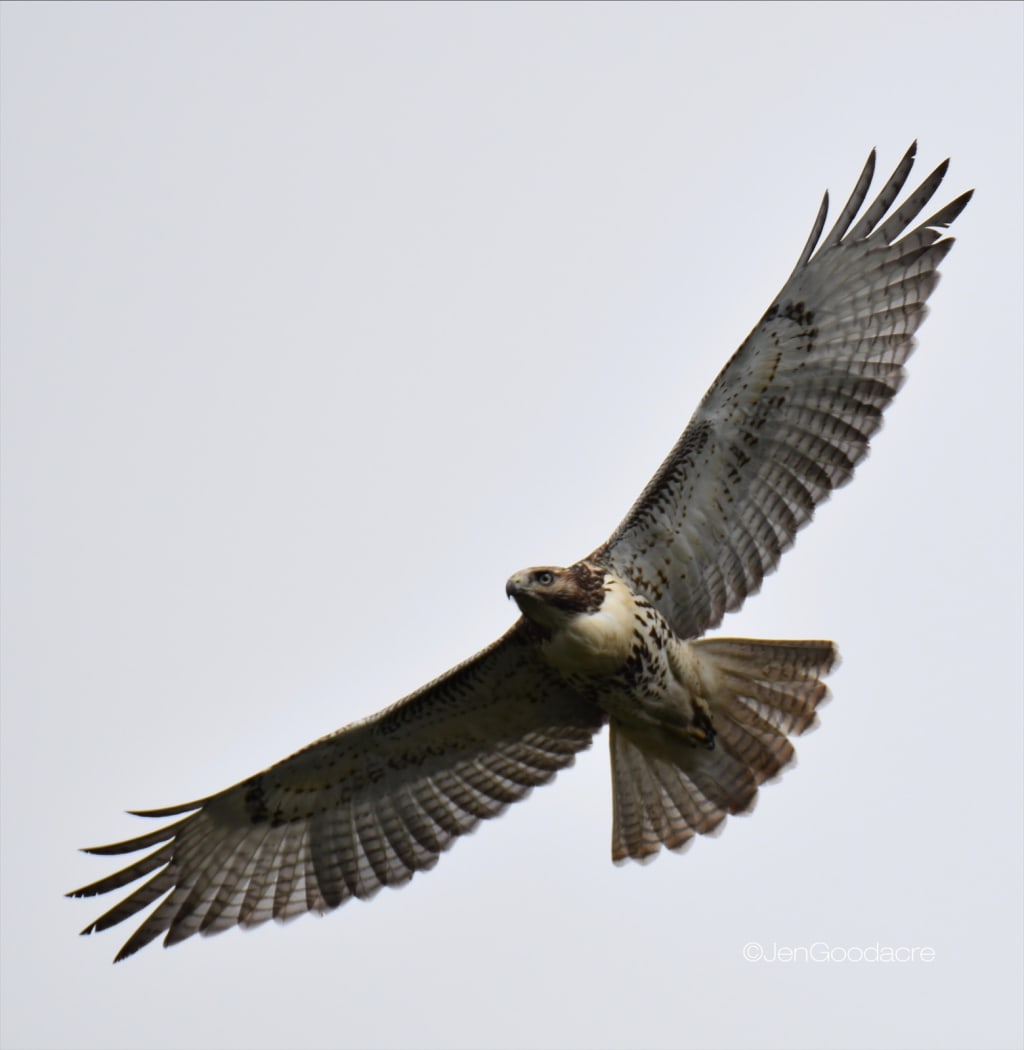 Capturing the environment is a true love of mine. To focus on and create a lasting image of a moment in nature provides not only a thrill, but a sense of purpose in my life.
Simple moments often times are the most beautiful. Something as simple as a bird perched on a branch, or a deer protecting her fawn are moments that remind me how incredible life is. I chose to submit my image of a hawk in flight. This is one of my favorite images because to capture a bird flying takes patience and perseverance; two things nature photography has taught me. Nature photography has influenced my life in so many ways and this hawk captures that for me.
It wasn't a particularly sunny day in Grand Haven, Michigan. I drove about two hours to get there with my camera in hand and was determined to capture some great moments. It was an extremely muggy day, almost uncomfortable. I walked through a nature preserve and hopped a gate that said, 'trail closed.' Although I usually follow the rules, this particular day I felt as though I needed a little bit more of an adventure. As I walked along the floating wooden path, I looked around the pond and took note of the lack of wildlife. I stood at the end of the path, which had indeed run out, and took in all of the lily pads. I watched the dragonflies chasing each other and listened to the frogs talking. I was a little disappointed that the path had come to an abrupt end and there wasn't a way to get to the other side. So a little sweaty and discouraged, I turned to walk back and noticed two hawks soaring so gracefully in the distance. I watched them, mesmerized, and tried to snap a few shots. One would flap their wings, while the other one circled. Then they would switch. They circled around, back and forth, around and around. They talked to each other, they would circle high, then come back down. They were pretty far, but I thought it would be nice to have a memory of the moment. Soon, though, one hawk flew right overhead, as if to put on a show or say 'hello.' I was able to take a few photographs before he went on with his business. I could hear his wings flap as he flew above me. I watched as he retreated back, meeting back up with his partner. They soared together, circling the area, perhaps scouting their lunch. In the moment, I felt so grateful to be visited by such a majestic creature that my heart filled up to near combustion. All of this emotion caused by a bird just doing his thing in the environment. The only editing of this image was cropping for detail, the hawk is doing all of the work in this photograph.
I have a strong belief that it is our responsibility to take care of the environment around us. I think we are all connected in nature and being able to photograph even the smallest moments allows me to showcase things others may not see. Sitting out in the woods, near water or even in my backyard, I am always noticing the effortless beauty nature is constantly creating for us.
I have captured some really amazing things outside, but I chose this hawk for what it represents to me. Patience, respect for all beings, respect for the environment and gratitude for those around us. This image isn't the most beautiful, it was taken on a cloudy day, but this hawk in flight reminds me that we all have a purpose in this life and for that we should all be grateful.