A Promise Made - A Promise Kept
My Animals in Their Christmas Outfits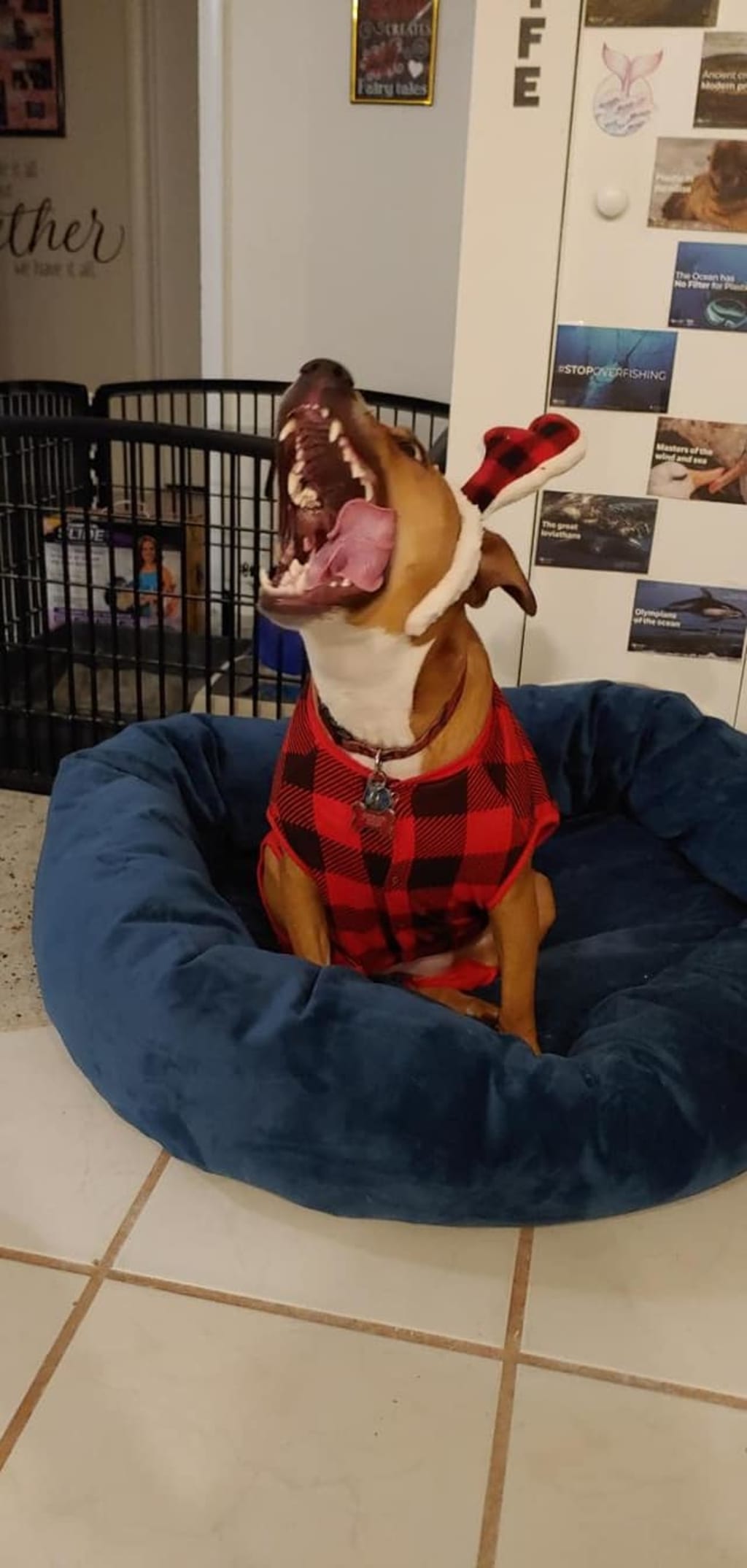 When the Critter Costume challenge was put up, I admit fully that I was WAY too happy about it.
I have seven animals and I dress them up regularly. Mostly my dog, Rosie, and one of my cats, Ember. Rosie tries to eat her clothes but she looks absolutely adorable doing it. Above is her failed attempt to eat her reindeer antlers... a photo that did make it into the Halloween Costume challenge because frankly, a dog dressed as a reindeer knows no season!
Ember LOVES to wear clothes. She gets a new dress two or three times a year and purrs as I put it on her, hisses if I take it off and in between she struts around like a cat on a runway.
Why do you think they call it a catwalk?
That's not why.
Not even a little.
But I'm going to say it's because of Ember and stick to it because everything begins and ends with my animals!
Anyway... I started posting my excitement about the challenge and people wanted previews. I refused. But I did say that once the challenge piece published and I got to show it off a bit, I would also show them pictures from our holiday card from last year. We dressed them all to match in red plaid... and we even joined in and got red plaid too.
My husband deals with this, it's me that loves it. But hey... every single day these animals are well fed, comfortably housed, provided toys and treats and have access to the best medical care when they need it. In return, all I ask of them is to wear something cute once in a while for my enjoyment.
And for the love of all things good and pure in this world... become a tax deduction! They are dependents!
Usually our holiday cards just include photos of them but last year... last year was 2020. So we dressed them up and made it spectacular because the year NEEDED spectacular.
Before I start with the photos there's a couple of notes to be made.
*We got Dahlia and Kudu, our youngest cats on Valentine's Day of this year so they're not included here because we didn't have them yet.
**Our chinchilla, Smokey, passed away in April of this year so he's in these pictures but unfortunately, no longer with us. We do still have his twin brother, Ash.
***As is noted in other pieces, Ember hates all cats... and she was not afraid to show it in front of a camera.
****The furry blanket in many of the photos was a gift to me from a client who makes them. They're pretty incredible (both the blanket and the client). They also gave us a matching memory foam bed for Rosie. If you'd like to know where you can buy them, just ask me and I will provide you with their website.
All that said... enjoy!
Holiday Season 2020 With The Capone Zoo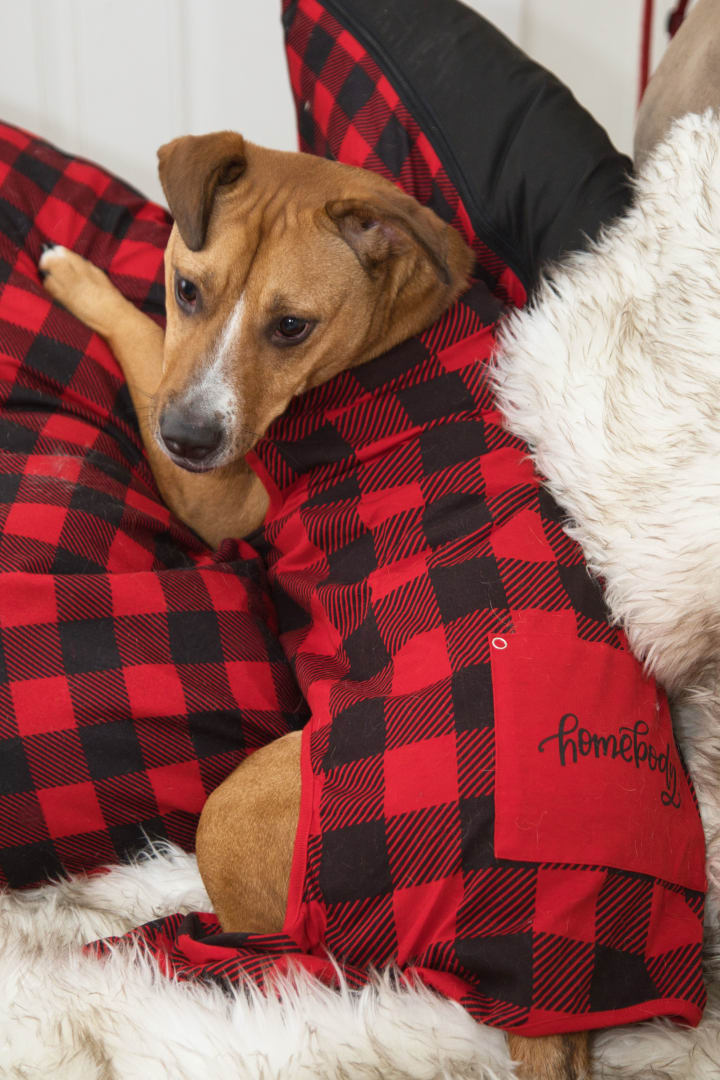 Rosie donned her red plaid Homebody jammies with accompanying red plaid pillow bed.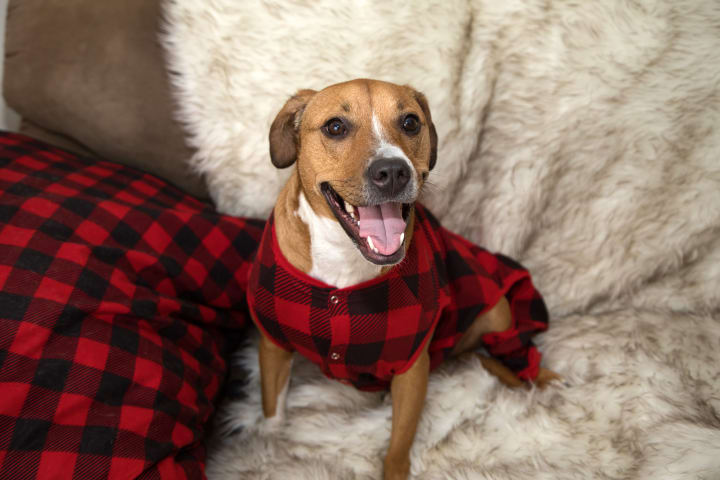 She is the cutest dog in the entire world.
I took a poll.
Of my house.
Which totally counts.
Get it? Poll? Counts?
I'm hilarious. But she's ADORABLE.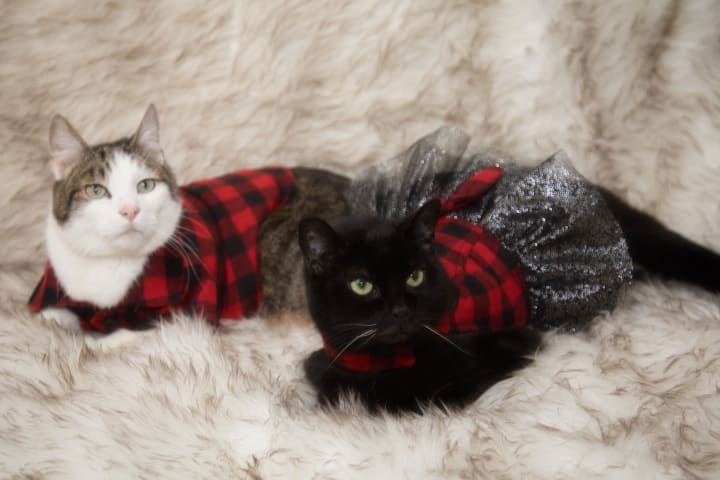 Fox had a red plaid shirt and Panther looked amazing in her red plaid and black glitter dress.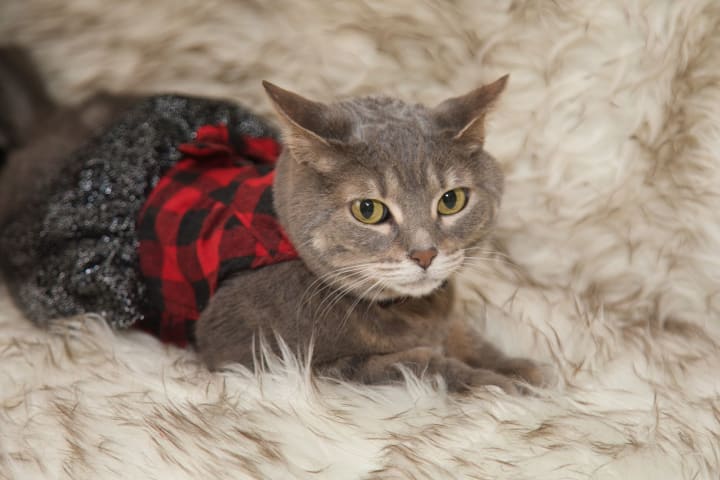 Ember and Panther had the same exact dress. Ember is pretty sure she wore it better.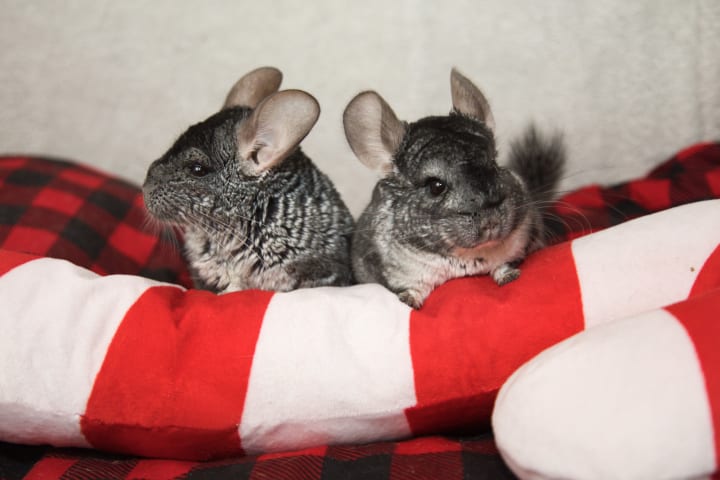 We got the twinchillas red plaid bowties but they are so fluffy the bowties could NOT be seen. So we put them on the red plaid bed and stuck a giant candy cane in front of them (that would be one of Rosie's toys).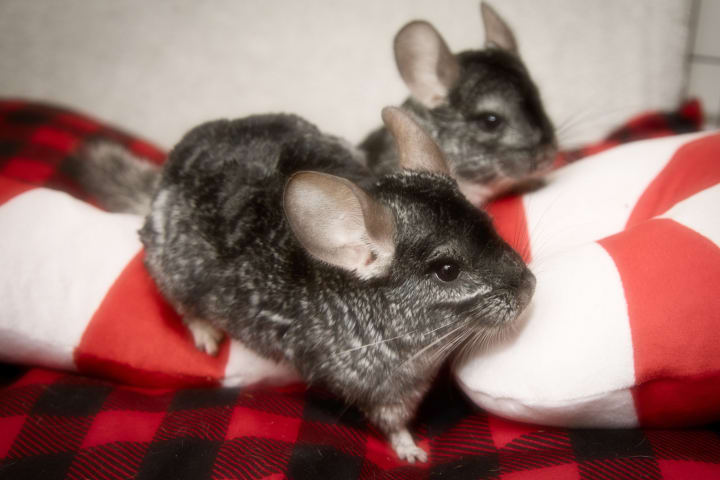 Keeping chinchillas still for photos is NOT easy.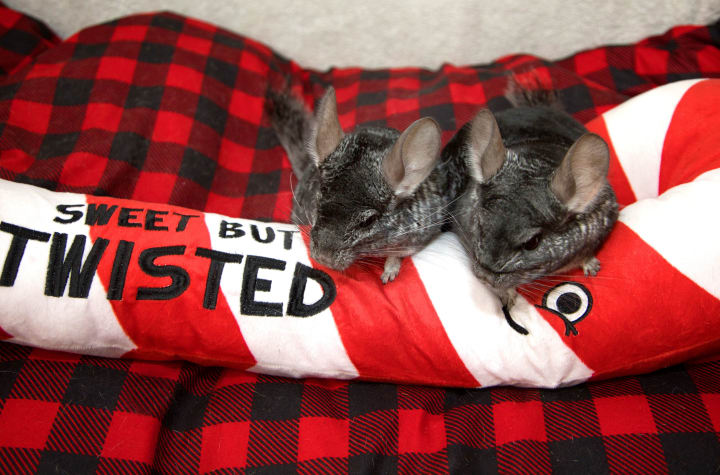 Sweet but Twisted about sums up their personalities. I didn't call them The Terror Twins for nothing!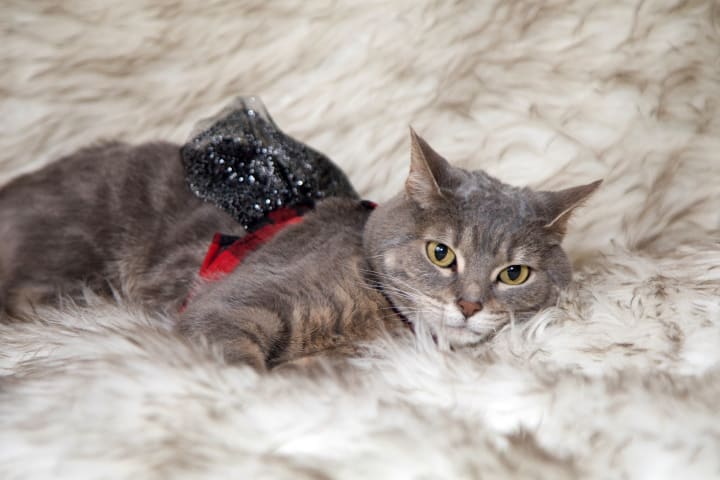 Ember is such a ham for the camera.
Paint me like one of your French Girls.
Sigh.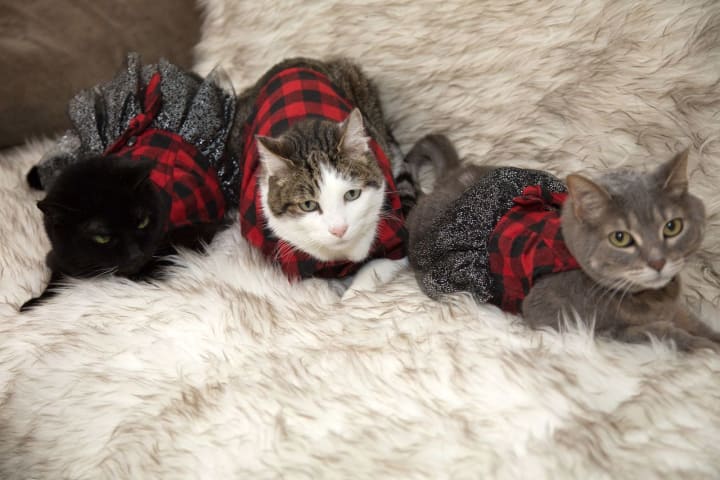 I really wanted a shot of all three cats together and figured, Fox, our only boy should be in the middle.
Ember hates all cats but none as much as she hates Fox. She is CLEARLY not amused and kept trying to run away. Eventually she tired of my shenanigans.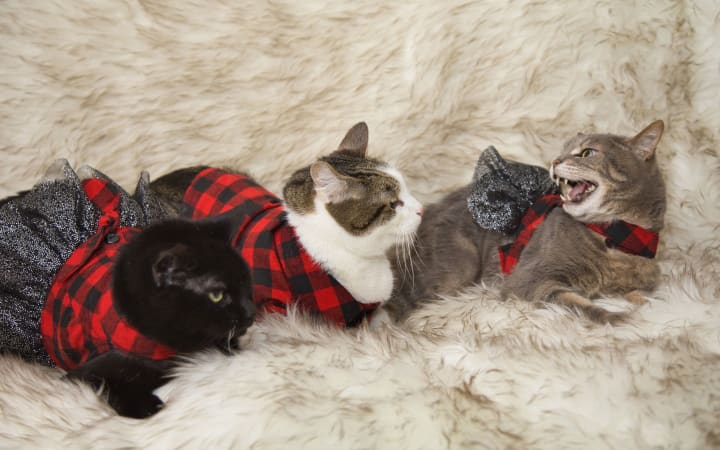 Ember, that is NOT in keeping with the holiday spirit.
Though... it was 2020.
So... yup.
Ember really hates Fox.
And all cats.
And most animals.
And some humans.
She's an angry little thing.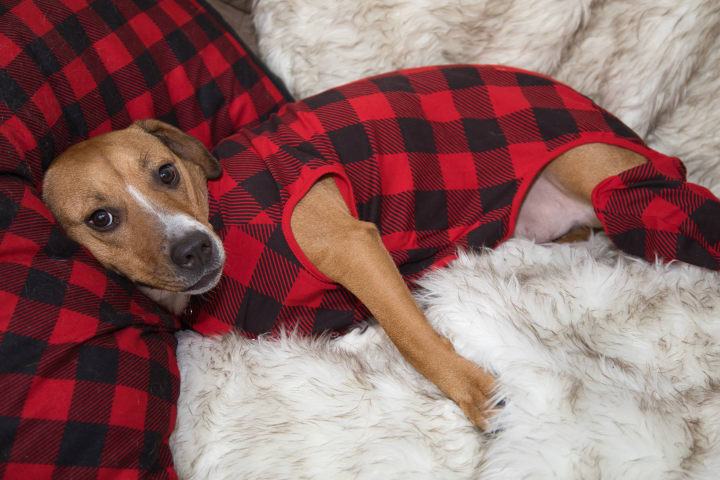 Can you even handle how cute she is????
I love this dog. This dog is LIFE. And the little back legs of those pajamas made me so happy!
You can't have her, she's mine.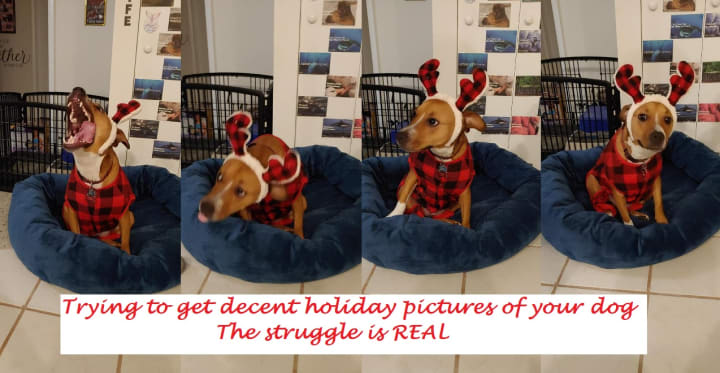 Just. One. Shot. With. The. Antlers.
COME ON!
I was a dog trainer, now I'm a vet tech.... and yet...
It's real.
The struggle is REAL.
Where are you two going?
GET BACK HERE!
One does not simply reason with two chinchillas on a mission to destroy something.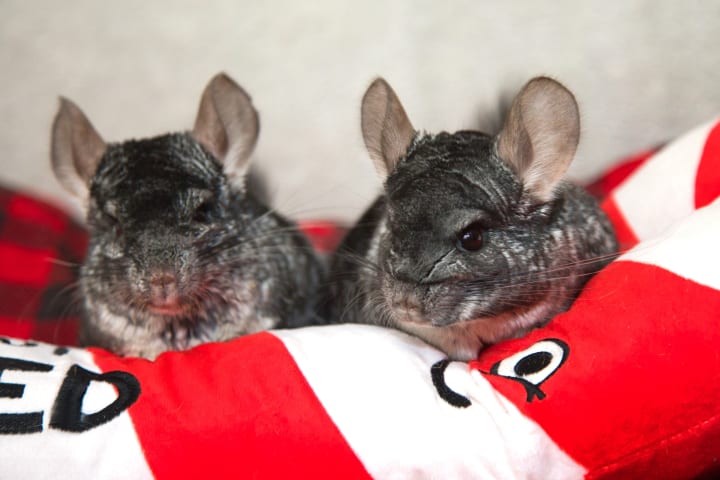 You can practically hear the world domination plot in their little heads.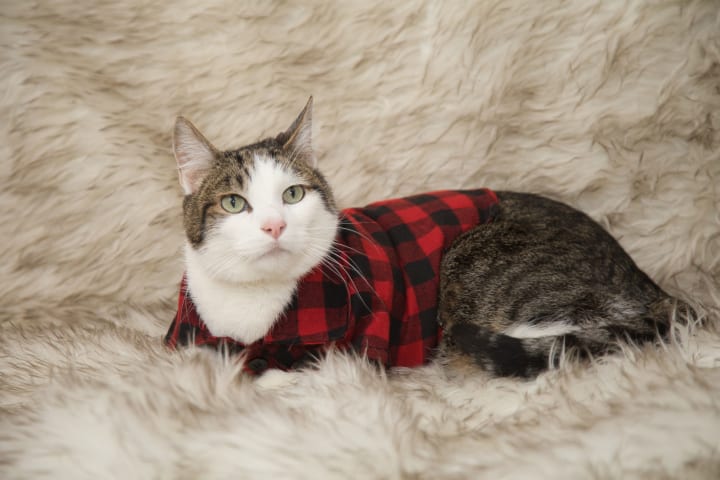 Such a handsome boy!!!
We did not get a picture of Panther by herself. If Fox wasn't next to her she darted off. She hid behind the couch and hissed and somehow got her dress off. The entire photo shoot was put on hold to redress and reset Panther.
Cats.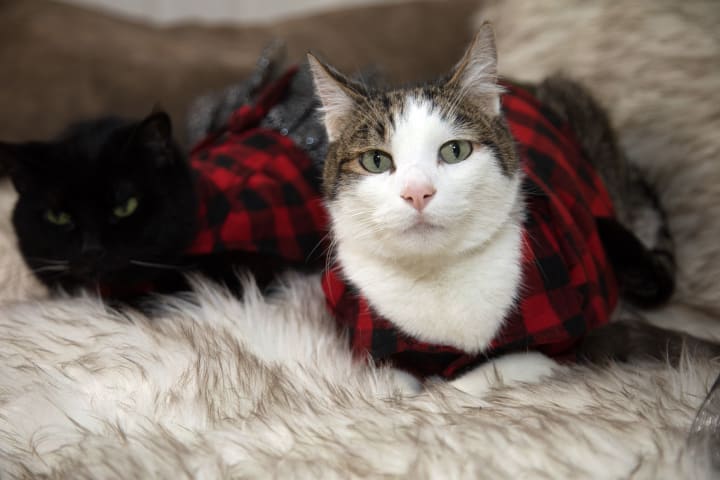 As long as she was with Fox, Panther stayed put. But she was not shy about showing her anger on her face.
Panther, you're fine.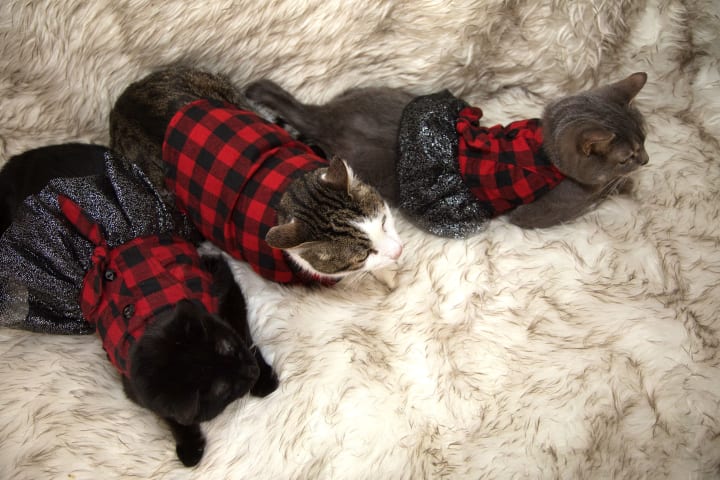 They're all looking at my husband so I could get an aerial type shot of their outfits. Ember was inching ever so subtly away from Fox.
Seriously. Cats!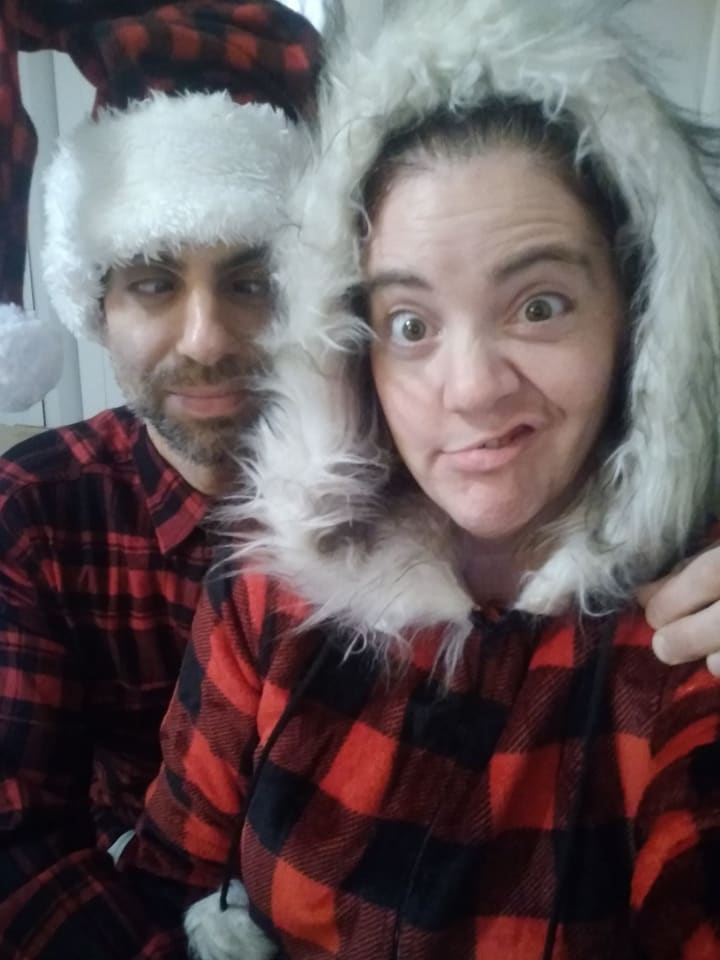 And then we got involved. I had onesie footie pajamas with a fur-lined hood and the hubs had a red plaid shirt and a red plaid santa hat that was bendable and played music.
He used it to annoy me for MONTHS.
I hid it and now even I don't remember where it is.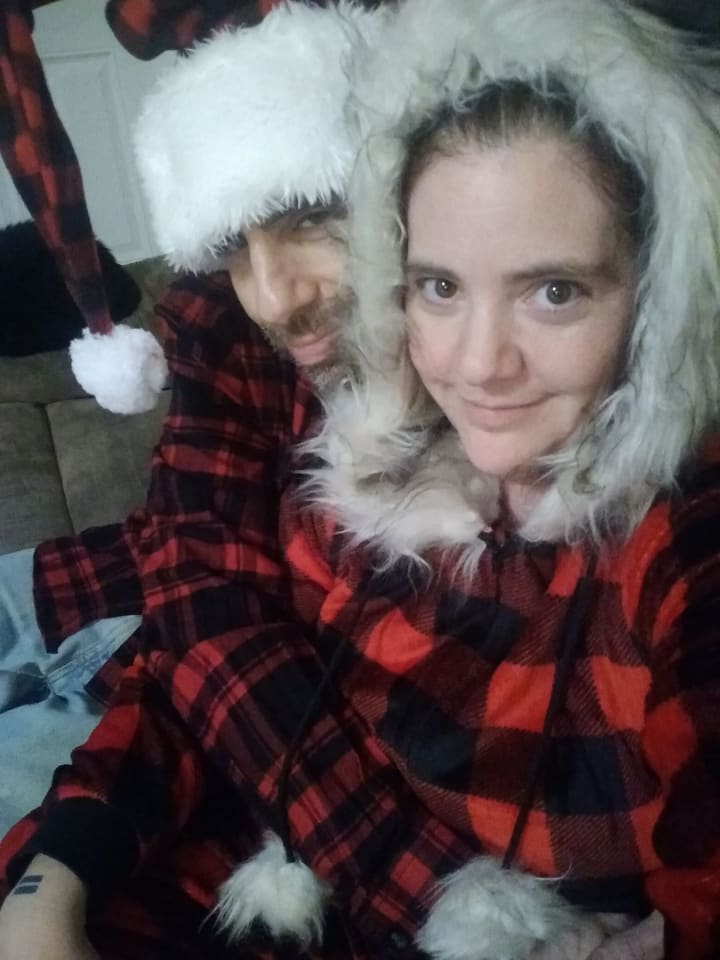 Right before I took this selfie, I said to him, "pretend you don't hate me for making you do this".
So what did our cards look like?
I'm so glad you asked!
Here's the front: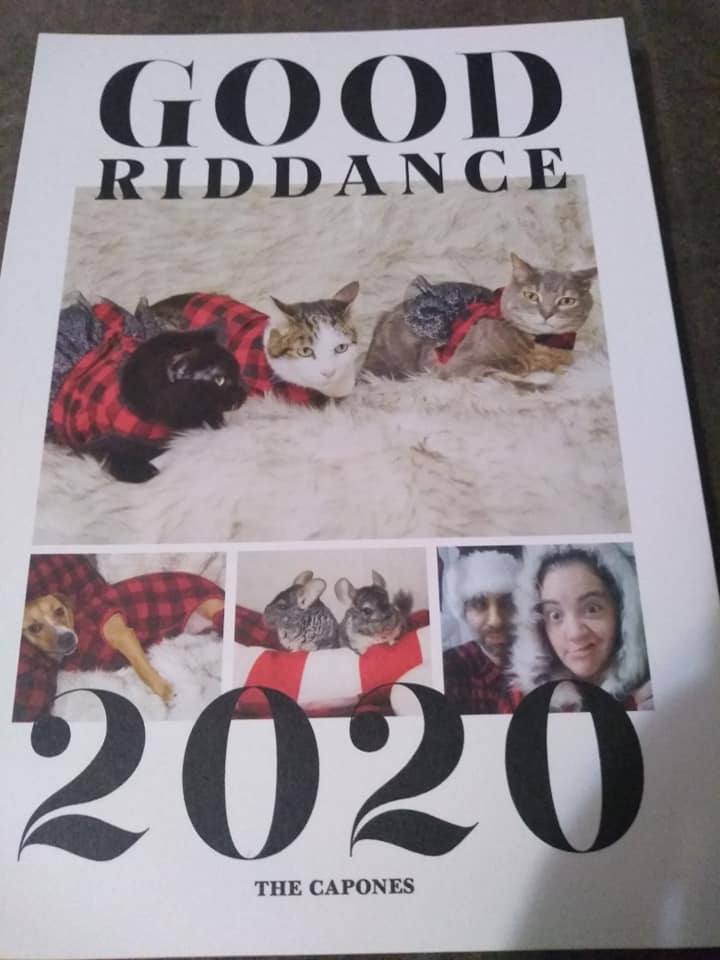 And here's the back: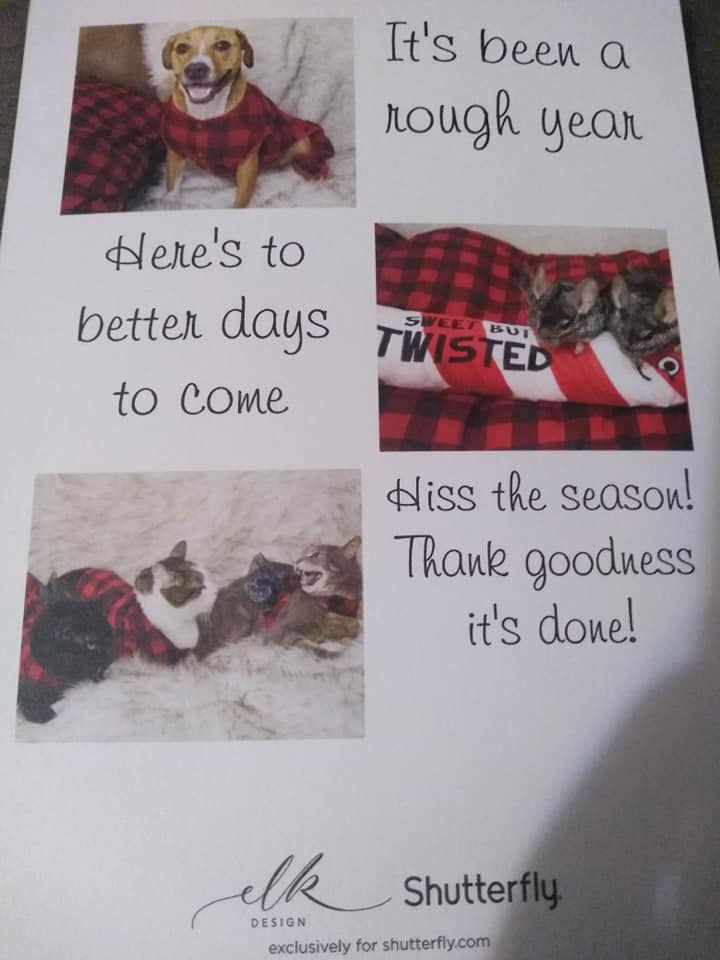 I may be addicted to Shutterfly but the more you buy from them, the more discounts they send you and the more you realize that everything in your life SHOULD be personalized with photos of your pets wearing clothes.
Is that not normal?
I think it's normal.
It's probably not normal.
I'm fine. It's fine. Everything is fine.
Joke was on us though. Here's to better days to come?
2021 was more like 2020-WON.
We are only a few short months shy of 2022 and I'm still processing 2020. We're still in the midst of a plague and I'm still in freakin Florida!
But by the time we send out our 2021 holiday cards, we won't be.
What will the theme be this year?
I don't know yet.
But the animals will wear matching outfits.
Except our blind girl, Kudu, who gets too scared if I try to dress her. She'll just get a matching collar. Maybe a bow.
Probably a bow.
She's getting a bow.
I hope you liked the pictures. I promised to show them to you and I always keep my promises! In a few months, there will be new ones.
Stay tuned!
humanity
A veterinary technician, writer and animal advocate from New York. Currently living in South Florida and desperately trying to escape. Runs on Starbucks and the love of her husband and 7 rescue animals.
Receive stories by Courtney Capone in

your feed