Animals of the Internet
9 Dog Instagrams You Need to Follow
Smaller dog accounts you may not know about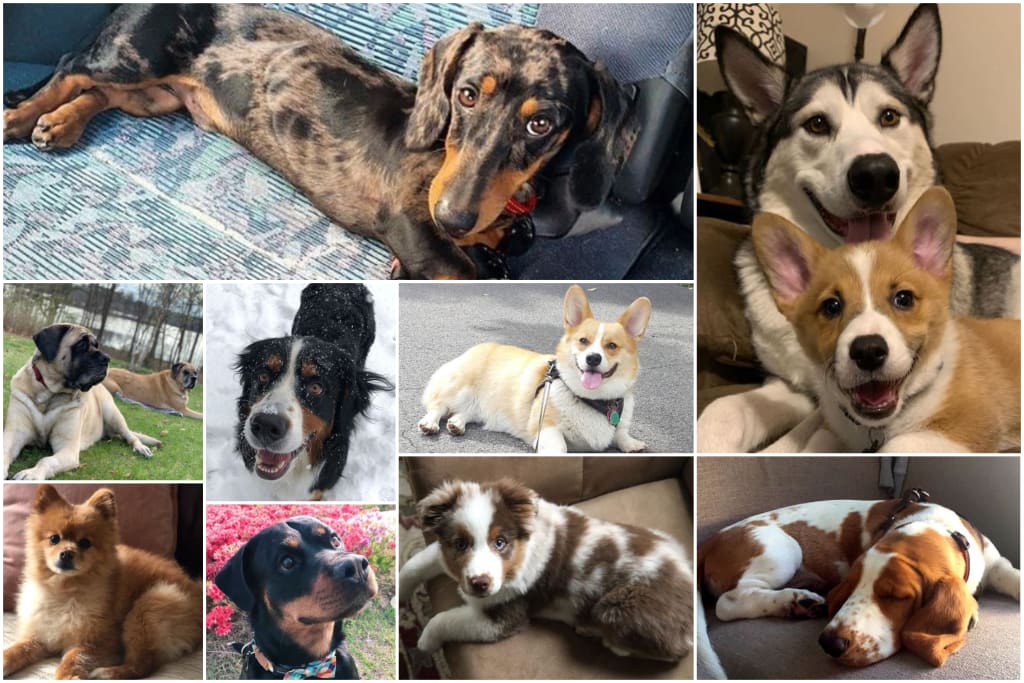 Who are these fantastic pups? Read below to find out!
We can all appreciate a photogenic dog. They're cute and cuddly, and they love unconditionally. Dogs are my favorite creatures in the universe. Not surprisingly, many others feel the same way. Social media has given us a great way to share the cutest pictures of dogs. Instagram is a treasure trove of the cutest dog pictures around. I've spent too much of my free time staring at tail wagging, tongue flopping cutie pies. With so many cute photos out there, it's easy to miss some gems out there. I follow a couple of great accounts who have under 1,000 followers at the time of me writing this. I hope these ones keep growing, and I strongly encourage you check these sweet pups out! Plus, I have a few insta-pups at the end local to Boston that I've met; I'll let you know how lovely they are in person!
Each listing has a hyperlink to get to these awesome Instagrams, so click on them and check them out!
1. Linguine_the_Weenie- 934 followers
Who doesn't love a pun-tastic name? Linguine is a dachshund, so of course he would be named after a long noodle. Linguine is a cute, speckled, little guy in Sydney Australia. A lot of his pictures feature his big floppy ears, and that beautiful fur. I love the variety of pictures posted of Linguine. He's either running, curled up and sleeping, or standing at attention with a fierce pose for such a little dog. Check out Linguine if you want some whimsical fun.
Favorite Feature: I can't lie. Linguine's fur is so unique and I love looking at him!
2. Kanorottie- 817 followers
Kano is an interesting one. He's actually a bit of a celebrity dog. Kano's owner is Dabit, a South Korean singer/songwriter. I haven't had a chance to really look at his music yet, but I really want to because his dog is wonderful. This rottweiler is a sweetheart. Kano is ridiculously photogenic. He has a sweet face, and every photo of him is too adorable for words. He doesn't have many posts yet, but oh boy, I can't wait to see more of this smiley dog on my Instagram feed.
Favorite Feature: That smile. Kano's smile is magical.
3. moki_and_mylo- 199 followers
The appeal of these two is the seemingly odd couple pairing going on. Moki is a malamute and Mylo is a corgi. Mylo is Moki's "little brother." The pictures are so sweet and show the size difference between the two. You can see the affection the pups have for each other, and the photos truly show how Moki cuddles and takes care of Mylo. They both just look so soft! Most of the photos seem to be of Mylo for now, but then again, he's a small corgi puppy. He's such a cute looking pup, and adding Moki to the mix puts me in cuteness overload. Plus, they're literally one follower away from 200! Be the 200! (By the time this is published they may actually be over that milestone though!)
Favorite Feature: This isn't a physical one, but the bond between the pups. I love seeing them boop noses, or when Mylo huddles into Moki's side.
4. Tyrionedahound- 122 followers
I love basset hounds. They have floppy ears, they have long bodies, the list goes on. He's new to Instagram, but it's still criminal that this pup has under 122 followers. He has a beautiful light brown color, and he's super young. He actually looks a lot like my cousin's basset, Scooter. A lot of his photos show him sleeping, as he's a puppy and needs his beauty sleep. He seems like such a sweet little guy that loves cuddles and comfort. He also gets points for his whimsical description starting with "Hi hoomans!" Keep your eyes out for Tyrione, because he's sure to be an Instagram favorite.
Favorite Feature: The chunky basset paws are undeniable.
5. Adventurousatlas- 542 followers
Anyone who knows me knows that I'd have to put a Bernese Mountain Dog in here. They're my favorite dog breed, and everything about Atlas shows just why I love them so much. This sweet lady lives in the Pacific Northwest, and it shows in her photos. Snow or shine, she's outside with a big smile. She lives up to the adventure in her Instagram name. If you like seeing dogs having fun outdoors, I highly recommend Atlas. She's a happy pup and her tongue is always hanging out. I love each of her photos.
Favorite Feature: Bernese pups have the best eyes. Atlas has eyes filled with excitement for the days ahead.
Now for some slightly bigger Instagram dogs in my area. I've had the pleasure of meeting all these guys and gals below, and they're truly some of the best pups out there.
1. Bandit_pomeranian- 1,350 followers
Oh My God. Where do I start with Bandit? Bandit is an absolute angel. Pomeranians are notoriously cute, and Bandit is no exception. I adore him. He walks by my store on occasion, (I work in a luggage store) and I get so excited when I see him. He came in one night and even posed with a suitcase for his Instagram! The best bonus is that his human is so sweet as well. He's so soft and loves pets. And those eyes? OH. MY. GOD. Everything about this dog is lovable. He also has a smile to die for, and he loves to explore all over the place. Please go check out Bandit.
Favorite Feature: HIS LITTLE LEGS THAT PITTER-PATTER WHEN HE WALKS.
2. Holy.smoakley- 2,622 followers
Another pup that is adorably small with the nicest human, Oakley is one of my favorites. He's only four months old (at this time of me writing this) but he's already a Rockstar. Another pup that walks by my store, he's been in a few times because we can't help but wave to him from the window. Literally. All my coworkers get so happy when we see him. He's a Mini Australian Shepherd, and he has all the things people love about those dogs: a unique fur color to absolutely die for, and bright blue eyes that make you want to hold his little face in your hands all day. I can gladly say I've had the privilege of meeting this cutie, and he absolutely loves to play with everyone. Such a friendly guy!
Favorite Feature: His ears. They're soft little grey tufts and I'm totally in love with them.
3. Sirwinstoncorgi- 1,899
Winston is a delightful little corgi. This one is special because he walks by my college on the regular. When I was still in school, I felt so bad for his human, because every student would yell "Winston!" and want to pet him. The funniest part is that Winston has gotten used to this. When he sees people who want to pet him, I've seen him just plop down in the street and lay there for people to say hello. He loves attention, and he always liked when I would scratch behind his ears. This boy is a character. He's ridiculously cute and he knows it. His Instagram hasn't been active in some time, but it's still worth it to look at his pictures. He's an absolute gem of a dog.
Favorite Feature: That little corgi sploot he does on the sidewalk when he wants to stop. He will full on drop to his stomach, and it's hilarious.
4. Morganmastiff-13.1k followers
The last and by far biggest account on here, Morgan and her sister Olive are Instagram stars. These girls are two big mastiffs with a sense of adventure. Currently, I'm keeping up with their cross country road trip that's taken them all over the US. They post often and it's always nice to see them on my feed. You really feel connected with them, whether it's supporting Morgan in her fight against cancer, or to just stay with them beat by beat on their trip, the mastiffs feel like they're always present on your social media. When you think of gentle giants, you should be thinking of these ladies. Oh my goodness. I have an amazing photo of my meeting the two pups at Japan Festival in Boston. I gasped, told my friend to wait for me, and ran over asking, "Is this Morgan Mastiff?" Seriously, I felt like a met a celebrity. These girls are so calm and well behaved. They love to sit there and let you pet them, and hopefully give them a treat of course. I love these gals, and I totally recommend their Instagram.
So I love dogs, that's no surprise. I mainly follow dog accounts, and I want nothing more than to share the love and joy that dogs give me. So go explore on Instagram, what are you still reading this for?