5 Tips on Bonding with Your Bird
Tips on How to Bond With Your Bird Even When You're Busy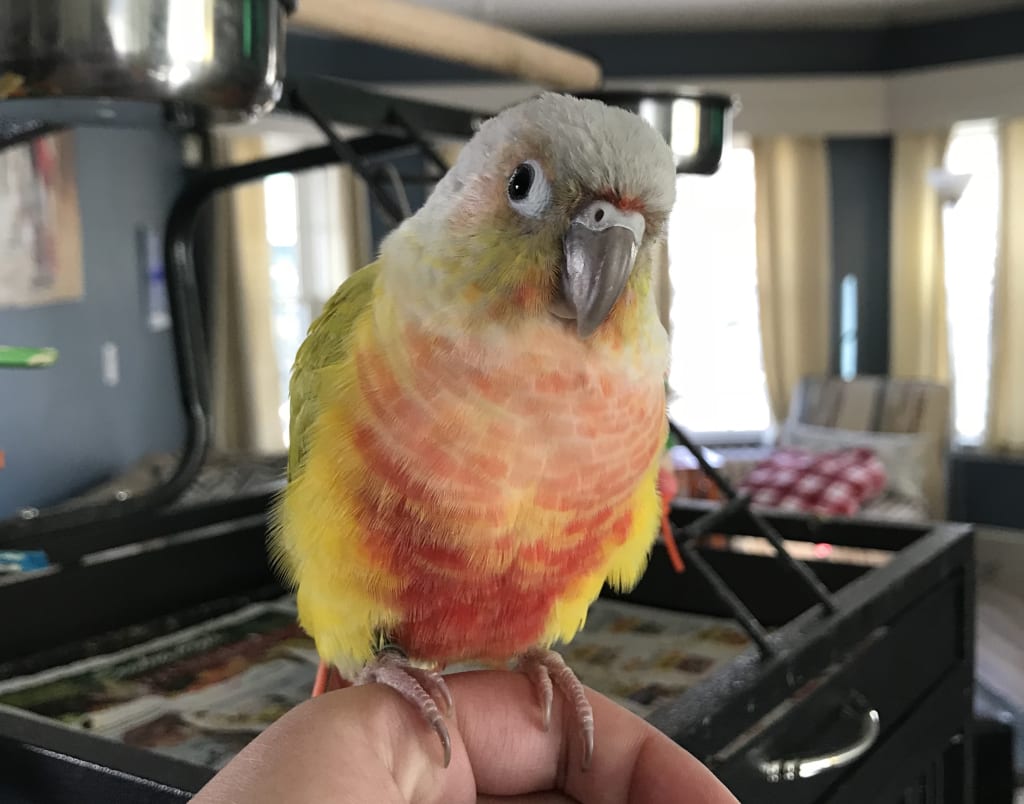 My conure Timon
What many people don't realize about birds is that they are very intelligent and very social. So when you have a pet bird it's important to include them in your everyday life. As a college student who works, I am pretty busy, But I am also the pet parent to a very mischievous conure (shown above) named Timon aka Birdie. Even though I am busy and have other pets to attend to, Birdie and I still manage to have a great relationship, But I know there are other bird parents who struggle to find time to bond with their bird. So I thought I would suggest some ways I like to bond with My bird throughout my day.
Being a Part of My Morning Routine
The first thing I do every day after waking up is letting Birdie out of his cage and popping him on my shoulder, From there he joins me in feeding my other animals and any other morning chores I need to get done. To you having your bird on your shoulder well doing small tasks around your house might seem small to you but for your bird, you are including them and they get to spend time and be close to you.
Getting Ready with Me
Whenever I'm getting ready for my day, whether it's for school or work, I always keep Birdie with me, even if I need to sit him down on a Perch nearby I always use every opportunity to spend time with him. Which leads me to my next suggestion.
Getting Clean
Its no secret birds love baths but some even love showers too. Whenever I go in to take a shower I always bring Birdie along, and if he doesn't feel like getting in he also enjoys perching nearby staying dry. They even sell bird perches made to mount on your shower wall.
Birdie's Day Out
Whether you're going for a stroll or taking a trip to a pet-friendly store, those are perfect opportunities to not only bond with your bird but to also stimulate and socialize them. take note that if you do part take in this activity, to be sure to take safety percussions like clipping your bird's wings and/or getting them a bird harness. Even if your bird's wings are clipped I suggest you use a harness just to be safe.
Bedtime Snuggles
Every night before bed Birdie loves to snuggle into my shirt, sweater, or even sometimes my neck, well I relax in bed. During this time is usually when my bird shows his sweeter cuddly side.
The most important thing to remember is that anytime during your day, big or small, is a perfect time to also get in some bird bonding time. Keeping a strong bond with your bird is a great way to keep a good relationship with them and to keep them happy and healthy.