You got an iPhone and forgot about reading
Minimalist advice for creating a daily reading routine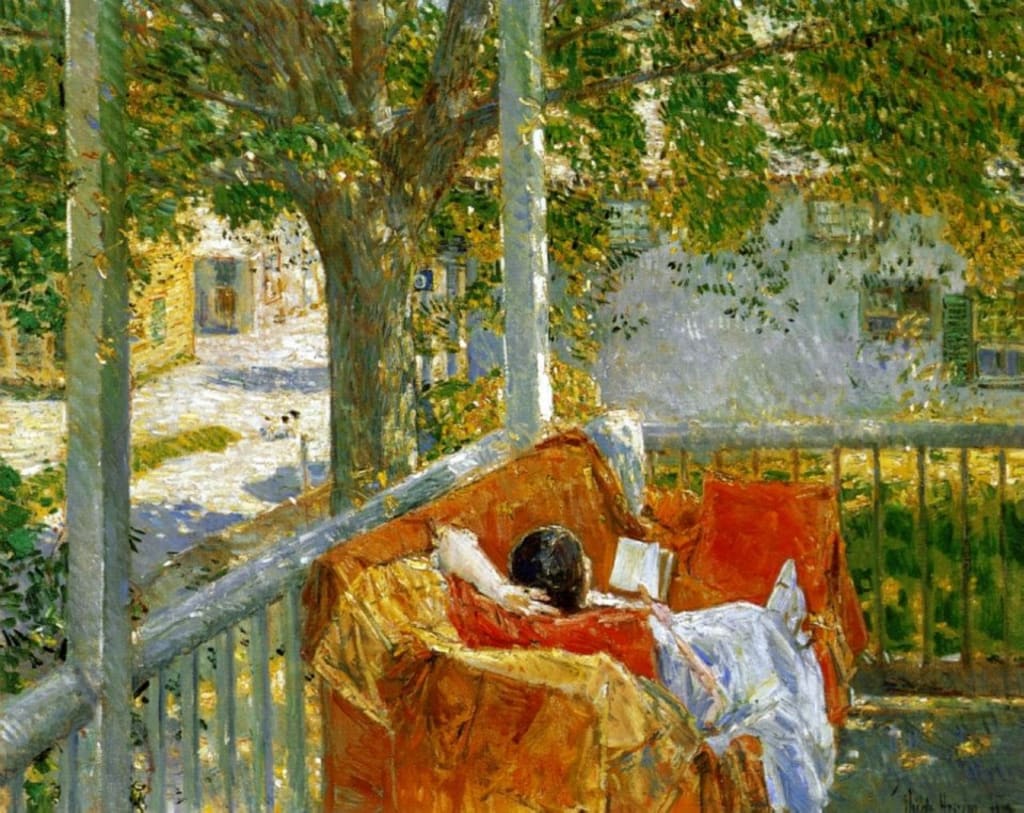 Couch on the Porch, Cos Cob, Frederick Childe Hassam, 1914
As a 98' baby I spent most of my childhood reading books. My family had a basic computer with dial-up internet. I had a pink Nokia flip phone. Aside from a few after school binges on the Sims 2, reading always took priority over screen time. After 2010, the internet and social media took over. I got an iPhone and forgot about reading.
This year, I decided to spend less time on my phone and incorporate more books into my life. So far, I've read sixteen books. Like most things, reading is a skill that can be improved through practice and techniques. Let's explore these further.
Prioritisation
If you want to read more you have to make books a priority. The internet is full of gimmicky shortcuts - learn a language in a month, get abs in two weeks, start a six-figure online soap business. There are no shortcuts for reading more books. It's not possible to finish a book in a few seconds.
Scheduling time for something is a sure-fire way to get things done. Waiting for things to happen organically doesn't work. In the same way you plan to go to the gym or cook a meal, plan ahead when you want to read. Consistency is the most important thing. A little every day is going to equal a lot of books.
Removing difficult barriers
Social media has hijacked our ability for intense focus. If you aren't already an avid reader, jumping from reading 280 character tweets and 15-second TikTok to full-length books is hard.
Stop overloading your brain with online information. For me, this now means spending a minimum amount of time on social media. It would be nice to set aside two hours a day to reading but if you only have ten minutes don't let it go to waste. Do I care that my friend's ex-boyfriend's sister moved house? I don't, and yet I used to spend ten minutes scrolling through a congratulatory insta post.
Reading is not an expensive hobby. My 30+ books a year cost me around £150. The cheapest way to acquire a lot of free, good books is to borrow from a local library or friends and family. I don't tend to buy brand new books because a) it's expensive b) I prefer to keep my personal library minimal. I sometimes buy £3 - £5 used books from independent sellers on Amazon or charity shops.
Techniques
Set yourself a goal. You can use apps like Goodreads or Bookly to set an annual reading goal and keep track of the books you read. Keeping a goal can help you stay motivated, but make sure your goal is attainable or you will get discouraged and give up.
Carry a book with you wherever you go. This way, you'll reach for your book instead of your phone. I read on trains, whilst waiting for meetings or appointments, eating breakfast, in the bath, and when I'm early somewhere. I have finished an entire book in a day by reading this way.
Prepare yourself with some general contextual knowledge before reading. This is a good method for reading more challenging books with a complex cultural or political context. Creating context can improve your general reading speed and comprehension. I usually read academic papers or have a look at the Goodreads reviews of a book I'm planning to read.
Pick books you actually want to read. Don't push yourself to read books you know you won't enjoy. Just because a book is on a bestseller list doesn't mean you have to read it. Don't feel guilty about reading a trashy romance novel from the early '00s. Unless you're doing a PhD in literature no one is going to read Ulysses or Beowulf for fun, sorry.
Actively maintain your reading list. Make sure you have a book lined up for when you finish your current book. This way, you won't lose a few days waiting for a book to arrive in the post or panic buying a random book on Amazon. You can get good book recommendations through Goodreads or friends and family. You can also try searching for books similar to ones you have previously enjoyed on this site.
The advantages of reading books are endless.
Reading makes you smarter. Books improve your concentration and focus, and exposing yourself to new information means you will be able to form more creative ideas and solutions in your personal and work life.
I recently removed all social media apps from my phone. I kept my accounts and still use the web browser version of the apps, but it pushes me to pick up my book when I'm away from my computer. My mind is clearer and I've read way more books. Reading is not difficult, nor sacred - don't overthink it. It really is as simple as removing the barriers that are stopping you from sitting down and just opening a fucking book.