Writing 30 Poems in 30 Days
National Poetry Month 2022 daily challenge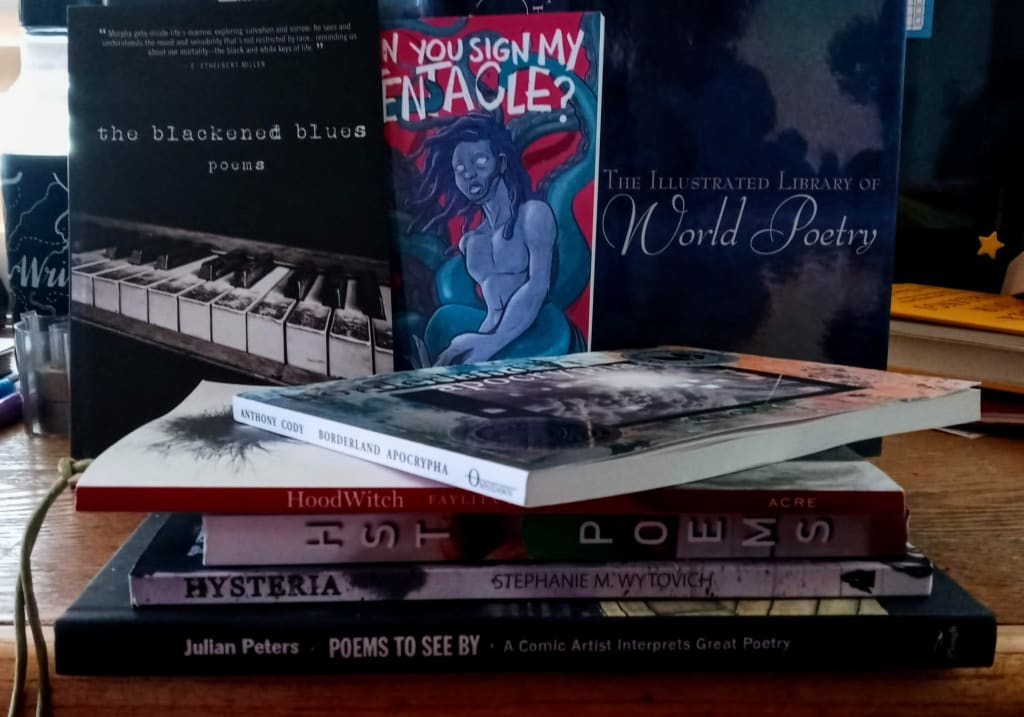 I'm going to start by admitting that my title is a bit misleading. I don't know if wrote an actual poem every day, but I certainly tried. I was lucky enough this year to find a daily workshop to keep me accountable. It was hosted by the organization Surprise the Line. Without it I would never have made it through this challenge. Every year as April rolls around I feel inspired and motivated, I tell myself I'm going to make the most of the month and completely immerse myself in poetry. I'm going to write and read as much poetry as possible. Next thing I know the month is over, I've written one maybe two poems and barely cracked open a book of poems.
Perfect example, the above picture includes a handful of books I intended on reading in April, and I may have read five pages of one. I did realize it was a very ambitious to-be-read pile, especially in just one month along with my non-poetry reading stack. I do this way too often, like piling an impossible amount of food onto a plate when I'm really hungry. But it's always more than I can manage. Always the best of intentions, but that only gets me so far.
For me sticking with goals is always hard. I always start of strong but quickly lose steam. Monthly challenges like this and NaNoWriMo are incredibly helpful. It also helps a lot to have some kind of support and accountability. I would highly recommend trying out similar tactics if you're struggling to complete a project. I've been trying to experiment with visual art and my efforts at drawing have been few and far between. To help I'm considering participating in Inktober, a daily drawing challenge in October. You can likely find or just make up any challenge to fit your needs.
The NaPoWriMo Experience
I didn't completely immerse myself in poetry this past month, or even meet my reading goals. But I did make the effort to write poetry every day. As I mentioned I attended a daily workshop. Without it I never would have been able come close to completing this challenge. Each workshop started with a short warm up exercise, then we were provided with an example poem and a prompt. We got between forty and forty-five minutes to write, and then if chose to we could share our work.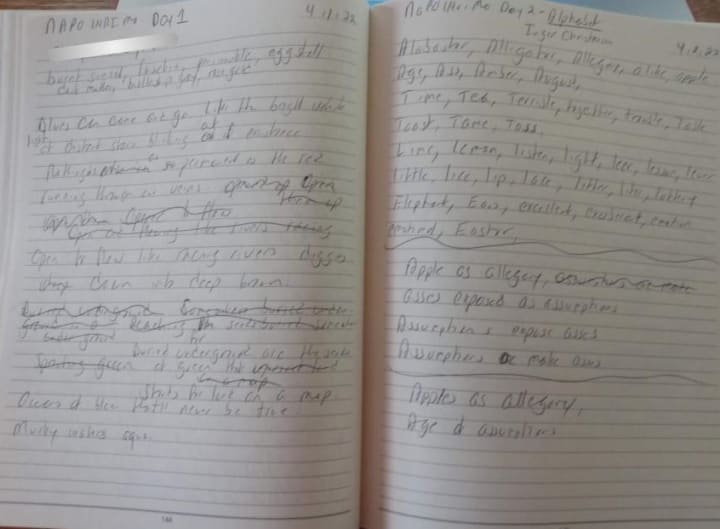 Some days the writing was quick and easy with ideas coming to mind almost faster than I could even get then onto the page. But I admit those were few and far between. Generally, I started off pretty strong. I got more than a few lines drafted and was satisfied with the writing. After about the first week, it felt like a bit more of a struggle. There were days that I considered skipping the workshop because I just didn't feel like it; I might have been in a bad mood or not feeling well or didn't think I could focus on writing that day. The hardest days were about half-way through the month. The excitement of starting something new had begun to wear off and the end was still far off.
But even the days it felt like a dreadful chore, I showed up. I usually convinced myself it'd be worth it to show up, even if I wrote absolutely nothing, for the comradery and social aspect. Another motivating factor was the idea of missing out; the example poems were excellent for learning new poets, some prompts helped me focus in on existing ideas I had, and I always enjoyed hearing the other participants' work.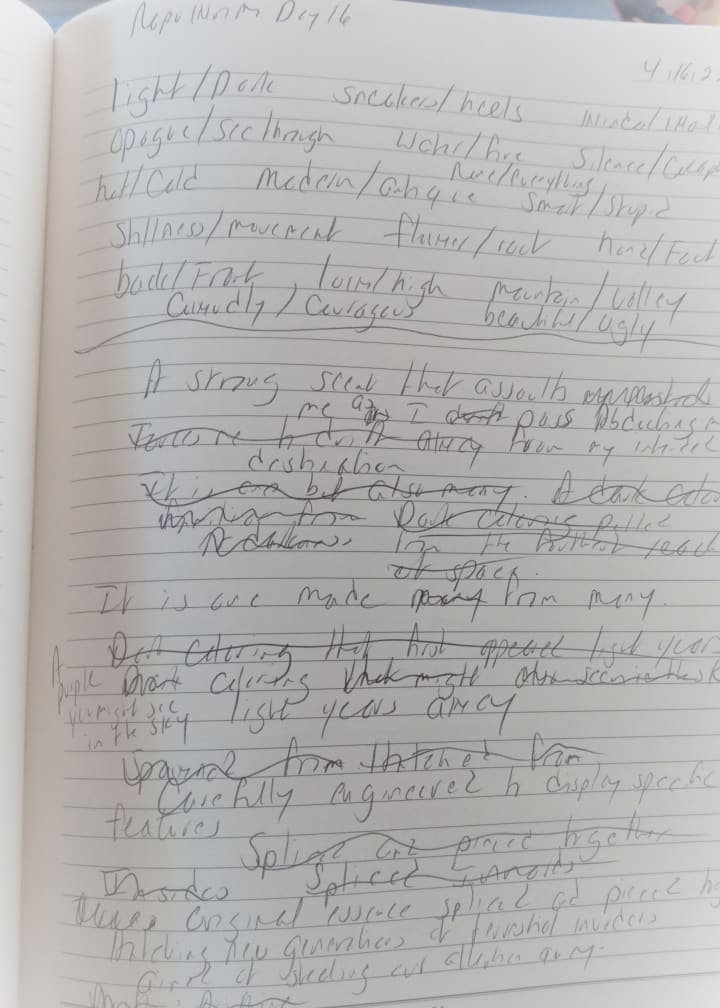 I'm honestly surprised that I managed to convince myself every day. I'm so glad I did though. Every time, I was able to write at least a few lines and was grateful for time spent in the company of other writers and poetry lovers. The last week picked up again, likely because it was almost over. I felt like I needed to make the most of the short time we had left. And as usual, the month seemed to fly by. I had to leave early the last day, but again I was glad to do the warmup, read a new poem and scribble a few lines to the prompt.
Overall, it was a great month. I have a bunch of drafts to review, edit and possibly submit in the future. I also still have that big old pile of books to read. I'm not giving up; they'll stay within reach (on my desk or next to it) until I finally get through them all.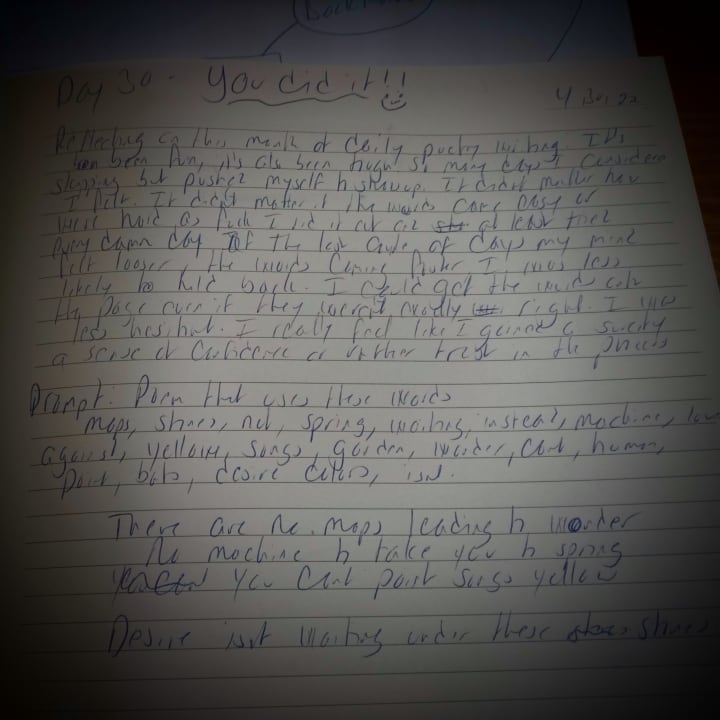 About the Creator
Born and raised in Brooklyn, New York. An avid reader, writer and multimedia creator. Relocated to Pennsylvania where she is currently focused on writing, crafting and leading workshops online. Visit www.alexismcollazo.com for more info.
Reader insights
Be the first to share your insights about this piece.
Add your insights