VIOLENCE AGAINST WOMEN
SEXUAL MOLESTATION AGAINST WOMEN AND GIRL CHILD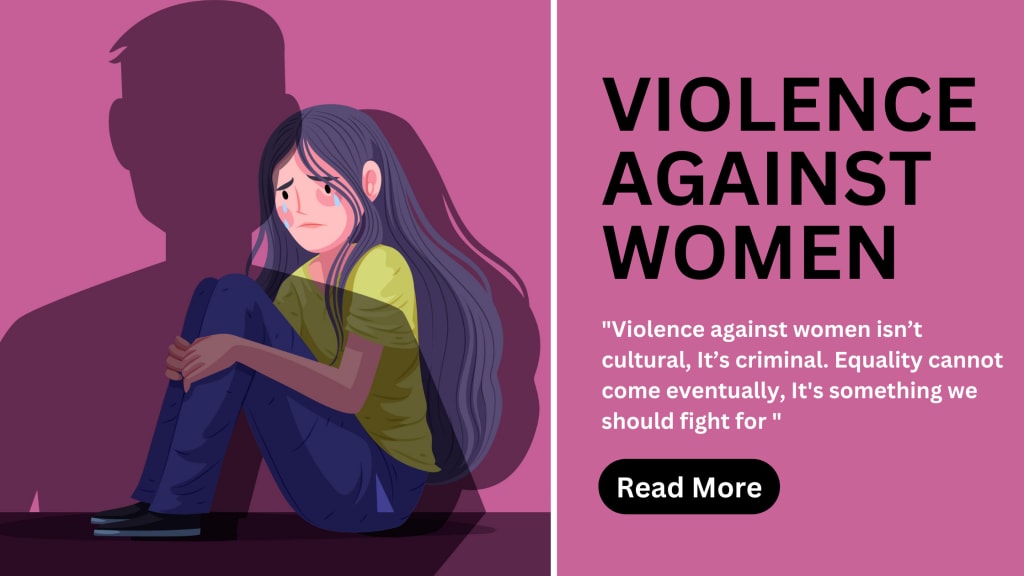 VIOLENCE AGAINST WOMEN
The world has changed a lot, with lots of advancements and technology-based upgrades , But women, still live in a world structured by family ties, religion, and tribal customs, and sometimes the worth we get from that is nothing but deprival of our dignity, pride, and a fate much worse than death, The grim reality is that one-third of women, young girls and sometimes even baby girls undergo Physical or sexual violence, most who would be their partners, usually they would be someone whom we know itself or why say someone within our four walls itself, that's why we say" keep quiet, even the windows have ears"
THE SILENT PANDEMIC AGAINST WOMEN : Women in the olden days itself are considered as "property", the property of their fathers and once they are married they would become the property of their husbands, The word property itself has a negative impact on women,s self-identity, The silent fact here is taht women are not property, they are living beings, they have a soul,a mind, their likings, dislikes, their dignity, pride self-respect, self-esteem, Furthermore when all are deprived of them, that is when women usually face these types of abuse like domestic violence, child sexual abuse, harassment, sexual harassment, child marriage, forced marriage, sexual violence for dowry, acid attack and so on . Every minute In Indai women suffers from different types of molestation which is very much pitiful and cruel to women.
SEXUAL MOLESTATION AGAINST WOMEN AND GIRL CHILD : If you take one out of 100 women, there are chances of being sexually abused which would be either somebody they know or from outside. There are many cases where even girls, own fathers who give birth to them abused them sexually, but women usually at times are not in a situation to share this experience with anyone due to shame or embarrassment, and sometimes our society is such where the blame is kept on women. There are several incidents where men become animals, to name one such is the Kathua rape case which happened in Jammu and Kashmir in 2018 where an eight-year-old girl was abducted, gang raped, and murdered by six men. Imagine an eight year actually not a girl an, innocent baby, what pain that man-dominated society gave that little flower, they crushed her to the ground, Similarly another case where a woman in Delhi was gang raped.
MOLESTATION AGAINST WOMEN FOR DOWRY AND ACID ATTACK : Dowry, where money is given to a girl, husband,s family after marriage, Money is so powerful that it can make life as well as claim lives, Many innocent girls have lost their lives in the name of dowry, some in-law's relatives brutally beat the girls and harassment them each day in the name of dowry, and there are many cases where girls fight a lot against their rights but not able to bear the cruelty and harassment they give up their lives as suicide and some are even being murdered and killed by their partners or their relatives.
ACID ATTACK : A minute is very precious and what if that one minute can spoil lives entirely, and that is an acid attack where usually women are the sufferers either in the name of refusal of marriage proposal .in the name of dowry or disputes at home with husbands. Acid attack is the worst fate being given to women by these cruel-minded men like animals. There are many innocent acid attack victims in India. You may have heard about Laxmi Agarwal a survivor of an acid attack who was poured acid by a man when she denied his marriage proposal. There are many women who have survived and some who have succumbed their lives to this cruel act by men.
If you are facing any violence, eeither sexual, domestic, or any form of harassment, you can always reach out to National Commission for Women,NCW, Domestic Violence 24*7 helpline for Sexual Violence And Harassment in this no 7827170170
TO WRAP UP : Molestation against women should be completed stop. and who can stop it,It,s simple the answer is you and me, the people around us, first start within the four walls of our homes and then come down to society. If each one of us holds our ancestral traditional values which our ancestors have passed on with little knowledge, we can stop violence against women. Teach young kids respect for women's rights from a very small age. Respect starts at home. Women it,s high time to raise your voice against the cruelty done to you.
Read More- https://www.truelymarry.com/blog/spotlights-of-molestation-against-women
About the Creator
TruelyMarry provides the opportunity to the peoples to find their perfect soulmate. Truelymarry is one of the leading matrimonial site .
Reader insights
Be the first to share your insights about this piece.
Add your insights