TikTok Side Hustles
Are they really that lucrative?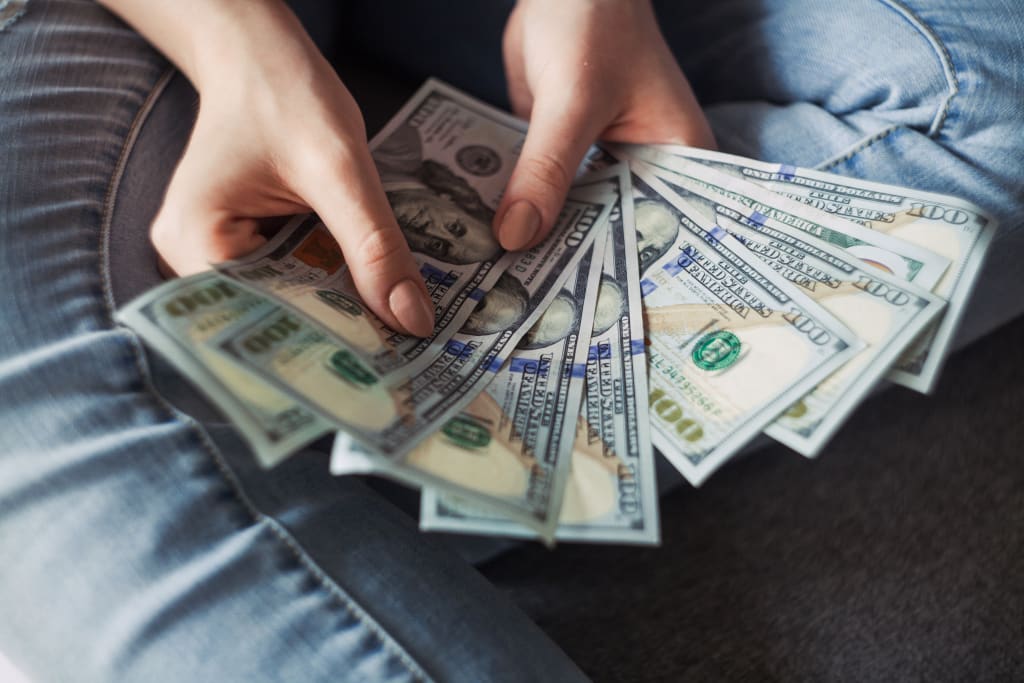 Photo by Alexander Mils from Pexels
When I scroll through my TikTok 'for you' feed, it is littered with creators claiming that they make thousands from various side hustles. I love side hustling and have tried all sorts in the past to make an extra few $$ on the side. So I decided to try a few of these side hustles that people on TikTok were recommending. Some I had tried before, some I already do and some were completely new to me.
Whilst some creators showed their alleged income, it is important to do your own research and always be sceptical as there are a lot of people on TikTok that make videos just to get views.
1 - Selling Digital Products on Etsy 
This is a popular one, with may creators claiming to make thousands of dollars from selling digital products on Etsy. The two main types of products that people were selling in their videos were e-books with PLR licences and digital templates.
A PLR licence, or private label rights licence is basically a digital product, like an e-book that you can buy and re-sell multiple times. There are several PLR sites where you can buy digital products and then re-sell them on sites like Etsy and eBay. However, there are a couple of things to be mindful of. There are three different types of licences, master resells rights, resell rights, and private label rights, and they all allow you different rights when selling the product.
Master resells rights — You can sell the product as many times as you like, and you can also sell the resell rights.
Resell rights — You can sell the product as many times as you like, but you can not sell the resell rights.
Private label rights — You can modify what you buy and sell it as your own. If you buy an e-book, you can change the cover, change some wording and claim that you are the author.
If you do not already have an Etsy shop, they are simple to set up. You pay £0.20 every item that you list an item, and you pay this regardless of if the item sells or not. I purchased an e-book for $4 and then uploaded it to my Etsy shop for £0.99. I saw someone else was selling the same book got £3, so I made sure that mine was cheaper. After a month, I had no sales, but I will leave the listing live until it expires.
I saw another video in which the creator claimed that she made thousands from selling digital templates on Etsy, that she created on Canva. I did not try this one for myself, but if you do want to give this a go, make sure you carefully read the 5 licencing agreements on Canva before re-selling anything that you have created on the site.
You can also sell digital pictures, photographs, digital art, e-books, social media templates, graphics, brochures, etc. If you are creative and have some free time then give it a go. This one was not for me, but I can see how it can work for others.
2 - Redbubble 
I saw a video, in which the creator claimed to have made $30,000 on Redbubble over 6 years. I have been selling print on demand via Redbubble for several years, I have 450 designs on the site and have made a total of £35 in my time on the site. Likewise, I am not saying that making that sort of money is not impossible. However, it takes a lot of work.
I am a photographer and so, If I take a creative image, I will put it up for sale on Redbubble. However, I have taken the time to take the photograph and edit it, which in itself can take some time. Photographs are not always the bestsellers on Redbubble, but if you are a graphic designer then this site may be a little more profitable for you.
The downside to Redbubble is that the site is oversaturated with a lot of similar items, and often it is hard to find what you need. Redbubble, unlike Etsy, is free to list, Redbubble's cut comes out of the sale price. You can also set your mark-up. Mine is set to 15%. Although I have not made a great deal of money on Redbubble, I enjoy selling my photographs there and will continue to do so in the future. 
3 - Merch by Amazon
I saw a lot of videos regarding how easy Amazon Merch was to make money from. Merch by Amazon is another print-on-demand service, like Redbubble. However, whilst anyone can create an account on Redbubble, you have to be approved by Amazon before you can list your products. The approval process can take from a few weeks to a few months.
Once your account is approved, and you have filled in your payment and tax information, then you need to upload your artwork. Like any other digital product, if you have a brand, or you are a designer then this will be much easier for you to make money.
Like Redbubble, it is free to list your design and Amazon print and ship the product for you. Amazon then takes a fixed commission on your product.
The downside to Merch by Amazon, like most other passive incomes that require you to create something, is that you need to be a little bit create to design the product in the first place. Unless you pay someone to design things on your behalf. Many designers use Photoshop or Illustrator which can be costly and if you have not used them before, they can be daunting until you learn the basics.
4 - Stock Photography
I only saw one video that recommended selling stock photograph as a passive income source. However, I have been selling stock photography for over ten years, and it is my favourite side hustle, even if it is not the most profitable.
There are pros and cons to stock photography. Years ago, you needed a fancy camera to be able to sell your work. However, you can now sell stock photographs from your phone via an app called Stockimo (owned by Alamy).
I sell my photographs on Shutterstock, Dreamstime, BigStock, iStock and Adobe Stock. I have used 123RF, Alamy and CanStock in the past, but I seldom upload to these sites any more. Different sites can be more profitable for different photographers, so it is about finding which site is best for you.
I have over 1300 images on Shutterstock and 1500 on Dreamstime. In total, I have earned $350 on Shutterstock and £175 on Dreamstime. A couple of years back, I occasionally got a $20 and even $50 commission on my images sold on Shutterstock. However, in 2020, Shutterstock changed how they pay contributors, which means that I now earn significantly less than I once did on the site. In May 2021, I sold 23 images, earning $4.70. In May 2018, I sold 10 images for which I received $9.51. Not masses of money, but the earnings have significantly decreased.
Whilst selling stock photography is passive income, it has nowhere near paid for my equipment. My DSLR cost £3000, just for the body, that is without the lenses. Then there is the time it takes to take the images, edit them, upload and keyword them. It can be a lot of work for a small amount of money. I sell stock because I enjoy it, not for the money.
If you are a graphic designer, you can also sell your images and illustrations on stock sites. This means that you do not have the initial outlay of buying a camera and all the gear.
If you want to try stock photography but do not have a DSLR, then try out the Stockimo app on your phone.
5- eBay 
I have been selling my unwanted clothing and household items for years. Indeed, if you have the time than eBay is a great way to reduce clutter and raise some extra money. The downside to eBay is that you are selling physical products, so the income is not passive. You also have to post items, deal with lost parcels and awkward buyers, and I have had every awkward buyer under the sun. 
If you are going to sell items on eBay, I recommend adding a disclaimer at the bottom of your listings. This has significantly reduced the number of people claiming an item was not described or that the postage was too high or that 0.99p used designer top had a small hole in the back that was not stated on the listing.
My disclaimer looks like this, so please feel free to copy and paste this or amend it as your own:
T&C's of sale - Please read before bidding
I try to describe items as accurate as possible, however sometimes i may miss something, i'm only human. If an item is listed as new with defects, it may have one of the following; irregular sizing, rips, tears or marks not mentioned in the description. Defective items are sold as imprefect. 
Please expect used items to have general wear unless stated otherwise.
I have a smoke free home, however, have cats so items may contain traces of cat hair.
The camera may make items look different colours to the naked eye. I try and describe the colour as accurate as possible.
International shipping is through eBay's GSP therefore they determine the price. I do not offer alternative shipping internationally. Any problems related to GSP have to be dealt with between eBay and buyer.
I post items within 5 working days of cleared payment as I cannot always make the post office straight away. If items have not arrived by the delivery timescale as indicated on the listing, please contact me.
If you require measurements taking please ask as i do not refund for non-fitting items.
Please note that I do not refund on excess postage paid. Postage cost includes packaging materials and ebay cut. I try and use recycled packaging materials where possible and I always obtain proof of postage.
6 - Write a Children's Book
I saw a few videos that claimed writing a children's book and publishing it via Amazon KDP (Kindle Direct Publishing) was easy passive income. However, in reality, it is not that simple. Firstly, you need to write the book, so you need to come up with a story, write it and illustrate. You can create books in Canva but like with creating digital products, be sure to read the 5 licencing agreements on Canva before you sell your book.
The great thing about KDP is that the author is able to self-publish their work without any cost. It does not have to be a book aimed at children either, you can write any sort of book that you choose, if you have the time that is.
Conclusion 
Many of the videos that I watched on TikTok claimed that passive income sources were easy and would generate hundreds and even thousands of dollars a month with little effort. In reality, you need to take these claims with a pinch of salt.
The easiest of these side hustles, with the least amount of effort, is selling digital products with PLR licences on Etsy. However, you have to buy the digital product in the first place, and you also have the Etsy listing fee, so this one requires some initial outlay with no guaranteed return.
I do not want to discourage anyone from trying things out and pursuing their dreams. However, having tried and done some side hustling, it can take years to build up your hustles and things are not as simple as these TickTockers are making out.
Not all side hustles will work for everyone, it will take a lot of trial and error to learn what works for you as an individual as we all have different skills and talents. Also, a lot of being successful is putting in time, effort, researching your market, finding a niche and building an audience and this does not happen overnight.
Happy hustling.