They're like rainbows, only better...
I want to transfer their joy into my front and back gardens. But alas, I am on a budget.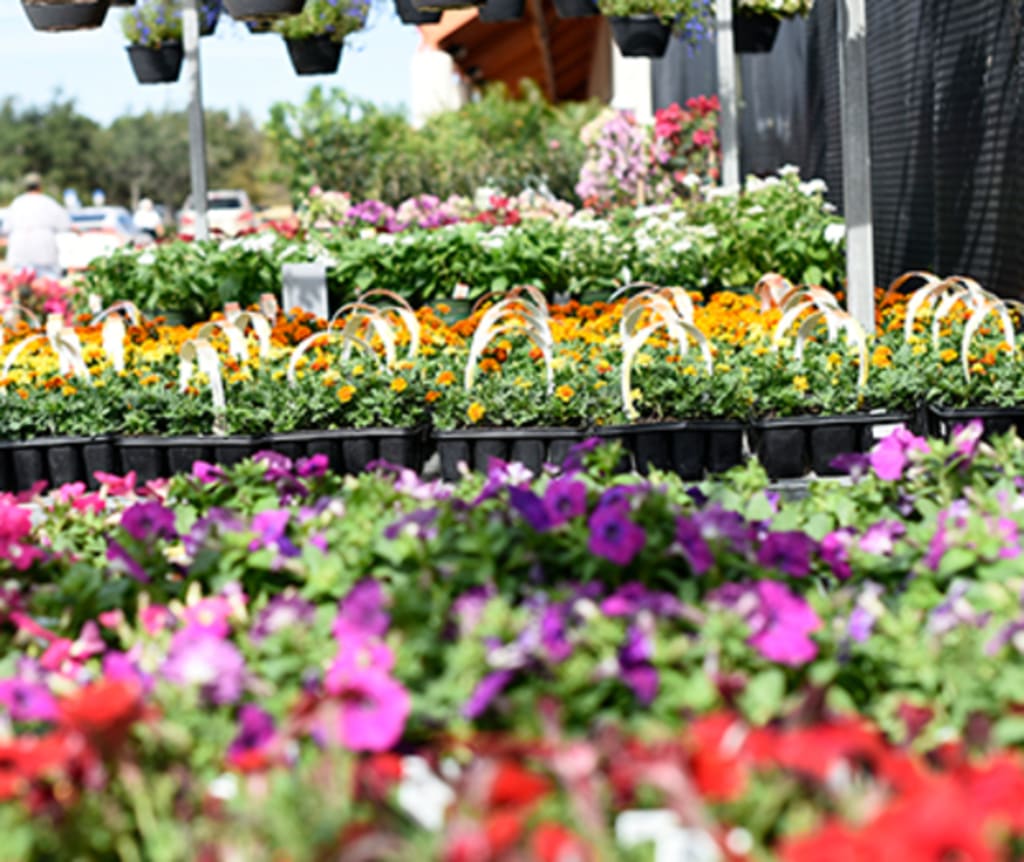 They're like rainbows, only better, because they can be touched! Layered all around are tall red gladiolus, miniature lavender lobelia, and pops of lemon-colored lilies in between. Giant hydrangea pom-poms burst from the emerald green of the boxwood. Countless others drape between with streaks of turquoise and burgundy, and ombre blends of yellows that fade into greens.
I want to take them all home with me and transfer the joy created by their vibrant colors into my front and back gardens. But alas, I am on a budget. No matter. The dozen or so I load into my hatchback this week will accentuate the ones purchased last week...and the week before, and the week before that.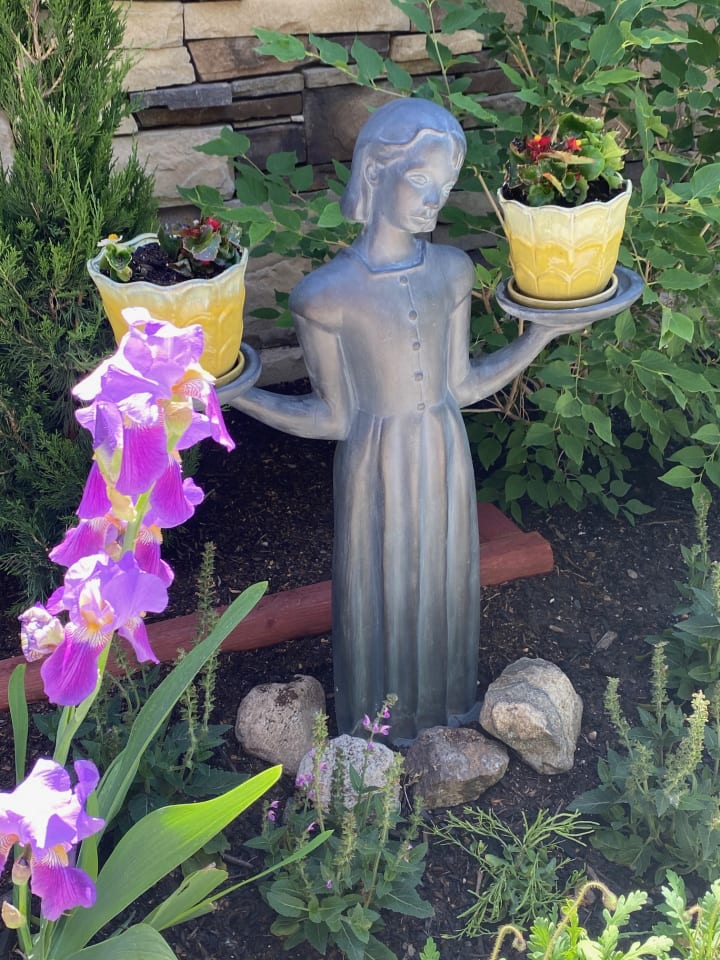 As I stand in the center of the yard considering the color combinations and balance between the tall ones and small ones, my hand opens and shuts the scissors that will soon prune the dried up leaves and petals that have passed their prime. Unknowingly, I move its blades slowly and methodically as my mind wanders from one area to the next. Finally, I move towards the roses. The sun creates an optical illusion that makes me think they are peach in the morning, but pink in the evening. One hand wanders between its petals in search of the old and weak. They are snipped with precision and speed. Then I move downward to the green of the leaves and stem. Ouch! Damned thorns. I should know better.
I go on like this from one plant to the next. The sun beats down on my sun-block coated skin and on my scalp, and I love it. A neighbor's dog yaps, bees hover randomly, and birds sing their songs irrespective of each other.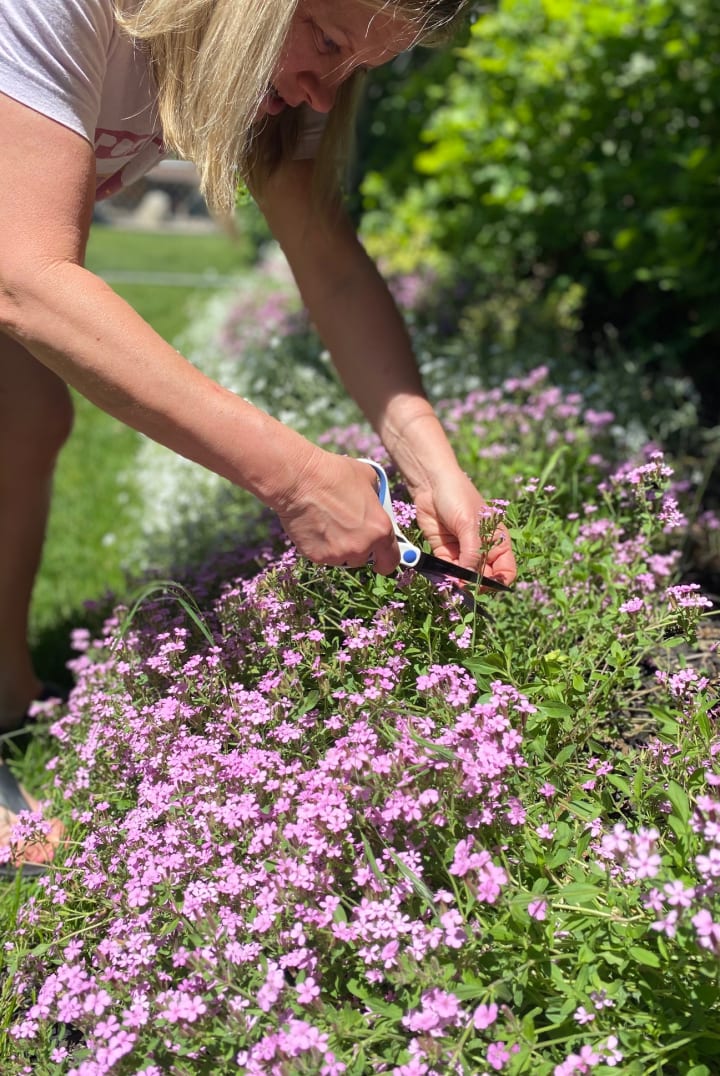 Why do I love gardening so much? Why do I crave that time more than anything else? It's likely because I moved from a place that lacked seasons and was always hot. Muggy, sweaty days and nights were miserable and were the only life I'd ever known. I grew up avoiding being outdoors and hating the subtropical climate. Then, in my 30s, I moved to the Rocky Mountains. Watching every leaf around me turn yellow, then orange, then brown, and then fall into dried piles was amazing to me. Soon there was snow. First flurries, then layers, and then mounds. It was so large and so white, but when I stepped outside, it was unexpectedly silent. The more these flakes of insulation accumulated, the quieter the world became. Yet the extreme dryness of the air kept them from sticking and kept the cold from cutting through me the way it had done on my few visits to northeastern states. This cold was so different as was the heat that would soon follow it in the spring. Unlike the swampy heat I was raised in, the dry air energizes me. After a long winter cooped up inside, standing next to fireplaces and tapping the up-arrow of a furnace, squatting in a circle of garden soil and digging into it has become a zen experience for me.
I have many art teacher friends who paint, do photography, create cakes and countless other works. To say I lack that talent is an understatement. But gardening...this I can do! I'm completely self-taught and have learned everything from mistakes, Google, and the guy at the garden store. Each spring I anxiously await to see what buds and sprouts will spring up to life. Which ones survived the brutal winter and which ones must be replaced? With an almost rhythmic motion I move and rearrange each section like a stage director moving actors from one scene to the next.
You're too close! You're not tall enough! I can't see you from that angle!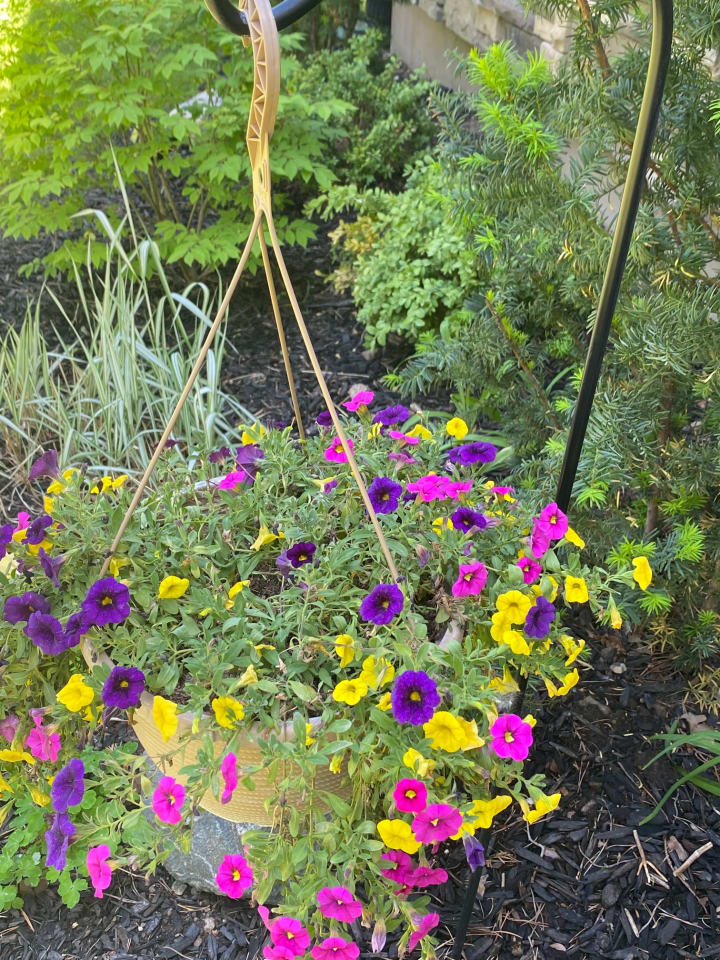 Then I make my trek to that shop where the rainbows are sold. I decide which pieces are needed to create my masterpiece. I sort and arrange them on top of the dirt first, and then bury them with anticipation.
While digging and dumping new soil from bags, I suddenly find myself sitting straight as an arrow on my portable gardening bench. I look around to see if I can find a mountain in the distance. I always do. I take a deep breath and remind myself to be in the moment. I notice the lack of people and man-made noises, and the abundance of trees and wind. I pick dirt from under my nails with a smile, and then grasp and tilt the Hydro Flask to drink.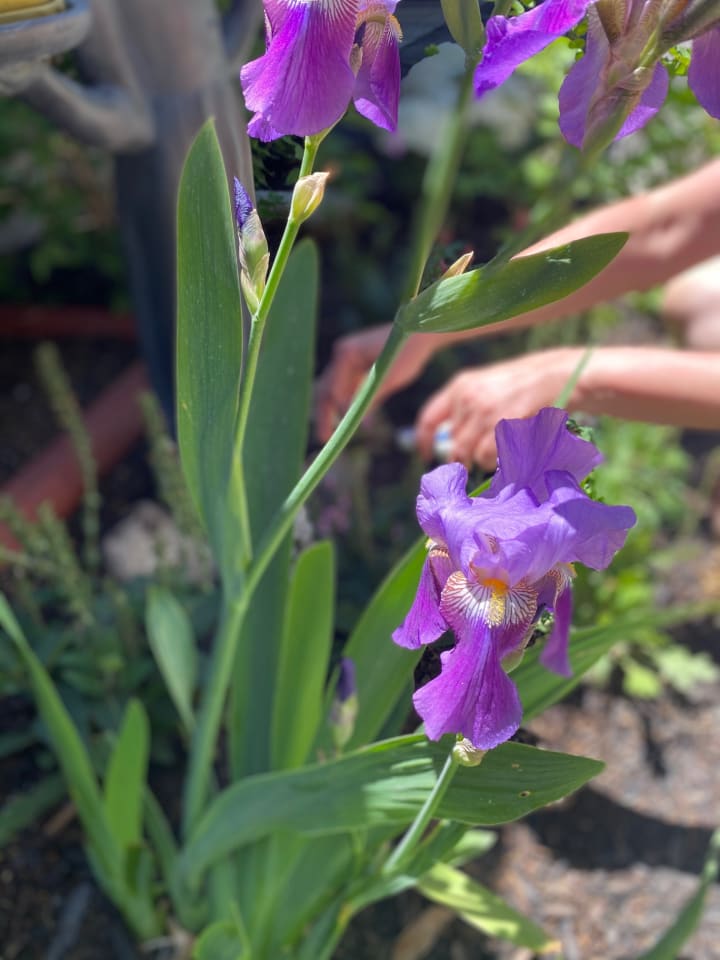 I love the paradox of gardening. You are creating a life that cannot speak, and yet they seem to communicate. What they say to me is different from what they'll say to you. Others will not hear them at all. I watch them grow in summer only to watch them die in autumn. Some come back to life in the spring; others do not.
All of this together brings me joy.
About the Creator
Teacher, mom, believer in peaceful politics! Please feel free to send [constructive] criticisms on any of my works. My genres are: dark fiction, spiritual fiction, & articles on everything from improving politics to gardening & food.
Reader insights
Be the first to share your insights about this piece.
Add your insights