The Way to Happy
Creating My own Happiness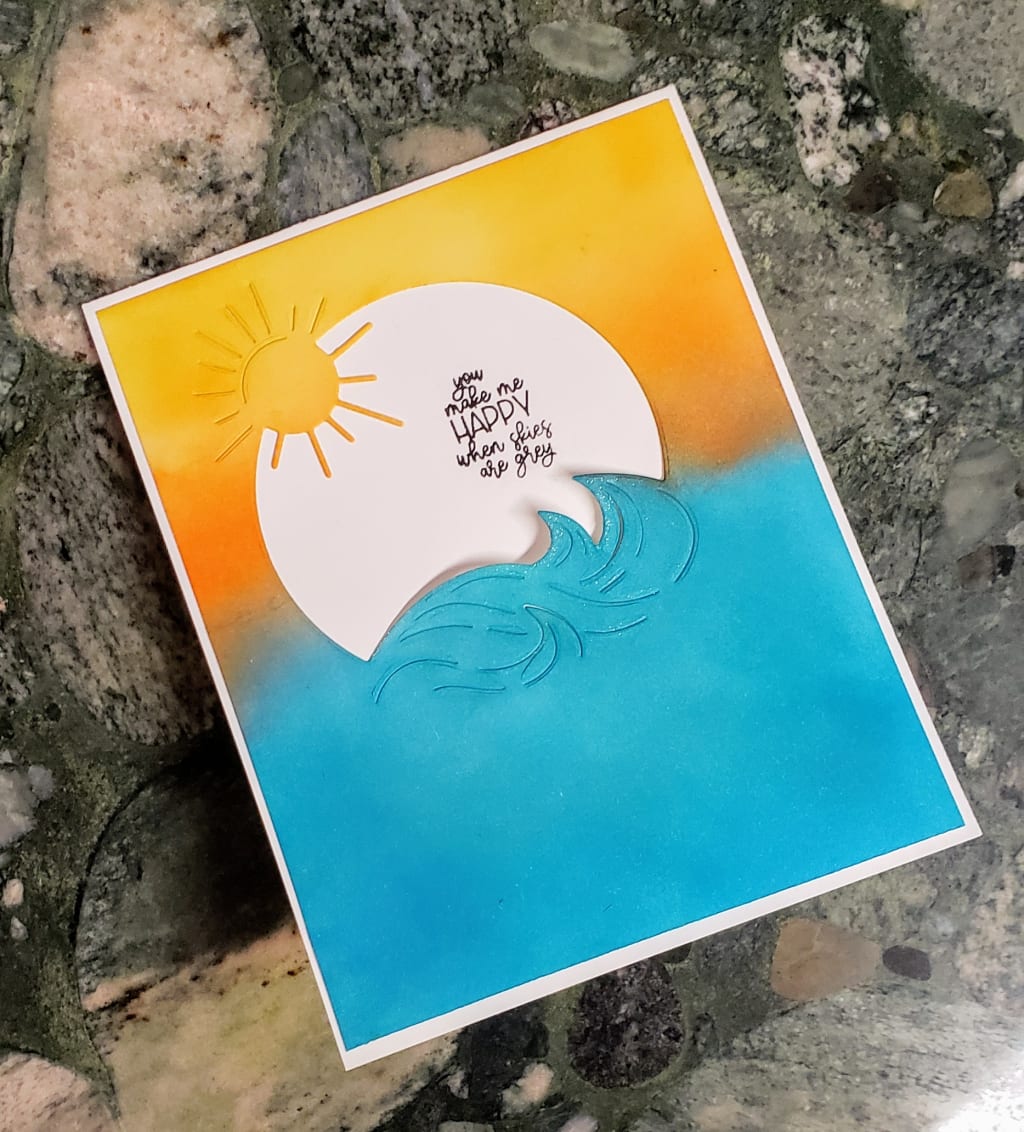 To create or craft your own happiness is something that comes from deep within. For me, it comes from a desire to connect, spread joy, and plant seeds of happiness. I have been a card maker for more than 15 years. In this time, I've learned so much about community, the needs of my friends and family, and myself.
The fundamental purpose of making cards is to give them away. The happiness that my cards have brought to others is – at its core – something that brings me my own happiness. There is an unspeakable language communicated in spending my money on supplies (a hobby of its own, I'd say), taking time to craft a card with a specific recipient in mind, and making them feel special, wanted, and valued. That, to me, is happiness that I can see and hold.
My own happiness, however, is a tenuous thing. I've struggled against mental illness my entire adult life, often feeling like I was on the losing end of an endless invisible plague. My one constant: my craft. Even when I wasn't well enough to leave bed, the way to happiness waited for me. That I would create again was a promise, tucked away in my dining room, and it provided me with both the memory and hope of happiness.
Within all of this personal turbulence, my desire to reach out with my craft was persistent. Five years ago, I was hired at a non-profit mental health and addiction recovery agency. My job was to help others connect with the community, provide links to services, and to aid in their own recovery. From my own experiences, I knew the healing that crafting can bring. During my second year, I created a dedicated arts and crafts room inside the agency, built with donations from my crafting community. Together, my clients and I created cards, painted rocks, learned to crochet, and made jewelry. The healing of concentrating on the present while creating something with your own hands is immeasurable. To be armed with the knowledge that you can; you can create something beautiful, you can be creative, and that you…can, is a powerful tool for recovery. That, to me, is happiness – both mine and theirs.
I have found a great deal of comfort and support in the many crafting communities I'm a part of. I've found dear friends, and commiserating over our common love of creating to give, we create cards, scrapbooks to pass through generations, and journals to fill with our own thoughts, struggles, and wins; we do our work with love and creativity. These friends are not only creators of happiness, but recipients of one another's expressions of love and generosity.
I cannot send a card to anyone without understanding their needs. Of course, there are the human needs to communicate and connect, but knowing that my friend is struggling and could use a smile, knowing that my sister's birthday should be special, or providing comfort to an aunt who has experienced loss, is a driver in both my willingness and need to express my love for them in a meaningful and personal way.
Creating a personal space to create has been a labor of love for me, and it has become another source of happiness. This is my sacred space to create beautiful things, and it's full of tools I chose carefully and with intention. The act of creating is a beautiful thing. Absorbing myself for hours in fulfilling the vision I have for these small pieces of art is nothing short of joyful. The very act of sitting at my desk, surrounded by the materials I need, poised and ready to set the noise of life aside is an act of self-empowerment and self-care. It is a profound source of happiness to see my work take form and evolve.
Happiness is subjective. Each of us experience it in our own ways, and we achieve it with our own knowledge of our place in our world. My place, my talent, my craft, my happiness comes from my drive to not keep these things to myself. As crafters, we share. We share when we feel good, we share when we feel down, we share when we don't agree, and we share when things feel their bleakest. My craft, love, and happiness are inseparable. The most important lesson in all of this: I create my own happiness.