The Very Best Workout Shoes For Men & Women.
The experts I spoke to recommended these pairs as the best all-around workout shoes.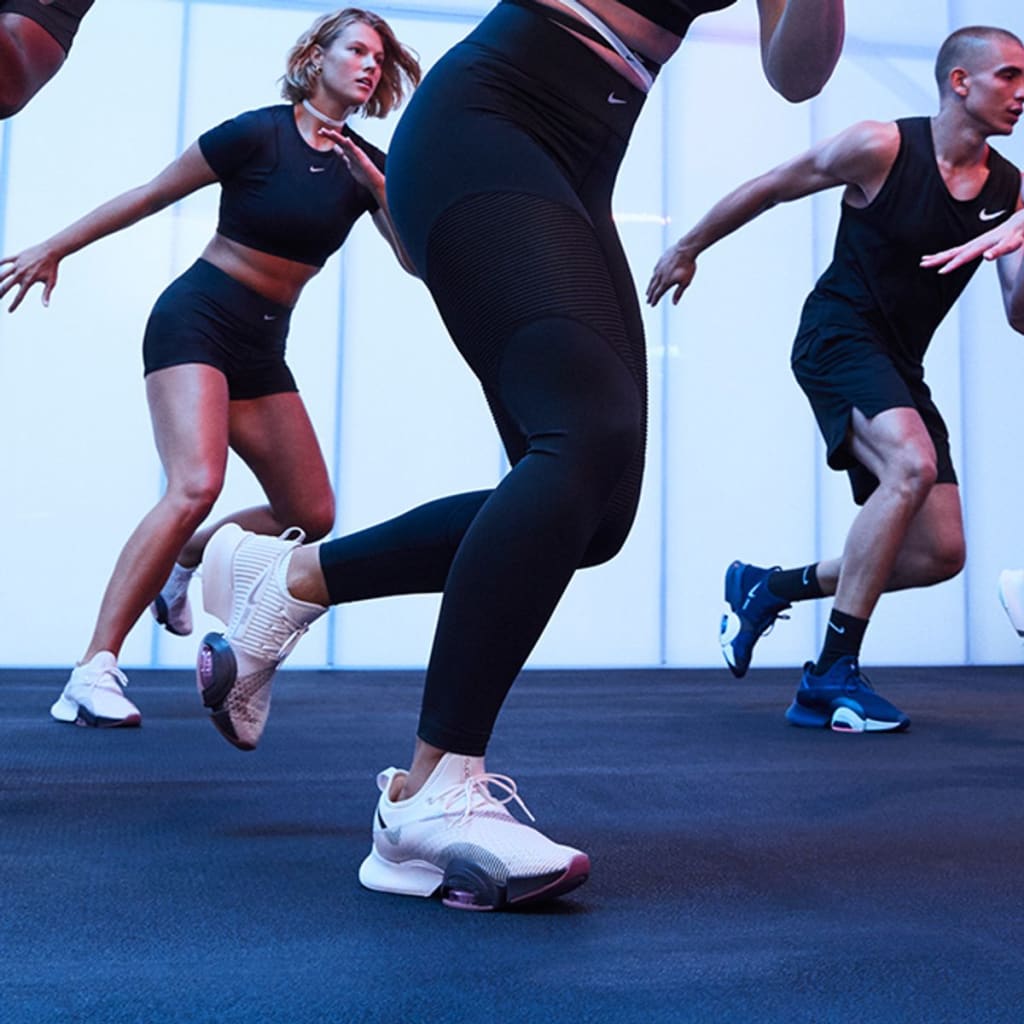 Finding a good, do-it-all sneaker is a harder task than it seems. That's because most workout shoes are built for specific activities, like running, weight lifting, basketball, tennis, or hiking, among others. And though wearing your running shoes for all your workouts might not be the worst crime in the world, it should be avoided as much as possible, because the vast majority of running shoes are built specifically for forward movement, and their constructions don't provide the stability needed for lateral movement that a basketball or tennis shoe would lend. (It's the perfect recipe for a rolled ankle.
A good workout shoe will give that extra support, not just propel you forward, and even though there are differences between the type of support you need depending on the activity you're doing most often, most of these sports share similar movements that require the same thing: a stable, comfortable base for a variety of forward and lateral movements. That's why a lot of the shoes in this list are cross-trainers; they lend stability and are made to move, push, jump, and jog in.
The experts I spoke to recommended these pairs as the best all-around workout shoes. We've noted where each of these shoes excel most: be it for jogging with a mix of HIIT, lots of heavy weight training, or hitting the trails for a sweaty, uphill hike. And when it comes to style, don't fret — a few of the pairs we featured below can double as the pair you lift in but also wear to a weekday-night bar hang with friends. (And if you're looking for something to run in, check out our guide to the best running shoes.)
While some folks opt to wear running shoes for lifting and cardio, most of the fitness pros we spoke to say that it's worth investing in a pair of shoes better suited for all-purpose workouts — like Nike's Metcon. Sean Sewell, a personal trainer who runs the gear-review site Engearment, says that while running shoes have "a bit of a lift in the heel that helps for comfort when running," that can make it hard to achieve "proper alignment" in other kinds of workouts. Todd Brandon-Morris, the founder of inclusive fitness brand Out-Fit, says the Metcon should be "the standard for any versatile athlete" because they're "firm enough for heavy weight lifting" but also great for jumping and running. Sewell tells us they're also very popular in the CrossFit community: "They are lightly cushioned and have little to no heel lift, making them good for proper biomechanics when performing deadlifts, squats, swings, and snatches," he says, adding that they have "good tactile feedback too."
"For general gym-training purposes, I've been wearing Nike Metcons for years," says Dr. Clinton Lee, a Brooklyn-based certified strength and conditioning specialist. "They're lightweight, and many models have a relatively flat sole (which I prefer for lower-body training), and they look good. There are options to get previous editions from outlet stores for inexpensive prices, and Nike always has new iterations popping up in case you want something more recent."
Altra shoes are known for two main features: a generously wide toe box that allows you splay out your feet, and a zero-drop heel, which means your heel and toe are level within the shoe. Many customers love the brand for this one-two punch of comfort, especially for hiking and outdoor pursuits. But it turns out that this design is perfect for the weight room, too.
When it comes to lifting weights, Dugger and many other experts say you want a shoe with as much of a barefoot feel as possible. This allows you to fully plant your feet into the ground, which helps avoid injuries. "Research has shown that a lot of shoes with very thick soles can weaken your ankles over time," explains Dugger, who adds that "injuries like ankle sprains and knee problems all start with your feet and footwear." The Solstice XT 2's lightly cushioned sole and zero drop are just what you need for that barefoot feel. I've been testing the Solstice for a full year now (I even reviewed it previously as an editor at Outside), and its wide and flat base gives me — and my legs — confidence during heavy lifts. It also has a rubbery reinforcement cage around the forefoot and laces, which keeps my feet even more locked in.
Thanks. 
Reader insights
Be the first to share your insights about this piece.
Add your insights