The Problem With Problems
As in, do I even have any?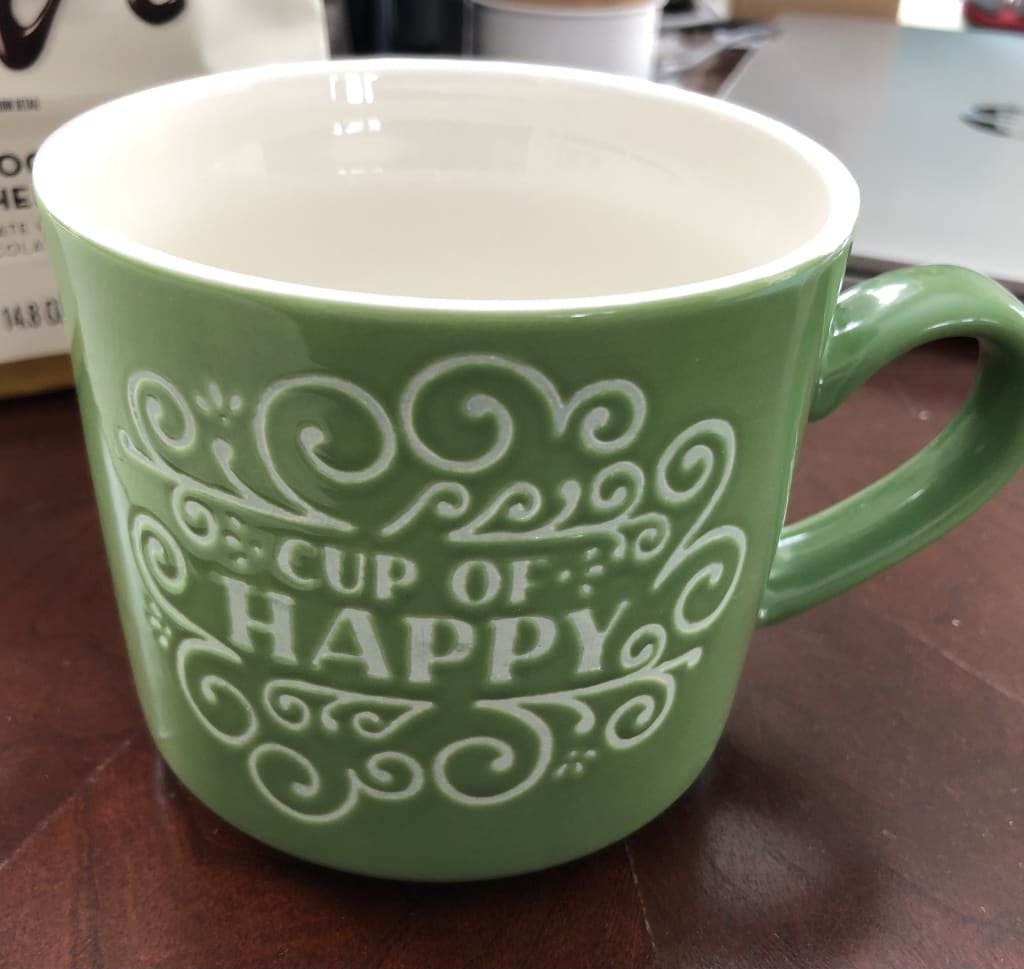 My actual coffee cup
These words actually came out of my mouth on a recent morning: "Dammit! We're still out of oat milk! How am I going to have my coffee?"
And I stormed out of the kitchen and went back to bed. (In my defense I had been up since 5:30am and couldn't get back to sleep, so I was cranky...) Sitting there on top of my down comforter, I couldn't shake my annoyance at how badly things were going for me. I was having a bad case of FOMO, in the context of watching everyone I followed on social media experiencing success with their work. And I wasn't. I mean, how many times can someone else get published in Chicken Soup for the Soul and I don't get so much as a "No, thanks"? (The answer is 24, by the way.) I read about one lucky lady's accidental publishing contract, saw another one's video of her giddily receiving the shipment of second-book galleys and "Liked" another post of the happy announcement of winning yet another contest.
Meh.
I was still feeling sorry for myself when Angelo ventured up about 20 minutes later--singing--(which he never does, obviously trying to throw me off ) and tried to talk me down from my little first world tantrum.
"Maybe you should stay off of Facebook for a while..." he started. Bad opening...he knows I can't do that and still try to promote my aging first book. But he rallied: "You've only been back at this for two months. You're teaching again, you're getting work done on your book and you're seeing Luca again. So . . . maybe the problem is there is no problem?"
What a stupid thing to say. But as much as I wanted to pull the covers over my head, I had to admit he had a point. Not aloud, of course. So, I threw back the covers and headed back downstairs. I made a cup of coffee with--ick--skim milk and considered Angelo's proposition that maybe I didn't really have any problems. And I decided it simply wasn't true. I did have some, but not the kind that should send me back to bed over absent oat milk.
For many years, family responsibilities--to my parents mostly--have guided my decisions about work and career. Their final years were fraught with the kind of tribulations that accompany most into old age--illness, dementia and loss. Everything I thought I'd be doing had been put on hold and fortunately, I was able to do so. Now, after my own tribulations, I can try and restart my original plan.
But it's hard. I'm older and many of the options I once had don't exist anymore. Are there other ones? Probably and when I'm not whining about oat milk, I can just make them out. I am mostly lucky. During the years of caregiving and a pandemic, we were all lucky: Dad didn't have to go into a nursing home, we stayed safe from the virus, Angelo kept the lights on. We didn't have to go anywhere, and we had the means to keep ourselves safe.
Others were out there working at hospitals, living in cities, having to work, juggling childcare and remote schooling, living with people who didn't believe in the virus and wouldn't take any precautions.
Was I really so quick to dismiss Angelo's assessment because I want problems? I actually believe that all people, everywhere have problems. We humans run into insurmountable odds all the time and just because I might not find your odds so insurmountable and in fact suggest to you that they actually are surmountable, well that's just not my business.
But if I had to draw a line of demarcation between insurmountable and surmountable, I'd have to say that where I am right now is surmountable. There is nothing happening to me that is threatening my health, my livelihood, or the safety of my loved ones.
Oh, god. I really don't have any problems; none that I don't have the resources to handle--for the most part. Am I tired? Hell yes. I'm exhausted and maybe my only problem is that I need a good long nap and I just don't have the time to do that right now.
Or do I?
happiness
About the author
Cindy Eastman is a teacher, speaker & award-winning author of Flip-Flops After 50. Some stuff is funny, some is thoughtful.
Follow me on Facebook and read more here & let me know what you think.
I look forward to hearing from you.
Reader insights
Be the first to share your insights about this piece.
Add your insights