The Other Side of Happy
Variations and Contrast on the Path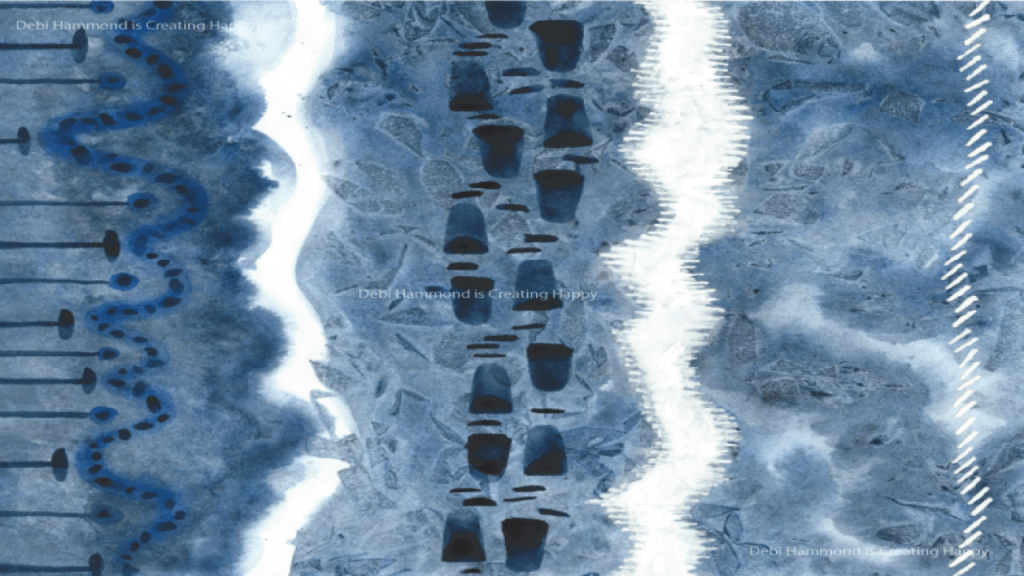 I didn't realize I was creating such a path for growth and understanding when I decided to name my business Creating Happy. I really try to live my life intentionally, and since Creating Happy was what I wanted to do for me and for you, there was just no other name that fit.
If you've seen my other bits on Vocal, you will know that I am an artist. More than an artist, a creator, and that took me a long time to own. The voice in my head that got stuck there when I was little scolded, "Who do you think you are?" and I heard that clipped voice well into my 40s. I love to draw and paint, imagine and write, design products and create so much! I like paper and colorful paint and pencils, fabric, wood, metal and clay. Someone once said to me, when I was explaining how I love to make things, "You're tetched aren't you?" (tetched in the head is an old-timey way of saying a little bit crazy), and I proudly said, "Yes, I believe I am!"
So, back to Creating Happy. I would be happily creating and along would come contrast, or the other side of happy, and it would stop me in my tracks. I didn't consider that, although I was harnessing the power of positive thought, there would still be days that I didn't feel all that happy. What? But the name of my business is Creating Happy! I would misplace my happy and feel like I had to wait to find it again to authentically present my business. That practice for Creating Happy all the time lead me into a quagmirey-quandry of quicksand! I would get stuck in the why of it all and lose my traction.
As I believe that everything happens for a reason, I knew there were lessons bubbling and brewing that would lift me out of my own way. And in my energetic style, I would want to realize it and get on with it. After all, I had things to do, soooooo many things to make and create! I would remember to breathe, think about the ebbs and flows of life, the contrast and then things would start to get back on track.
I have been walking in circles for a while, wanting to realize the valuable lessons I come across in my life and move on to new uncharted territory on this journey. But impatience and worry and fear and all things negative had a way of keeping me where I was, sinking deeper into that self-created quicksand that was actually not that quick.
I have learned that contrast comes along to shore up my strength and challenge the positive practices I have come to know. Contrast makes me practice! As I play and practice through my life and continue Creating Happy, I am learning that doing what is in my heart from a place of joy without expectation has helped me jump gracefully over the quicksand of self-doubt.
I still lose my footing from time to time, but it's not taking nearly as long to get back on track. I catch myself quicker, before I stumble too far off the path I am creating. I am not the most patient of creators, but I truly love learning and improving, and I need to remember to chill out a bit more when there are a lot of traps on my path. I think we are all here to be true to ourselves and offer our uniqueness to the mix.
Thank you for joining me on this enlightening path to Creating Happy. If you have "Injoyed" my musings, I would really appreciate any amount of support you can offer. I would like to realize my dream of creating full-time! Create a beautiful day!