The Fighter
When I was a kiddo, I enjoyed playing war outside in our five-acre land just outside of town.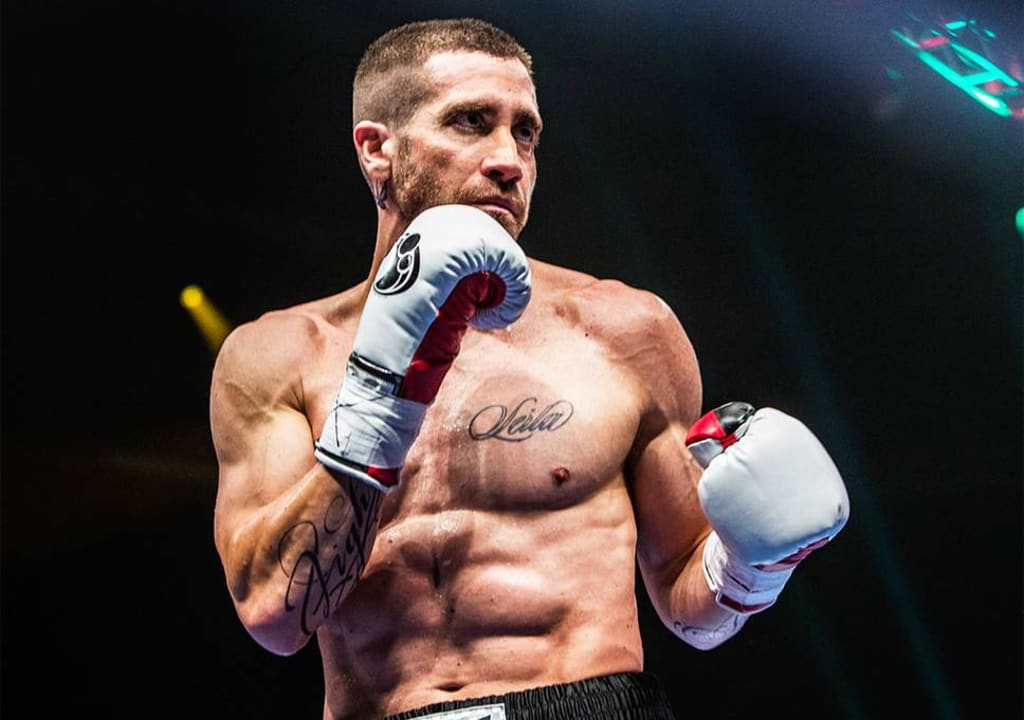 Billy Hope (Jake Gyllenhaal) in "Southpaw"
When I was a kiddo, I enjoyed playing war outside in our five-acre land just outside of town. I imagined I was there at the beaches of Juno beach with my brave fellow Canadian soldiers fighting against the Nazis to stop the evil that was going on. Then I started to imagine myself fighting against the Taliban as a Canadian Special Forces soldier working with the allied forces. As I got older my fascination with fighting grew and I started watching military movies like, We Were Soldiers and Black Hawk Down with my Father and play video games like, Call of Duty, Halo, and Gears of War. I even wanted to join the military and fight for my country and family; to be that man that would go fight for those who couldn't, and even for those who didn't/don't think "violence is the answer." I don't either, but it is necessary to defeat the very evil that could spread across the world. Standing and fighting for something is better than not and falling on your knees.
I have now realized that I only like the idea of fighting. Now, I don't necessarily want to be in the military, but I want to be the fighter that stands for something no matter the cost and leave the real fighting to the real soldiers who fight for us. It could also be just my personality that I am more of a soft-spoken and timid kind of guy, but something in me— something has been telling me to keep fighting that temptation— that thought to keep fighting through whatever situation you're in. It's not going to be one battle and then it's gone forever. The war still wages on! It won't be easy, as fighting takes perseverance. As the great Rocky Balboa once said, "But it ain't about how hard ya hit. It's about how hard you can get hit and keep moving forward." There have been so many times where my head gave up or thought I could get through whatever it was I was going through but I did not believe it with my heart that I could fight it. I believe if you believe it in your heart that you can fight through the hard times in life then the head will follow and with the mindset and heart in the right place, you could be unstoppable.
So, what I have decided to do and have been thinking about it for a while now is to get into boxing or some martial art. I will learn how to fight physically, mentally, and spiritually. My morals, my philosophy will be renewed, and I will hopefully feel like myself. I have watched movies, YouTube videos on boxers and their stories of fighting against the odds, fighting for family, fighting with everything they've got always gets me, to be honest, a little teary eyed. Boxers like Manny Pacquiao, the Filipino boxer, and Billy Hope from the movie Southpaw inspires me to want to be like them; to fight for what they believe in even when it gets hard. If you haven't seen Southpaw, I'd say still watch it and it's a must, but Billy Hope (Jake Gyllenhaal) loses his family, house, and fame, after one night out and must start at the bottom and fight for what he lost. Manny Pacquiao, a Senator of the Philippines, boxer and former member of the Philippine Basketball Association is one of the best boxers out there. With his faith being evident in what he says, he inspires me to be confident in my spirituality and fight for what is right even when the world says otherwise.