The Art Of Practicing Self-Control
"If what I'm doing doesn't add to my personal growth and well-being, I'm subtracting it from my life"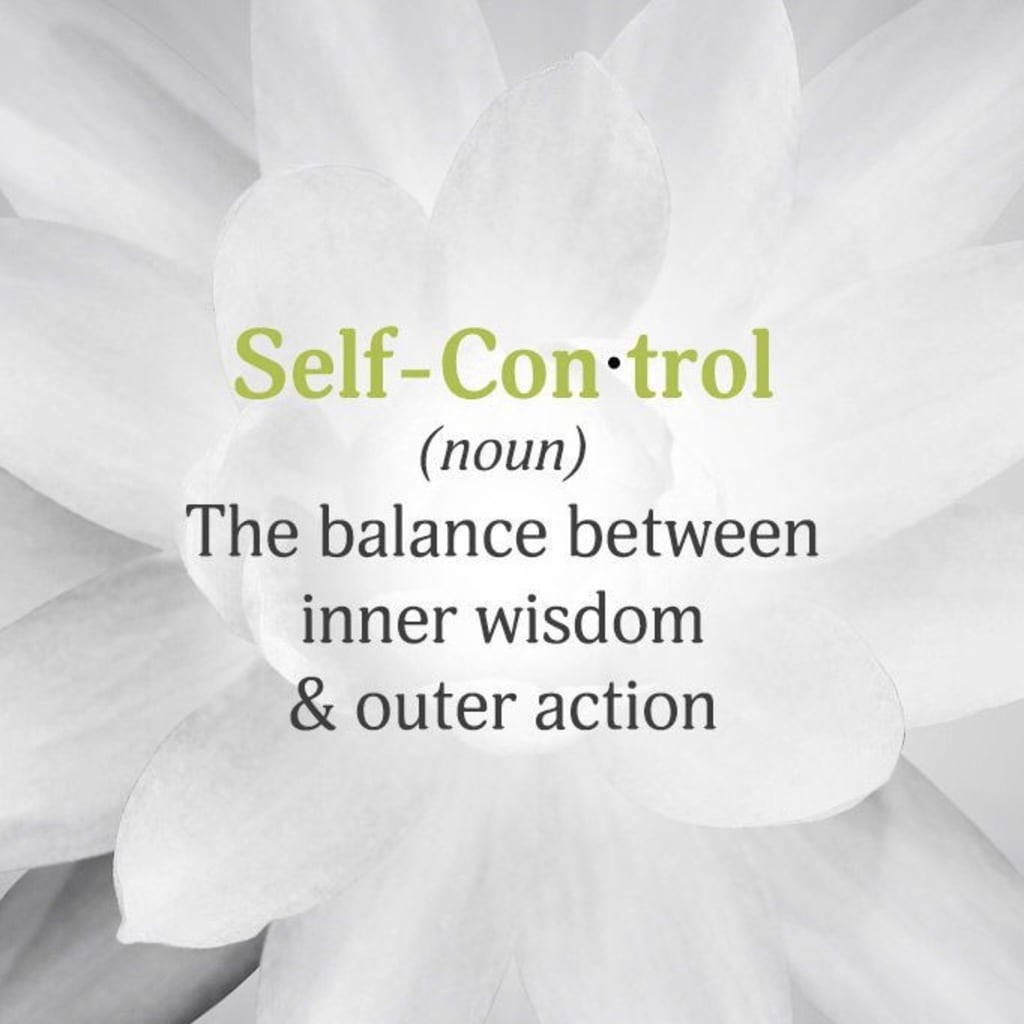 Self-control is something I've been practicing for a while now and I can confidently say I'm close to mastering it. I've practiced self-control in numerous ways for different reasons. To put an end to bad habits, to focus on my spiritual life, to reach fitness goals or even just to test my ability to commit.
When I'm talking about self-control, I'm talking about controlling your thoughts as well as your actions. While being on the journey of self-discovery, I've realised that self-control needs to begin with you learning how to control your thoughts because thoughts will always come before actions. Sometimes we may not think about things long enough before taking action and that's why we believe that we can act without thinking. As human beings, we often forget that we aren't always conscious of all our thoughts. I'm sure if we were, we wouldn't be able to focus on anything. I believe that our subconscious minds hold the real power when it comes to the way we navigate through life. It can be difficult tapping into your subconscious mind when you feel as if life is going too fast. People think that they have no time to slow down and practice mindfulness when really they do! I'm sure using 5-10 minutes a day to do something that allows you to connect with yourself won't interfere with everything else you've got going on. If we're being honest, for most people, majority of their time is spent on social media doing a whole load of nothing. I personally like to use social media to network and promote rather than to see what everyone else is doing and I feel like many people scroll on social media apps endlessly because they're too engaged with other people's lives. I have definitely learned self-control in regards to my use of social media. This has helped me focus more on myself as I've allowed myself to have more time to work towards my goals and most importantly, focus on my physical and mental health.
As I'm writing this, I'm trying to think of a time when self-control was really difficult for me and I honestly can't think of many occasions. I know there must be so when I remember, I'll make sure to give you guys a story time. Controlling myself when it comes to the actions I take isn't that hard for me because I always tell myself to think about the future and how me not listening to the little devil on my shoulder will be rewarding in the long run. This paired with the dissatisfied feeling I get every time I give into temptation motivates me to commit to the boundaries I set myself. When it comes to self-control it's important for me to have meaningful reasons for controlling my thoughts and actions otherwise, I feel as if I'm depriving myself from doing what I naturally want to do. My rule is: "If what I'm doing doesn't add to my personal growth and well-being, I'm subtracting it from my life". A mantra! Now that I've recited my rule, I can think of a time when I wasn't in control of myself.
Over a year ago, I found myself not enjoying sex as much as I used to. I'd often feel like something was being taken away from me (deep, I know) after every sexual encounter. I don't know if it was anything to do with the person I was having sex with but I do know that it was partly, if not mostly, about my relationship with sex and my body. It was becoming difficult for me to decipher whether I was having regular casual sex because I genuinely enjoyed it or I was having regular casual sex because I was using it as a coping mechanism in regards to coming to terms with my unpleasant sexual history. Even though I was aware of how I felt about having casual sex, I continued to do so instead of controlling my actions. This could have been a lot easier if I had allowed myself to tap into my feelings and subconscious thoughts about sex and my disconnection with my body. Fortunately, after committing to regular meditation and journaling, I decided to stop having sex so I could connect with my mind and body on a deeper level. During the 8 months of abstinence I practiced, a lot of great things happened because - with the clearer head-space I had, I was able to learn a lot about myself which helped me to attract great things.
There are many stories I could share to testify to my ability to practice real self-control but I think I've made my point. Through self-control, we learn that our potential is much more than we tell ourselves. We end up doing things we always we wanted to do and even things we never imagined we could do. Rewards don't always have to come after a period of practicing self-control but it does make it feel worthwhile. I challenge everyone who reads this to introduce a form of self-control in your life for the next 30 days to see how your life can change for the better!