Swifter Sweep for the Soul
How Prioritization and Mindfulness Increases Self-Confidence and Declutters the Messiness of Life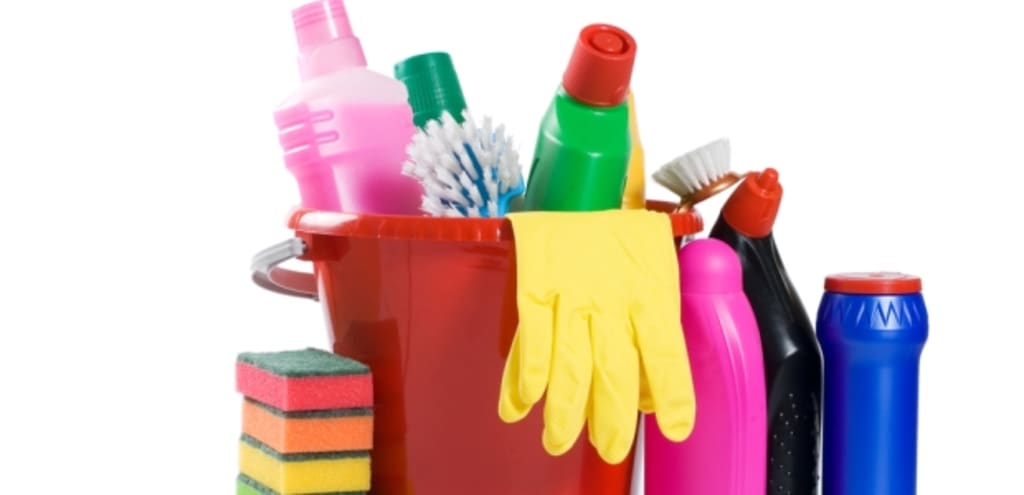 Look at that shine!
"How you keep your house is a direct reflection of where you're at mentally, emotionally, and spiritually."
My mother's haunting words resonate as I scan the cluttered kitchen countertops and piles of (clean) laundry strewn over a chair. Downsizing from a three-bedroom house to a one-bedroom apartment sure puts things in perspective. Do I really need all this?
Fortunately, minimalism is trending!
Now, I'm not a messy person. I don't have gross, sticky dishes in the sink or trash spilling over the bin. I'm simply guilty of creating stacks of organized chaos: compartmentalized sections of tasks and objects to be dealt with "when I have more time," "when I have more room," or "when I feel like it." But as I examine the room again, I realize I'm only fooling myself with such excuses. "It's too much," I determine. "Some of this shit's got to go."
It doesn't take long to get things back to neutral. There's a kind of freedom in tossing the things that don't "spark joy" (Thanks, Marie Kondo!) and reorganizing others. I consider that cleaning would be a much simpler process if I didn't let things get messy in the first place.
What a novel concept, am I right?
Considering my mother's wise words once more, I wonder what the state of my home has been secretly communicating. You know, I can dust cabinets and label drawers all day long, but none of that will make any difference if I don't roll up my sleeves to deep clean the proverbial nooks and crannies within myself every once in a while.
There's an entire bookshelf full of solutions for such practices in my living room; the literary equivalents to Pledge for Purpose, Windex for Wisdom, Clorox for Clarity, and Lysol for Life.
I've done the research. So, why aren't I spotless?
They say it can take anywhere from eighteen to sixty-six days to make a behavior automatic. But, healthy habits are more than a New Year's Resolution and they're more than something you read; they're the choices that shape one's lifestyle that must be applied regularly to prove effective.
In addition to ridding myself of the things that no longer serve me materialistically, changing behaviors is the next step.
Here's some of my DIY soul-cleansing life hacks:
1. Going to bed earlier.
I've always considered myself a Night-Owl. I mean, my best projects were written burning the midnight oil.
"It's quiet and still," I tell myself. "There are more opportunities to think clearly."
Do you know what also helps you think clearly? Getting enough sleep!
It's taken some reconditioning, to be sure, but when I feel tired, I listen to my body and prepare for bed. This means turning off technology, planning for the following day, and allowing myself to fall asleep the healthy way because I am deserving of rest.
And so are you.
2. Getting up at 5:00 AM.
This is where I may lose some of you, haha. It's not always an immediate start--sometimes a few hits of "Snooze" are needed. But, I'm usually on the treadmill by 5:30. Before you roll your eyes, you should know that I'm not fast and my stamina is, at best, moderate. There's been plenty of mornings where I'm huffing-and-puffing, mentally swearing at myself.
Why are you doing this?
It's not for an upcoming race.
It's not for a bikini body.
No, it's because you love it, Laura.
I used to run every day. That was my time to escape into playlists that only music junkies like me could appreciate and leave any physical frustrations I might have on the treadmill. These recent morning escapes have introduced me to one of my newfound favorite things: the surrounding windows of the gym in my apartment complex. The floor-to-ceiling glass leaves this clear view of the horizon, which, at sunrise, feels like a wink from the universe. Not only that, but my Apple Watch gives me kudos for completing the run!
Because I chose to go to bed a few hours earlier, I'm able to start each day with a wink and a smile. If my weight or overall athletic performance improves due to this, I'll take it as a bonus. I've decided to run with gratitude because I have a body that's hard-working and able. I run because I am deserving of mornings welcomed by warmth and wonder.
And so are you.
3. Daily Affirmations
I never really took "The Law of Attraction" seriously until I started incorporating mantras of empowerment into my daily routine. This differs from prayer because I'm uplifting myself--which I seldom ever did before. This isn't arrogance; it's confidence. It felt silly at first, but now it's actually something that I look forward to each day.
Studies have shown that changing your way of thinking can completely change your life. We are what we think and what we think we become. That's not to say that everything is daisies and sunshine; this pseudoscience is merely a way of opening myself up to the possibilities of previously undreamed happiness and fulfillment.
By focusing my attention on positivity (especially when I'm well-rested and feeling a rush of endorphins), I'm able to recognize negative emotions for what they are when they undoubtedly appear like a stubborn surface stain. It's a pre-treatment, if you will. This helps me to scrub down said emotions healthily and more efficiently. I do this because I deserve to speak to myself from a place of hope and love.
And so do you.
There are other "Magic Erasers" in my cleaning kit: daily Spanish lessons (bilinguality is a personal goal), regular therapy sessions, reading more, etc. Believe it or not, all this maintenance does transfer over onto the state of my "good housekeeping".
I'm sure Mom would be proud of me, but honestly, I'm proud of me!
Perhaps you already have similar practices in place. That's awesome! The important thing is to find what works for you so that "Spring Cleaning" is not only applied seasonally but all year round--because we deserve it!
goals
About the author
Teacher. Performer. INFJ. Disney enthusiast. Texan.
www.LauraMerchantWrites.com
Instagram: @LMerchant84
Reader insights
Be the first to share your insights about this piece.
Add your insights