Stephen S Miller
NYC Actor Making London Cabaret Debut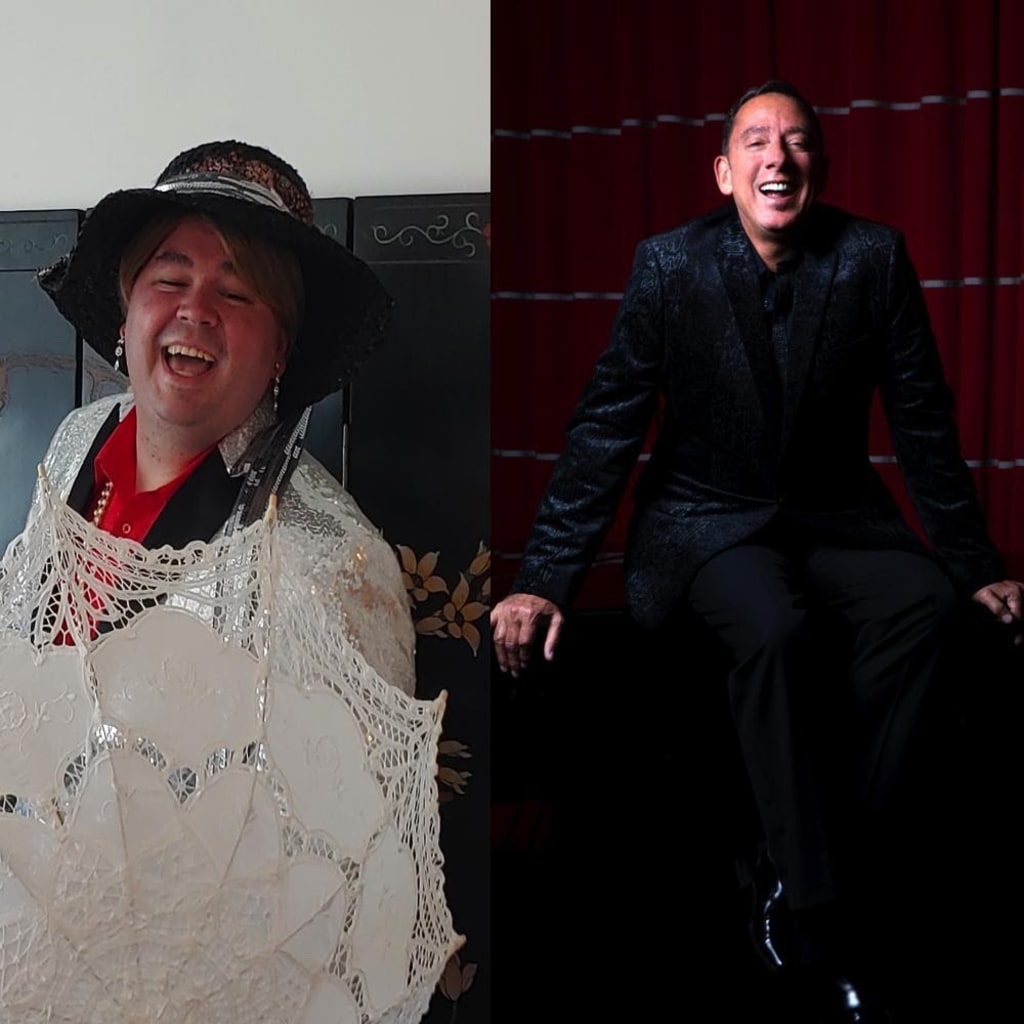 New York City-based actor and cabaret star Stephen S. Miller
New York City-based actor and cabaret star Stephen S. Miller, the host of the internet TV show "The Mama Rose Show," will be making his London cabaret debut via London-based Harold Sanditen's Open Mic Zoom on Thursday, July 30, titled "A Midsummer Night's Stream," which is the last show of the summer. Watch the livestream that evening at 2:10pm New York City time. 7:10 p.m. London time on Youtube at https://www.youtube.com/user/HaroldSanditen/live and on Facebook at https://www.facebook.com/haroldsanditen. Harold Sanditen is a jazz and cabaret singer and the host of the über-popular Open Mic Party, Live at Zédele – the longest running show in the Crazy Coqs – London's most beautiful music room. Velvet Box Office says of Sanditen's shows, "If you're looking to get a taste of the stage, or if you'd just like a great night out in London, you can't get much better than this." In the line-up for "A Midsummer Night's Stream" on July 30, there's Sanditen along with his band - Michael Roulston on piano, Jonathan "Kitch" Kitching on drums and Robert Rickenberg on bass. In addition to Stephen S. Miller, performing will be Elizabeth Desiree (open mic regular) and Oliver Harris (open mic regular), Jeudi Cornejo Brealey (from California - she just released a new CD called "Stardust"), Monica Salvi (an open mic regular and winner of 4 "Harold" awards), Dillie Keane (singer/songwriter/comedienne and a member of Fascinating Aida), Nina Pelton (from New York and an open mic regular), David Pevsner (from US and a musical comedy guy), Gabrielle Stravelli (jazz sensation from NYC), Mychelle Colleary (an open mic regular - originally from NYC and was big in the cabaret scene there), Juliet Wood (open mic regular with a new CD - "Sconsolato") and Isabella Allon (16-year-old singer/songwriter from Houston, TX). Since Sanditen's Open Mic Zoom debuted this past April, some of the greatest and most famous cabaret performers who have participated have been Tovah Feldshuh, Linda Purl, Anita Gillette (twice), Karen Mason (twice), Penny Fuller, Barb Jungr, Ian Shaw, Dominic Harris, Sally Mayes, Jason Graae, Lorna Dallas, Shelly Goldstein, Sharon McNight, Gary Williams and Jess Robinson.
Back in February 2020 right before Valentine's Day, Stephen S. Miller took to the stage as a headliner for the show "Love and Other Feelings" at The Hidden Cabaret at The Secret Room near Times Square in New York City. The show was hosted by Craig Horsley and the music director was Terry Burress (who has worked with Mariah Carey, Diana Ross, Aretha Franklin and many other icons). This marked Miller's return to being on stage after 20 years of working behind the scenes as a stage manager, director and designer on the Off-Broadway circuit. To a sold out crowd, Stephen wooed the audience with his rendition of "Can't Help Loving That Man" and "Feelings." Read the rave reviews of the show on Broadway World and ENinaRothe.com.
Miller recently created "The Mama Rose Show" to inspire, uplift and entertain audiences in the wake of the COVID-19 pandemic. Each episode is filled with positivity and showcases the work of spectacular people in entertainment and the arts. New episodes are posted every Wednesday at 1:00 p.m. ET at Stephensmiller.com/themamaroseshow as well as on Youtube, and then are shared across all social media platforms.
Before his return to the stage earlier this year, Stephen S. Miller featured his talents in Special Education as a paraeducator in his hometown of Bridgewater, New Hampshire, as well as the chair of the drama program for the Newfound Memorial Middle School in which he completed six incredible productions with the students of the school. Stephen has a long range of theatrical extravaganzas including his work at New York City's Metropolitan Opera in the Children's chorus led by Elena Dore, as well as studying with the late Sanford Meisner. Stephen's favorite theatrical adventures include: Titanic, Joseph and the Amazing Technicolor Dreamcoat, She Loves Me, West Side Story, Die Fledermaus. Directing: The Belle of Amherst (Off-Broadway), The Cover of Life (Off-Broadway), Love is a Bad Neighborhood (Off-Broadway). Stage Managing: 2071, The World We'll Leave Our Grandchildren (Off-Broadway), The Cherry Orchard (Off-Broadway), The Bare Truth (Off-Broadway), King John (Off-Broadway).
As a thespian who began my career in theater it is a delight to interview Stephen. Please enjoy our interview!
Tammy Reese
What and/or who inspired you to get into your field(s)?
Stephen S. Miller:
I have always been a very theatrical person from birth, and when I was just under a year my great aunt Alice Kean Stockwell, who was known as a great concert pianist and taught piano at the Brooklyn Music School, now part of Brooklyn Academy of Music (BAM), and knowing all of the greats of the time noted that I had a special ability. Saying to my parents that I needed to be entered into the art world with training and creating the theatrical person that I am today. So, I thank my great aunt and my parents John and Katherine Miller for giving me the opportunity to become who I am today. One other person who inspired me through the years was Charles Nelson Reilly (Director of The Belle Of Amherst and also a regular cast member of the original "Match Game") because he was always who he was and was never afraid to be who he was, no matter how the world looked at him. It never stopped him from succeeding and creating a positive outlook on life. He gave me the dream to direct The Belle of Amherst, which I completed last year starring Jane Culley in the title (and only) role of Emily Dickinson.
Tammy Reese:
What do you love about the work you do?
Stephen S. Miller:
I am known as a multi-threat in the theater world, because I cover a range of various talents including but not limited to Acting/singing, AEA stage manager, directing for the stage and film along with lighting, set and costume design. In reference to stage management I have gained the nickname "Mama Rose" because my goal is to be the Mother of the production and create an environment that allows for everyone to feel a form of comfort. When someone has a problem whether professionally or personally, I am there to talk and lend a shoulder. In the aspect of being an actor and singer, I do love to be in the spotlight and taking center stage because I love to bring pleasure to the masses through my performance. Stage/film direction is a fun challenge to take on because you are basically in the driver's seat of creating the show that the public will see, while being on a team including the actors and the production staff. Theater is so wonderful because it is all about team work and the ability to come together in a very personal way.
Tammy Reese:
What are some obstacles?
Stephen S. Miller:
Like most things in life, there are always going to be challenges. The one thing that one must remember when facing these challenges is "If you don't try, you will never know." I have faced many during my career from my desire to join Equity, after 33 years in the industry I was inducted last year before the pandemic and I stand strong with the union. Something that I don't tend to talk about professionally is an experience that I had just a couple of years ago regarding my sexuality, and I choose now to publicly speak about it with all that is going on. I was stage managing a show Off-Broadway at which time, I was who I am and the director stated to me "You cannot be who you are to work with this production, stop being gay" at which time I withdrew myself from the production and the cast and other members of the crew took my side. A difficult experience to live through, but I know who I am and I'm not afraid to be who I am, no matter what this particular person or anyone for that matter says about me. Don't ever be afraid to be who you are.
Tammy Reese:
What is your stance on the Black Lives Matter movement?
Stephen S. Miller:
The Black Lives Matter movement is very close to my heart because I, like many, support this to the moon and back because those brilliant and amazing members of the Black community have never been treated equally, where as many other nationalities have been treated more freely. If you are unaware of why this is important, I would say, please educate yourself with these facts because Black Lives are just as important as everyone else's life. There is such a long history that goes against a "Free World" and now is the time to stand, listen and hear what our Black Brothers and Sisters are saying. With all that we are facing in this world at the moment we need to look at just how this is being completed. With the death of Breonna Taylor, George Floyd, Ahmaud Arbery just to name a few, being murdered because they were "Black" is not a good reason for murder to happen. No murder should happen no matter the color of your skin, but to go after someone due to the color, things need to change. On a recent episode of my TV/Internet Show "The Mama Rose Show," I shared this important message with a group of incredible people of all nationalities including our near and dear brothers and sisters in a direct message of why "Black Lives Matter." The government needs to step up, the police force needs to step up, and the United States in general needs to step up to stand, listen and let go of their prejudice. We need to be equal, and to be equal we have to be equal with our Black Brothers and Sisters. Two quotes that I live by in this time are the following, and I feel that these should be important to you –
"Be Kind, to people you don't understand and hear their voices, and then join their voices. Speak up, stand up… Speak up… Stand up!" – Debby Holiday
"We must join our brothers, free of fear or pause, leave behind our pleasures, to embrace their righteous cause. Strengthening our sisters, we'll empower them with pride. We can make a difference if we gather, gather by their side" – Birthday Boy – A New Musical (Brett Roelofs and Jack Donahue)
Tammy Reese:
How has the pandemic changed the work you do and your day-to-day life?
Stephen S. Miller:
This is a very interesting question, because like many, our lives came to a complete halt. As a member of the theater industry my life is always on the go, from theater to theater, dressing room to dressing room and all things in between. When the pandemic hit, I was able to take a step back and take a "few" days to rest, relax and look at everything going on that should be focused on, such as my wonderful relationship with my boyfriend Brian, my family and writing numerous plays and cabarets and focusing on other avenues that I was hoping to take on, such as working on an album, learning new songs and creating a TV show, all of which I have done. I have never been happier and/or more determined. Although, I do hope to be back on the stage with a live audience as soon as we are safe to do so, or working behind the scenes of a show, now is the time to focus on the important things, such as equality for all, creating various things with all of the incredible people in my life and even meeting new people virtually. There is so much that one can do, as long as you follow your heart, mind, body and soul. Also special thanks to my dear friend Dan Gregory, for his reading of my play One Life, Live It in which he played the title role, and looking forward to reprising this role as soon as theaters are back up and running again.
Tammy Reese:
What are the most epic moments thus far in your career?
Stephen S. Miller:
A few of the most epic moments in my life was having the opportunity to study with the late, great Sanford Meisner as the Neighborhood Playhouse, who taught me some of the most important things "Act before you think – your instincts are more honest than your thoughts."
Prior to this experience I was accepted into the children's chorus at the Metropolitan Opera under the magic baton of Elena Doria, and being able to share the main stage with some of the greats in such operas as Carmen, La Traviata and my most beloved – La Boheme. During these amazing years is one of the greatest moments was to meet, study and become friends with my late friend Cory Monteith ("Glee") a genuine soul who never let anything stand in his way.
Tammy Reese:
What's next for you?
Stephen S. Miller:
Currently focusing on the future of my TV show "The Mama Rose Show" but also have completed two cabarets in which my focus has been to have these filmed live with the current restrictions and stream it. Currently in talks with producers to make this happen. Along with a virtual reading of my play that Dan Gregory will helm One Life, Live It. Much more coming! Keep an eye out on Facebook: @StephenMillerActor, Instagram: @StephenMillerActor and Twitter: @StephenSMiller4 to keep up to date.
Tammy Reese:
What are you currently working on?
Stephen S. Miller:
More creating, focusing and standing with my black brothers and sisters in their fight to create equality.
Tammy Reese:
What are some social awareness topics do you think our country or the world should be shedding more light on?
Stephen S. Miller:
Focusing more on the fight for equality among the LGBTQIA+, Black Lives Matter, Environmental Issues, Women's Rights, as well as Women's Reproductive Health rights. It is time for the government to stand up and hear what we have to say. Until we are equal, we will stand in solidarity to create change. Nothing will stop us, we are stronger than prejudice.
Tammy Reese:
What do you think is the future of your field(s)?
Stephen S. Miller:
There are many fears that we are facing regarding this, because we need the live audience to have a true performance, but until there is a vaccine for this, we may never return. Finding out the news recently that one of the most influential shows of my life Andrew Lloyd Webber's The Phantom of the Opera has closed its doors in London with a fear of closing on Broadway due to the pandemic only strengthens the fears that we are facing. We need to stand together and create "Virtual" shows to keep the world entertained, but also to stand together and create magic.
Tammy Reese:
What's some advice for anyone who wants to join your field(s)?
Stephen S. Miller:
Believe in yourself, don't ever let anyone tell you are less than. If you believe in yourself and follow your heart, anything is possible. That said, nothing is ever easy, and there is plenty of work that is involved, but the harder you work, the better the payoff. Do what you love to do and love yourself along the way.
Tammy Reese:
What's some advice you have for our readers to get through this pandemic?
Stephen S. Miller:
Remain positive and focus on the positive outcomes. Don't be afraid of what the future holds ahead, focus on today because tomorrow is never promised. Dream the dreams and make the dreams come true. Love all and remember, stand, listen and if you don't understand something or someone, educate yourself so that the understanding becomes reality. And don't forget, wear a mask!
Please follow Stephen S Miller:
Facebook: @Stephenmilleractor
Instagram: @Stephenmilleractor and @Mamaroseshow
Twitter: @StephenSmiller4
Youtube: https://www.youtube.com/channel/UCY-1E4mqNpph4aLCEJWv5DA
interview
About the author
Filmmaker/Actress/Writer/Journalist/Publicist
Award Winning Multimedia Creator
IG @TammyReeseMedia
Reader insights
Be the first to share your insights about this piece.
Add your insights