Spelling is a Spell
"Write it down on real paper, with a real pencil, with real intent and watch it get real." - Erykah Badu
"I'm really looking forward to today!" I thought.
It has been such a long time since I've socialized with other people and I am itching to get out of this house! Work has been stressful and trying to adapt to this new way of living due to the pandemic has been challenging. As I finish getting ready, my friend Kayla arrives at my front door with snacks in hand. We munch on fruit and chips before running to attend an outdoor flea market highlighting Black-owned businesses. After mapping out the location from my place, we decide to walk since it's less than 2 miles away.
It's the perfect Sunday in Los Angeles. The sky is a crisp baby blue and there aren't any clouds in sight. The birds are singing beautiful melodies and the sun is creating the perfect amount of warmth making it not too hot and not too cold, all we needed were light jackets. For a moment I completely forget about the current state of the world. Once we arrive at the venue we're greeted at the door and proceed with the standard COVID check-up protocol before entering.
The venue was filled with vendors selling an array of things. Kayla and I make our way to the plant vendor first and she eyes a healthy Silver Pothos as I browse around trying to find something I like. Not finding anything that catches my eye I begin to wander over to the vendor adjacent to the plant booth. As I make my way to the booth I start to swoon over the decor of the table which is dressed in vibrant magenta, red, and purple clothes. The homemade candles take up the left space, jewelry is beautifully displayed in the center and loose leaf tea bags are to the far right, packaged in beautiful sheer white bags tied with gold ropes.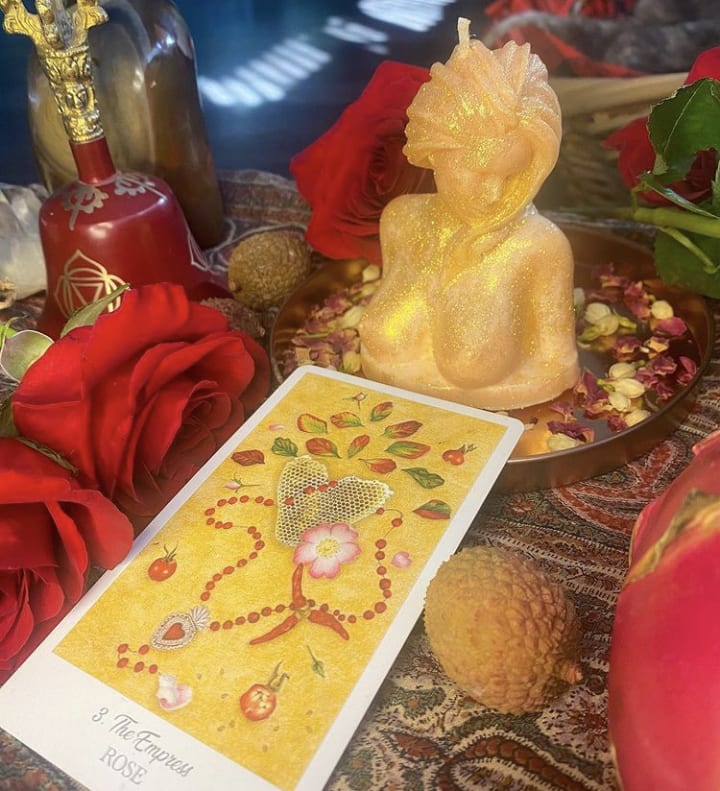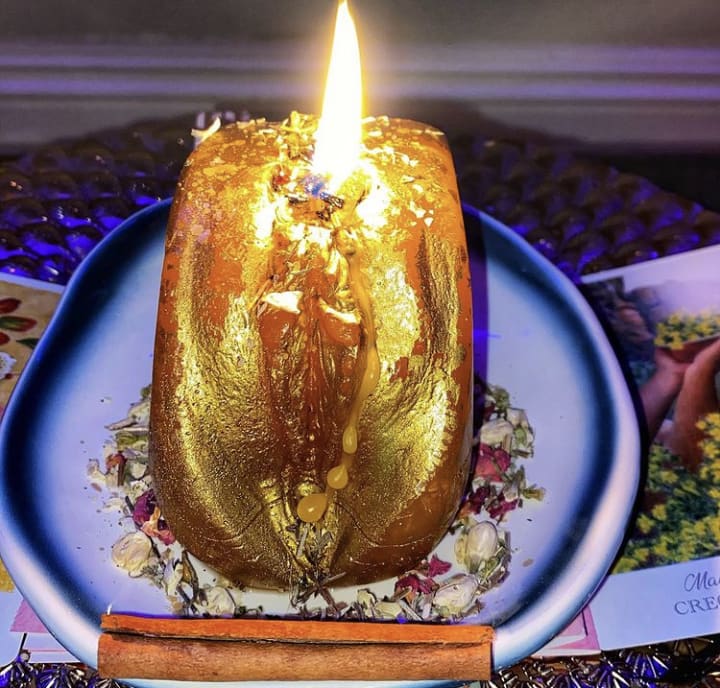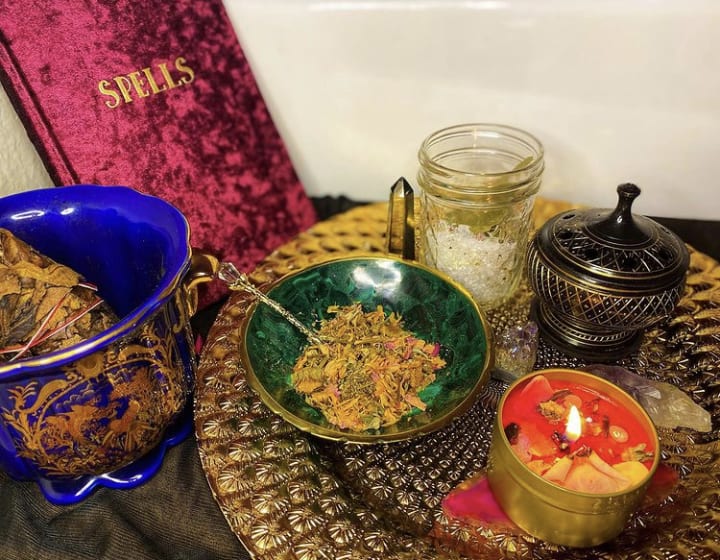 As I browse the loose leaf tea bags the vendor greets me with admiration. She's a beautiful black woman with a cinnamon complexion and hair wrapped inside a mustard scarf. Her jewelry is falling from her neck and ears and she has henna on both hands with electric blue nail polish.
"Can I help you with anything?" She asks.
"What kind of teas are these?" I question.
She begins to explain the complexity of each tea and what they can help me with. She then links similar ingredients in the teas with the dressed candles. Hands me a candle that will aid in relaxation, because I'm sure she can feel my anxious energy radiating off my body. As she moves behind the table she trails an intoxicating scent of geranium and her jewelry chimes with her every footstep. I narrow down my decision and purchase both the candle and the lavender loose leaf tea blend. As she wraps my things she mentions that she is doing a free Tarot card reading with every purchase. I hesitate at first because I have never had a Tarot reading before and I didn't want to get any troubling news as I am already dealing with stress in my professional life.
"Okay, that's great"! I shout, completely disregarding my initial reaction.
As I finish my transaction on her POS device, she pulls out her Tarot deck and she quickly begins shuffling them, laying 3 cards facing down on the table, and places the rest of the deck to the left of her. She flips them over with her henna-stained hand revealing the Seven of Cups, The Fool, and The Magician.
I have no idea what these cards mean, all I can think about is how pretty they are. The light dances on the reflex of gold against the teal-blue background and there are deep midnight blue accents outlining the images. She then proceeds to tell me that I have a new journey ahead with a big decision to make. It will be scary at first but will ultimately be a step in the right direction. Something will happen in 2 weeks.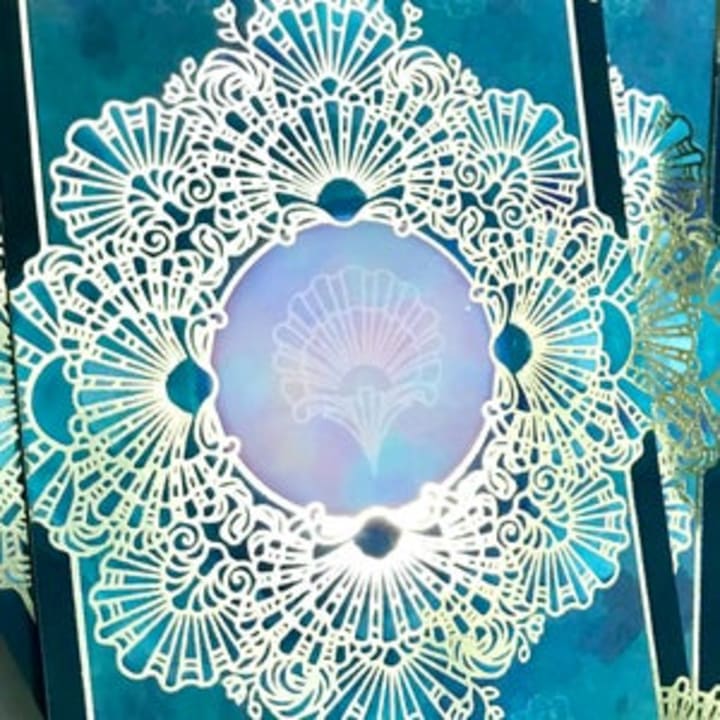 I nodded and thanked her for her insight and as I grab my bag, she makes direct eye contact with me and repeats
"2 weeks!"
My face shows skepticism and I grab my things and make my final attempt to leave and reunite with Kayla. As she's finishing her purchases, I receive a text message from a friend sharing an article about the possibility of Cannabis being legalized. The message reads: Invest in Cannabis. I skim through the article and open my Cash-app to see how much a share is for the company mentioned in the article. It's currently priced at $10, which I think is reasonable and I don't see any harm in giving it a try, so I make the impulse decision and buy 4 shares. As I'm finalizing the stock transaction, Kayla walks up with plants in her hands.
"What did you buy?" She asks.
"I got this lavender loose leaf tea and candle to help me with my anxiety." I state "I also got a free Tarot reading with my purchase and the lady mentioned I would be going through a big change in 2 weeks!"
Being her usual optimistic self Kayla replies, "Well, you've been looking for a change. I'm sure those 2 weeks will fly by."
After browsing around a bit longer we decide to walk back to my place but Kayla has to leave shortly after arriving. I pour myself a glass of white wine and make my way to the couch, turning on an episode of my favorite show, Saturday Night Live. As the show begins I grab my bag of purchases so I can place my candles on my coffee table. After removing the candles and tea I notice that there is still some weight in the bag so I flip the bag upside down and out comes this small little black book.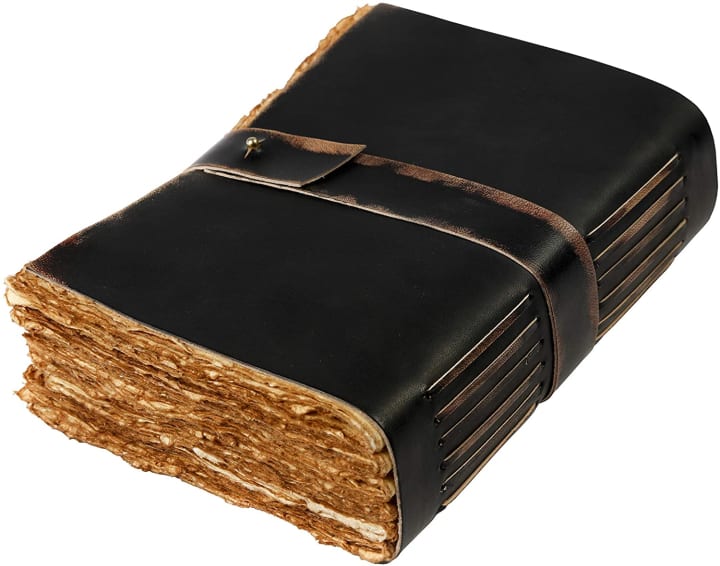 It's about 4x6inches in size with aged black leather and the pages are edged with yellow-gold trim. Confused about how it ended up in my bag, I search for the receipt hoping to find the contact number of the merchant so I can return it to her. When I notice the receipt doesn't have any contact information, I look to see if there is a business card anywhere in the bag but nothing. I finally decide to open the book to see if I can find any clues on how to return it to its rightful owner, but to my surprise, the first page of the book reads:
Write it down on real paper

with a real pencil, with real intent

&

watch it get real.

Spelling is a Spell
-Erykah Badu
I flip to the next page and see a set of instructions. Intrigued, I start to read them over.
Guidance
Write your desires with good intentions
Don't manifest or write anything that afflicts someone else.
Don't manifest or write anything that impedes someone else's fate.
All ill intent on someone else will come back to you 100 fold.
Every manifestation written in the journal will come into fruition in the number of weeks according to your life path number.
"What the hell is this, and what's a life path number?" I say to myself.
I skim through the rest of the pages to find they're empty. Curious, I go to Google and type in Life Path Number to find multiple articles telling me how to find my own. I start to do the calculations, adding every number in my full birthday which equals to 40, upon further research I find you must break down the digits even more until you have a singular number, making my life path number 4. I read everything I can find about those with a life path number of 4 and find most of the information accurate. I then remember the conversation with the vendor and recall her telling me 2 weeks. I begin to become confused and question everything. Then I start entertaining the thought that this is all fake and a total waste of time, so I exit the search and place my phone down to continue to enjoy SNL.
The next day at work as I'm having the typical cliché weekend conversation with a colleague and juggling multiple different tasks at once, I begin feeling overwhelmed, and thoughts of how I dislike the current trajectory of my life begin to flood my head.
"What do I need to do to change and how can I begin to enjoy life again?" I think.
Almost instantly after asking myself those questions, a little voice pops in my head without hesitation. Quit your job!
"I can't do that!" I tell myself.
I have bills to pay and no backup plan. Ignoring my intuition I continue with the tasks at hand to meet yet another unrealistic deadline. Once I make it home from an exhausting workday, I decide to make myself some veggie stir-fry and pour myself a hefty glass of Pinot Grigio. While inhaling my meal, I notice the black book on the edge of my coffee table. The day has taken a toll on me and all I want to do is vent in some way possible, so I grab the closest pen next to me and start writing.
Today was another insane day at the office. I was assigned a new project, adding to the large number of other things I already have on my plate. At this point, I'm not sure what to do! We are in the middle of a pandemic so it's not like finding work has been easy and I've had so many conversations about ways we could better streamline the projects we take on. I had a thought today that I should quit, which sounds nice but with no backup plan, it is just wishful thinking. Sometimes I wish I had the extra 20k I needed to escape work and focus on my own business, but with the long hours, I hardly have enough time to sleep. I pray that the Universe gives me a sign and helps me out! I'm pretty drained and could use the extra help.
Two weeks go by and the words of the vendor slip my mind. I'm working on multiple things trying to make a deadline when I'm handed the task of hiring interns. It is then explained to me that I will be managing their workloads as well and won't be receiving additional compensation. Feeling overworked, undervalued, and underpaid I step away from my desk and take a moment and seclude myself in the bathroom.
"Quit your job!" I hear my inner thoughts murmur.
It's at that moment that I realize the decision the vendor told me I would have to make was whether or not to leave my job. I didn't want to let it go because I was unaware of the next steps to take. However, I no longer cared, I would rather fail on my own than continue to overwork myself for a company I didn't feel fully appreciated my efforts. So I took a deep breath, marched back into the office and gave my notice. I felt like an actual weight had been lifted off of my shoulders and my countdown to freedom began.
On my last day at the office, I decide to wake up earlier than usual to make myself breakfast. While I'm plating my food an anxious thought infiltrates my mind saying
"What if you don't find a job in time to pay next month's bills?"
I immediately alter my thought pattern and force myself to think more optimistically.
"What if everything goes right?"
As I make my way to my dining area on my front porch, my phone chimes with a new notification and it reads:
TRLY is up 500% to $5,000 today
Those 4 little shares of stock gave me the $20,0000 I had manifested 4 weeks ago.
success
About the author
Meagan A. Culberson is the creator of the lifestyle website SIngleGirlClub.com. A platform that encourages single women to build a better relationship with themselves. Additionally, she is an aspiring producer focusing on diverse stories.
Reader insights
Be the first to share your insights about this piece.
Add your insights