Serving the Community Food Line
Inspiring Service in Local Communities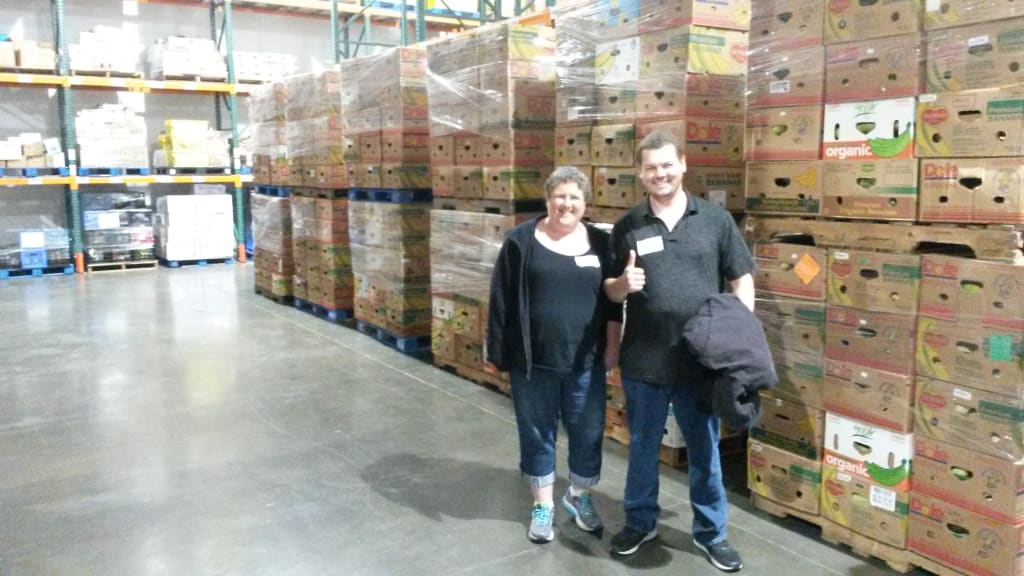 My friend Cherilyn and I serving the community at Foodline.
My inspiration for serving the Foodline organization in Washington State started when I was a teenager. I was a part of a community service program. The community service program I was a part of set-up a day where we all loaded food boxes for the community. At first, I did not notice any feeling of excitement or joy. I realized later that the people receiving the food needed the food, which made me feel great because I helped people in need. After that, I felt that I helped people in need, which made me feel great! Later, over the years, I started to develop a goal that I wanted to have, which was to create a food delivery service that provided food for people in need and brought the food to the people in need. I still have not accomplished that goal; however, I did find an opportunity a while ago to go with a friend down to the local Foodline organization and donate my time to serve the community. The day was fantastic! We got together in a group at the organization and obtained detailed plans of actions for the day. Afterward, we washed our hands thoroughly and went over to the loading area. There were boxes of corn that needed a check for rot and checked for any significant damage, and it was all donated by farmers as sort of the corn surplus runts. There were plenty of other donated items throughout the facility; however, this was our task for the day.
We all started getting into checking the corn and loading the boxes. I felt like a machine. I was pumping out packages repeatedly as I tried to get as many ready as fast as I possibly could, knowing that people needed this food. I made sure that the corn was suitable and organized it in piles to optimize the space. The sweat was starting to drip down my face as I rushed to pack the boxes. It felt great! I was getting exercise, and I was helping people! It was a double whammy! I felt awesome knowing that I was helping people, getting exercise, and got to spend time with great friends and great people! We finished tasks loading as many boxes as possible, and my friend and I had someone working at the facility capture a picture of us where we were in front of the loaded containers. It was a great day!
I look forward to someday, hopefully, finding a way to provide food for people in need, and I hope that the day happens sooner than later. I highly recommend that everyone donate their time at least one day of their life to experience how it feels to help someone, especially someone who truly needs the help. I guarantee it will be the best feeling you have ever felt in your entire life, and even if you do not experience the great feelings I had, when I helped the community, you would still be helping people in need, which is a great thing! Concerning my idea of creating a delivery service for people in need, if any large organizations aim to help people get the nutrition they need, I highly recommend donating as much as possible to organizations such as Foodline, Feeding America, Local Food Banks, Homeless Shelters, and any other organizations providing food for people in need. The community needs support, especially during times such as these, and any help goes a long way in helping people survive while trying to get back on their feet metaphorically. Thank you for reading my story that I decided to write and spending your time on my profile. Hopefully, you find the story inspiring enough to go out and support your local community.