Recap of my 2019 Q4 Goals
the main and monthly goals I wanted to do that quarter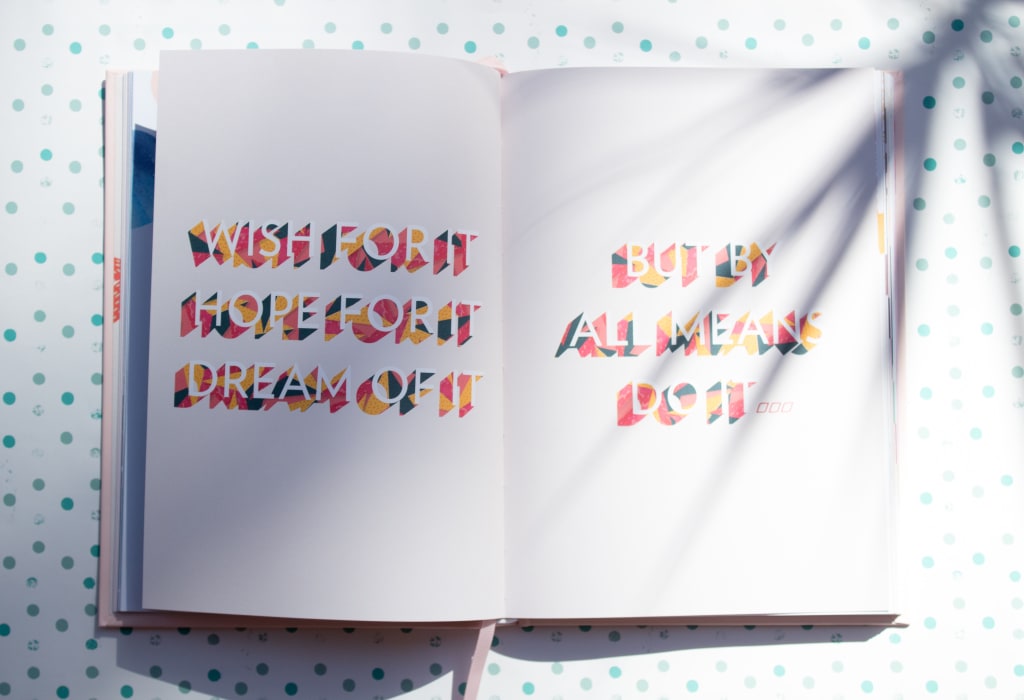 Photo by S O C I A L . C U T on Unsplash
I plan my year out in quarters (s/o to Laura Vanderkam). I set the main goal I want to accomplish in the categories of Work, Relationships, and Self for each quarter.
Each month I devise 20-30 goals that support the main goals and other fun things (s/o to ettawritesnstudies).
If you've completed half of them or half plus a margin of 1-4, CONGRATULATIONS! YOU WON!
Completing too many goals above half? Your goals were too easy. Didn't hit half of your goals? Your goals were too unrealistic. This rule acts as a barometer for how well you are setting goals.
Bonus points: Share your monthly goals in a GDoc/email thread with friends for accountability and seeing what people are up to.
The Main Goals for 2019 Q4
Work: Look into making a career pivot - DONE. This went really well!
Relationships: Watch Die Hard and go to a Die Hard musical event with a group of friends - DONE! This was really fun.
Self: Get a tattoo - DONE. I've had this design in mind since I was 11 years old so I'm glad I finally got it done.
October Monthly Goals
13 out of 30: 43% - failed
Goal: 15-19
Make rice krispies treats - Note: Ended up giving ingredients to a friend to make in December
Make two eco-friendly swaps - DONE #1. Swapped out my plastic toothbrush for a bamboo toothbrush and body wash for body soap.
Go to the doctor - DONE #2
Five yoga classes this month
Beat mile time
Recycle/donate/sell clothing I no longer wear (of one category)
Decide how to promote newsletter - Note: We ended up killing the newsletter later on
Decide if I want to continue freelancing - DONE #3.
Put in 6 applications - DONE #4
Apply for a new card
Mail family birthday packages - DONE #5
Check my spending for the past month and get rid of unused subscriptions - DONE #6
Read 6 books
Do a corn maze
Call doctor and change pharmacy address + set up an appointment - DONE #7
Write a post about 50 recipes I made
Go to a Meetup solo - Note: I went to a Meetup but not solo, oh well.
Draft tattoo design
Go to a girls' night out - DONE #8. Went to a taco festival then did dinner and a movie together
Re-establish waking up early
Sleep before midnight at least 3x/week
Trade books with a bookstore - Note: Ended up doing this the first day of November ...
Try cooking with meat 1x - DONE #9. Cooked with meat 2x.
Meal plan and cook for all lunches and dinners eaten solo - DONE #10. This is the goal I'm most impressed with myself about.
Reach out to 3 former coworkers - DONE #11
Look at apartment decor
Get boba and take a walk with a friend - DONE #12
Update 5-year journal
Organize a murder mystery dinner party meetup
Watch a classic horror movie - DONE #13. I didn't watch a "classic" but I watched a lot of horror movies so I'm counting it.
November Monthly Goals
15 out of 26: 58% - won!
Goal: 13-17
Edit NaNoWriMo novel
Take a class (improv? cooking? dancing? sewing?)
Ask about medical history - DONE #1
Read 9 books
Get bangs/frizz serum/oil - DONE #2. Note: Had decided on a product to use but ended up just leaving my poor hair alone
Reach out to 3 tattoo artists + get tattoo sketched out - DONE #3! I only reached out to one on a friend's recommendation but was pleased.
Try waxing - DONE #4. My pain tolerance is better than I thought - also lasts way longer
Give away stuff won't use + sell books - DONE #5. Didn't end up giving stuff away but did sell books
Get a tattoo - DONE #6!!
Get another mesh bag - DONE #7. Useful for laundry
Put in 7+ applications - DONE #8. Way exceeded this goal.
Buy black ballet flats - Note: found a pair stashed away so wore those but they ended up dying in Jan '20 so I still need to replace
Sell & buy clothes
Catch up on 5-year journal
Try archery - Note: was going to do in December but that didn't end up panning out
Hang out with a friend before she leaves the country - DONE #9
Hang out with a friend before he leaves state - Note: he left before we could plan anything
Try Thayers toner - DONE #10. Bought it still need to trial it
Set up a 2nd blog - DONE #11. Note: Although, ended up killing it for this page
Don't buy crackers/chips/cereal/sweets + get rid of currently in house - DONE #12
Hang out with two friends haven't seen in a bit
Settle bloodwork & eye doctor - DONE #13
Make a gym bag - DONE #14
Take 3 yoga classes
Beat mile time
Replace card - DONE #15
December Monthly Goals
15 out of 30: 50% - won!
Goal: 15-19
Beat mile time - Note: ended up getting sick
Run a fun 5k - Note: skipped since would be registering late
Smooth out & brighten skin - DONE #1. Note: love the toner but still want to experiment with a different cleanser
Do a better job of protecting skin with sunscreen - DONE #2
Take 3 workout classes
Take a sewing class
Get a HTML/CSS certificate
Read 3 books and grade Goodreads EOY
Revisit 3 places been to before - Note: 1 out of 3
Watch Die Hard and go to Die Hard musical - DONE #3!
Make food or go to a restaurant we saw on IG with a friend
Reach out to 3 former coworkers - DONE #4
Finish tattoo
Prep for the holiday party - DONE #5
Update 5-year journal
Buy & sell & recycle clothes
Establish a habit
Do Duolingo for Chinese - DONE #6. Note: Have significantly dropped off since then
Figure out if want to continue a thing - DONE #7
Do 2-3 outings with H. - DONE #8
Make fruit & water daily habit
Do a sappy montage for the friend who moved overseas - DONE #9
Give 5 gifts/notes - DONE #10
Get traction on overseas travel plans - Note: moved to another year
Try a sleeping mask
Log a food diary for a month - DONE #11
Put in 6 applications - DONE #12.
Re-establish morning routine - DONE #13
Get an oil change and re-up car insurance - DONE #14
Check lease - DONE #15
What were some of your goals from 2019 Q4? How did they go?
Let me know what they were! Please feel free to tweet them to me.