Rebirth by the Skies!
Jumping into a map to find your path!
Whew!!!!!!!!!!!!!! Geez where do I start? I guess a good place would be why I decided to jump face first into a map (Earth, that's how it looks like from the sky! LOL). If I'm being totally honest, it wasn't something that I always wanted to do or had in mind. Yeah it would come up in conversation with friends, but you know how that goes when you're shooting the sh*t with your people and someone says, "Hey would you jump out of a plane?" Just to look cool, you say random things like "Hell yeah I would no question!" LOL No you wouldn't. Anyway, all my life I've always lived by certain rules and was afraid to take certain risks. I would watch people daily go in and out of the cycle they call their lives. I mean we all wake up, brush our teeth, eat breakfast, rush to work blah blah blah! You know the drill! On top of that, there have been many times when opportunity knocks and we don't answer it in fear of what we don't know! That fear of failing, that fear of not succeeding! That intense fear of someone walking up to you and saying "I told you so"... Argghhh! Makes you just want to punch them in the face don't it?
Well after a while, life started to look very unpromising to me. I mean at the age of 14, my brother was shot and killed in front of me. At the age of 24, my dad was murdered by his wife at the time for reasons I do not know. Then, at the age of 28, my mother died of cancer... Yeah, I know right, I'm sure some of you are saying to yourself, how hasn't this guy blown his head off? Nope! Not me... granted sometimes I ask myself would that be the best choice? But, I can't... See the things I described just now are all true but, that's just the beginning of a life that most people tell me I need to write down and make a book that eventually gets converted into a film (I'm actually currently writing that book/film)! After many heartaches, betrayals and losses, I asked myself a question one day. I looked around and said to myself, "Do people think that they are immortal? Like do they think that we are here forever?" I was confused because we as people love to postpone things and make excuses on why we shouldn't just live to the fullest. I started looking into people I personally knew like friends and family. I noticed one major thing in all of them, that no matter the upbringing, the lifestyle or financial status, they all had one major thing in common: routine and comfort! I started noticing that, not everyone, but just about 90% of the people I knew weren't living! They were alive but weren't living! I believe the artist known as "Drake" said it the best... "Everybody dies but, not everybody lives."
Once those thoughts were stuck in my brain, all I could think about was all the missed opportunities I let slip by in my life due to fear, routine and comfort zone! I used to do music, but I skipped out on many shows in fear of people not liking my music. I didn't speak to a certain female in fear that she would reject me, or I didn't go for the job I wanted because I thought that there was always someone better than me. Then BOOM! Someone asked me what I wanted to do for my birthday. I responded with a serious "I want to go skydiving." There were about 11 people in the room that day, and when I said what I said, the entire room got quiet! I quickly acknowledged that I wasn't on the same wavelength as them. There was one guy that said he wanted to do it too, but he chickened out before I even had the time to find a place to actually do it at. Time went by and I finally found a place to do the skydive. I booked it and prepped. As I prepped and my birthday got closer, more people would ask me what I was planning for my birthday. My answer never changed every time they asked. This is my favorite part, that the people that I didn't even ask if they were interested were the ones who were extremely quick to try it! It went from diving with decent friends to diving with my brother, my best friend and my cousin! I mean what more could you ask for right? We all mustered up the guts to finally do it!
The big day came and all I could do was laugh, smile and giggle. That's my way of staying calm. We walked into the place and they made us sign our life away in waivers that actually said "If you die it's your problem" LOL. Well... it didn't say that in those exact words, but that's how we took it LOL. They strapped us down, gave us a brief, and I mean brief, tutorial and boom, next thing I knew I was on the place taking off. I stood as calm as possible as I looked out the window and the plane went higher and higher into the blue skies. Then, just when we reached the height they needed, they opened the door! Cold wind crashed throughout the entire plane. Then I instantly was nervous (Watch that part in the video LOL)! As I tried to collect my thoughts, I noticed that my best friend was being slightly guided to the open plane door. Then... just like that he was gone! It looked like the hand of God snatched him straight out of the plane. Then... it was my turn. Every step closer to the exit made me more and more calm. I wasn't thinking to myself, "Oh my God I'm going to die, something is going to go wrong," nope! Not once did I think that. I took a deep breath, looked at my instructor who was strapped extremely tight to my back, smiled at my little brother and woosh! Out the plane we went... I could sit here and describe the hundred and one ways on how awesome it was, but it wouldn't grasp any of the sensation. This is the part where you should click and watch the video if you haven't already, and after you're done watching it, book yourself a dive!
Map dive!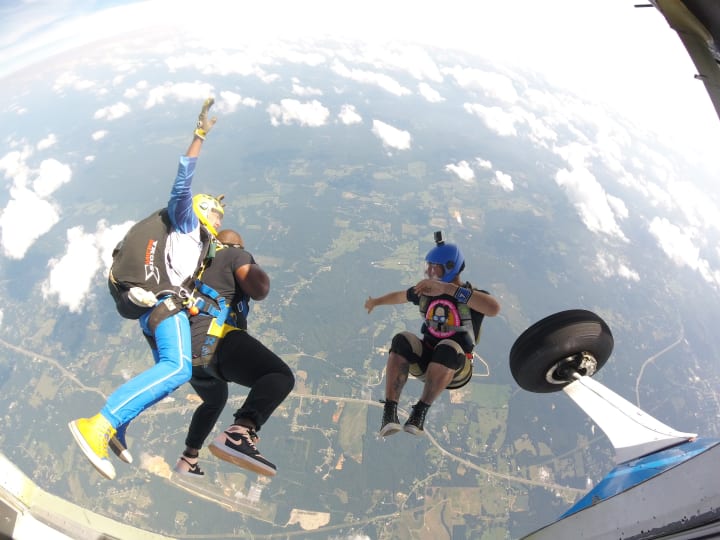 These pics are awesome. I could look at them all day and tears come to my face because all the issues and doubts/fears I went up in the skies with... I left them up there. I'm more headstrong, thoughts are clearing and stress levels are near to zero percent! Have you clicked and watched the video yet? Comment below on any questions or comments you may have. Thanks.
The moment that changed everything!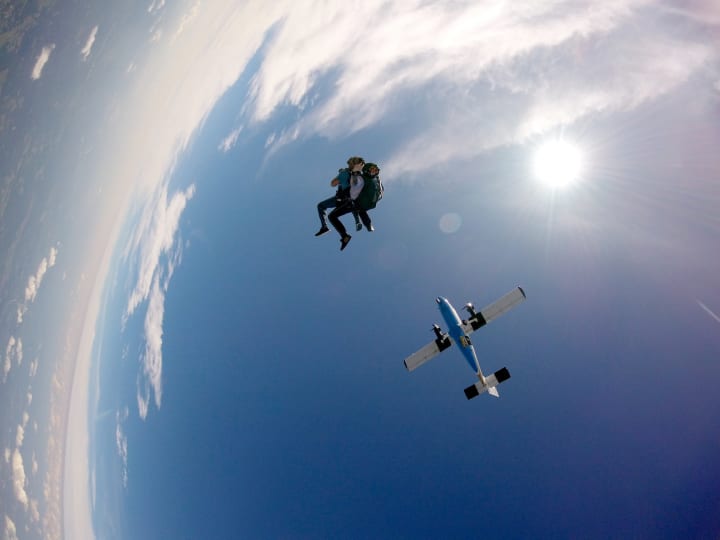 Peace from the heavens!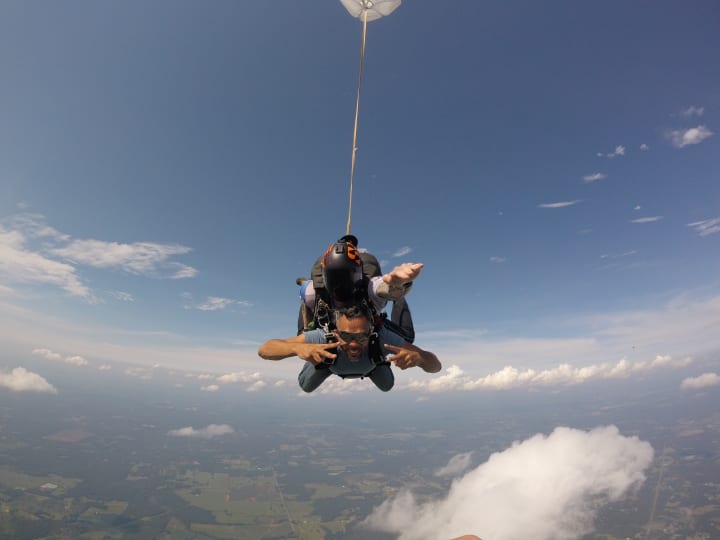 self help
About the author
Thank you for stopping by. My name is "Raxiel" I am a "Director/Author & Travel Blogger". My motto in life is "We are all alive but, are we all living?" No more excuses..... It's your life, LIVE IT!
Reader insights
Be the first to share your insights about this piece.
Add your insights