Ratatouille Taught Me to Cook
How a Pixar film and French dish inspired my hobby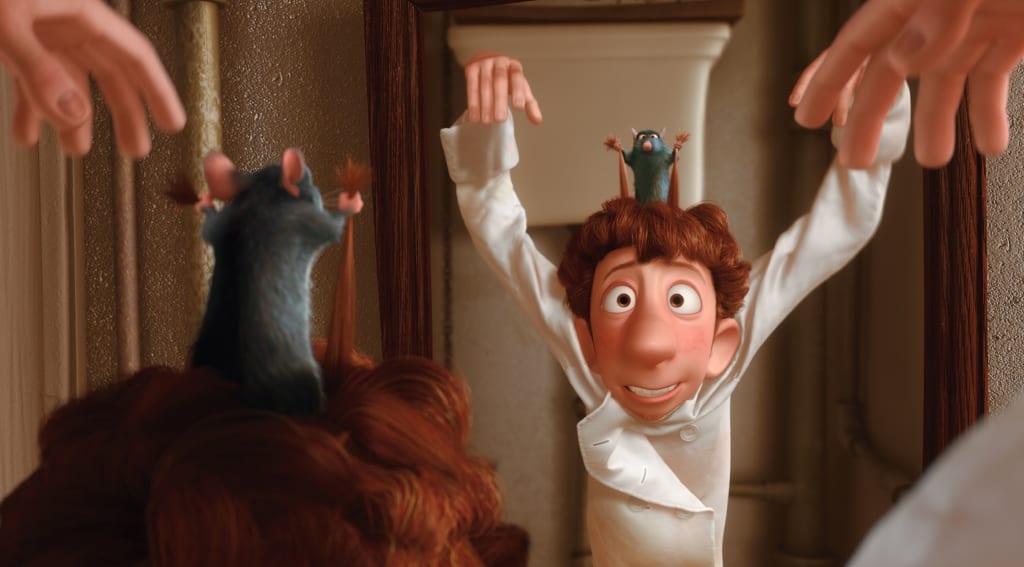 Whenever I cook a meal for my friends or family, they would ask me what made me take up a hobby. And I would jokingly reply "I love the movie Ratatouille."
But that isn't an exaggeration because I got my love of cooking from the movie and the beloved French dish. And what I learned along the way, throughout my newfound love of cooking, is how we can do anything if we put our hearts to it. Anything is possible we all just have to start somewhere.
For context, I never EVER knew how to cook to save my life. I may have cooked eggs, pancakes, and toast, but it was never something that I cared about nor enjoyed. To me, cooking was a chore. I mainly ate premade meals or take-out, and it was definitely not part of a balanced meal.
Right when the pandemic was at its peak, I was watching Ratatouille as it has always been a comfort film of mine. This movie always brought positive memories to me as I watched it since it first came out in theaters. I'm sure when we all saw the movie, we wanted to enjoy the food as much as the characters. Since the pandemic closed down all borders around the world, and I was struggling financially, I knew it would be a long time before I could go to France just to try the food. So, at that moment, I just thought "Why not do it myself?"
I knew that I wanted to try the dish, but it wasn't easily accessible where I lived. Taking matters into my own hands was a project that I wanted to try out for myself. I never knew how to cook so I was jumping into unexpected territory. The meal could either turn out decent or horribly. To me, it felt like jumping into Chemistry, and I am literally an English major.
The thing about trying new hobbies is that we all expect to be the best of the best on our first try, so when we fail we don't ever want to do it again. However, if we instill this idea that we are failures, of course, we would never get better. This experience was like a stepping stone for overcoming my fear of failure.
The dish was fairly simple since it was all vegetables so I was confident no one would be getting sick from the dish. The directions of the recipe said it should be prepared in under an hour; well, I started at 4:00 pm and dinner was set on the table at 7:00 pm. I took my sweet time as I didn't even know how to cut vegetables because I was mortified by the idea of slicing open my hands.
For the ingredients it consisted of:
Eggplant
Zucchini
Tomato
Yellow Squash
Onion
Garlic
Seasonings(Parsley, Thyme)
Canned Tomatoes
Olive Oil
(I'm sorry to any French readers if it wasn't super authentic, but would love to know what I could add to make it better.)
Cooking the sauce was terrifying as the food was popping and I am sure I was more drenched in the sauce than the vegetables were. I followed the instructions from the recipe one by one because I wanted the dish to be edible. When the ratatouille was popped into the oven, I just took a moment to take a deep breath. All I could do was pray for the best.
When it was finished and I heard the "ding" from the timer, it was the moment of truth. Plating and setting up the table was easy but now came the taste test. I took my first bite and everything was like one giant explosion. Sure, it was just vegetables in a tomato-based sauce, but it was delicious. To be fairly honest, I didn't season it enough, but it was absolutely delicious. Even my mom and brother loved it. They even gave me pointers on what I could do to make it better. It sure wasn't perfect, but it was the first meal I made.
From that day on, I realized that it wasn't about the struggles to make the dish. It was the smile that it brought to my family's faces. If I continued to practice, the love I put into the process will translate into the love I have for my family. I definitely am not an expert cook, but now, I don't view cooking as a chore but as a way, I show my love. Sometimes my cooking doesn't come out the way I would intend it to, but it has given me the ability to understand how it is an art form that takes years of practice and hard work to perfect the craft.
Am I a Masterchef? No. Would I open up a restaurant business? Absolutely not. Will I continue to cook for others? Definitely.
If you were to tell me five years ago that I love to cook large meals, I probably would think you were insane. The takeaway from this experience is that "yes, it is possible." Maybe you are trying to take up a new hobby. Or starting a new lifestyle change. Or maybe you want to change up your career. Go for it. It may seem bizarre, impossible even. But the first step to that is facing that fear of failure. We need to fail to succeed. It can be incredibly mundane, but at least you attempted and gave all that you can. There is always time to just pick up your feet and go for it.
As the great Gaston said, "Anyone can cook, but only the fearless can be great."
self help
About the author
A growing freelance writer and college grad who just has a passion for writing whether it be lifestyle goals or a little bit of storytelling.
They write for enjoyment as a way to share with everyone who shares the same interests.
Reader insights
Be the first to share your insights about this piece.
Add your insights