Putting Humpty Together Again
How learning to knit has helped me work through trauma.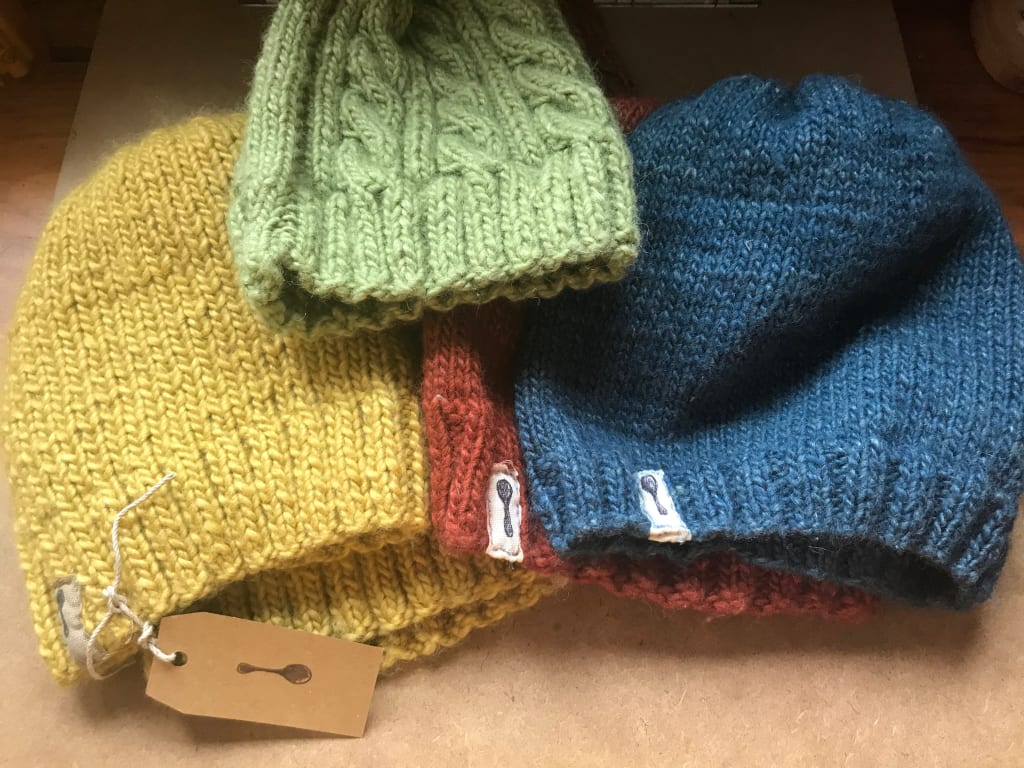 Some of the hats I knitted during the pandemic.
Knit one, purl one. Unravel. Start over. Grow. Repeat.
My mother has been knitting for over fifty years. Over the past 25 years, she has received yarn donated and made countless items to donate to those in need in our community. I have many memories from my youth of watching in awe as her hands moved rapidly and rhythmically with the click-clink of the knitting needles. I'm still mesmerized when I see her knitting. For some reason, though, whenever I tried to learn the skills and process, I couldn't seem to grasp them. Whether it was because I was too easily discouraged or too insecure, I gave up trying to learn.
Six years ago I suffered a very bad fall that left me with two broken ankles, feet, and a broken femur. The months in the hospital and months spent living in a hotel room with my mother bonded us more than I would have thought possible. I'm still unpacking all the growth and positive changes that can be the hidden blessings of our most difficult experiences. Despite the many struggles and discouraging moments over the past few years, I have been able to reconnect with the things I love most about and in life and create a strong foundation I didn't feel I had before. So much changed inside me during this long recovery: some things I've begun to understand and express, others that I don't yet have the words for.
Almost without realizing it, I underwent a creative awakening. I began drawing again for the first time in years. I continued my journaling and began exploring other forms of writing. And ultimately, I decided to have another go at knitting. I didn't expect that I would be able to learn... but I have. This time, mistakes and complete unravelings--frustrating though they could be--didn't discourage me but felt comfortable, familiar. Like the steps, I took when I'd been essentially re-training my body to walk. Step one, step two. Rest. Repeat.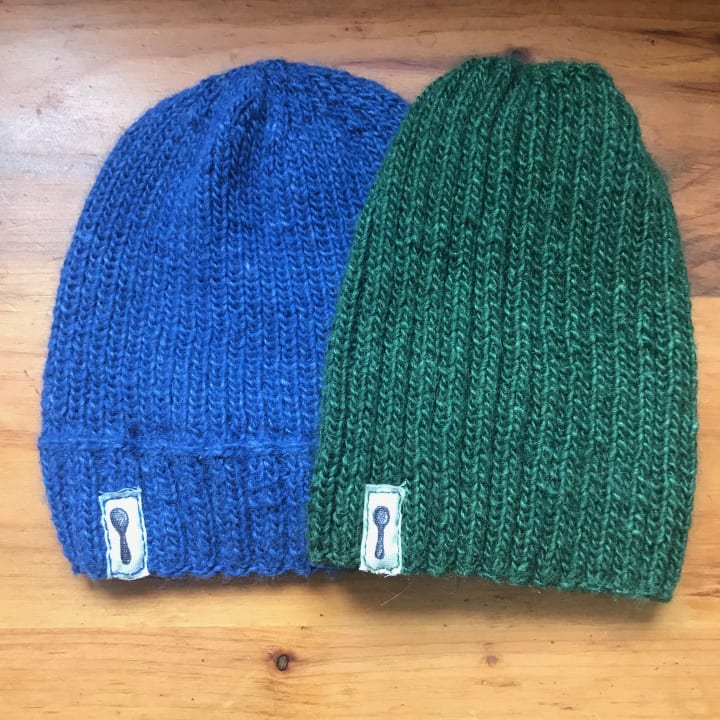 The more I learned how to knit, the more I cultivated a sense of peace about some of the traumas in my past. I've never been able to quite get the hang of meditation; my head is usually off on too many tangential trains of thought. Knitting has become my form of meditation. A way of keeping me on a steady rhythm of recovery and growth. As with learning to knit, that process is seldom linear or without setbacks. For years I've felt disheartened at the slow, circuitous pace of progress and growth. Starting over multiple times has generated fear of missing out and feeling that I've bypassed many milestones that my peers have experienced. Then I keep coming back to the project. I remind myself that every person is working on a different project, a different path. I need to keep taking step after step. Knit one, purl one. Cabling the path to a completed project where I can feel contentment and a sense of mastery. Then beginning another one.
Learning something new is creating a new set of neural networks in your brain. I imagine my synapses as pieces of yarn coming together to create a new neural pathway, a new habit or skill. It often also involves a lot of unlearning; unraveling and starting again. Looking back, it is heartbreaking to me to remember that for months on end, I wasn't sure I would be able to walk again. Working with the physical therapist, doing small motions, became a steadying pace for my recovery. Trying to build back strength and range of motion was painful and slow. The physical therapist came to the hotel room and we'd work on first lifting my legs a bit, pushing them up against his hands, and then setting them back down. He was kind and patient and would give instructions: "Lift up. Lift down. Rest." Knit, purl, knit, purl, start a new row.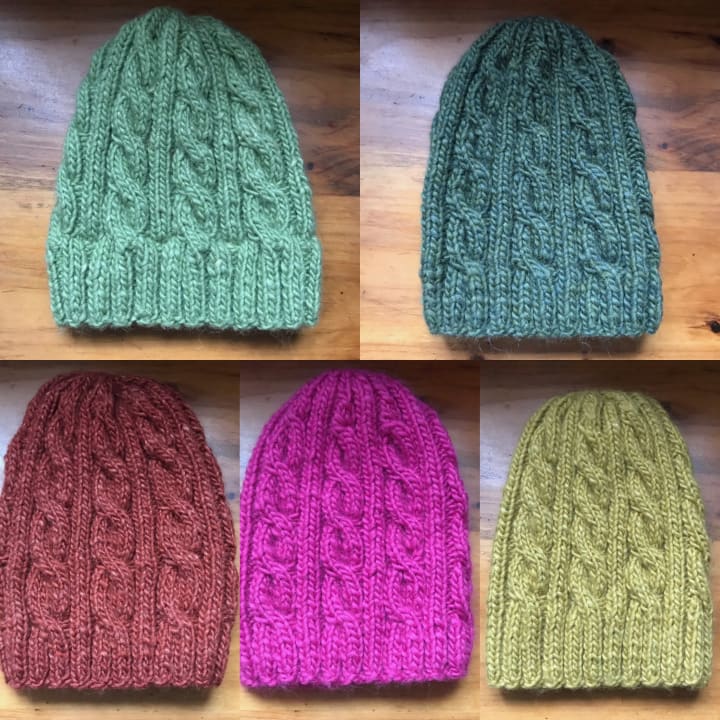 Then it was trying to put weight on my legs for seconds. Sitting back down. Then, months later, taking one step. Sitting back down. In literally painful increments, I was able to add on more and more. More and more stitches, more and more connections. More and more creative thinking about fibers, patterns, projects I wanted to design and try. Taking baby steps in healing also helped me get around some of the thinking that previously held me back from artistic and personal growth, letting go of ideals and perfectionistic thinking about how I needed to be or something needed to turn out in order to be "good enough." I have begun to tolerate setbacks and restarts with an increasing amount of self-compassion and patience and to be flexible when confronted with life's unexpected detours.
Over time I began to be more hopeful about the possibility of walking. After a few years mostly using a wheelchair, I started using a walker, then a cane, and a walking stick. When I felt strong enough, my mother and I decided to do a work-away trip in Alaska on an alpaca and llama ranch. We were hoping to learn more about how to care for these exquisite creatures as well as how to shear them kindly and spin the wool into yarn. Our trip was supposed to last a month, but after one week of overdoing it and pushing myself, I broke a piece of my ankle again and we had to return early.
Another surgery, more weeks of recovery and being unable to bear weight, more physical therapy.
Unravel. Cast on. Knit. Repeat.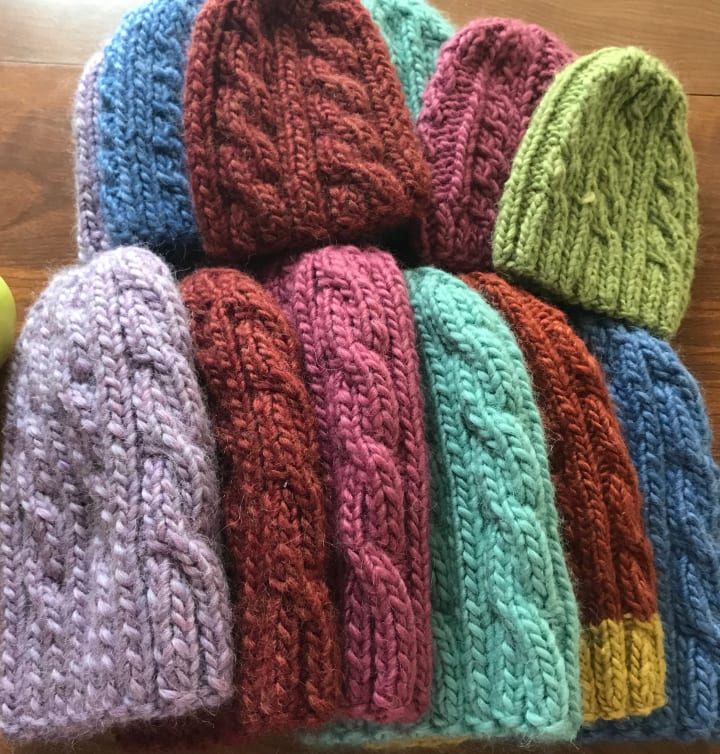 Finding acceptance in both things you can influence and things you have no control over has become another benefit I've found in crafting; accepting that some pains and complications in life cannot be fixed or undone. You have to know when to keep trying and when to "cut loose." This might apply to habits, old patterns of thinking that protected you in the past but no longer serve you, or even relationships that are holding you back from healing. As wasteful and difficult as it can feel, sometimes you have to take your scissors, cut a knot, and start with a new piece of fiber.
I've been contending with having to let go of some of the dreams and goals I'd long clutched tightly, and am working to accept that my body now exists in a different reality, with a different set of limitations. Creating art has been a huge anchor and source of comfort for me. I feel the most myself when engaging with these projects and connecting with others through them. Whether it is the scrapbook journals I've filled with my writing for decades now, drawing cards with twee animals on them, working on a children's story, or knitting, I know that creating and growing will remain pillars of the life I am trying to build for myself.
I love making things for people- whether it is sending postal mail with wax seals, handmade cards, mixtapes, or cooking for them. It has been wonderful to add something else to the list. I've made numerous items for friends and family and along with my talented mother, started an Etsy shop this year to see if we can sell some of our wares. She has made dozens of items during the pandemic, both for donation and for us to list online. It has anchored us both I think through this difficult time. I would love to be able to "keep us in yarn" (as my mother says is her main goal) by selling our wares and donating a portion of the proceeds as well as some of our creations. I dream of combining a few things into a business and even being able to save up for my biggest dream having a little homestead with a plot of land to grow food (to practice regenerative agriculture and conservation is the craft I aspire to most) and take care of animals (especially goats, alpacas, and llamas). For now, however, it is still day by day, step by step. Keeping steady and trying to hold a rhythm. Knitting has and continues to be a large and essential part of what is helping to put pieces of me together again. With every clink of my knitting needles, moving forward and healing.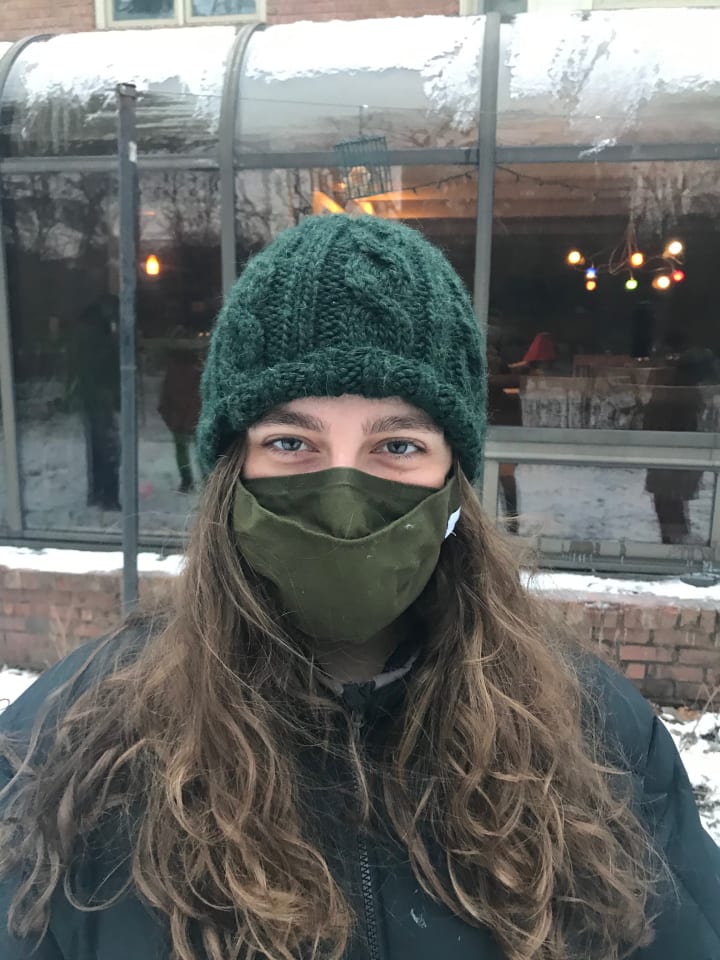 Noa Iacob
I am an alpaca trapped in a human body. With an artichoke for a heart. Favorite activities include playing in the dirt, growing, and knitting, and listening to Radiohead. This bio doesn't allow for many characters so I'll leave it at that.
See all posts by Noa Iacob →