Powerful Life Lessons From World-Renowned Nick Vujicic
A man with no limbs but an immense amount of courage
I still remember that day, years ago, when I was in high school as if it were yesterday. I was home after a long day and was browsing the Internet when I stumbled upon an article that described the life of Nick Vujicic.
Truth be told, when you are in high school, all you care about is your looks. Your appearance often determines whether you'll be one of the popular kids or not, how many friends you'll have, and overall, your level of happiness.
Now, imagine my surprise when I learned that this man with no legs and arms has managed to make a fortune for himself and create a family with a beautiful woman.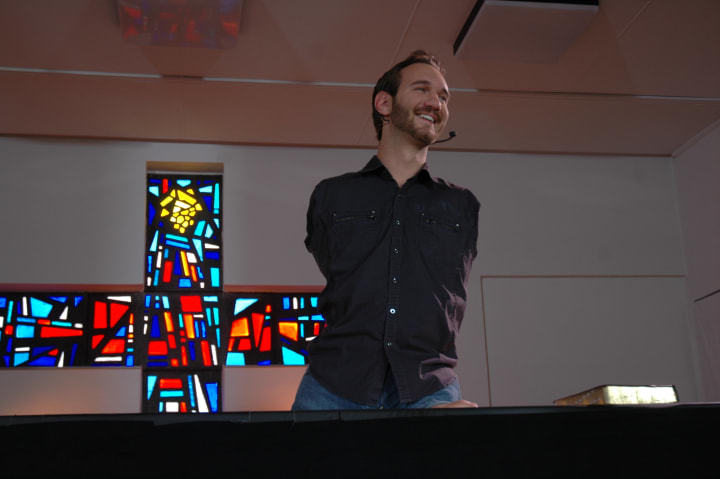 Nick Vujicic, one of the world's most sought-after public speakers, suffers from a rare disorder, called, tetra-amelia syndrome, characterized by the absence of arms and legs.
And yet, this man seems to simply have it all.
Here's what we can learn from him.
You'll Go Through a Lot of Shit on Your Way to Happiness
"The challenges in our lives are there to strengthen our convictions. They are not there to run us over." — Nick Vujicic
To say that Nick went through a lot of shitty situations would be an understatement. Life showed him its ugly face from the moment he was born.
In the beginning, even his parents didn't want him. On the morning of his birth, his father was so stunned by the way he looked he almost fainted. Nick's mother refused to look at him or hold him for four whole months.
His classmates bullied him and teased him on a daily basis because of the way he looked. Of course, that led to depression knocking on his door pretty soon.
When he was just 10 years old he tried to drown himself in his family's bathtub. That's extremely dark for someone his age, right?
Despite all of this hardship, Nick eventually came to terms with his disability. And the more he accepted himself, the more comfortable he was with his condition, the more his life started changing.
When he was just 17 years old, the janitor at his high school approached him and advised him to become a motivational speaker. That was the first step to immense success.
Fast forward to today. He's one of the world's most sought-after public speakers. He has visited more than 57 countries and given over three thousand talks, some of which have attracted audiences as large as 110,000 people.
If that's not the greatest example of how one can a person can turn their life around, I don't know what is.
If You Defeated Your Demons, Help Others Do the Same
Nick Vujicic's story is so inspirational because he's one of those people that found themselves in hell, and yet, kept going. He managed to defeat all of his demons, one by one, and came out the other side better, stronger, and wiser.
But, he didn't stop there. He decided that he wanted to help other people struggling with hardship, do the same. And, this exact act of kindness is what eventually made him a highly respected speaker and author.
Kindness is underrated. But, no act of kindness, no matter how small, ever goes to waste.
Helping others can prove to be incredibly fulfilling and lead you towards a path of growth and success that you could never imagine.
Other People Are Always Wrong
"When the world says you're not good enough, get a second opinion" — Nick Vujicic
If someone came to me when I was a teenager and told me that a man with no arms and legs managed to find himself a wife, have four kids, and make thousands, I would laugh and look at them as if they were crazy.
And Nick Vujicic would laugh right back at me.
My point is, we often let other people's opinions and behavior affect us too much. There's always gonna be a person who will try to crush your dreams and make you believe you're crazy for having them.
There's always gonna be someone who will tell you you're not good enough, not pretty enough, not clever enough. It can be a family member, one of your friends, or even your long-time partner.
The trick is to look them in the eyes, smile, and show them how wrong they are. Because they are always wrong.
Your Health Is Everything
We live in a world that's obsessed with productivity, money, and power. We spend so much time thinking about what we don't have that we forget to stop for a moment and think about what we do have.
I never appreciated how lucky I was to have all four of my limbs intact until I read Vujicic's story. But I should have been grateful and you should be grateful for that, too.
And it's not just about missing an arm or a leg. There are people in wheelchairs, people who are blind, or deaf, people who develop serious mental illnesses that prevent them from living a fulfilling life.
If you don't have your health, you don't have anything. A healthy body and mind are all that matters. Everything else comes second.
Or, in Augusten Burroughs's words:
"When you have your health, you have everything. When you do not have your health, nothing else matters at all."
Final Thoughts
After I read Nick's story, I went on to watch one of his interviews on Youtube. When the interview ended, I was in shock. It brought me to tears.
Seeing what this man had achieved, his strength and courage, and what an optimistic approach to life he had… Just wow.
He's an example we should all follow. He shows us that no matter what life throws at you, you can get over it.
It doesn't matter who we are, how we look, or how much money we make. We can all lead an incredibly fulfilling life, no matter our circumstances, no matter our struggles.
If only we believe in ourselves and never stop trying. If Nick Vujicic managed to lead a happy life, so can we.
"Miracles happen, they happen, right? And beautiful things come from your broken pieces if you just give your broken pieces a chance." — Nick Vujicic
About the Creator
Words have power.
I write about relationships, psychology, personal development, and books.
https://linktr.ee/margpan
Reader insights
Be the first to share your insights about this piece.
Add your insights