Pencils with a Purpose
Sewing Bags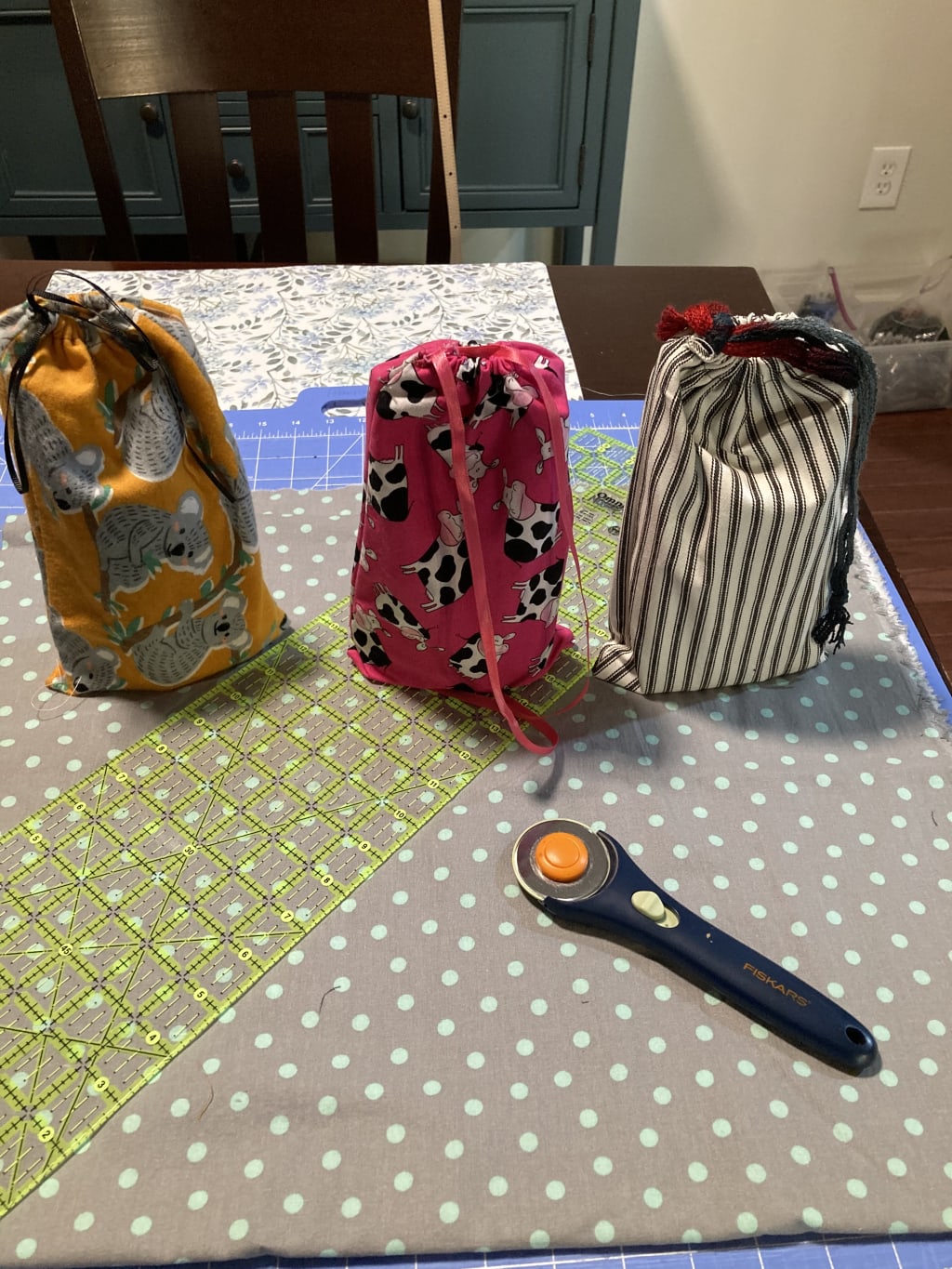 Pencils with a Purpose is a non-for profit organization. We help children in 3rd world countries with school supplies. I started collecting pencils after a met a little girl named Juanita in Nicaragua using a pencil as little as her pinky. She was going to use that pencil until she could no longer used it. She even wrote my name on the wall. I thought her mom would get upset and she simply said "my mom lets me write on the wall when I do not have paper. The family valued education. She would walk about one hour to get to school. The school was very simple. No decorations, no posters, no extra items, just plain white walls.
From that experience Pencils with a Purpose was born. At the time I was a teacher. Often my students would throw away a pencil simply because the point broke. I knew that many children like Juanita would appreciate a pencil. The hope is that a pencil will inspire the children to be creative, to dream to hope, to be kind and to know that we are all connected no matter where we might live. At first, I bought mostly souvenir pencils. I wanted to let the children know that a pencil came from a museum, or a city or a baseball game but we decided to expand to other school supplies.
Pencils were delivered in 2019 to 4 different schools in Colombia. The schools, the students, and the teachers were so full of gratitude with the pencils we provided. The children smiled and were excited where the pencils had come from. We also had many yellow #2 pencils. I let the kids know that even if their pencil did not have a particular destination, it was still a good pencil. Some pencils may have come from a neighbor who was a firefighter, a nurse, a teacher, a gardener, an office worker, a soldier, a police officer etc. The pencils represent a tool of creativity.
The pencil is a metaphor about life. Receiving a brand-new pencil is fun but you have to sharpen it in order to be able to use it. In our own lives we also are often sharpened to be able to grow. In life we make mistakes, we may a mistake in our work. The pencil erases the mistake and we can start over. We don't like what we wrote, that's why an eraser is there. We can start over at any time.
We now provide pencils, coloring pencils, crayons, erasers, sharpener, glue sticks and scissors. We put the school supplies in a draw string bag that we make to put the school supplies in. The bags are cut with the Fiskars rotary cutter. We cut patterns 22x 6.5 to make those little bags. There are so many children in need. Making the bags is part of the fun. We want the children to receive a special bag that someone took the time to make with love. Once we have assembled the bags then we put the school supplies in those bags. The children are so grateful and truly inspiring. One time one of the children said, "thank you for the pencils, sometimes we break a pencil in half so that another child can write as well." I can't imagine. It is not just about giving the school supplies but making a difference. One pencil one child at a time. We are always looking for volunteers that can help make the draw string bags. Help us collect school supplies or cheer us on our mission. We have children waiting for the opportunity for education to open the door to their future. I can't wait to see what art the children will create, what stories they will write, what dreams they will dream. The pencils and other school supplies opens their imagination. Together we are connected, the donor, the recipient as one.