New Start, New Year, New Me
Creating new habits that will transform me into my highest self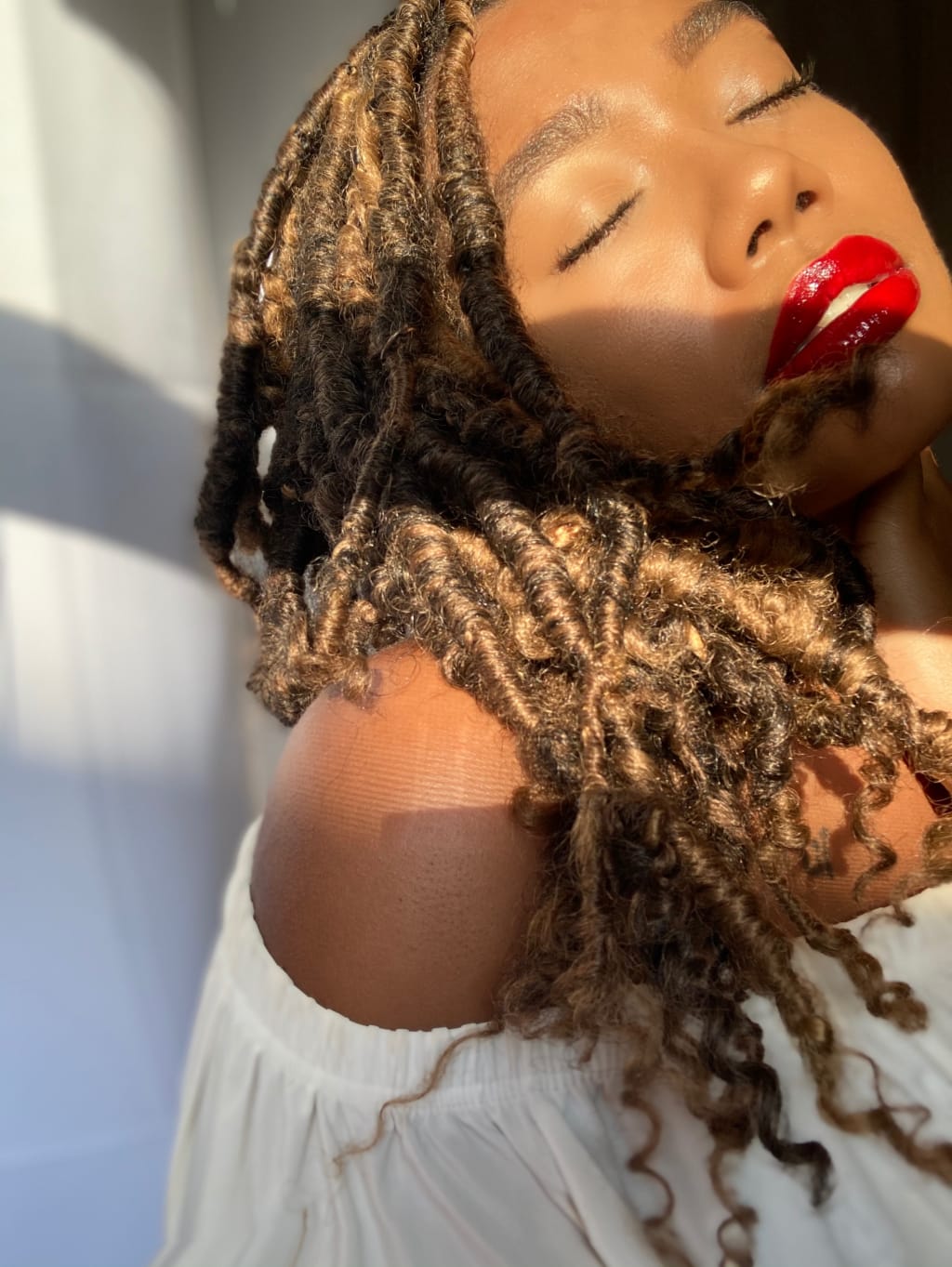 Writer, Meagan A. Culberson
Not too long ago, after a much needed session with my therapist, she pointed out to me that my throat chakra was blocked. My first reaction was "What the hell is a throat chakra?" After her explanation and upon further research, I found out just what a throat chakra was and was shocked to learn that I had 6 other chakras located in my body.
You see, I had grew up in a Black Christian household and chakras weren't something we discussed often. We weren't the spiritual type, we were more on the religious side and my parent's generation is vastly different from mine. So when I learned more about the energy centers in my body I became intrigued and got lost in this rabbit hole of spiritualism and universal energy. I began to educated myself on all of the 7 chakras within the body and how to properly clear any negative energy that could be causing blockages. My throat charka was indeed blocked and I even recognized that my body had been signaling it to me my whole life but I was blind to the signs. Whenever there was something that I wanted or needed to say but didn't, an intense discomfort would form in my throat signaling that it was time that I use my voice and express my concerns.
Growing up, my opinionated expression was viewed as disrespectful or considered as back talk. I admit that the teenage version of myself wasn't quite articulate with her feelings and that it did at times come across that way. However, instead of learning how to properly convey my feelings I just kept quite to avoid confrontation altogether and that mentality followed me through most of my adulthood, until recently. While dealing with my growing dislike for the lack of organization at my job, I became more vocal and quickly started to get comfortable with using my voice again and expressing my concerns in a healthier manner.
After learning some helpful exercises from my therapist, having difficult discussion became second nature to me and my ability to say NO to things that didn't fully serve me, became much easier. While working on my communicational skills was a focus for me last year and still is this year, I have added other ways to better myself that will contribute to my growth in hopes to transform me into the version of my higher self that I had been steadily visualizing.
Joining the 5am Club
I am naturally an early riser. Whenever I have a day off and plan on sleeping in my body automatically wakes me up at 7am. It is quite frustrating at times (especially when I've had too much to drink the night before) but I always seem to get more things accomplished when I rise earlier. However, since joining the 5am club I have literally been unstoppable! Not only do I accomplish twice as many things as before, I've blocked out the first couple of hours out of my day and dedicated them to myself! My previous routine would consist of me jumping out of bed and getting straight to work. By waking up earlier and mindfully dedicating those first couple of hours to myself, I no longer feel like I am living my life just to work. I jolt up and do the things that make me feel good and put my mind in the right headspace. I have challenged myself to stick to this new routine Monday through Friday and allow myself to wake up whenever my body chooses to on the weekends.
Mindful Meditation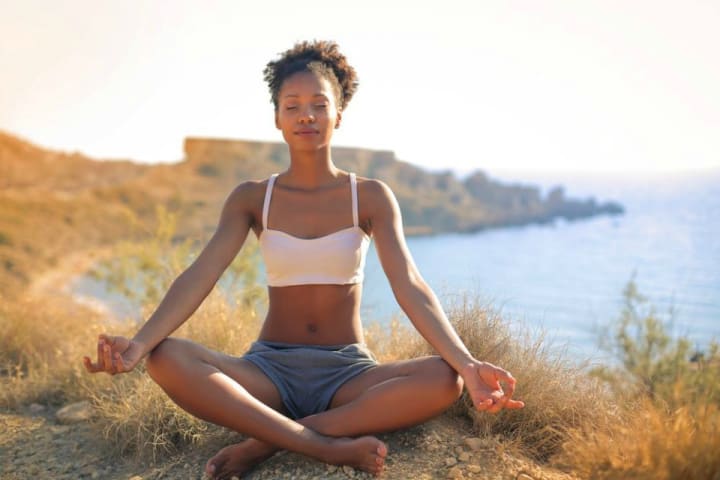 I would consider myself somewhat of an anxious person and when I had my first real anxiety attack I completely lost my marbles. However, I've found multiple ways that have helped me control my anxiety and I go into further detail on my blog post "HOW TO CONTROL YOUR F*CKING ANXIETY". However, the most beneficial exercise that has knocked all of the others out of the park is mindful meditation. Learning to allow my thoughts to flow and not dwell or fixate on the negative thoughts, has made me become more cognizant of my thought patterns. Now, when self destructing or self deprecating thoughts infiltrate my mind I immediately refute them and shift my thought patterns to something much more positive by reciting positive affirmations.
Because I am more of the antsy type, it was a bit difficult at first for me to sit still. I gave myself small goals then worked my way up by starting out with meditating for 5 minutes a day and now I am able to concentrate for a full 30 mins. I would highly recommend watching the new Netflix series The Head Space Guide to Meditation to anyone who is interested in starting their mediation journey.
No Electronics Before 8am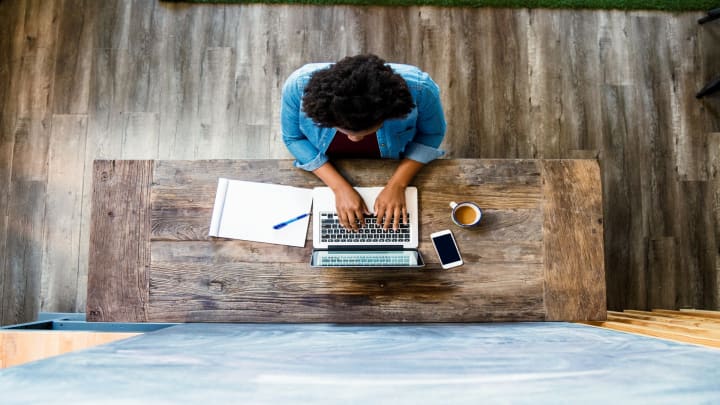 I am still struggling with this one but I am committed to making this a permanent habit. Before this new journey I've found myself on, I would wake up and immediately look at my emails, check my Instagram and see what was going on on Facebook. This is such an unhealthy habit that had to stop because it was a major contributing factor to my anxiety. Checking emails first thing the morning immediately puts you in work mode and God forbid you read an unpleasant email from a colleague. Now, I leave my phone in the living room to charge and I invested in a separate alarm clock to help me wake up in the morning. Again, I am still working on this. I sometimes find myself falling asleep while obsessively watching TikTok videos but for the most part I have gotten a lot better.
Become Plant Based(ish)
I grew up during the Atkins craze and there was never any bread in our house! My diet mostly consisted of meat, cheese, fruit and veggies. However, when tackling my cystic acne I learned that the majority of it was caused by the foods I ate. I then came to realize that I was lactose intolerant and the added hormones in diary and meats products were the contributing factor to my inflamed skin. So, I began to cut out diary. I never really cared for it that much but had the occasional ice cream craving, however, when I cut it out of my diet I noticed a tremendous difference in how my skin looked and felt. Now, I don't even miss it and I am committed to living a dairy free lifestyle.
Meat on the other hand is a totally different story because I still love BBQ and I don't think I could ever give that up. Now, instead of over indulging I allow myself to have meat twice a week and I meal prep more plant based meals. I have noticed so many improvements in my body and by decreasing my meat consumption I am supporting the efforts to lower greenhouse-gas emissions, which makes me feel pretty good and I'm sure Greta Thunberg would be proud too!
Sticking to a Budget
Lastly, but certainly not least, I am challenging myself to stick to a budget. I so badly want to be able to spend money whenever, wherever but the way that my bank account is set up,I need to be more mindful of my spending habits. However, If I stick to a realistic budget, stay consistent and maintain my discipline I'll be able to see the growth I've been striving for in my savings account. Eventually, I'll be allowed to indulge in the things that I once considered a necessity, like my daily coffee pick me ups.
Just by making these significant changes I've notice the fruit that these new habits have begun to bear. I am incredibly excited to see them fully blossom and help me evolve into the highest version of myself.
Here's to a New Start, New Year and New Me!
goals
About the author
Meagan A. Culberson is the creator of the lifestyle website SIngleGirlClub.com. A platform that encourages single women to build a better relationship with themselves. Additionally, she is an aspiring producer focusing on diverse stories.
Reader insights
Be the first to share your insights about this piece.
Add your insights