Morning Minute with StoneDancer
A podcast focused on consciousness.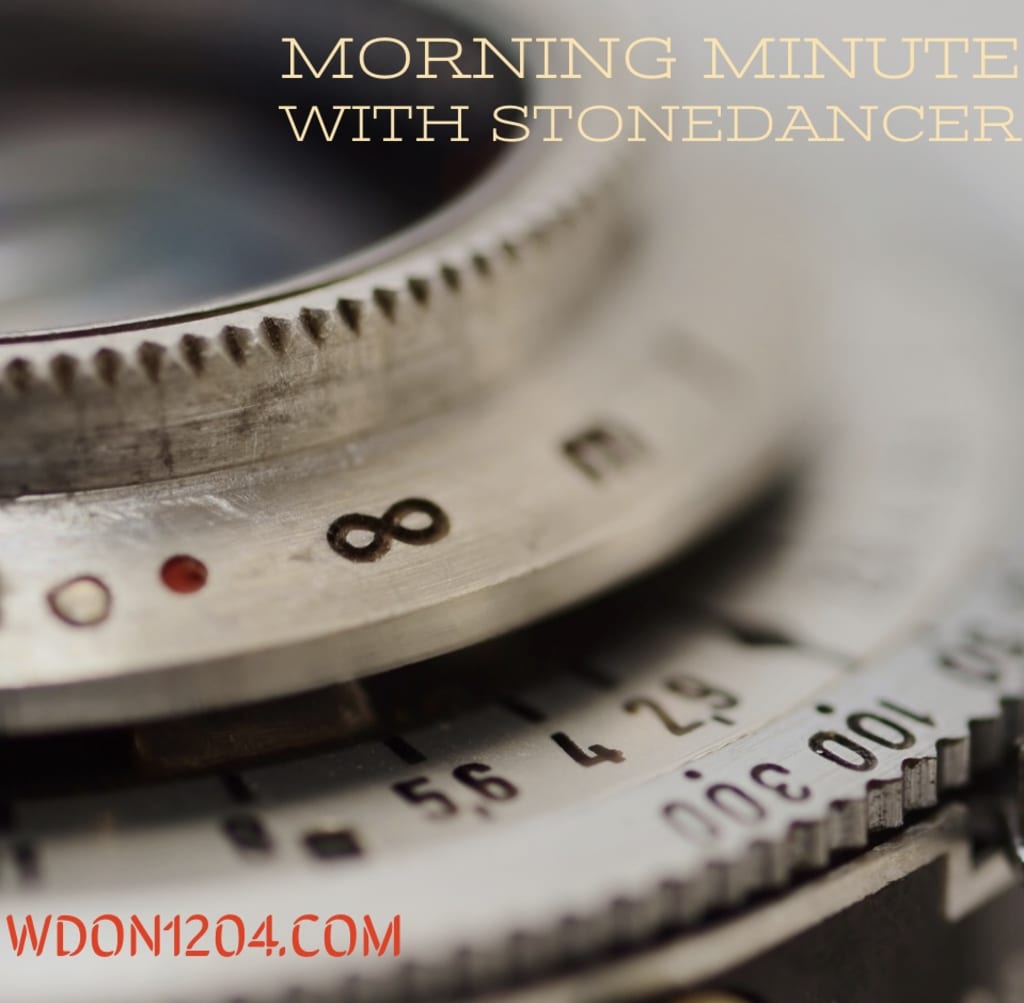 Morning Minute; Faith vs. Perception
I am StoneDancer.
As I unpack each layer, my challenge is to not race ahead of myself to "fix" things too quickly so that I don't rob myself of the fullness of my truth and the depth of the lesson(s) I am meant to internalize.
As I heal and grow at each specific point in the process, I find myself crying when I wake up, and I think it's from the cleansing process of letting go of my deep-rooted biases that stem from my experience on this planet.
Faith can move mountains, cause strongholds to fall and even cause enemies to retreat. But an imbalanced perception of the World can totally jack you up.
Welcome to Morning Minute.
Timothy "STONEDANCER" Coleman Biography
Timothy Coleman worked in the non-profit education industry for 18 years, successfully creating fully-funded STEM/STEAM programs for organizations that serve K-to-12th grade students in traditional and non-traditional education environments from under-resourced communities in New York City, NY, and Newark, NJ. He obtained his Executive Leadership Certification from the Support Center for Non-Profit Management in October 2012.
Currently, Mr. Coleman works as the Family Leadership Coordinator for the Department of Education in District 7 of the South Bronx. In this role, he has worked with parents to create opportunities for them to advance their career goals by developing and implementing workshops on Job Readiness, How to Make Money from Your Ideas, Financial Literacy, and many others. Mr. Coleman created The South Bronx Center for Global Learning, which functions out of the District 7 Superintendent's office in Mott Haven. Twice weekly, workshops are presented to community members on the topics that engage them the most. External partnerships have been created with Lincoln Center, Lincoln Hospital, Hostos College, Metropolitan College of NY and Columbia University (among others) to help parents gain certification in multiple disciplines that have supported their professional growth.
Prior to working for the Department of Education, Mr. Coleman was the Executive Director for Doing Art Together (DAT), a 33-year-old visual arts agency based in Harlem, NY. During his tenure, Mr. Coleman maintained full strategic and operational responsibility for DAT's programs, execution of its mission, and management of 35 FT/PT staff as well as 50 volunteers. He increased the annual budget by 45% within 12 months and simultaneously reduced operational costs by implementing electronic systems to control project management, staff payroll and data entry. Mr. Coleman reported to the 14-member Board of Directors on a monthly basis to review the strategic plan, P&L, and overall organizational operations. He solidified existing community partnerships and brought DAT its first-ever Visual Arts After-School program that ran for 18 weeks, 5-days per week for 120 elementary students from District 7 of the South Bronx.
Prior to joining DAT, Mr. Coleman was the New York Director of Field Operations for BELL (Building Educated Leaders for Life), where he managed a team of 15 Full-Time Program Directors who oversaw services for 4,000 students in the NY/Tri-State area while effectively managing a $10M operations budget. While at BELL, Mr. Coleman's original program, "My Passport to the World," created in partnership with Department of Education District 9 Superintendent Leticia Rosario, served over 1,100 under-resourced students in Bronx Districts 7, 9 and 12 for three summers as a part of the NYC Dept. of Education's Summer Quest initiative.
Mr. Coleman has participated in many Fellowships, including:
The 2015 PASE (Partnership for After-School Education) Executive Leadership Series for Small Agencies, which is a dedicated group of NY Non-Profit leaders who meet monthly to share resources, work through leadership challenges, attend networking events and establish new ways to collaborate in an effort to bring high quality services to under-resourced communities in NYC.
The New York STEM Initiative; Sponsored by TASC (The After-School Corporation), which is a group of leaders from multiple disciplines who come together to discuss current trends in STEM (Science, Technology, Engineering and Math) programming with the intent of creating and implementing innovative industry leading STEM programs in NYC. This initiative is funded by The Pinkerton Foundation.
During 2014/2015, Mr. Coleman was a part of the We Are the Bronx Fellowship! This was a year-long program of education, change, and partnership-building. We Are The Bronx is a project of the Center for Bronx Non-Profits, which is generously funded by JPMorgan Chase, New York Community Trust, and the Simon Bolivar Foundation and receives consultation from Hostos Community College and The Center for Community Leadership at JCRC-NY (Jewish Community Relations Council, New York.)
Copyright © (p) 2019 the StoneDancerGroup, Inc. (TM)
WDON1204, LLC., Coleman Family Music are entities owned or controlled by the StonDancerGroup, Inc. - All Rights Reserved.
self help
About the author
He's a songwriter with Sony Music Publishing, a former Broadway performer from 'RENT' and 'Jekyll and Hyde', and has been a featured voiceover artist. His first book, "Finding your Purpose", will be released at the end of 2021.
Reader insights
Be the first to share your insights about this piece.
Add your insights